It amuses me when people talk about snooty people sitting around, leisurely eating pâté, because pâté is rustic, country fare, not considered fancy in France. While pâté can have a pastry-type crust (pâté en croûte) and some are a little fancier than others, the cousins of pâté, terrines, are truly down-to-earth. They can be baked in a special mold (you can come across them at French flea markets for around 5 bucks, like the one I used here), they can also be baked in any ovenproof bowl, which I did with this terrine. So there's no excuse not to sit around and eat pâté, or terrine, all day. And not only is this one incredibly easy, it's also one of the best terrines I've ever had.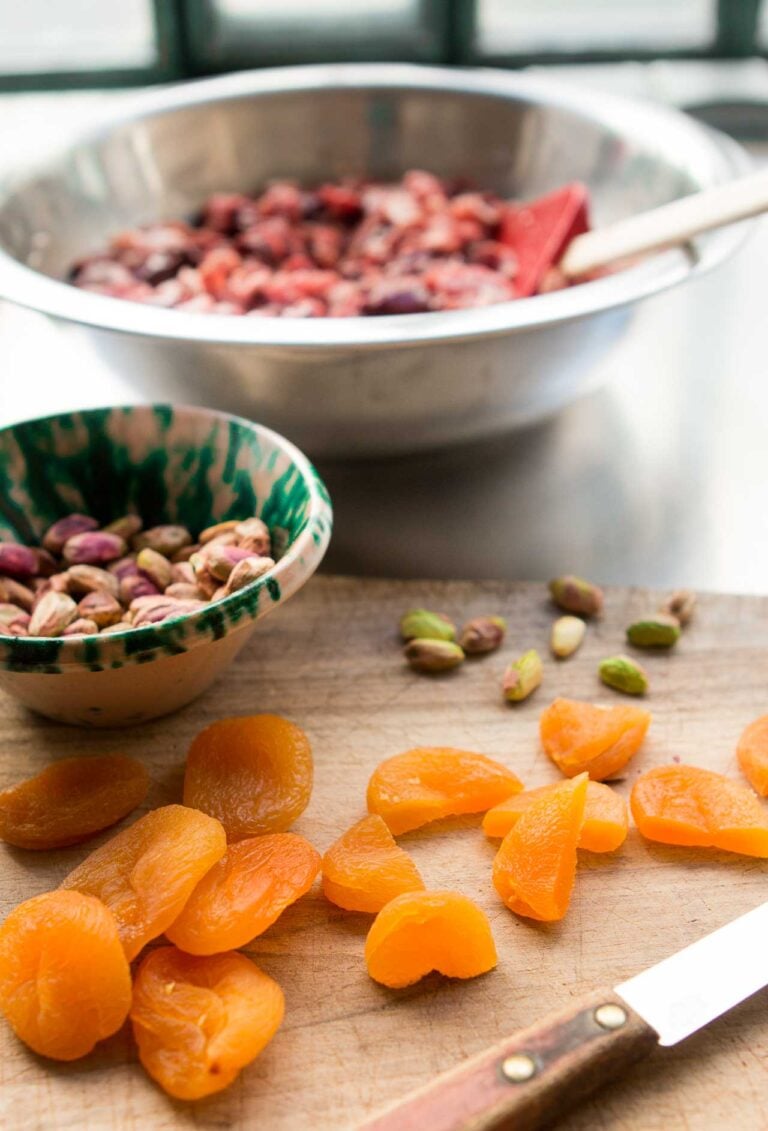 I get anguished messages from people asking why their choux puffs fell or why something they baked doesn't look like it just came out of a fancy French bakery. To be honest, I've seen flattened chouquettes at pâtisseries in France, undercooked bread at boulangeries, and here's a shot of the terrine that inspired this one at La Bougainville restaurant in Paris, that I took at a recent dinner there. It doesn't look like something that's going up on the wall at the Louvre anytime soon.
No one gave a hoot that it's wasn't a perfect slice. (Although I'm not sure why the person next to me thought it was a good idea to point to it in the photo, since it's pretty obvious what the subject is.) But it was absolutely delicious, and I was thrilled to see that Camille Fourmont of La Buvette included it in her book, La Buvette: Recipes and Wine Notes from Paris, written with co-author Kate Leahy.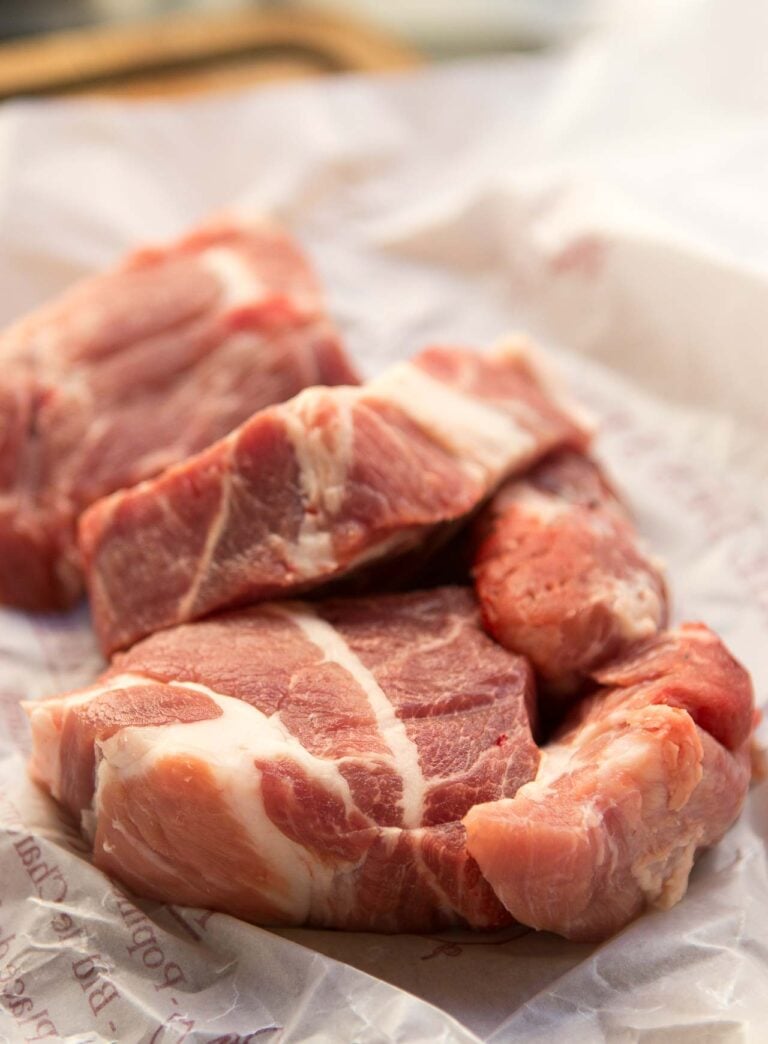 La Buvette is a charming little bar à vin (wine bar) that, once word got out, became a hotspot for locals and visitors. I should correct that and say it's a bar à manger, because due to local laws, in order to drink there, you need to order something to eat.
As I mentioned when I included another of Camille's recipes in Drinking French, it's a good thing that law exists because you don't want to miss her wonderful, yet simple, French cooking. She will probably ban me for saying this, but her cooking is a contemporary version of cuisine de grand-mère, if your grandmother had a cool, mostly natural wine bar in Paris. She keeps things simple and familiar to the French palate; giant beans with grated citrus zest, burrata with black currants, slices of sharp Cantal cheese with fresh figs, and this terrine, which is always on the menu.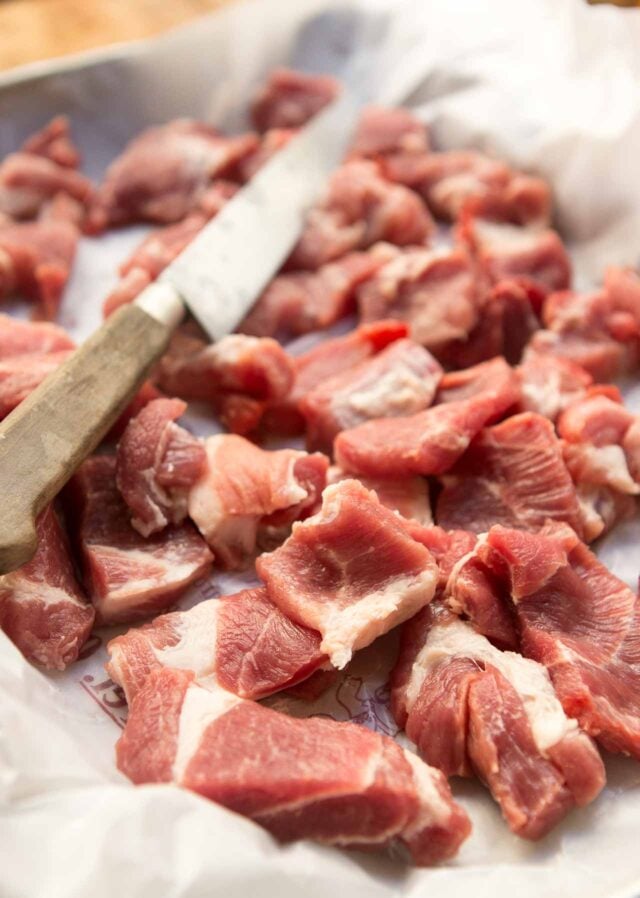 Camille got very excited when I sent her a picture of my finished terrine, exclaiming something along the lines of – Ooh..it looks so chunky. Just how I like it! The recipe in her book called for using meat grinder to coarsely grind the meat. I don't have one and like a dope, I didn't ask the butcher if he could grind it coarsely for me when I bought the meat. So once I got home, I hand-chopped the meat myself.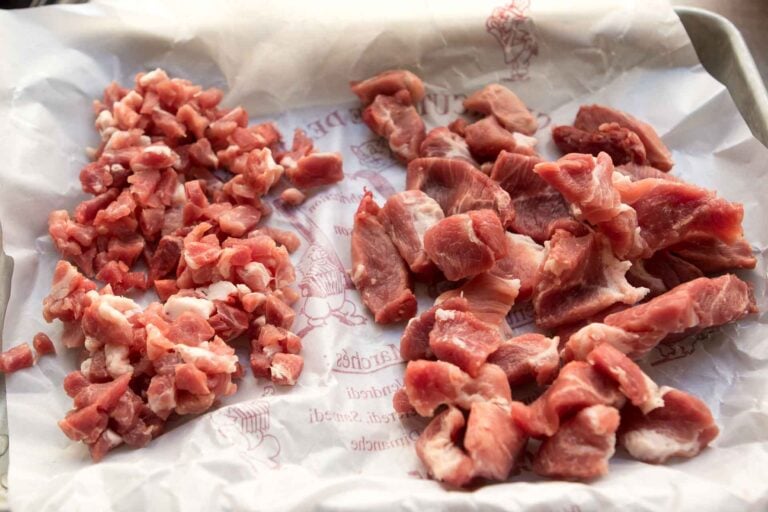 If you can make meatloaf, you can make a terrine. It took about 20 minutes to hand chop all the meat but if you have a butcher who will grind it coarsely for you – and have the sense to ask – that's one way to go. Or you can meet me (and Camille) halfway and if you don't have a local butcher, buy regular ground pork, then hand chop the livers and pork belly so there are still chunks of meat, but you've shaved a few minutes off the preparation time by using some ground meat.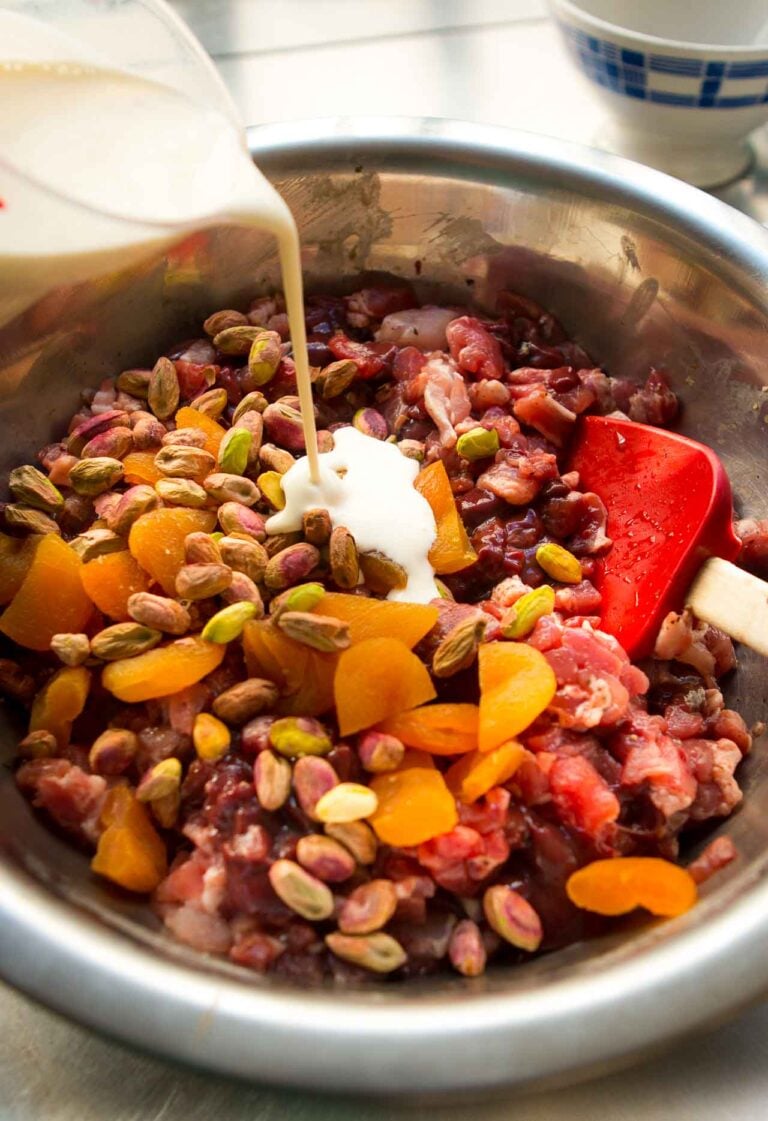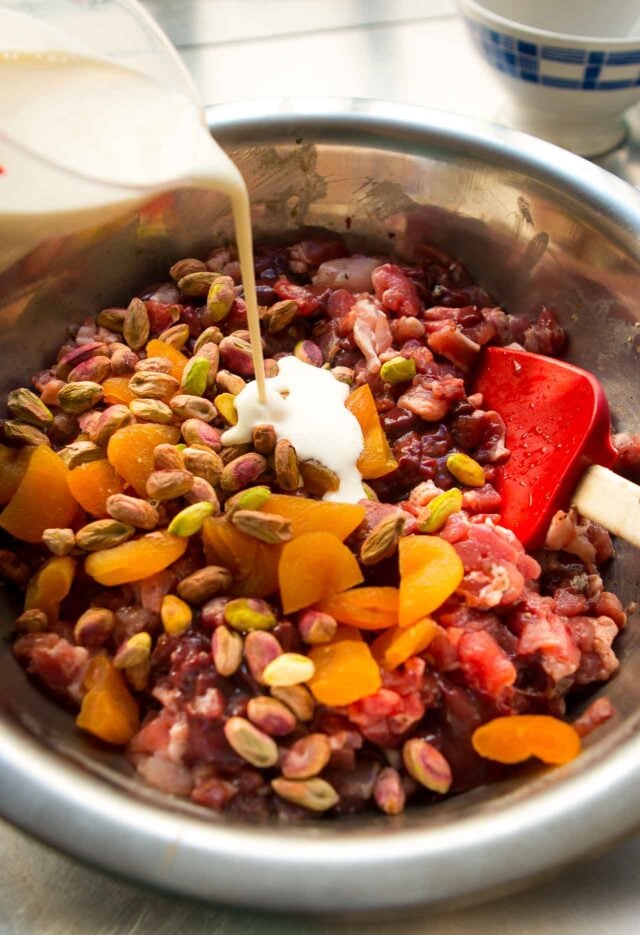 I wanted to hew closely to the recipe which said a glass or clay terrine mold was preferable to a metal one, but I couldn't find my earthenware terrine mold and didn't know if it was okay to use a metal one or not. (In the terrine recipe in My Paris Kitchen, I use a metal one with no problem.) But in spite of Romain's eye-rolling to the contrary, I am good at following orders so went with a small cassoulet bowl.
The second time I made it, I did make it in a metal loaf pan, and it came out just fine. Because my bowl was wider, I increased the cooking time, which I made a note in the headnote about. No matter what you bake it in, an instant-read thermometer takes all of the guesswork out of letting you know when it's done, although Camille and Kate say it's done when a knife plunged into the center reveals only clear juices.
A good terrine needs nothing more than a few cornichons or pickles served on the side. I got a reproach at a wine bar in Paris shortly after I arrived when I asked for mustard. The waiter snapped back, "Our charcuterie is too good to put mustard on!" So mustard might not be the best choice, but I wouldn't turn my nose up at a fruit chutney if it was on the same plate. Some good bread, however, is essential, and wine of course.
[UPDATE: There were a number of questions people had about this recipe, posted in the comments, so I made a video showing the steps of making it, which you can watch here on Instagram.]
La Buvette Terrine
Adapted from
La Buvette: Recipes and Wine Notes from Paris
by Camille Fourmont and Kate Leahy If you've not made a terrine before, this one is extremely easy, and delicious. Don't let my wordiness put you off; I'm trying to be descriptive and give tips on the steps, but basically, you're mixing chopped meat with seasonings, then adding dried fruit and nuts, packing everything into a pan, and baking it. And that's it. I hand-chopped the meat into pieces that were about 1/2-inch (1.5cm), which was a tad time-consuming but you can ask your butcher to grind the meat coarsely for you. If you don't have a butcher, I've made it with regular ground pork but I recommend coarsely hand-chopping the fatback and livers, as the larger pieces of meat give the terrine an irregular look and are nice to have individual bites of. (Note: When I made it with regular ground pork, not coarsely ground, it threw off quite a bit of liquid during cooking. If that happens to you, just drain that off from the baking pan after it's baked and cooled a bit.) Although you could ask the butcher to coarsely grind that too if you want to make it easier. Food processors don't do a great job of grinding meat like this, so I don't recommend using one. To make the meat easier to hand-chop, if going that route, cut the meat into relatively small pieces or strips and freeze them until firm, about 30 minutes. Working in batches, remove a few pieces of meat from the freezer, keeping the rest cold, and hand-chopping it with a chef's knife. I wasn't quite sure of what
fatback
was, in French. But found out its
lard
.
Pork belly
is similar and can be used, which is called poîtrine fraîche in French and either should work. Don't use smoked meat, though, as the taste is too strong for this terrine.
Baking Time
: The original recipe is baked in a glass or clay terrine mold or loaf pan, which are much narrower than the bowl I used. The instructions in the book said to bake the foil-covered terrine for 35 minutes in step 3, then remove the foil and bake for another 35 minutes, which was accurate for a loaf pan. But my terrine baked in the 7-cup bowl (1.75l), which is much wider than a loaf pan, took longer. So I added a cooking temperature for how to tell when it's done if using an instant-read thermometer. To mix things up a bit, you could give it a go with dried figs or pitted prunes in place of the apricots, and replace the cognac with armagnac, Calvados, or another brandy.
Note
: A few commenters noted that their terrine came out rather crumbly and not spreadable while others had their turn out fine. I didn't have that issue, whether I used preground pork or hand-cut pork, and posted a video of making it
here
.
12

ounces (340g)

chicken livers

,

trimmed of any sinew, cut into 1-inch (3cm) pieces

1

pound (450g)

boneless pork shoulder

,

cut into 1/2-inch (1.5cm) pieces, or coarsely ground (see headnote)

8

ounces (225g)

skinless fatback or pork belly

,

cut into 1/2-inch (1.5cm) pieces, or coarsely ground

3

tablespoons

cognac or Armagnac

,

or another brandy

1

tablespoon

kosher or sea salt

1

teaspoon

freshly-ground black pepper

1/4

teaspoon

pimente d'Espelette pepper

,

or paprika (sweet or smoked)

2/3

cup (160ml)

heavy cream

10

dried apricots

,

cut in half or quarters

1/4

cup (50g)

shelled pistachios

,

preferably unsalted
Mix together the pieces of chicken livers, pork shoulder, fatback or pork belly, Cognac, salt, black pepper, and pimente d'Espelette in a large bowl. Cover and refrigerate for 12 hours, or overnight.

Preheat the oven to 375ºF (190ºC.) Have a 9 x 5 (23x18cm) rectangular loaf pan or terrine mold ready, or an ovenproof bowl that will hold close to 6- to 7-cups (1.5-1.7L) of mixture. Place the pan or mold in a larger pan that you will use to create a water bath to bake the terrine in.

Mix the heavy cream, apricots and pistachios into the meat mixture. Transfer the mixture to the baking pan or mold, smooth the top, and cover snugly with foil. Add hot water to the larger pan the terrine pan or mold is sitting in, so it's coming up halfway up the sides of the pan or mold. Bake for 35 minutes, then remove the foil and bake another 35 minutes, or longer, until the terrine is done. (My terrine baked in a clay bowl took longer to bake than in the metal loaf pan I used the second time I made this; after removing the foil, mine in the bowl took an additional 65 minutes. If using a loaf pan or rectangular pâté or terrine mold, it should be done after removing the foil and baking it for the remaining 35 minutes.) You can verify the temperature with an instant-read thermometer, which should read 150-155ºF (66-68ºC) when done. The temperature of the terrine should continue to rise to 165ºF (72ºC), considered a safe temperature

, after you take it out of the oven.)

If you don't have an instant-read thermometer, bake the terrine until the juices run clear when you poke a sharp knife down into the center.

Remove the terrine from the oven and the water bath and let cool on a wire rack completely. When cool, cover and refrigerate for at least 24 hours before slicing and serving.
Notes
Storage: The terrine will keep up to two weeks if well-wrapped and refrigerated. Many say terrines improve with age and I agree that they do get better a few days after they are made. I've not tried freezing this terrine but terrines and pâtés don't taste as good if they've been frozen, but you could freeze it if you must. You might think this makes a lot, but trust me, you'll go through it faster than you think.