I thought I'd share this recipe for Dulce de Leche Brownies from The Sweet Life in Paris because I had several jars of what the French call Confiture de lait in my refrigerator from another project. Since I happened to love the combination of caramelized milk and dark chocolate, I thought – Why not combine the two in brownies?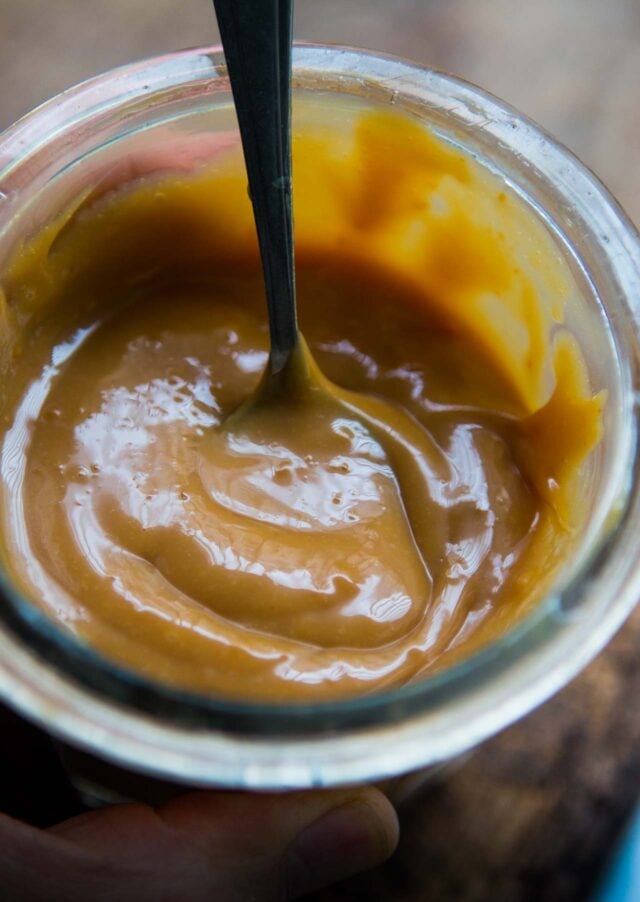 You can buy confiture de lait or dulce de leche, although it's pretty easy to make at home. I use my Dulce de Leche recipe but there's no shame in store-bought. Cajeta is a cousin of dulce de leche often made with goat milk, which I love as well, although the shop where I used to get it in Paris has closed. The upside is that sweetened condensed milk is easy to get in any French supermarket and it's even sold in toothpaste-like tubes as a common way to consume it is to stick the tube in your mouth, and give it a good squeeze. When no one else is looking, of course.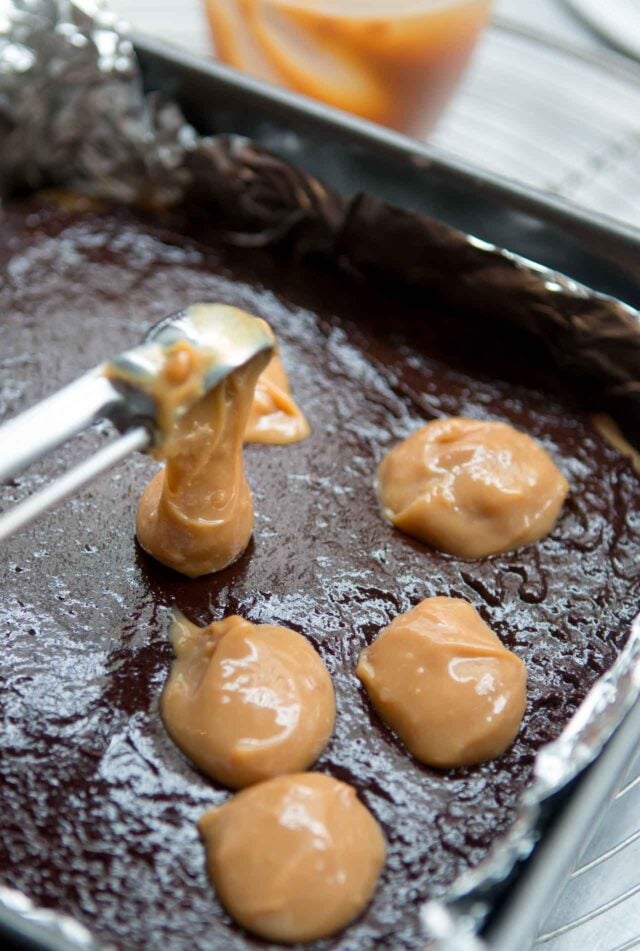 One thing that's great about a blog is that you can update recipes as you make them over the years, which I'm doing with this one. I changed this one by shortening the baking time, so the brownies are denser, and although I tell you not to overswirl the dulce de leche, it's so much fun that sometimes I can't stop myself from giving it a few more goes with the knife. If you have more willpower than I do, you'll get bigger pockets of dulce de leche if you swirl it as little as possible in step #4 before adding the second layer of brownie batter. Or if you want even bigger pockets of dulce de leche, don't swirl it at all.
Another thing I have trouble with is I can't stop eating these brownies. It starts when I take them out of the pan and trim the edges. Those are especially delicious. But then I start going deeper, cutting more slices, then squares, until I have to put the brakes on things. That I do (which isn't necessarily successful) by freezing the brownies, but once I discovered that they are equally tasty frozen, I've been known the spend the better part of the afternoon slicing pieces off with a sharp chef's knife, and savoring them icy-cold.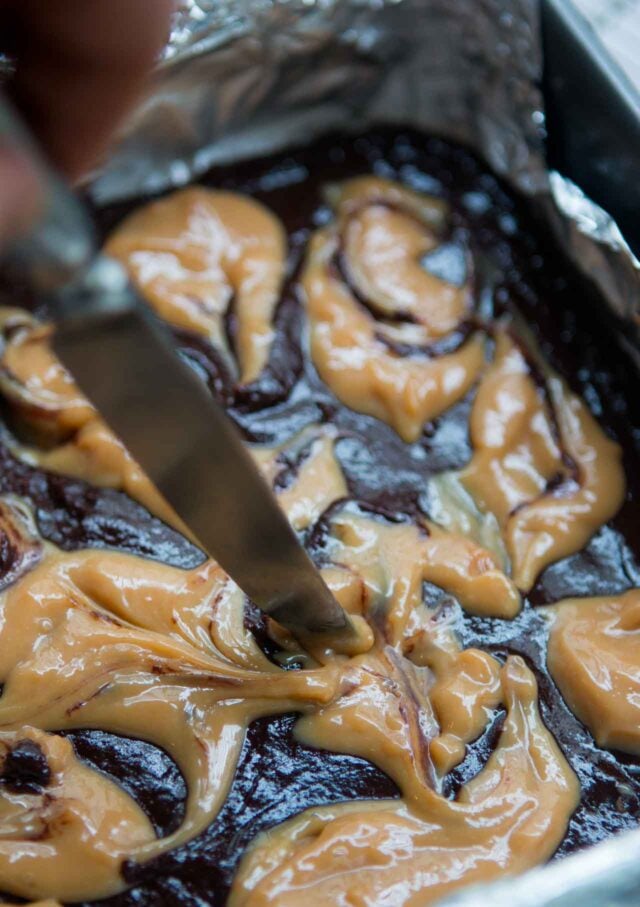 But I'm not here to tell you how to eat brownies. I think most of you already know how to do that. There truly are some of my favorites and I'm just wild about them, and wanted to spread (and swirl) the word, again.
Dulce de Leche Brownie recipe
8

tablespoons (115g)

salted or unsalted butter

,

cut into pieces

6

ounces (170g)

bittersweet or semisweet chocolate

,

finely chopped

1/4

cup (25g)

unsweetened cocoa powder

,

preferably Dutch-process

3

large eggs

,

at room temperature

1

cup (200g)

sugar

1

teaspoon

vanilla extract

1

cup (140g)

flour

optional: 1

cup (100g)

toasted pecans or walnuts

,

coarsely chopped

1

cup (260g)

Dulce de leche
Preheat the oven to 350ºF degrees (175 C.)

Line an 8-inch (20 cm) square pan with a long sheet of aluminum foil that covers the bottom and reaches up the sides. If it doesn't reach all the way up and over all four sides, cross another sheet of foil over it, making a large cross with edges that overhang the sides. Grease the bottom and sides of the foil with some softened butter or non-stick spray.

Melt the butter in a medium saucepan. Add the chocolate and stir constantly over very low heat until the chocolate is melted. Remove from heat and whisk in the cocoa powder until smooth. Add in the eggs one at a time, then stir in the sugar, vanilla, then the flour. Mix in the nuts, if using.

Scrape half of the batter into the prepared pan. Drop one-third of the dulce de leche by scant tablespoons evenly spaced over the brownie batter. Either drag a butter knife through the dulce de leche mounds to swirl them very slightly, being careful not to overdo it, or leave the mounds as they are. Spread the remaining brownie batter over, then drop spoonfuls of the remaining dulce de Leche in dollops over the top of the brownie batter. Use a knife to swirl the dulce de Leche slightly.

Bake until the center feels just-slightly firm, but still jiggly, about 30 minutes, but check them at the 25-minute mark as different chocolates behave differently and with these brownies, as with most brownies, you want to catch them before they become overbaked. Remove from the oven and cool completely. Once cool, lift the brownies out of the pan by grabbing the edges of the foil to remove them from the pan.
Notes
Storage: These brownies will keep well for up to 3 days at room temperature. They can be frozen for up to three months
Related Recipes and Posts
Chocolate Milkshakes with Coffee and Almond