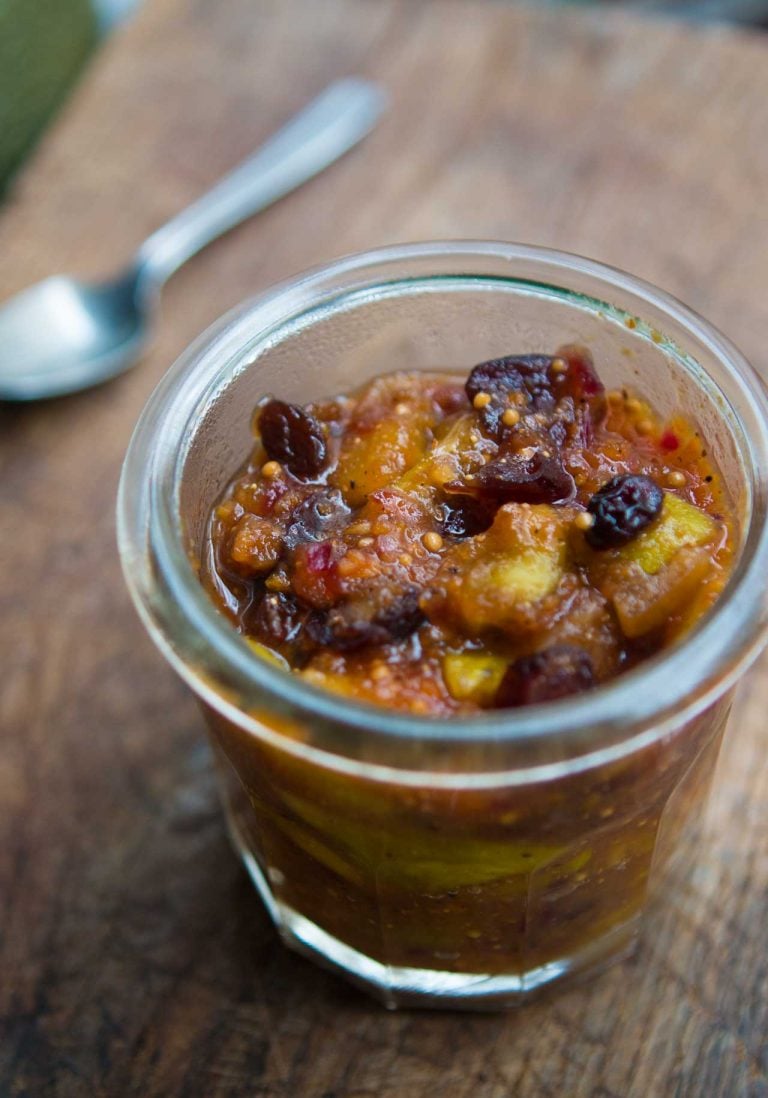 After reading my post about a French Weekend, where I gorged quite a bit on fresh figs out in the countryside, someone back in Paris was kind enough to give me a big bag of these nice and ripe green beauties.
During their seasons, people with fruit trees always seem to be looking for people willing to take some of the fruit off their hands. And I always think it's funny when people say they have "too much fruit" because, as a city boy who loves fruit, I can't imagine having too much fruit. C'est pas possible!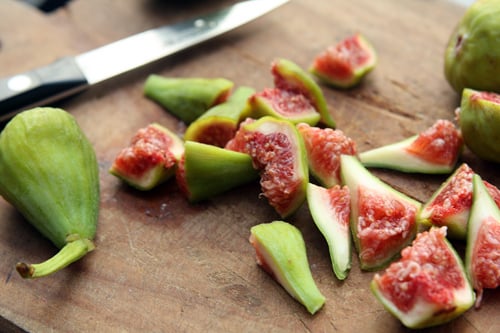 Here in Paris, fresh figs from the south of France – and elsewhere – are showing up at the markets as well. But I have to keep reminding myself that fresh figs can be hard to come by for some, and I count myself amongst the lucky because when I lived in California, I found myself in fresh fig heaven. At Chez Panisse, where I worked, a waitress who lived up in Sonoma had a neighbor named Lucille who sold us some of her excess figs, and the red-fleshed figs that grew on her tree were the best I've ever had. So much so, that we referred to them officially as "Lucille's figs".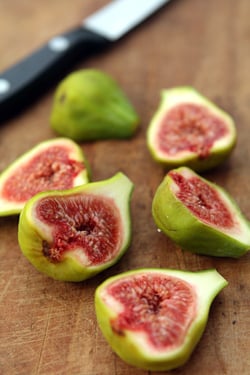 There are plenty of other great figs out there, from giant Turkey figs to rich, purple Black Mission figs. And there are blonde-fleshed Kadota figs, which I nicknamed "Carol Kadota's," after the famed San Francisco stripper, Carol Doda, who was lowered to the performance floor atop a piano powered by hydraulics.
(Which once took the life of a patron when it pinned him and his girlfriend – who worked at a club nearby – against the ceiling. Somehow, someone was thought to have pressed the wrong button while they were doing whatever it is that they were doing up there, and the mechanics malfunctioned. The woman managed to survive this "only in San Francisco" story.)
Juicy ripe figs will crush easily — and safely, with just a bit of cooking. Not all the figs in my gift bag were squishy-ripe, so I pulled out the ones that were and promptly ate them. Then I diced the rest to use for a chutney, which is often called "pickle", depending on where you live.
I had some kiwi vinegar that I picked up at a marché de producteurs in Paris, which I was wondering what I was going to do with when I got it home. But I just had to buy it because I thought the idea was funny. But it's quite good and similar to apple cider vinegar, but with a bit more pizzazz. But apple cider works just as well in this chutney.
After a few minutes of cooking, I ended up with two nice jars of beautiful fig chutney, which I plan to serve with roast pork or as a condiment alongside another roasted meat dish. Or perhaps with cheese. Some folks pile chutney atop cream cheese, or mix them together, and enjoy them as an appetizer spread. But be cautious if you put anything directly on top of it, because I'd hate to hear about anything else getting crushed by accident.
Fig Chutney
Feel free to play around with the spices in this chutney. You can use all raisins, or swap out some dried cranberries, diced apricots, or other dried fruits.
1

tablespoon

vegetable oil

1

large red onion

,

peeled and finely diced

1/2

inch (2cm)

piece of fresh ginger

,

peeled and minced

2/3

cup (120g)

packed light or dark brown sugar

1/2

cup (125ml)

apple cider vinegar

juice and zest of one lemon

3/4

cup (100g)

raisins and diced dried fruits

,

(any mix)

1 1/2

teaspoons

mustard seeds

1

small cinnamon stick

1/4

teaspoon

ground allspice

1/4

teaspoon

salt

1/8

teaspoon

ground cloves

pinch

red pepper powder

1

pound (450g)

fresh figs

,

stemmed and diced
In a wide saucepan, heat the vegetable oil over medium heat. Add the onions and cook until translucent, which will take about 5-6 minutes, stirring occasionally.

Add the remaining ingredients, except for the figs. Let cook at a low simmer for 20 minutes, then add the figs, cover the pot, and cook for 5 to 10 minutes, until the figs are tender and cooked through.

Remove the lid and cook 10 to 15 minutes over low heat, stirring, until the mixture thickens and becomes jam-like.
Related Recipes and Links
Ketchup Chutney (Steamy Kitchen)
Mango Chutney (Simply Recipes)