I often think how amusing (and sometimes frustrating) how many words there are in the French language that seemingly mean the same thing, but have various subtleties and nuances that make them worlds apart. And thinking about it, I realize that Americans have our own variety of words for seemingly (or exactly) the same thing, many based on where we live. Speaking of which, I had a hankering for a meatball sandwich for — oh, say… the last three years. And due to an abundance of bread crumbs, I thought I'd tackle them at home.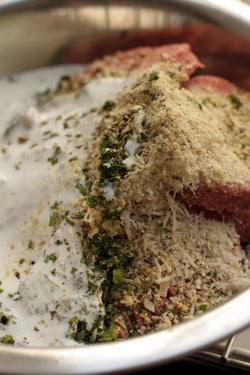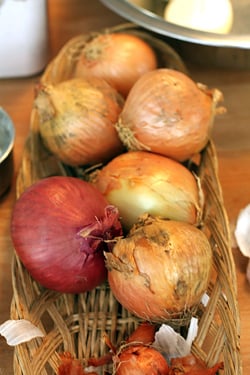 Technically, these kinds of sandwiches are called "grinders", and if you call them something else, then you weren't raised in Connecticut. You're probably from one of the 49 other states that doesn't call them grinders, but refers to them as submarine sandwiches (or subs), torpedo sandwiches, hero sandwiches, poor boys, or hoagies. (Which I now realize, since the shoe is on the other food, are all just to confuse the foreigners.) So let's just call them meatball sandwiches, because who wants to argue over names where there are hot meatballs bobbing in tomato sauce, ready to be sandwiched between two pieces of crusty bread, then topped with melted cheese to eat?
In the states, these grinders were often served at Italian-American spaghetti joints, that also often have spaghetti and meatballs on the menu as well. Interestingly, I've been told that in Italy they don't eat meatballs in tomato sauce with pasta. Since I've not had the pleasure of seeing every corner of Italy, I can't say for an absolute fact*. But it's amusing Italian-Americans are serving them up right and left.
But from what I've seen personally with my own two eyes (and accompanying mouth) in Italy meatballs, or polpetti, are served on their own. Basta. In France, meatballs called boulettes and I've only seen them in Lebanese and Middle Eastern restaurants, and they're invariably oversized meatballs that come as part of a plate of various appetizer. I'm not sure who was the first person to put meatballs and tomato sauce on a sandwich, but whoever it was, I thank them for an excellent idea. And they get no argument from me.
Speaking of tiffs, (which for non-English speakers who are kind enough to follow along here, is another word we use for "argument" or "row" or "fight" or squabble or "dispute" or…) I once got into a little row in a supermarket in Southern California, when I was teaching a class at a cooking school next door and needed anise seeds. The folks where I was teaching kept trying to give me fennel seeds, which they insisted were the same thing. Thankfully America is a melting pot culture and I headed straight to the meat counter, found someone who would know the answer for sure – an Italian-American butcher – and he quickly concurred, "Of course they're not the same thing!"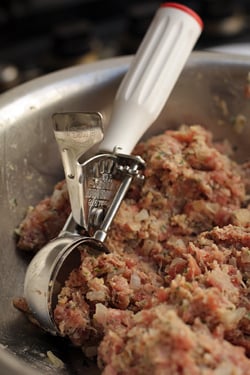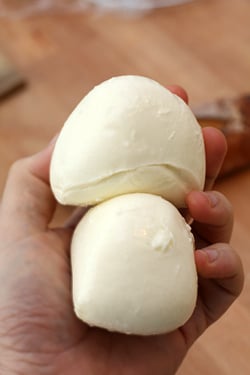 I was loosely inspired by the recipe in Tartine Bread, where meatballs sandwiches were sometimes the staff meal at their bakery. I futzed around with the recipe quite a bit and came up with what I've been digging into for lunch lately. This recipe makes kind of a lot of meatballs, but you can do as I did and freeze a portion of them in a zip-top bag or another container, and use them whenever the urge strikes for a meatball grinder. Or sub. Or hoagie.
Meatball Sandwich
Inspired by a recipe in
Tartine Bread
(Chronicle) by Chad Robertson I used fresh herbs that I gathered from a recent trip to the countryside, which included sage, savory, and thyme. Conversely, you'll notice that I used dried oregano in the tomato sauce, which I did for two reasons: One if that fresh oregano isn't available easily here (I've only seen it for sale once), and two, dried oregano adds that unmistakable flavor of the meatball sandwiches that I fondly recall back in the states.
Servings
45
8 to 12 sandwiches
For the tomato sauce
2

medium onions

,

peeled and minced

olive oil

2

cloves

garlic

,

peeled and minced

4

cups (1kg)

canned crushed or diced tomatoes

,

along with their juice

1

tablespoon

tomato paste

1 1/2

teaspoons

salt

1 1/2

teaspoons

dried oregano

1/2

teaspoon

crushed

, red pepper flakes

one bay leaf

1/2

teaspoon

sugar
For the meatballs
1

large onion

,

peeled and minced

olive oil

2

cloves

garlic

,

peeled and minced

1

pound (450g)

ground beef

,

(not too lean)

1

pound (450g)

ground pork

3

large eggs

1/2

cup (25g)

grated Parmesan

,

Asiago, or Pecorino cheese

1/2

cup (15g)

chopped flat-leaf parsley

1 to 2

tablespoons

chopped fresh herbs

2

teaspoons

salt

freshly ground black pepper

1 1/2

teaspoon

whole fennel seeds

2

cups (220g)

dried breadcrumbs

3/4

cup (180ml)

milk

Additional salt and black pepper

,

for seasoning the onions
For the sandwich
Mozzarella or provolone cheese

Crusty Italian or French bread
For the tomato sauce, sauté the two minced onions in a good pour of olive oil in a Dutch oven or very large saucepan, seasoning them with a bit of salt and a few generous turns of black pepper, stirring frequently – until the onions start to wilt. Add the garlic and cook until the onions are completely soft and translucent.

Add the canned tomatoes, the tomato paste, 1 1/2 teaspoons salt, dried oregano, red pepper flakes, the bay leaf and the sugar, and let simmer for 10 to 12 minutes over low heat, stirring everyone so often. Set aside.

To make the meatballs, sauté the onion in some olive oil in a large skillet, seasoning with a bit of salt and black pepper, stirring frequently, until the onions start to wilt. Add the garlic, and cook until the onions are completely soft and translucent. Remove from heat, scrape into a large bowl, and let cool to room temperature.

To the bowl, add the ground beef and pork, the eggs, cheese, parsley, herbs, 2 teaspoons salt, a few generous turns of black pepper, the fennel seeds, the breadcrumbs, and the milk. Use your hands to mix everything together thoroughly.

Preheat the oven to 350ºF (180ºC) and line two baking sheets with parchment paper, or grease them with olive oil.

Form meatballs slightly less than the size of unshelled walnuts, and place them evenly spaced apart on the baking sheets. Bake the meatballs for 15 minutes, then remove from the oven, pluck out the bay leaf, and slide them into the tomato sauce. You can also fry the meatballs in olive oil in batches, in a large skillet until cooked through, although it can be quite messy. (Note: If you like your meatballs sandwiches more "sloppy", or extra-saucy, leave out about a dozen of the meatballs. They can be frozen for another use.)

Heat the sauce with the meatballs in it until everything is warmed through. If the sauce is very thick, it can be thinned with a bit of warm water.

To make sandwiches, take crusty French or Italian bread, cut it open almost all the way through. Slice some of the meatballs in half and put them between the bread, pressing down with a fork to meld them with the bread. Top with slices of cheese and heat in a hot oven (about 400ºF, 200ºC), or under a broiler, until the cheese melts.
Related Recipes
Oven-Roasted Tomatoes

French Tomato Tart
*I'm sure that somewhere out there – yes, there is an obscure village high up in some mountain in Italy with a population of 47 people, where folks do eat meatballs in tomato sauce with pasta ; )