A Quick Trip to New York City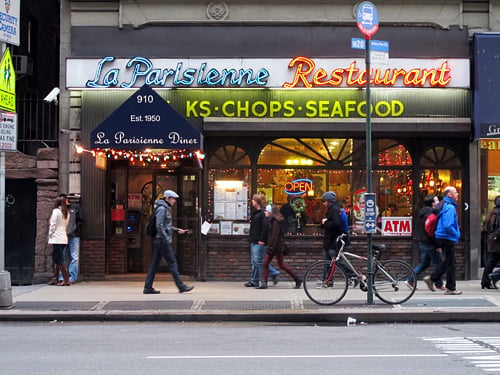 Last week, I had to make an unexpected trip from Paris to New York City. It was kind of a last-minute affair, But I'm always up for a trip to New York, even in the winter, which I remember from my years living on the east coast, how brutal they could be. Fortunately we hit a sweet spot and people were actually wearing t-shirts on the streets – in December!
Unlike being able to forget that bitter cold I'd experienced for so many winters in New York, I did forget how civic-minded Americans are and actually saw two people pick up trash on the sidewalk (that wasn't theirs) and toss it into a nearby garbage can. People are polite, holding doors for one another and excusing themselves when they're in someone's way. I also forget how blue the skies are in New York, even when it's cold, in the middle of December. New York City can be brutally cold, but there's usually a cheerfulness in the air that's unmistakably très américain.
And I also forget how eager people in stores are to help you, and when I asked at Bergdorf Goodman if they knew where the display of candies from Fouquet in Paris was (the owner asked me to take a picture for him), the person I asked on the ground floor actually took a personal interest helping me, and insisted on taking me up to the top floor and asking everyone up there to find out where they were.
(Interestingly, they said the shipment had arrived a little late and were being put on display the next day, so it's nice to know that even in America, where Romain marveled a few times, saying "People make sure things work here!" – they still have troubles with deliveries.)
Then there's that goofy sense of humor in the states, and if someone could explain this sculpture to me, I'd really appreciate it. Bonus points if you can translate it into French since I'll need to do that afterward.
It always amuses me when folks tell me that I need to visit the latest outpost of some Parisian bakery that's set up shop in Manhattan, until I remind them that they probably wouldn't want to go to a bagel shop or Duane Reade in Paris. Although on second thought, that store has everything you could need, so perhaps they do.
I skipped the croissants and macarons, and rekindled my love affair with flagels, or flat bagels. I happily had one every day from Pick-a-Bagel, except the one morning, when my French traveling companion came home whole wheat bagels (which is hard to describe since the "wh" in French is silent, so it comes out as 'ole 'eat bagels.) And I also had to mention that in America, people let other people pass by when walking, and the sidewalks aren't places where people play "chicken" with other pedestrians. Which is probably why all my back problems miraculously cleared up during my trip*, because I wasn't twisting and contorting myself to avoid people coming at me, seeing who would get out of the way first. (And I had to explain that people don't play that game in America. And if you did in New York, you'd probably get decked.)
I didn't really have time to make any grand plans or see many friends but did plan a few spare minutes (and I do mean minutes, not hours) to restock my larder with pecans, dried sour cherries, unscented lotions and shaving cream, heirloom beans, a winter's worth of DVDs, toothpaste that doesn't have fennel in it (bleech!), vintage cookbooks from the Strand – where I thought I had scored when I found a classic Lenôtre pastry book, until I had dinner at a friend's place and she told me that she sold it to the Strand just a few days before.
I did run into Andy from Nunu Chocolates, in Brooklyn, which had set up a stand at the Union Square holiday market. So if you live in New York, run over there and get some of that gift shopping out of the way. And don't forget yourself, too. I'm still working on him to open an outpost in Paris. And if you're from Brooklyn, and you come to Paris and I tell you that there is an outpost of a Brooklyn chocolatier that you simply must visit, you are welcome to roll your eyes at me.
Here are a few places I hit:
Even though I'd heard The Breslin was quite good, though a stroke of luck (which I won't divulge), I didn't have to wait the usual lengthy waiting time for a seat in this "hot" gastro-pub. Inside it was ear-banging loud and I'm not sure why so many places in the states are so noisy. Folks, keep your voices down! Perhaps it's a chain-reaction and the first people to arrive are loud, so the next folks have to talk louder, then the next table has to talk ever louder. And by the time I arrive at 9pm, it's hitting a fever pitch?
(And now that they've banned jumbo soft drinks in New York, next they should ban music in restaurants. And then the tip system, which has jumped the shark – yes, I saw tip jars in dry cleaning shops. Can't they just raise the prices a bit and pay people that much more, ensuring them a decent and assured rate of pay?)
By the end of the meal, I wanted to find the nearest isolation tank. The famous burger was fine, but the highpoint for me were the chicken liver toasts that we started our meal with. They were unbelievably delicious, as were the griddled prunes – called Devils on Horseback – with smoked bacon. I know you're not supposed to use the word "yum" on a food blog, but since I'm jet-lagged, that's the first word that comes to mind. I'll try to change it later, when I think of a better one.
Romain loves this restaurant and last time we were in New York, we ate there at a reader's suggestion and he said, "Why don't we have a restaurant like this in Paris?" So he insisted we go there the very first day. Republic is equally noisy, but fortunately we were able to eat outside and had vegetable dumplings, grilled bbq pork salad, and an excellent Asian chopped vegetable salad with little nubbins of tofu scattered throughout while we watched people bustle around Union Square.
Also on my last visit, we tried to go to The Meatball Shop and it was so mobbed that the host told us the wait would be well over an hour. I like meatballs, but I ain't waiting no hour for a sandwich. (Unless Daniel Craig or Tilda Swinton is serving it.) So I stopped in midday around 2pm, found a seat at the bar, ordered a meatball sandwich and a cup of pomegranate lemonade.
(Just after I sat down, the man next to me was really excited to see that they offered a lemonade of the day. "How cool is that?!" he said to his friends, with wonder and amazement when he learned about the daily change. I did not realize that New Yorkers were so easily impressed! Or how excitable Americans are! And to get into the spirit, here's another exclamation mark – !)
My sandwich was fine, but the torpedo roll that my meatballs were on was soft instead of shatteringly crisp, and 47% of the enjoyment of a meatball sandwich is the über-crispy bread, which works in contrast with the saucy, wet meatballs. Part of it may be ma faute since I think I may have ordered a whole wheat roll, feeling that I need to counteract all the Black & White cookies I had that week, and whole wheat breads don't usually get crisp enough. However since I live in France, I'm going to blame someone else and say it was their fault for offering an 'ole 'eat option in the first place. They should not be offering an 'ole 'eat option because someone might order it.
On the plus side, I no longer have to explain to Romain what a 'ipster is, because there were plenty on parade.
I had a quick lunch with Adam Roberts of Amateur Gourmet and I first off congratulated him on his new book, which is terrific, then when I saw the food at the neighboring tables, and it was relatively calm, I was happy that I nixed trying to go to Mission Chinese (although I did have a very good dim sum, and pea shoots, which I adore, for lunch at Oriental Garden.)
We had soup dumplings, which are meant to the slurped, stir-fried green beans, and spicy crisp chicken, which were served with a couple of chili peppers here and there.
Afterward we headed just next door to Spot Dessert Bar, which specializes in – you guessed it – desserts. I think it was founded by pastry chef Pichet Ong, although is name isn't on the website, but if he is responsible for the spectacular French toast-style dessert, of caramelized brioche soaked in syrup, then he deserves beaucoup de accolades.
Oddly a few of the desserts had strawberries and blueberries on them – in December – and I couldn't discern any smoky flavor in the otherwise tasty smoked coconut cheesecake, but we could not stop digging our forks back into the caramelized brioche. But fear not; Adam said that he would get the recipe for you and put on his blog if you all go over there and leave a comment requesting the recipe. Double points if you buy his book. Heck, if you buy a stack, he'd probably come over and cook it with you. Buy a case (and plane ticket for me**), and I'll come make it with you, too.
What's so appealing about this place is that they're not trying to do "The Burger." It's just an especially crusty patty (oh, have I've missed those) – and real bartenders who know what they're doing. It was funny because when I was looking for a place to eat on the Upper East Side one night, JG Melon was recommended to me, and when I looked up the address online on one of those restaurant review sites, I was surprised people complaining about a $10 hamburger.
Those folks need to come to Paris where cafés regularly charge €15 and up for one. And often not a very good one. (Although I also saw on the same "review" site that people were reviewing public bus lines in Manhattan. Really? A bus line? I guess flavored lemonade is just the tip of the iceberg…) I like that it's a holdover from another era and the bartenders really know how to mix a classic cocktail, and the friendly host likes the banter with customers. And you can actually hear him talking to you.
I kind of walked through here a few years back, and found it interesting. But figured I'd rather go to Italy and get all that stuff, rather than in a shopping center in the middle of New York City. But I saw people drinking what looked like real espresso (which they pretty much were, although they didn't taste quite the same as Italy), but I was pretty impressed by the selection of Italian cheeses and salumi, and the Italian breads, which I dare say looked better than anything I've seen in Italy.
Strolling the aisles and looking at all the amazing Italian products, and seeing this wonderful showcase for Italy, it struck me how great it would be to have something similar with French products. Considering all the cheeses, breads, pastries, olive oils, and chocolates, shouldn't someone be launching something like this to promote and the hard-working producers of La France? Imagine a cassoulet or duck confit bar, bins of haricots Tarbais, French coffee, chocolates by Patrick Roger and Jean-Charles Rochoux, a green tea Napoléon from Sadaharu Aoki…
A reader directed me here the last time I was in New York and I'd been thinking about it for well over twelve months. (Although I'm jet-lagged, so I might be off on those numbers. Someone is welcome to correct me on that.) The burger was just okay. I don't know why, but with a name like that, I think I was expecting the most amazing burger ever. I had an excellent cocktail, although was surprised when the waiter asked if I wanted my Manhattan "on the rocks." Ça existe?
With a spectacular view overlooking Columbus Circle, I had lunch at Robert on the top floor with a friend who is part-owner. I wanted a Cobb Salad, which I got.
And when I saw a neighboring table eating one, I knew that it was time for Romain to have his first-ever grilled cheese sandwich. And admittedly, it's been a while since I had one, too. Which is odd because I live in the land of good bread and cheese. I made a mental note to put those in my lunch rotation when I got back to my place in Paris, sans the view, malhereusement.
But on buttered white bread, with a cup of very good steaming-hot tomato soup alongside, and a view of yellow taxis circling Columbus Circle, it's hard not to fall hard for New York City, again.
Before we headed to the airport, there was a quick stop at The Pastrami Queen for an overstuffed sandwich and half-sour pickles, an espresso at Joe the Art of Coffee, a few bagels to take back to Paris for friends, and a couple of Black & White cookies for me.

*I am thinking the sculpture may have something to do with a remedy for back pain. But it's not exactly a convincing argument for the treatment, if it is.
**It has to be a ticket for one of those fancy bed-seats if you want me to come, because I just got off an overnight flight where my seat didn't recline nor did my television/movie system work, and we got stuck in a massive 2-hour traffic jam on the way home from the airport in Paris, so I haven't slept for 37 hours and I'm not quite ready to climb back into a plane quite yet. Although if I had one of those beds, I think I could be convinced.