Zabar's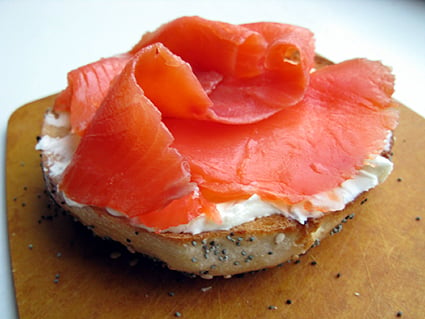 I'm always complaining that in Paris, you can never find what you're looking for.
Let's say you need shoelaces that are 110 cm. You'll go to the shoelace department at the enormous BHV department store and on the wall of shoelaces, they'll be 90cm…100cm…105cm…109cm…111cm.
But 110cm?
Of course not.
So here I am in New York presumably the greatest shopping city in the world. And I can't find one of those things that keeps tortillas warm. I've checked Williams-Sonoma and the insanely-huge Bed, Bath and Beyond (where the security guard tailed me for a good 10 minutes…so maybe the stereotypes are true that Americans don't like Parisians).
And lastly, Zabar's.
As if I need an excuse to visit Zabar's, one of the great food places in the world. If they don't have it, it ain't available.
(It wasn't, btw…)
But oy vey!…all the pushing and shoving and jostling.
People were getting mad at me, so I had to tone it down.

I guess I'm not in Paris anymore.
But compared to Parisians, these New Yorkers are a piece of babka…although I'm still holding out on braving Fairway. Those Upper West Side women are mean-ass son's of you-know-whats. My goodness, you'd think they'd never seen green grapes before. They will run you down with their strollers carrying designer babies just for a bunch of 'em, or for a couple of homely pears.
However in my search for good butter, I was missing out on the greatest breakfast treat of them all: lox and bagels. So at Zabar's, I body slammed the little old ladies gathering in front of the cream cheese, reached over the people foolishly waiting patiently in line at the bakery counter for a couple of bagels, and kvetched with the guy who slices the lox about how things just aren't the way they used to be anymore, but thank goodness we have our health. God willing.
Except for me and the tooth I broke eating pizza on my first night. So if you see somebody in New York City chewing funny and noshing only on soft Black & White Cookies for the next week, that'd be me.
Finally I woke up this morning and popped a seeded bagel in the toaster—which may alarm the bagel-extremists out there who say never toast a bagel—smeared a big wad of Philadelphia on it, and layered up the lox. No capers, no red onions.
And no warm tortillas when I get home, either. Still, I'm not complaining. Bagels and cream cheese and lox for breakfast?
I'm in heaven.
I may never go back to croissants.
But I'm definitely going back to Zabar's.
Zabar's
80th and Broadway