A while back, I posted a recipe for a Meatball Sandwich, something I had been craving like a lunatic and just had to get my hands around. Then, a few weeks later, I ran into a reader (at a health food store!) in Paris who said, "That was funny…because I was craving the exact same thing, and then I saw it on your blog!"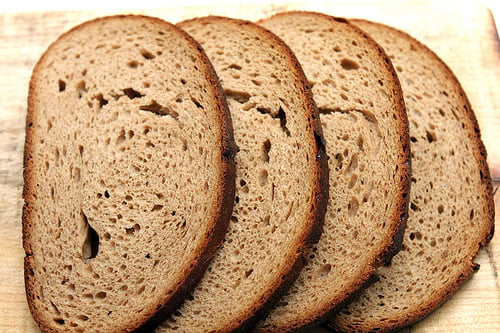 Am not sure where these urgent food cravings are coming from, but they seem to go in waves, and like a courant d'air that blows through Paris – not all of us close the window on them. I haven't seen any meatball sandwiches in town since I made one, but Hamburgers are still having their day and I was having a burger at a favorite burger joint, Big Fernand, and talking with one of the very nice mecs that owns the place.
Even though I'm so buried in mountains, files, and heaps of paperwork, I've had to create a new folder to archive messages in my Inbox that begin with "You should…" (Lordy, I wish I could do it all…) – I said to him "You should make patty melts!" I had to describe what a patty melt was, and am not sure if words can describe the magic of the patty melt.
But he looked kind of interested in what this crazy American was talking about. A burger? Not on a bun? Bread with caraway seeds? Fried on a griddle? So I gave him my card and hoped for the call.
Unfortunately I'm not sure since I've been patiently waiting for my phone to ring for the past six months and can't ask them. But I decided to take matters into my own hands – figuratively and literally – and fry up a couple of patty melts at home.
The patty melt is a curious sandwich. Perhaps it's because people in Paris don't eat caraway-seeded rye bread (or at least I've never seen it), which is a crucial ingredient that you can't skip. I know, I know. I should have. But had to use the rye bread sold at the local supermarché. I would have hand-studded the slices with caraway seeds, but I already get too many funny looks around here. (In addition to the blank looks I get if I talk about carvi, or caraway seeds.) And the melty, grilled onions are obligatoire, but not really something you'd find oozing out of a sandwich in Paris.
But there's plenty of French beef, there are bins of onions at the markets just waiting to be sautéed. And there's definitely no shortage of great cheese. So they should have called me. (Perhaps my card got archived in their special Inbox as well?)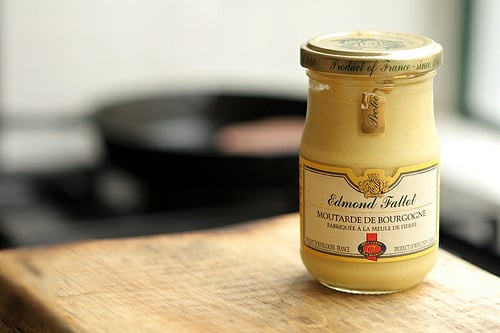 Anyhow, I'm not sure what the food authenticity-police have to say about condiments, but I like a swipe of spicy Dijon mustard on mine, which cuts the richness of the onions and cheese that accompany the juicy burger. However you could use a yellow mustard for the full-on "burger joint" effect.
As soon as I fried up the sandwiches, we dug in. And I learned that there's only one thing harder than taking a picture of a patty melt, and that's taking a picture of a Frenchman wolfing down a patty melt. (Or translating what "wolfing down" is.) But once you pick it up, it's hard to put down, with the bread barely able to contain the heap of onions, beef, and cheese packed inside. So you don't want to let it go, until you reach the end. Which is where I am with this story. Now go make them. You should.
Patty Melt
It's important to use rye bread with caraway seeds (called Jewish rye, in the United States.) Those little savory seeds add a distinct, yet critical flavor to the sandwich.
2

onions

,

(about 1 pound/ 450g)

2-3

tablespoons

unsalted butter

salt and freshly ground black pepper

12 – 14

ounces (350g)

ground beef

4

slices

Swiss-style cheese

,

such as Emmenthal

4

slices

Jewish rye bread

Additional softened butter for the bread and frying the sandwiches
Peel and slice the onions. Melt 2 tablespoons of butter in a skillet over medium heat. Add the onions, season them with salt and pepper, and cook them – stirring frequently – until soft, wilted, and golden brown. It should take about 15 minutes. If using a non-stick skillet, you may need to add the additional tablespoon of butter. Set aside.

Season the ground beef with salt and pepper and shape into two oval patties about the size of the slices of bread you'll be using. In a separate pan, fry the beef patties until done a little less than your liking.

Butter one side of each slice of bread, then flip them over so the butter side is down, and lay a slice of cheese over each slice of bread. Spread some of the cooked onions over two cheese-covered slices of the bread, top them with a beef patty, then flip the remaining two slices of cheese-covered bread over the beef patties and press down with enough pressure to "meld" the fillings.

Heat some butter in a skillet (preferably cast-iron) or a grill pan over medium heat and slide the two sandwiches in. Once the underside of the sandwiches are grilled to your liking – which will take a few minutes, use a spatula to carefully flip the two sandwiches.

Continue to cook the sandwiches so the other side gets grilled. You may want to press the sandwiches down while they are heating to compress them, which makes them easier to handle and eat. Don't worry about any of the burger juices running out; any that do will get absorbed by the bread and will be delicious. (And if the cheese isn't melting quickly, cover the pan with a lid, to encourage the cheese to melt.)

When the sandwiches are ready, slide them onto a cutting board, slice them in half, and serve.