Agen
I recently had lunch with someone who'd just moved to Paris. I gave her some places to check out and a few tips about living in her newly adopted city, including navigating some of the ups and downs, and what to do when city life became overwhelming.
But shortly after we parted, I realized that I'd forgotten to tell her my most important piece of advice for living in Paris: Whenever you see an available bathroom, use it.
Another vital piece of advice that I give to folks who arrive in Paris to live is that it's important to get out of the city and see the rest of the country. Cities are great places but when you visit the smaller cities and towns in France, you see life that hasn't changed so quickly. Paris is not France, it's part of it – and there's a huge, diverse country once you wheel yourself out of the city.
At the local markets in the countryside, and in smaller cities and villages, farmers still bring boxes of fruits and vegetables that were just-pulled from the ground that morning, restaurants don't require reservations three-to-six weeks in advance, folks wear clothes in colors other than black (guilty!), and the pace of life is slower so the locals are more relaxed and friendly.
I always insist that I'm a city-boy and I'd never live anywhere else. But then, a couple of days into life in the countryside, and you need a crowbar to get me to leave.
So I've been trying to get outta town more often because it's so easy to get wrapped up on the excitement, and stress, of city living. Leaving the frenzy of Paris always begins at the crazy-busy gare (train station), where it seems all of Paris is frenetically converging to go somewhere else, too.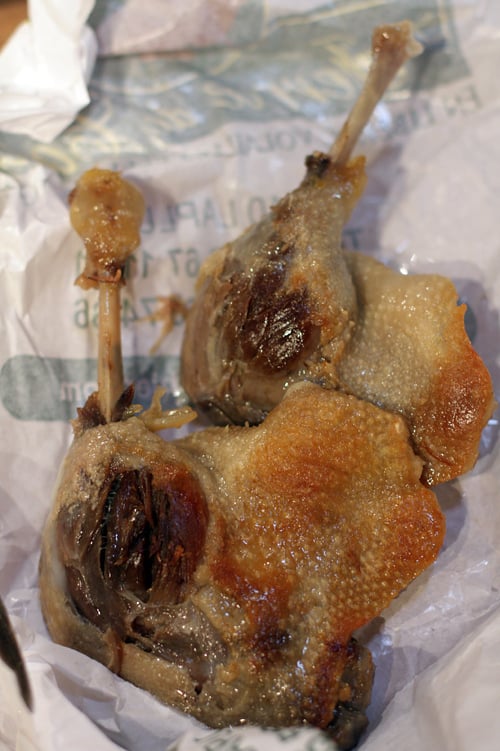 I headed to Agen to visit my friend Kate, who runs a cooking school focusing on charcuterie. And where duck..and duck fat, reign supreme. Curiously, agen in French also sounds nearly the same as à jeun, which is "fasting", as in, having an empty stomach. Which I knew we weren't going to be doing.
So what does one bring someone who has farm-fresh produce right outside her kitchen window, rows of fresh herbs, and wine-by-the-jug?
Pain Poilâne, of course. (I brought her a box of chocolates from Jean-Charles Rochoux as well, but I told her to hide them in her bedroom to keep them away from everyone else.) But that was me, at the busy gare Montparnasse, lugging a 2 kilo (4 1/2-pound) loaf of miche Poilâne in my suitcase (up above), which literally took up a whopping 55% of the space in there.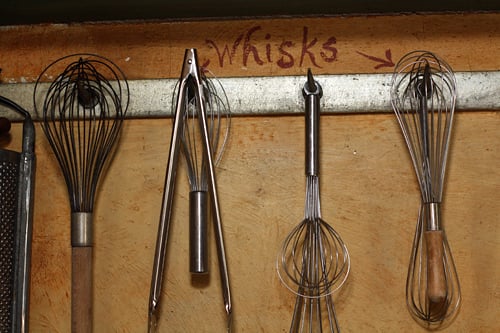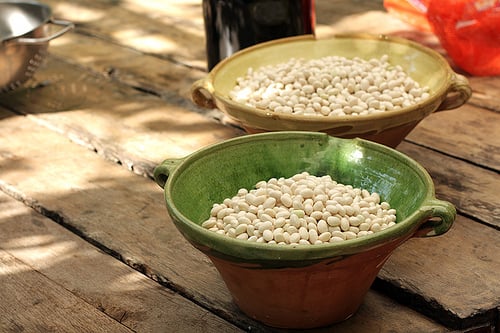 Fortunately another reason to travel to the countryside is that you can pack a much more casual wardrobe; just a pair of worn jeans, a few t-shirts and pullovers, and, of course, a wine opener. Although in the countryside, you might not need it. Need another reason to leave Paris? You might luck upon some kale!
While strolling through Kate's potager (vegetable garden), I waded through bunches of kale shooting upwards, the crinkly leaves falling gently away from the stalk, deep-green leaves with that hearty flavor that we Americans can't seem to get enough of. And I wanted to take off all my clothes and roll around in them, covered with olive oil, fried garlic cloves, and red pepper flakes – although if I did, I might skip the red pepper flakes, for reasons obvious if you've ever handled hot peppers, then took a restroom break afterward.
But the outdoor markets in Agen are wonderful, and the majority of produce is actually sold by the growers themselves. There were burnished little Mirabelle plums, which are quite sweet, as well as Italian prune plums, and the prunes d'Ente, which make the famous pruneaux d'Agen, and are one of the best things you can pop in your mouth. Just don't eat too many, whether you'd had a few hot red peppers before, or not.
Wine is available in eco-friendly packaging. For €6/gallon — no corkscrew required.
The giant, irregular tomatoes 'plein champs' are the real deal, – not hothouse importers posing as real tomatoes. And to those of us who live in the big city – check out those country prices!
Being fall, peaches and other stone fruits are winding up, and piled up everywhere were lugs of grapes, specifically Muscat and Chasselas, which had much more flavor than those that get packed and shipped long distances. Chasselas are classified by the French government and I'm not usually all that wild about them as others are (although I love the wine in Switzerland made from them), but there were great and along with the muscats and a few rounds of dewy-soft, gently aged goat cheeses scattered about, we had the makings of an instant dessert.
I shopped heavily at a stand of folks who grow and mill their own flour. They make bread from their own wheat and spelt flours, but they also sells bags of harder to find chickpea flour and lentil flour. And speaking of heavy, in addition to a few good-sized bags of tiny green lentils, I circled back for a couple of sacks of chickpeas from this year's harvest and some stone-ground polenta, which is difficult to find in Paris.
(Just say "no" to instant polenta, while you're saying non to hothouse tomatoes.)
Surprising me as well were tiny bundles of spicy red peppers. In comparison to other chili peppers, they're not as piquante as others in their family, but Kate told me they pack a little bit of a punch. There was no shortage of cured pork products, beautiful breads from a local flour mill, and some mismarked plums that too many people pointed out to me when I tweeted the picture. (Obviously they don't have Twitter followers because otherwise, folks would have been right on them for mislabeling their quetsch plums as Reine Claudes the moment they tweeted..er, I mean, put that sign up.)
Photographer Tim Clinch was with us at the market and when I asked him for advice about trying to take a decent picture of some tomatoes and peppers that I was having trouble with, he helped me out by giving me some sound advice: "Well David, try getting out of the way. You're blocking all the light."
Anyhow.
Also along was food and prop stylist Libbie Summers, taking a break for putting food in front of other people's cameras, but toting her own camera along.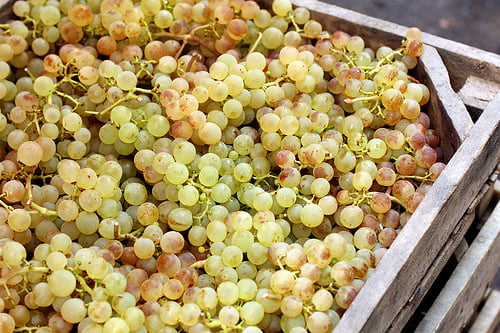 She was looking for market baskets (although we were all coveting the wooden grape crates…for obvious reasons), so went to a quincaillerie which is sort of like a hardware store, but more like the old-fashioned general store we used to have since they sell items for food preparation like curing salt (for making charcuterie), vinegar urns, and screened-in cheese lockers – #want –
– which is a little paradoxical, because French people don't put screens on the windows of their houses to to protect themselves from bugs, but will put them on little boxes to protect their cheese from them.
(Speaking of #want, I also want that chicken salt-cellar above, too.)
In addition to being duck country, the Lot is also pig country, and the quincaillerie had sacks to cure your own ham in. Although I kind of wonder if there are "truth in advertising" laws in France, because I am not convinced that a pig in that situation is actually as delighted as depicted.
And lest you believe the stories that the French system hinders innovation, someo enterprising locals prove those naysayers wrong with a clever parking meter-warmer.
After hitting the local liquor store, to stock up on Armagnac and other spirits (the red wine got taken care of at the market), we headed back home to cook…and eat.
Surrounded by tree loaded with red-fleshed peaches (called pêche de vigne), figs, multi-colored apples, and bulky pears, if you wanted to find me, I was likely standing under a fruit tree, reaching into the leafy branches trying to snag a piece of ripe, juicy fruit off the branches. Although at least now, I'm smart enough not to stand directly in front of things I'm taking a picture of, blocking all the light.
I gorged myself on fresh figs, which were drooping from the trees like something I was going to say, but decided against it. But If I bit into one and found a bead of sweet syrup in the center, I was richly rewarded with that ethereal experience of a pitch-perfect specimen of fruit at its peak. So I tried as many as I could, looking for as many perfect specimens as possible. There were a few varieties of figs and one had a curiously spicy flavor, with a pale-purple skin.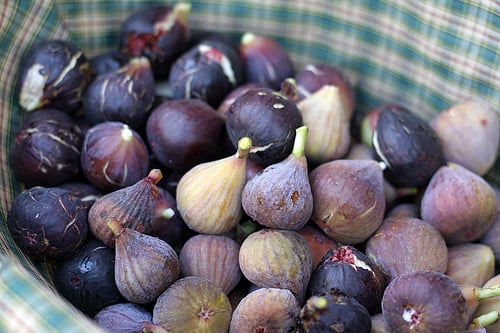 I don't know the variety, but here's a picture so perhaps someone can fig-ure it out, if you'll excuse the pun. And I scared the chickens, who were racing around eating some the fruit that fell before I could snatch it, but they rewarded us with lovely little eggs, along with their neighbors, les quails.
I picked (and ate) so many figs that I got dizzy from all the sugar – and I suspect a touch of alcohol from munching on a couple of overripe ones- I finally stopped, and let the birds, and the bees, have the rest.
In the kitchen, we cooked up the meter-long rope of chicken and shallot sausage from the market, shelled a cassole-load of fresh beans, and gorged on the amazing pâtés from the charcuterie at the market, as well as overturning a jar of duck blood terrine, which is always fun to serve to visitors, who usually have a little trouble approaching it.
And of course, all meals begin with an apéritif. (And if they don't, they should.) Which helps to wash down just about anything. In this case, I'd bought a spirit called L'apéritif des Soleils, a mélange of Chasselas grape juice, Martinique rum, Tahitian vanilla, and une pointe of piment d'Espelette, the somewhat local Basque pepper powder.
The next day we did brunch, cooking up a bag of grits that Libbie brought.
Our lanky British lad, who helped collect some eggs for breakfast – and whose height made him a pretty good fruit-grabber, too – fried up some streaky local bacon, nice and crisp.
Potatoes were shredded for hash browns, gravy came forth, made from the bacon drippings, the apéritif glasses were soon filled with rosé.
And although we didn't have buttermilk biscuits, it's hard to complain about pain Poilâne, no matter how untraditional.
To walk it off, we went to the local village, um…well, am not sure what kind of curious rituals go on with the farm animals (or if it's a work of art) but maybe I do belong in the city after all…
So I finally bid goodnight to my chambre on wheels, where I slept. (#want) And since I had some extra room in my suitcase from dropping off that enormous round of pain Poilâne, I had a wee bit of room to bring something back to la ville de Paris.
Then, my weekend was over, and it was time to head back to the big city. Fortunately since unloading the bread, I had a little extra room in my suitcase. Okay, a lot. So I hit Kate's garden at Camont before heading to the train.