Giant Bean Gratin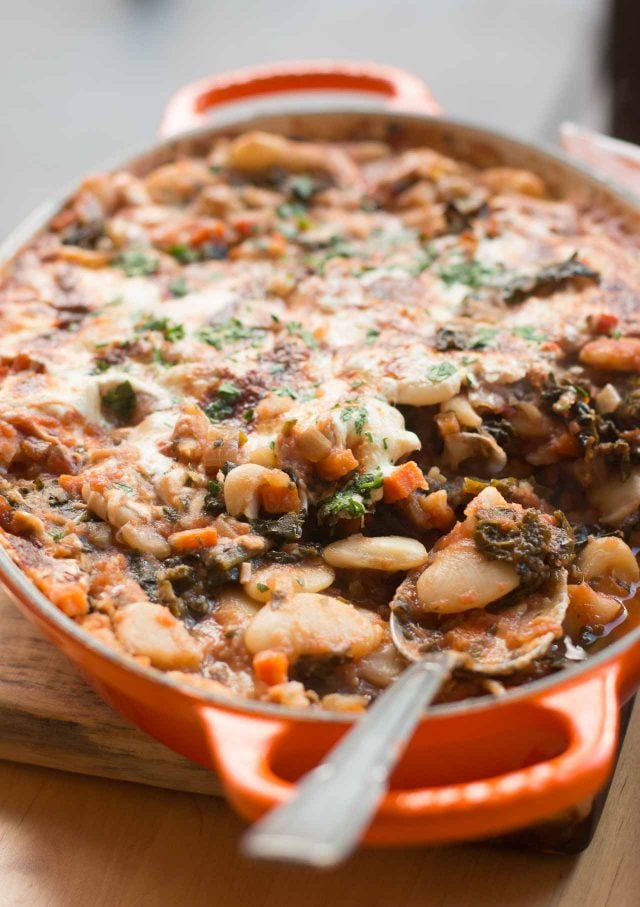 I spent much of the fall and winter running around, while a pile of cookbooks waited patiently for me to cook from them. Now that I'm back in the saddle, and in the kitchen, I'm getting around to some of the many recipes that I've bookmarked. One of the first that caught my eye was the "Pizza beans" in Smitten Kitchen Every Day.
It also goes by the adult name, "Tomato and Gigante Bean Bake," but since Deb Perelman, of Smitten Kitchen, has two kids, calling them "pizza" made them more alluring than "bean bake." Me? I need no excuse to simmer up a pot of beans, especially in the winter, when I am looking for any excuse to keep the oven fires burning.
There was a movement when everyone was told not to salt dried beans when cooking them. And to throw a wrench in another possible misconception, Russ Parsons says you don't even need to pre-soak them.
As someone who has, so far, managed to resist the allure of adding a slow cooker, pressure cooker, or slow pressure cooker, to what seems to be the ever-shrinking space in my admittedly more-spacious-than-before kitchen, I still pre-soak beans. Even though I trust Mr. Parsons 99 percent, I'm a 1 percenter and still waiting for someone to prepare a side-by-side comparison to see how they come out. Then I turned to the internet and, of course, Kenji did it.
Then there's the controversy around adding salt to the water while the beans are cooking. Food needs to cook with salt, and doesn't taste the same when it's salted afterward. (I got into a tiff with a butcher in Paris about that, when I was served an unsalted steak.) So I add salt when the beans are partially cooked, to split the difference. The real enemy of dried beans is hard water, which I found out the hard way (no pun intended…) when I was cooking dried beans in France and they refused to soften in the mineral-rich water. A teaspoon of baking soda added to the water will often do the trick, and some people use bottled water. Buying dried beans that are less than a year old is helpful, too.
I'm not sure these kinds of beans have a name in French, except for perhaps géant. Haricots des Soissons are excellent and would work well. I found mine in a market that specializes in Turkish ingredients, but in the U.S., Rancho Gordo Royal Corona beans are A+.
(Sharp-eyed readers, and even those that aren't so sharp-eyed, will see that I cooked the vegetables in one pot, which I did the day before, due to time constraints. I wasn't just doing it to add some pretty colors in the pictures. I've put those notes at the end of the recipe in case you want to make part of this gratin ahead.)
Once done, the beans are mixed with the vegetables and crushed tomatoes. After spending some time under the broiler, the cheese on top becomes bubbly and brown, like Belgian endive gratin.
Unlike Deb's kids, my charge, Romain, isn't reluctant to eat beans. And he didn't need any urging when he had his first taste of garlic bread.
But really, isn't there anything not to like about a loaf of crusty bread, smeared with lots of garlic, good butter, and sprinkled with some Parmesan cheese before being toasted under a broiler, until the center of the bread is soaked with what tastes like liquid garlic, and the top is brittle, slightly salty from the cheese, and crunchy-brown? I think not.
A couple of things about this gratin. This was designed to be family friendly, and with two toddlers, I suspect Deb was keeping it on the tamer side. If you want a little more oomph to it, feel free to add some crumbled cooked sausage, bacon, or diced chiles. Next time I might add a handful of chopped fresh sage, oregano, or basil to the mix.
Unless you've got some hearty appetites in your household, you'll likely have leftovers. You can put them in a smaller gratin dish and warm them in the oven, then add more cheese and run it under the broiler.
To be honest, this gratin sustained us through three meals. And since I'm being honest (and because I couldn't figure out for the life of me how to change the color of my enamelware dishes in Photoshop), it was best the third day, when all the ingredients had plenty of time to meld into a hearty, cheesy, bubbling gratin. It also gave me an excuse to make garlic bread again, and again, and again.
| | |
| --- | --- |
| Giant Bean Gratin | Print Recipe |
Adapted from Smitten Kitchen Every Day by Deb Perelman I used kale, but other sturdy greenery, like Swiss chard, broccolini, or mustard greens, would work. I made a few suggestions in the post about adding meat or extra herbs. You'll need to start with 1 pound (450g) of uncooked beans to get the right amount for the recipe. Coronas are ideal, but the beans I used didn't have the variety listed on the package. I know that there's a Polish bean that's quite large, and found an interesting blog post about them, along with some beans that are similar. Whatever you use, reserve some of the bean liquid if you want to use it in place of the wine (in step #2), and to add back to the beans before cooking, in place of the stock. Whatever you use, try to find the largest beans you can. This is a recipe where size matters.
1
large
onion,
peeled and diced
1
carrot,
peeled and diced
freshly ground black pepper
2
cloves
garlic,
peeled and minced
1/3 (80ml)
cup
white wine
(or water, or bean liquid)
5
cups (120g)
coarsely chopped kale leaves
2 1/4
cups (550g)
canned crushed tomatoes
1
pound (450g)
giant beans,
cooked drained
about
1/2 cup (125ml)
stock (vegetable or chicken) or bean liquid
8
ounces (225g)
mozzarella,
coarsely grated
1/3
cup (35g)
grated Parmesan
coarsely chopped
flat-leaf parsley,
for garnish
1. If you have 2 1/2 to 3 quart (2-3l) stovetop-friendly gratin dish, use that for preparing the vegetables. (You'll be baking the gratin in the same dish.) If your gratin (or similar sized dish, like a lasagna or braising pan) can't be used on the stovetop, prepare the vegetables in a large skillet.
2. Heat the olive oil in the dish or pan. Add the onions and carrots. Season with salt and pepper and cook until the vegetables are wilted, stirring frequently, about 10 minutes. Add the garlic, cook for another minute, then add the wine (or water or bean liquid), scraping the bottom of the pan to remove any stuck-on or browned bits of vegetables. When the wine has been absorbed, add the kale and cook until wilted. Preheat the oven to 475ºF (245ºC).
3. Add the tomatoes and bring to a simmer. Add the drained beans and cook everything together 5 to 10 minutes, adding up to 1/2 cup of stock if the mixture looks dry. Taste, and season with additional salt, if necessary. If you've prepared the vegetables and beans in a skillet, up to this point, transfer them to an oven-safe baking dish (as mentioned in step #1).
4. Sprinkle the mozzarella on top of the beans, then the Parmesan, and bake for 15 minutes until the cheese is melted and browned on top. If you wish, run the gratin under the broiler until the topping is browned to your liking. (If making garlic bread, you can cook it at the same time under the broiler.) Remove the gratin from the oven, top with parsley, and serve.
Serving: Although not required, this goes well with garlic bread. Warm butter with minced garlic and a pinch of salt. Remove from heat and let cool until spreadable (You can also add some dried oregano, a pinch of red pepper flakes to the butter, and/or some chopped parsley after the bread is baked.) Split a crusty loaf of bread, like a baguette, bâtard, or what's often referred to as "Italian bread" in the U.S.
Lay the bread on a sheet of foil, cut side up, smear garlic butter over the bread. Sprinkle with Parmesan cheese and run the bread until the broiler until the top is browned.
Storage: If making the dish in advance, you can refrigerate the vegetable mixture for up to three days in advance. Rewarm it before adding it to the baking dish. In which case, it may need a little more liquid added when being rewarmed.