Endive and Ham Gratin
I've had a lot of visitors this season and everyone, of course, wanted me to pick a restaurant where to meet up. It was great to see so many long-lost friends, but since it was two meals a day for a couple of weeks, my "idea list" began to run dry. And while I have a bunch of places that I personally want to try, most visitors don't want to "try out a new place" (and for some reason, no one wants to go out for pizza…), so rather than risk a so-so meal, they wanted me to pick something tried-and-true. Which I suppose is fair enough.
But after a while, I was tapped out. It got to the point where I had lunch one day at one place, then returned to their partner restaurant across the street for dinner a few hours later that same night. And I also learned that there's only so much restaurant food you can eat. I used to wonder why food critics complained about their jobs, having to eat all the time. Yet by the end of my guest stints, I was starting to wave the white flag of surrender myself.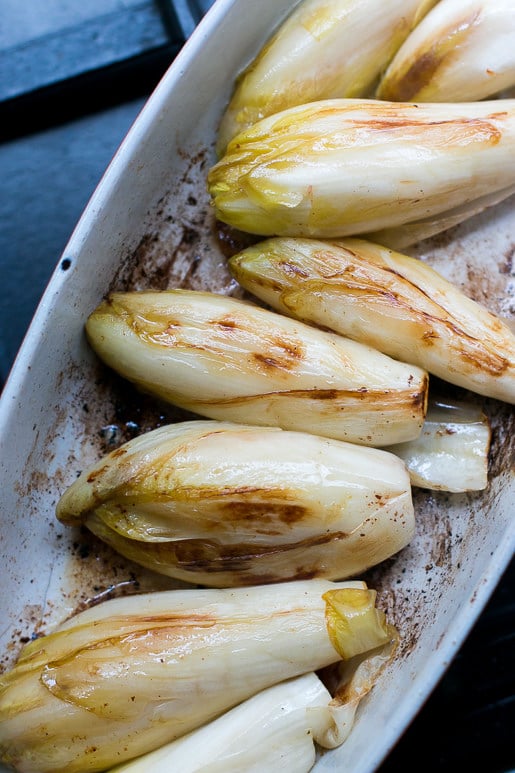 I did have a little break and went to a French friend's home for lunch one day, and knowing both of us were pretty busy, and eating a little too much lately, we left the decision to whatever we felt that we'd be in the mood for that day. Then that day arrived, and neither of us could decide. At her suggestion, and in deference to our waistlines, and our pocketbooks (or in my case, my wallet), she invited me over for soup.
Lunching in her kitchen, we did, indeed, start off with soup. Then she pulled an endive gratin out of the oven with the spears wrapped in ham and melted cheese roasted all over the top. I wasn't sure if the dish laden with ham, béchamel, and cheese, was so pleasing to the waistline, but it tasted wonderful. And it was nice to have a home-cooked meal for a breather.
Belgian endive is widely available in Paris and while I know it's a specialty ingredient in other countries, as it is in the United States, it's usually about €2 per kilo (roughly $1/pound) in France, so it certainly fits into the easy-on-the-wallet category. (And no, I don't carry a man-purse.) It's often sold in big bags and I always seem to have one in my refrigerator, ready to make a big Belgian endive salad with.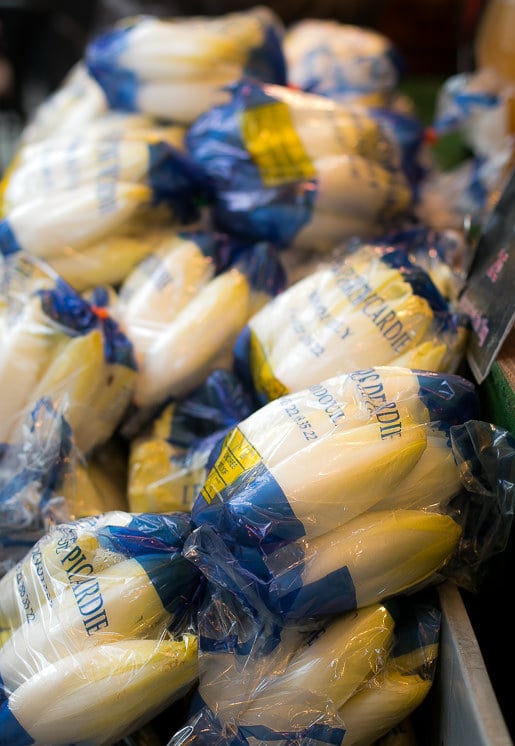 The slightly bitter, hefty flavor of Belgian endive is nice in the winter when your appetite needs some perking up. And even if it's pricey where you live, tossing a sliced up spear with some mixed greens is a great way to extend the flavor without having to dig too deeply into your man-purse, or wallet.
However when long-roasted in a bath of butter, no matter what the price, Belgian endive becomes a luxurious experience. When I made this gratin a friend called, who works for a French agricultural association, and he was baking some Belgian endive spears the same way, the very same night. Unfortunately since it's winter, the sun goes down around 5pm and there's little natural light to share a photo that does justice to it.
Fortunately, there was enough for leftovers the next day and like lasagna, it's almost better the second time around, when the cheese gets extra chewy and crisp around the edges. (I do add a bit of extra cheese, to moisten things up if reheating.) This is a wonderful rustic French dish, perfect as a main course along with a green salad with mustardy vinaigrette. But it's also a nice side dish, in the dead of winter.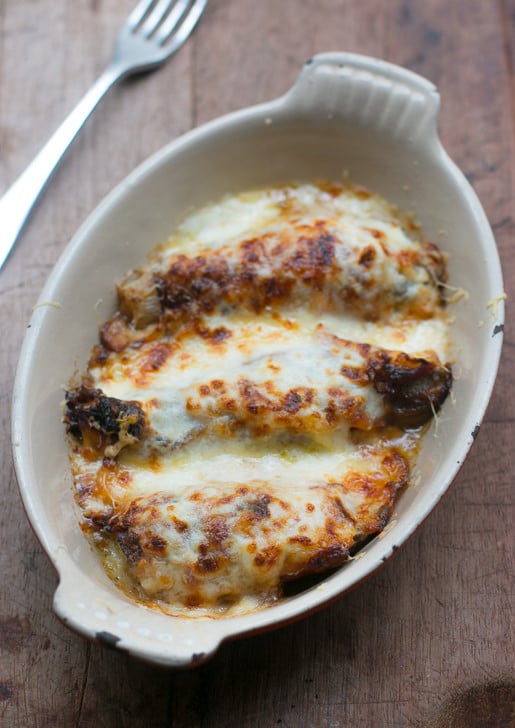 | | |
| --- | --- |
| Endive and Ham Gratin | Print Recipe |
Serves 2 (or more) as a main course,
4 as a side dish
I happen to be a person that doesn't like a lot of sauce. However it's hard to make a very small batch of béchamel so I included a recipe that makes 2 cups (500ml). I used about 1 1/4 cups (about 310ml) but feel free to use all of it if you like sauce, especially if you bake the endives in a larger gratin dish. (Mine is a long, vintage orange one, with not a lot of room around it.) As for serving size, I'd figured this was enough for four people, but we ended up eating almost all of them, they were so good. The few that we were able to resist, were great reheated the next day.Note that the butter-braised Belgian endive spears are good on their own. No need to sauce and add cheese; they're a wonderful side dish on their own.
For the béchamel:
2
tablespoons
butter,
salted or unsalted
2
cups (500ml)
whole milk,
warmed
For the endive and ham gratin:
2
tablespoons
butter,
salted or unsalted
1
pound (450g, about 8 medium spears)
Belgian endive spears
8
thin slices
of ham
such as prosciutto, speck, or another country-style ham
3/4
cup (65g)
grated cheese
such as Comté, Gruyère, Emmenthal, or Gouda (or a combination)
1. To make the béchamel, melt the 2 tablespoons of butter in a saucepan. Add the flour and when the mixture begins to bubble, cook, stirring constantly, for 2 minutes. Gradually add the warm milk, while whisking, until it's all incorporated.
2. Continue to cook the sauce at a low boil for 4 to 5 minutes, until it's about as thick as a milkshake. Remove from heat and mix in the salt and cayenne. Set aside. (You can make the béchamel up to 2 days in advance, and chill it until ready to use.)
3. Preheat the oven to 325ºF (160ºC).
4. Melt the 2 tablespoons of butter in a heatproof and flameproof baking or gratin dish, on the stovetop. (Make sure the baking dish you use can be heated over direct flame or on the stovetop. I use a glazed enamel gratin dish. Glass, porcelain, ceramic, and other materials are usually not appropriate for stove-top cooking. If you don't have one, or are unsure, melt the butter in a skillet and do the initial browning - in the next step - in the skillet. Then transfer them to an ovenproof baking dish before baking.)
5. Add the endive spears and cook, turning them occasionally, until they are browned on all sides, about 10 minutes total. Add the water and lemon juice to the baking dish, cover the endive with a piece of parchment paper, and bake the endives in the oven until fully cooked. They're done when you pierce one with the tip of a sharp paring knife, and it meets no resistance. Small to medium endives will take about an hour. Larger ones may take 15 minutes longer.
6. Remove the endives from the oven and increase the heat to 350ºF (180ºC).
7. When the endives are cool enough to handle, wrap each one with a piece of ham and set them in a single layer back in the baking dish. (If you want, you can smear some of the béchamel in the bottom of the baking dish first.) Spoon béchamel over the spears (see headnote), top with grated cheese, and bake until the cheese is melted and the top is browned, about 30 minutes. If you have a broiler, if they don't brown, or if you'd like them darker, run them under the broiler for a few minutes, until they're done to your liking. Serve warm.
Storage: The endives can be cooked 2-3 days before being wrapped in ham, and baked.