I was recently reading a Paris-based website and a reader had written to them, asking them why they were always talking about restaurants in the 10th arrondissement where ".. there isn't much to do there." The response was that that's where most of the new and interesting places are opening. And while it's not where most visitors dream about staying when they come to Paris, there are certainly plenty of interesting shops and restaurants there, as that's where the younger chefs are setting up shop.
I get the reader's point, that they (like many visitors to Paris), are looking for more traditional French restaurants, such as bistros and brasseries. The other evening I went to a bistro in Paris, up in the 11th, with a friend who is a food writer. The menu outside noted that the cuisine was fait maison (homemade), and we were excited about trying this address, which he'd heard was very good. And I had brought along my camera, hoping to share it.
But alas, the food at the unnamed bistro was served tepid and while it was made with the ingredients that were, as the French would say, correct, the dishes served to us were obviously prepared in advance and rewarmed. (And served on cold plates, which negated the reheating of the food.) It was all very average, including the lemon meringue tart, which, due to the lack of taste, made us conclude that it had obviously been languishing in the refrigerator long enough so that all the flavor had been leached out of it, replaced by that unmistakable dullness of refrigeration.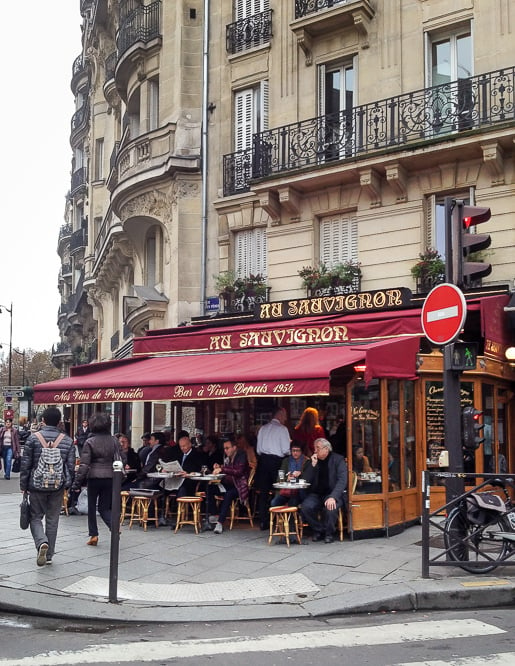 But there are nuggets of "old Paris" here and there, including over in the 6th and 7th, where many visitors tend to go. (And since that's where there is the highest concentration of chocolate shops are, it's hard to blame them!) So if you're not up for a trip to the 9th, 10th and 11th arrondissements, where most of the newer restaurants in Paris are opening, you can find that wonderful feeling of old Paris at Au Sauvignon. It isn't the place to get duck confit or steak frites. Nor is it a place to stretch out for a while and enjoy your table as long as you want. In fact, as soon as we were finished, the waiters kept checking back on us, to see if we were ready for the check. But for a quick bite or a late afternoon glass of wine, it's perfect.
The welcoming staff will not introduce themselves by name, but will seat you promptly, and you won't need to wait long before they come by to take your order. The little laminated menus they'll bring over feature les Casse-Croûtes au Pain Poilâne (€5,30), simple little sandwiches of well-curated meats and cheeses, served between slender slices of the most famous bread in the world. (Which is just a few blocks away.)
Some of the sandwiches have stuffed goose neck, others and have a few slices of cured ham slapped between the bread. There's fritons (cracklings) and foie gras. We went with dried sausage and jambon d'Auvergne. The French don't put mustard on ham sandwiches, but use butter instead. And here, they spread the Poilâne bread with superlative French butter before slapping on a few slices of meat, pressing the casse-croûte (appetite-"breaker") together, and cutting it into bite sized morsels. For vegetarians and cheese-lovers, you can treat yourself to some Cantal, which is ripened at Barthélémy, the highly regarded (and equally bite-sized) fromagerie just around the corner. When in season, oysters are on offer, with a glass of Sancerre or, yup, Sauvigon blanc.
Prices are reasonable in this casual, drop-in café (as you can see, they don't spend a lot of money on plates), and I hadn't gone with the intention of sharing it, hence the pictures taken with my aging, but always available, iPhone. But Au Sauvingon hits all the checkmarks for engaging places in Paris that serve good food, prepared with top-notch ingredients, in a traditional environment.
The servers and staff are friendly (well, just friendly enough…) and efficient, proving what I often say to people who think that the French don't work hard; go watch a good Parisian waiter in action. I think they might deserve one of those UNESCO heritage designations. As for the rest of us, visitors and residents alike, we deserve good food, and wine – no matter what neighborhood we find ourselves in.


Au Sauvignon
80, rue des Saints-Pères (7th)
Tél: 01 45 48 49 02
Métro: Sèvres-Bablyon or Saint-Sulpice
Open daily, 8am to 10pm (Closed Sunday)