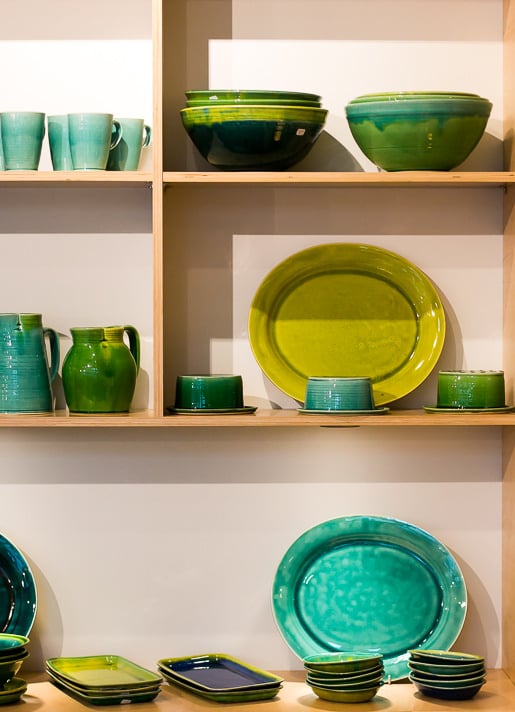 Zut! Just after I walked into La Tuile à Loup, the owner of the shop was presenting a customer with two cassoles that he'd retrieved from his store-room, to choose from. As the customer scrutinized each one, I also was eyeing them both longingly, with the same feeling that you get when you're at a flea market and someone is holding something that you really, really want, and gently negotiating with the vendor. But there's nothing you can do except wait for that precise moment when they set it back on the table and their hand unclenches the object. And it's fair game, and ripe for the taking.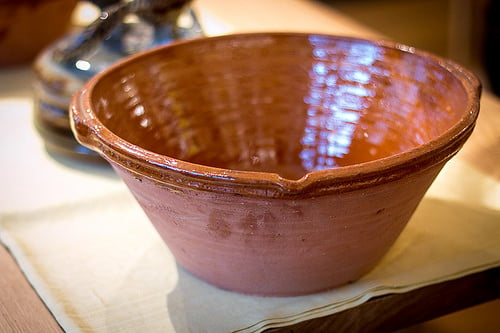 No such luck for me, as of the two presented, the guy took the one that I wanted. (The other one that was for sale was just like the one I have. Although thou shall not covet another's cassole, I wanted the one, shown – that he bought – because it had straighter sides. And because greed is not a sin – at least in my book – I felt it okay to want both.)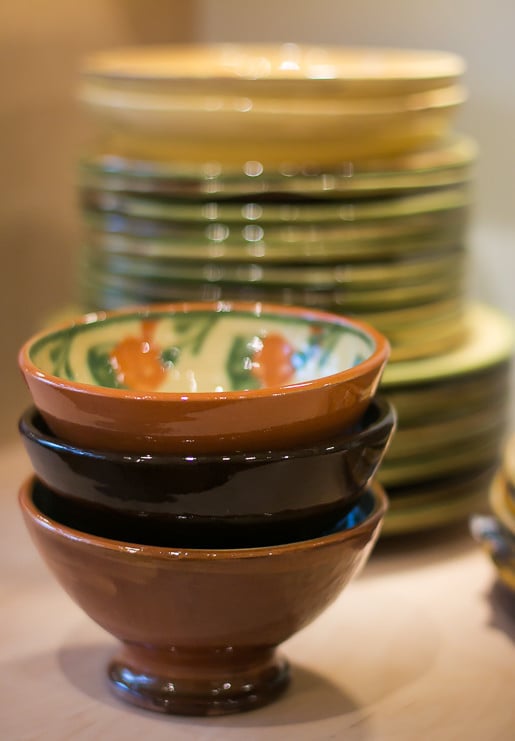 After he left and I got over it (which actually may take a few weeks…) I starting talking to the charming Eric Goujou, who took over La Tuile à Loup in 2006. He was a collector, and customer, himself. When the owner retired, he bought the shop.
But it's not just us that likes French pottery. A lot of visitors come to France, looking for handmade French poterie. And La Tuile à Loup is the place to find it.
When I went to Provence a few years back, I was with some pals from the states who wanted French pottery. But to be honest, it's tough to find the real deal nowadays. Much of it is made elsewhere (often in North Africa, where people will work for less), and it's hard to find a comprehensive range of truly exceptional pieces, especially all in one place.
Eric showcases artisan French pottery from all across the country; Alsace, the Camargue, Normandy, and Provence. Although they're all one-of-a-kind pieces, the plates, bowls, and platters, could certainly be put to use every day.
Even Paris is represented, with shelves of dinnerware from one of my favorite potters, Sylvie Saint-André Perrin, who throws pottery in her atelier in the 14th arrondissement. Her swirly designs always mesmerize me. And if it wasn't so fragile, I'd have a lot more of her pieces than the lone bowl that I guard with my life.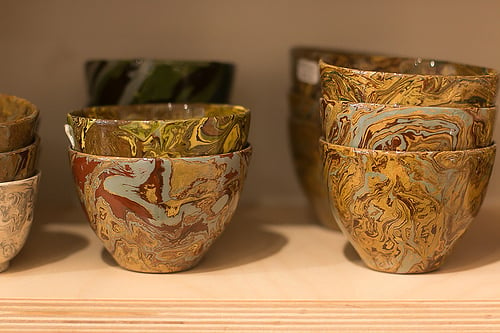 I saw a cake plate that I wanted, which was so beautiful, that I wondered if I'd have the nerve to cut a cake on it.
Speaking of cutting, Eric stocks slender knives from Couteaux Nontron made in the Dordogne, which were on the table at a restaurant where I'd had dinner just a few nights before. (Although tempted, I didn't swipe mine.)
I also can't resist gratin dishes. Any kind I see, I want. Especially the gorgeous round number that Eric hefted tempted me with.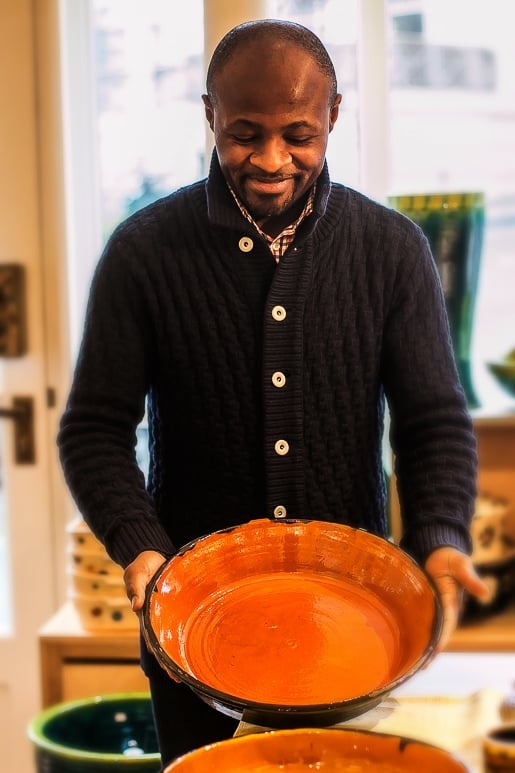 And this oval, orange beauty was, indeed, hard to resist, too. I tried to reason that it's perfect for presenting endive and ham gratin, or leeks vinaigrette. But resist, I did.
I did come home with a rectangular serving dish with a unique swirly pattern, and a few pieces of luminous blue and green pottery from the Camargue, a lesser-known region of France that's recognized for its salt, rice and, curiously, pink flamingos.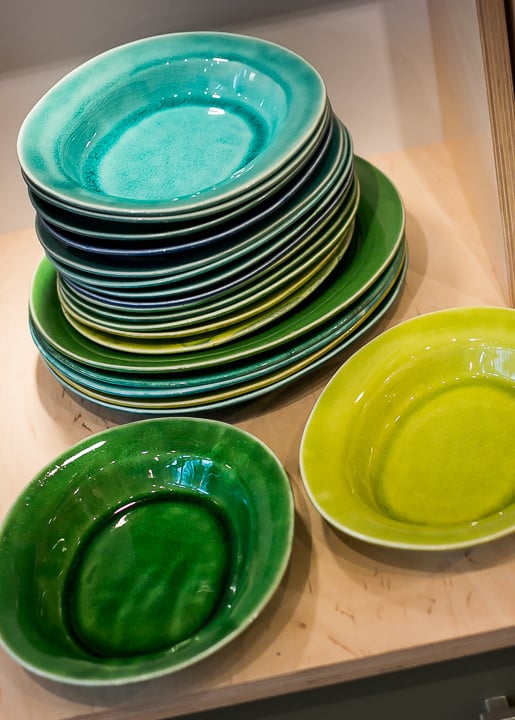 Years ago, I was in Nancy and our hostess served Baeckeoffe, an Alsatian specialty which she described as, "…just a stew with meat and potatoes. It's a very light dish." (I questioned whether a meat and potato stew could be classified as "light.") But when she lifted the lid off the baeckeoffe, the dish that is named after the stew, or vice versa (?), I vowed that I would buy one of those lidded casseroles and make one at home – light or not.
However because my pottery collection has spilled over from my kitchen cabinets and shelves, to my office – and even my bedroom, I haven't picked up a baeckeoffe yet. (Although oddly, I still could have found room for that cassole that got away…) nor have I made the stew. But perhaps if I actually had the casserole, I would make it.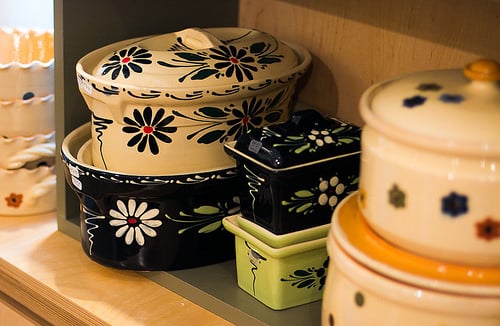 But at least I know where to find one, as well as all sorts of other beautiful handmade pottery, when I finally decide to.
La Tuile à Loup
35, rue Daubenton (5th)
Tél: 01 47 07 28 90
Métro: Censier-Daubenton
NOTE: If you wish to visit the shop, you can make an appointment. Call the shop (Eric, the owner, is fluent in French and English), or send an email, to arrange a visit.