Cranberry-Glazed Meatballs
It's cranberry season! Well, it was back around the holidays a month or so ago. And now that it's over, as much as I love cranberries, it's hard to get people enthusiastic all over again. And that's made even harder when you live in a place where cranberries don't hold the same sway over Parisians, as they do with Americans.
People often express dismay that expats exalt certain foods that "foodies" (which doesn't have a translation in French) would otherwise find reprehensible, such as stuffing mix, canned pumpkin, and tinned cranberry sauce. (I still don't know why the expat food shelves at stores in Europe have powdered cheesecake mix. Is that really a thing? I've never ever seen that back in the states.)
But we all need a break, especially around the holidays – (me especially) – except I think everyone should take a pass on anything labeled "cheesecake mix" – and while kale-sweet potato casseroles and "best-ever", newfangled ways of roasting (and brining, and deep-frying) turkey invade magazines, newspapers, and websites around the holidays, sometimes you just want to be goofy, and present a little reminder of your past, such as store-bought cranberry sauce.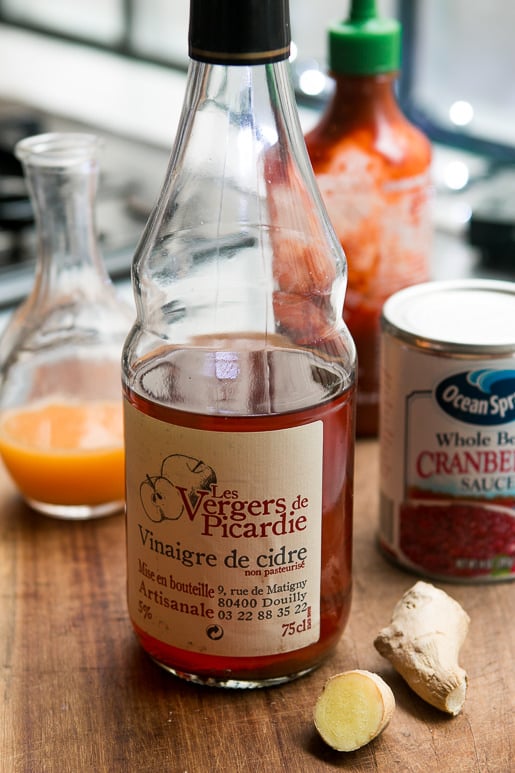 I had a few cans that I'd brought back from the states, because finding fresh cranberries can be a challenge in Paris (although they usually are available…for a price…) While I gazed on them lovingly for the few months leading up to Thanksgiving, I ended up making my own fresh cranberry sauce, once again, especially when I saw that two of the four ingredients in the canned cranberries were high-fructose corn syrup and corn syrup.
It's not like it's something I'm eating every day, so I'm not all that concerned about a once-annual spoonful of dubiously sweetened cranberry sauce. However since I had gone the DIY route, I had those cans lying around that needed to be used. Because come Thanksgiving, I have a few friends that loaded me up with fresh cranberries, so I have a bogs-worth in my freezer, taking up about 45% of the space in there.
Most recipes for cranberry-glaze meatballs use frozen meatballs (…and those are a thing?) and sometimes, grape jelly in place of the cranberry sauce, as well as chili sauce, a tomato-based condiment that is somewhat similar to ketchup. And while ketchup is now omnipresent, chile sauce is another thing that you don't find in Paris.
So I took a slightly different route, adding a dash of sriracha (which my Parisian partner loves – yay!), some orange juice, a handful of freshly chopped ginger to add some zing, and a few shots of cider vinegar made locally, which cleared my conscious of using cranberries from somewhere far, far away.
Cranberry-Glazed Meatballs
You can either fry the meatballs in a skillet with some oil, or bake them on a parchment paper-lined baking sheet at 375ºF (190ºC) for 12 minutes, or until just cooked through. I used a Lebanese 7 spice mixture, which isn't something you'll find in your local grocery store most likely. You can
make your own
, use allspice, or use another spice blend, such as pumpkin pie spice. Although these are considered cocktail party fare, speared with toothpicks from a chafing dish, I served them with noodles and they were quickly gobbled up and enjoyed.
For the meatballs
2

pounds (900g)

ground pork

3/4

cup (80g)

bread crumbs

1/3

cup (80ml)

whole milk

2

large eggs

1 1/2

teaspoons

ground allspice

,

or a spice mixture, such as pumpkin pie spice (see headnote)

3/4

teaspoon

salt

3/4

teaspoon

fennel seeds

,

lightly crushed

2

cloves

garlic

,

peeled and minced

freshly ground black pepper

optional: 1/2 – 1

fresh chile pepper

,

seeded and finely diced
For the sauce
One

14-ounce (396g) can

whole cranberry sauce

3

tablespoons

cider vinegar

2

tablespoons

orange juice

2

tablespoons

brown sugar

,

light or dark

1

tablespoon

Dijon mustard

1

tablespoon

minced fresh ginger

1-2

teaspoons

sriracha

,

or another hot sauce, to your liking

1/2

teaspoon

salt

freshly ground black pepper
To make the meatballs, in a medium bowl, mix the pork, breadcrumbs, milk, eggs, allspice or spice mixture, 3/4 teaspoon of salt, fennel, garlic, a few turns of black pepper, and the chopped chili, if using.

If planning to bake the meatballs, preheat the oven to 375ºF (190ºC) and line a baking sheet with parchment paper. Shape the meat mixture into meatballs, roughly the size of an unshelled walnut, and place them on the baking sheet. Bake the meatballs until cooked through, about 12 minutes. (If you want to pay fry them, heat some oil in a large skillet and fry them until cooked through. You may need to work in batches, depending on the size of your pan.)

While the meatballs are cooking, make the glaze by pureeing the cranberry sauce in a blender or food processor. Pour it into a large, wide saucepan or Dutch oven. Stir in the vinegar, orange juice, brown sugar, mustard, ginger, sriracha, 1/2 teaspoon salt, and some freshly ground black pepper. Heat the mixture, stirring, until it comes together. Add the warm meatballs and cook, stirring to glaze them in the sauce.
Notes
Serving: These are cocktail party fare so you can serve them as is, or they can be served with rice, polenta, or pasta, as a main course. Storage: Once cooked, the meatballs are best eaten right away, although they can be rewarmed in a covered skillet or in a microwave oven. The meatball mixture can be made up to three days ahead and refrigerated.
Related Recipes