Because it's one of my common pantry items, shortly after I'd moved to Paris, I went to the supermarket to get Marsala, to stock my larder. Much to my surprise, the supermarket didn't have it. So I went to another, then another. Then another. Then I went to some liquor stores, where I thought for sure it would be on the shelf, but no one had ever heard of it. They kept trying to sell me Madeira, which is kind of like comparing Champagne to crémant. Both can appear to be similar, but are world's apart – although I like them both.
I was pretty perplexed because Marsala is something that is sold in almost any American grocery store and since we shared a border with our Italian neighbors, I figured it'd be something easy to find here in France. (Perhaps because of the prevalence of Chicken Marsala in the U.S., one of those sure-fire dishes that has become so popular in red-checkered tableclothed Italian-American restaurants, and with home cooks?)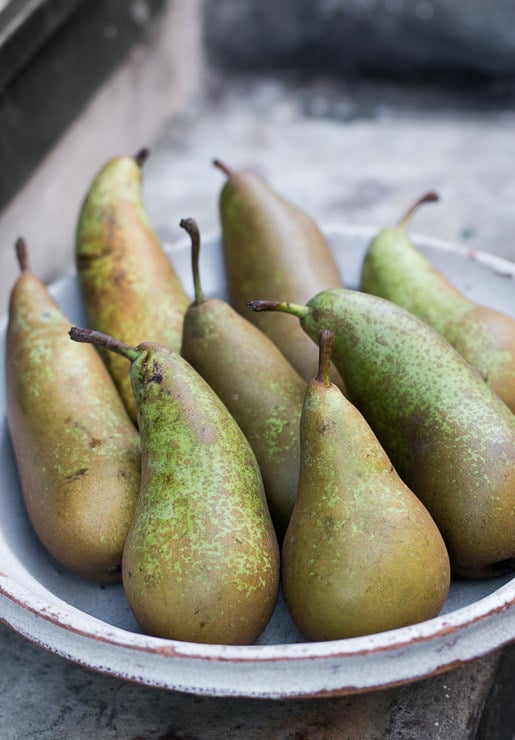 Marsala is made in Sicily, in the city of Marsala. It's a naturally sweet, fortified wine with woody, subtle molasses-like flavors, which come from being aged in oak casks. Interestingly, Marsala is a wine perpetuo (perpetual), meaning that as wine is taken out of the casks, more is added. So the wine goes through a natural oxidation process. (You can read more about it here and here.)
Marsala lends sweets a unique Italian flavor. I've plumped raisins in it to add them to biscotti, and it's the classic wine to use when whisking up a batch of zabaglione, that dreamy, warm, foamy sauce that is often spooned over fresh strawberries, and is one of the best things you'll ever eat. So although I was Marsala-less for a while, a hat-tip from some locals told me to check in one of the many Italian épiceries (specialty food shops) around Paris, of which there are many. And lo and behold, on the shelves were bottles of Marsala, ripe 'n ready to use.
The woodsy flavor of Marsala also goes very well with pears. I picked up some Conference pears, the French version of Boscs, and after admiring them for a few days as they ripened – pears ripen better once picked from the tree – once they were ripe 'n ready, I doused them with Marsala, sugar, and a bit of honey, then baked them for about an hour, basting them with the wine syrup as it reduced to a sweet stickiness.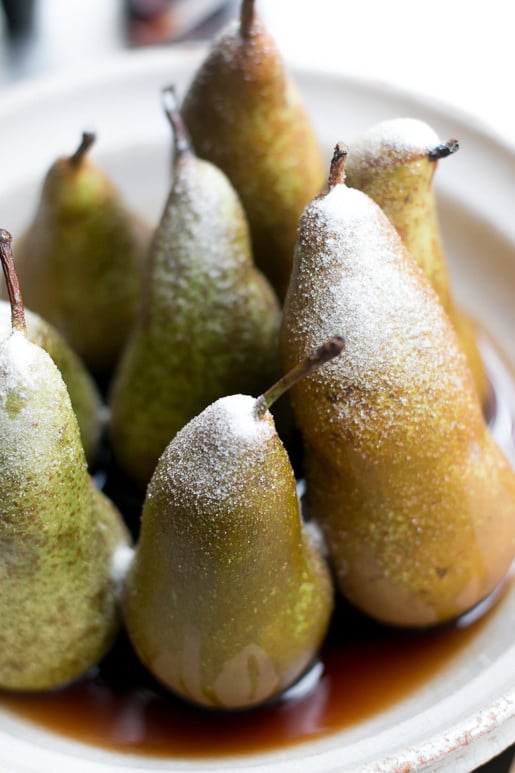 Once done, as they cool a bit, the pears wrinkle a bit near the stem end, indicating that they've concentrated not just in size, but in flavor as well. The pears are actually better served not too hot from the oven, after they'd had a moment to relax and reflect on their time in the oven.
Ice cream, of course, is a great accompaniment when serving them for dessert, or a dollop of crème fraîche. I could also imagine them served with roasted meat as they're not overly sweet, since the Marsala adds a bit of a roasty, savory quality to the baked pears.
Baked Marsala Pears
If you can't find Marsala, Madeira makes a decent substitute, or sherry. I use dry marsala, although you can use sweet or dry. Bosc or Conference pears are good for baking as they hold their shape. Other pears that are firm when ripe are Winter Nellis, Seckel (figure two per person), Anjou, and Butter pears. As mentioned, unlike other fruits, pears are better ripened off the tree so they're usually sold unripe. Let them sit out at room temperature until they feel slightly soft at the stem end, where they begin to bulge. A ripe pear will often smell sweet at the blossom end, when you sniff it, too.
Baked Pears
8

firm ripe pears

,

(see headnote for varieties)

1

cup (250ml)

sweet or dry marsala

1

tablespoon

honey

1/4

cup (50g)

sugar
Marsala Sauce
1 1/2

cups (375ml)

marsala

1

tablespoon

corn starch

1/2

cup (130g) plus 2 tablespoons

sugar
Preheat the oven to 375ºF (190ºC).

Trim a disk off the bottom of each pear, providing a flat bottom so you can stand the pears up in a baking dish. Fit the pears in a baking dish that's big enough to hold them all, without a great deal of room around them.

Pour the marsala over the pears, then drizzle the honey over them. Sprinkle the sugar over the pears.

Baking the pears, basting them frequently with the liquid (I use a turkey baster, although a soup spoon will work) as they cook. I usually baste them more frequently closer to the end of the cooking time, when the sauce thickens to a syrup.

Cook the pears until a paring knife inserted into one meets no resistance, meaning the pears are cooked through. They should take between 50 and 60 minutes to cook, although because fruit can vary (due to variety and ripeness), check them before the recommended time. And if necessary, they may take longer.

Remove from oven and continue to baste the pears, as they cool. Serve warm or at room temperature.

Although cooking the pears this way provides some sauce, if you want extra (especially if you are serving them with ice cream), you can use this recipe to make more: Mix a few tablespoons of the marsala with the corn starch in a saucepan, stirring until the corn starch is completely dissolved. Whisk in the sugar, then the rest of the marsala. Bring the mixture to a boil, stirring frequently with the whisk. When the sauce begins to boil, reduce the heat and cook for about 1 1/2 minutes, stirring constantly with the whisk, until it noticeably thickens to the consistency of warmed maple syrup. Remove from heat. The sauce will thicken more as it cools. (The sauce can be made up to one week ahead and refrigerated.)
---
On another note, last week was a very sober week in France, and around the world. Many of you left comments and well wishes on social media streams, and your concerns and thoughts were appreciated. I had planned to go to the march on Sunday and share some images and thoughts with readers, but there were so many people, it was a challenge just to move a half-block down the sidewalk during the momentous event. So I didn't post anything, but participated and took the time for some personal introspection, along with the people of France. Thanks, David