Caramelized Endive and Blue Cheese Tart
When I first heard about tarte Tatin, nothing sounded better to me. What first seems like way too many apples packed into a skillet, then caramelized and baked under a blanket of buttery pastry, then turned out and served warm, became one of my favorite desserts.
I've had recipes for them in several of my books, but also enjoy the savory version. I've seen upside down tarts made with fennel, tomatoes, carrots, and other root vegetables, but an upside-down caramelized tart with Belgian endive always appeals to me the most. The contrast between the slightly bitter, chewy, spears of endive, make the base for a perfect savory tart, especially in the winter. And I don't think anyone would disagree.
I've mentioned before that in France, Belgian endive isn't considered a luxury ingredient and is widely available, even in supermarkets, where it's sold by the kilo (2.2 pound) bag. I seem to always have some since it's so good added to a winter salad, perhaps with pears, pomegranates, and blue cheese, or braised and baked into a savory gratin.
A while back, someone called me out for being pretentious when writing "bleu" cheese, so I've been doing my best to call it blue cheese. (Fortunately endive, and endive, are the same words in English and in French, so you don't have to suffer through me on that one.) However even in English, bleu sounds better, and I think people know what it means without having to translate it. So you can use any kind of blue, or bleu, cheese that you'd like in this tart. The stronger, the better.
The dough is pretty simple to put together. And since you're not really going to see it, it doesn't matter if the sides are perfect, or if it buckles and rises in places.
Once baked, under a crackly, crispy disk, most sins are forgiven, even bleu, or blue ones. And who can quibble with a warm, savory tart on a cold winter day? I know I can't.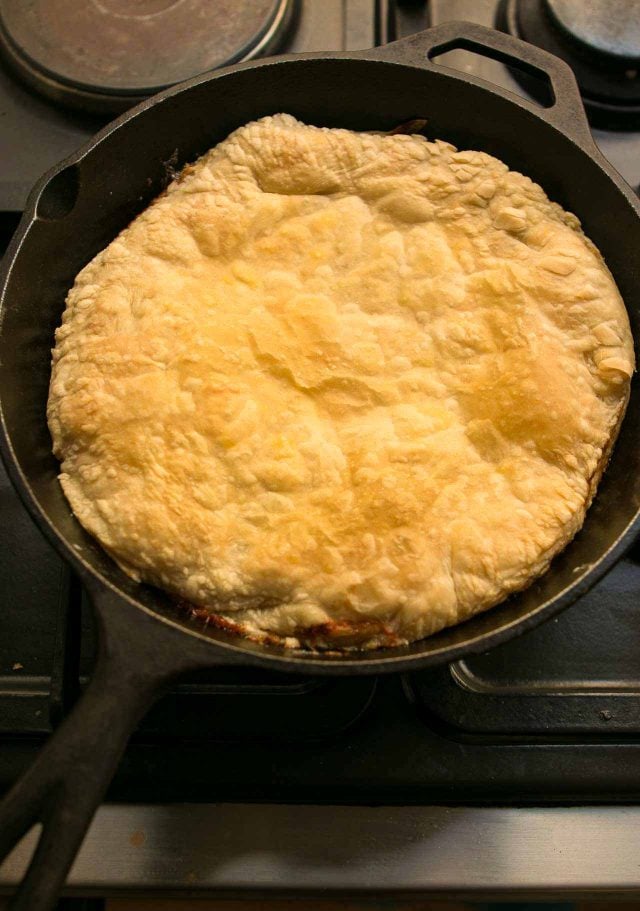 While this caramelized endive tart is especially good right out of the oven, it's also excellent reheated and served the next day for lunch. You could also cut it into smaller wedges and serve it as an appetizer, and if you're not fond of blue cheese, slightly aged goat cheese would work just as well.
Caramelized Endive and Blue Cheese Tart
You could dress this up with some black olives or branches of thyme baked with the endive. I bought puff pastry for this tart because I felt like it. (Actually, I had a gazillion things to do and there are worse problems in the world than using store-bought puff pastry made with all butter.) But if you want to make your own, you're welcome to. If you'd rather use a standard tart dough for this, make the tart dough that goes with this
quiche recipe
. If you like a lot of cheese, have some extra bits handy to strew over the finished tart, when it's warm from the oven. (The heat of the tart should melt the cheese, but you can coax it along with a butter knife.) Chopped chives or parsley would make a nice garnish.
2

tablespoons

butter

,

salted or unsalted

1

pound (450g)

Belgian endive

,

about 7 spears

kosher or sea salt

freshly ground black pepper

1

teaspoon

sugar or honey

4

ounces (115g)

blue cheese

,

cubed, plus additional cubes if you wish, for finishing the tart

8

ounces (230g)

puff pastry
Preheat the oven to 350ºF (180º).

Melt the butter in a 9-inch (23cm) cast iron skillet. Cut the Belgian endive spears in half lengthwise. Sprinkle some salt and pepper over the melted butter in the pan and lay the endive spears, cut side down, in the bottom of the pan. They may not all seem to fit right now, but really try to crowd them in together, so they're as close as possible.

Cook the endive spears over medium-high heat, pressing them down as they cook, but doing your best not to disturb or move them around, so they brown nicely on the underside. Once the cut sides of the endive are well-browned about 4 minutes, sprinkle the endives with the sugar or drizzle with honey, cover the pan and put in the oven to bake until the endive spears are almost cooked through, about 25 minutes, depending on their size.

Remove the pan of endive from the oven. Distribute the blue cheese cubes in the spaces between the endives, as well as on top of them.

On a lightly floured surface, roll the puff pastry to a 12-inch (31cm) circle. Drape the dough over the endives, and tuck the outside edges of the dough between the endives and the inside of the pan.

Bake the tart until the crust is deep golden brown, about 25 minutes. Remove from the oven and overturn a serving platter on top. Holding both the pan and the plate, wearing oven mitts (being careful since some very hot liquid may drip out of the pan when doing this), turn both the plate and pan over to release the tart from the pan. Reunite any endive spears that may have stuck to the pan and bits of cheese. If you'd like, add a few more cubes of blue cheese over the top, while the tart is still warm.
Notes
Serving: Serve the tart warm. If you want to make it in advance, it can be rewarmed in a moderate oven, on a baking sheet. It's best the same day it's made.
It's great with a green salad made of winter greens, such as escarole, radicchio, or frisée drizzled with walnut or hazelnut oil and a bit of sea salt. It's also a good lunch along with a simple green salad with a dressing made with sherry vinegar and minced shallots.