Fig, Tahini and Milk Chocolate Chip Cookies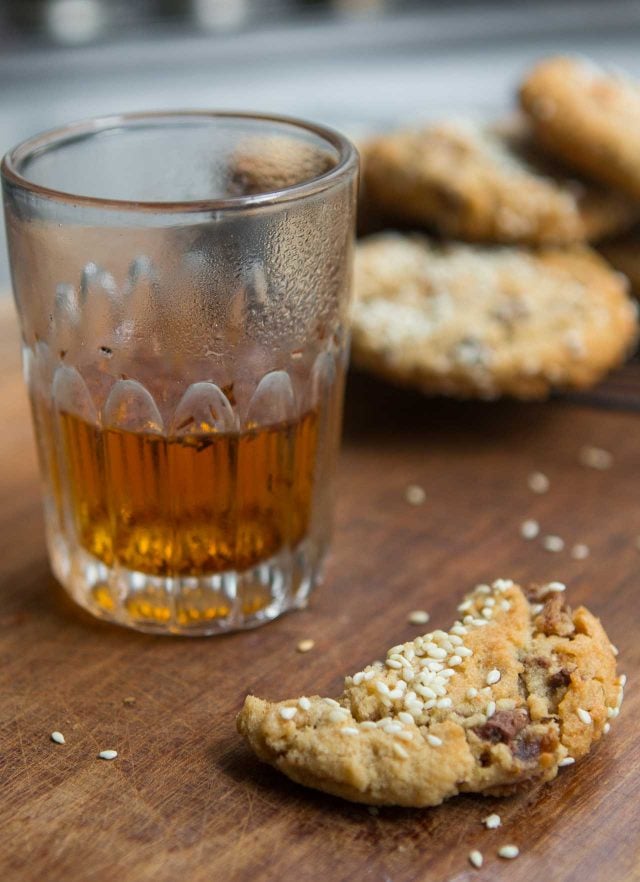 Not many of us saw it coming, certainly not me, way back in 1989 when La Brea Bakery opened, and I thought, "Who the heck is going to buy freshly baked bread in Los Angeles? That'll never work…" And the rest, as they say, is history, as La Brea Bakery and Campanile restaurant, the adjacent restaurant in the same Spanish-style building (that Charlie Chaplin built), both became mega-hits.
Things change, and people move on. In the meanwhile, Los Angeles became a culinary destination, and Margarita Manzke and her husband Walter, rebooted the restaurant and the bakery for today, opening République, carrying on the tradition of making rustic breads, filling the showcases with Margarita's fruit-topped brioche tartlets, croissants, Kouign aman, and a variety of other pastries.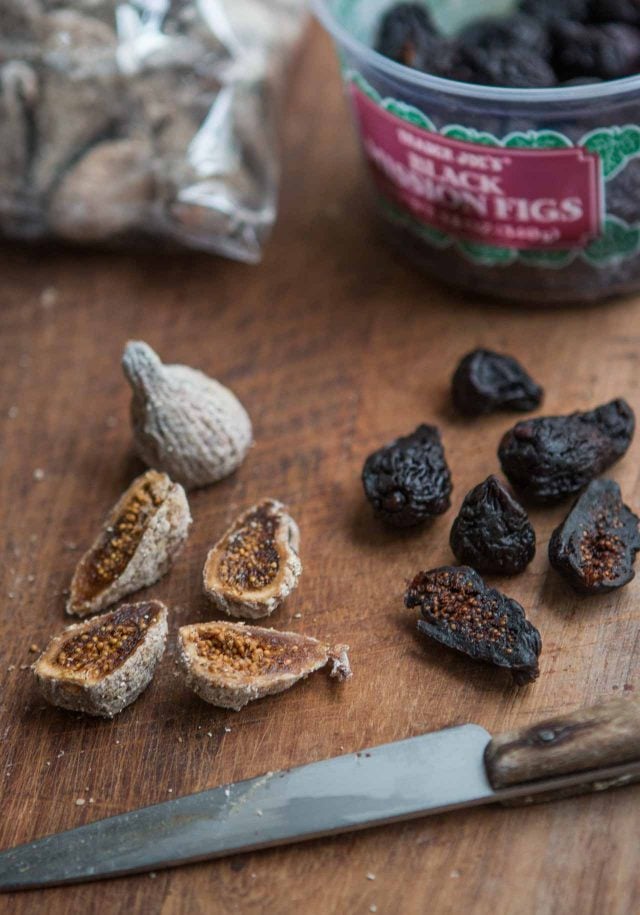 One challenge for a professional baker is scaling your recipe that makes, say, 120 tartlets, down to a home kitchen-friendly eight, which Margarita did in Baking at République, Masterful Techniques and Recipes. The book teaches you professional techniques, as promised, then gives ways to turn the "master recipes" (like Pain au lait and Pâte sucrée) into a variety of desserts. In addition to French pastries, there are American favorites, like cookies, muffins, and brownies, because: 1) Not everyone wants to take on a multi-component baking challenge, and 2) Because they taste good.
I was particularly interested in her Fig-Tahini Cookies, because: 1) You don't often see figs incorporated into cookies, and 2) I loved how tahini blew these Salted Chocolate Chip Cookies out of the ballpark. I was also into them because she said she was inspired by the cookies at Mokonuts in Paris, which are certainly inspiration-worthy.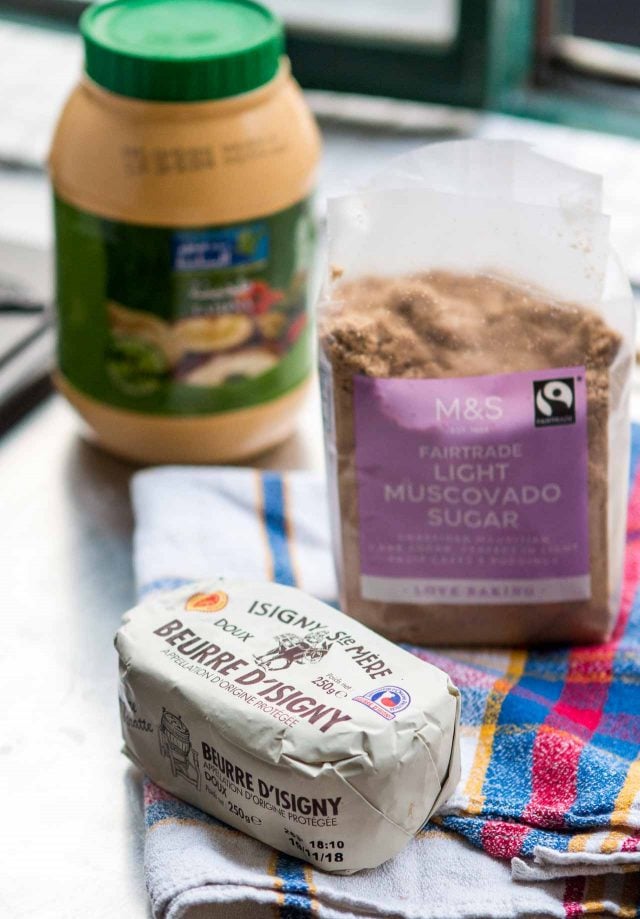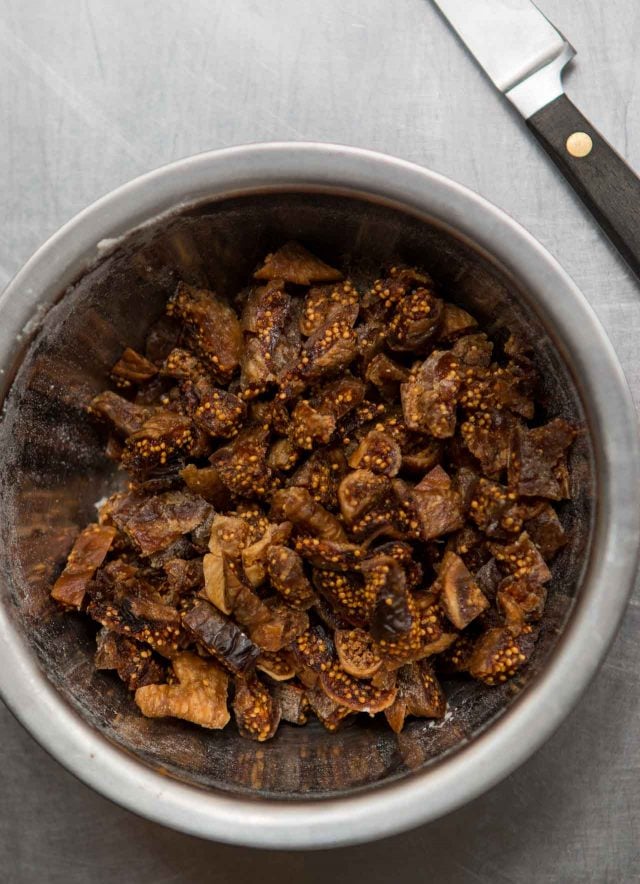 The cookies turned out well, but I couldn't help thinking about adding something else to them. Nothing wrong with a big, chewy cookie with bits and bites of crackly figs in them, moistened with sesame paste, but thought maybe a shot of anise liqueur in them, or some crushed anise seeds, would take them in a more Middle Eastern direction.
And then I remembered chocolate, and grabbed my chocolate bin off the shelf to get ready to chop some for a second go at them. But I reached for the milk chocolate instead of the dark, thinking the dark chocolate might overwhelm the tidbits of figs, and started chopping up a bar of chocolat au lait to add to the dough.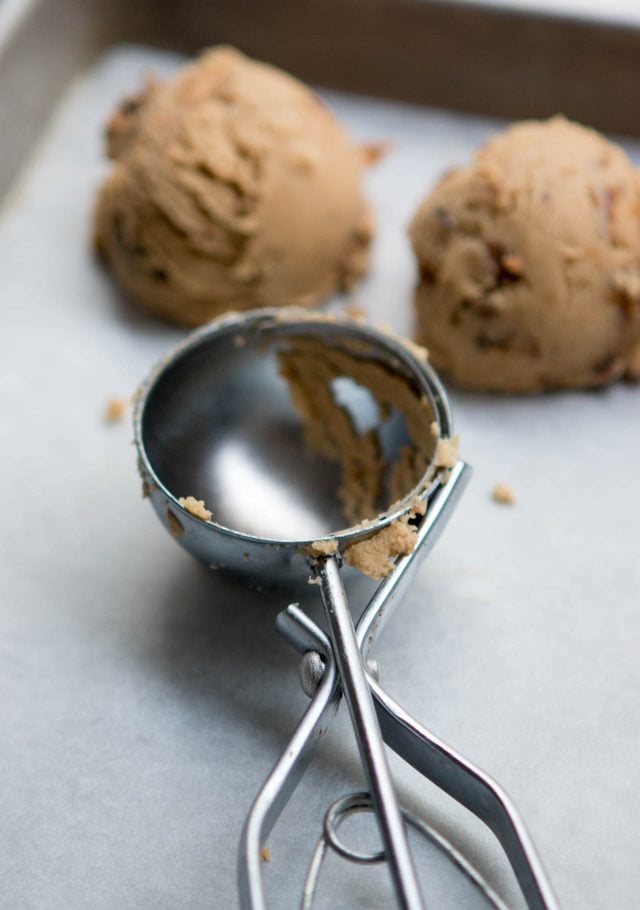 I know some of you probably don't like milk chocolate, or you want to say something less-than-complimentary about it. Milk chocolate does get a lot of flak from 'serious' chocolate people. If that's how you feel, no problem, you can use dark chocolate. Don't mind my forty years of baking experience ; )
(And don't worry, I once got my comeuppance when I went to Salt Lake City to teach a class on candy making. I didn't get the memo that the city was located at high-altitude, which meant any temperature readings were going to be off. And, of course, most candy depends on accurate temperatures to work. Fortunately the participants were well-versed in high-altitude adjustments, but I was as red-faced as one of the fruit-flavored lollypops that we made.)
Honestly, though, milk chocolate does have its place (such as, in these cookies), and in Europe milk chocolate must have at least 30% cocoa solids, unlike in the US where the minimum is a paltry 10%. So search out a bar of darker milk chocolate, using one whose percentage hovers closer to, or above, the European standards.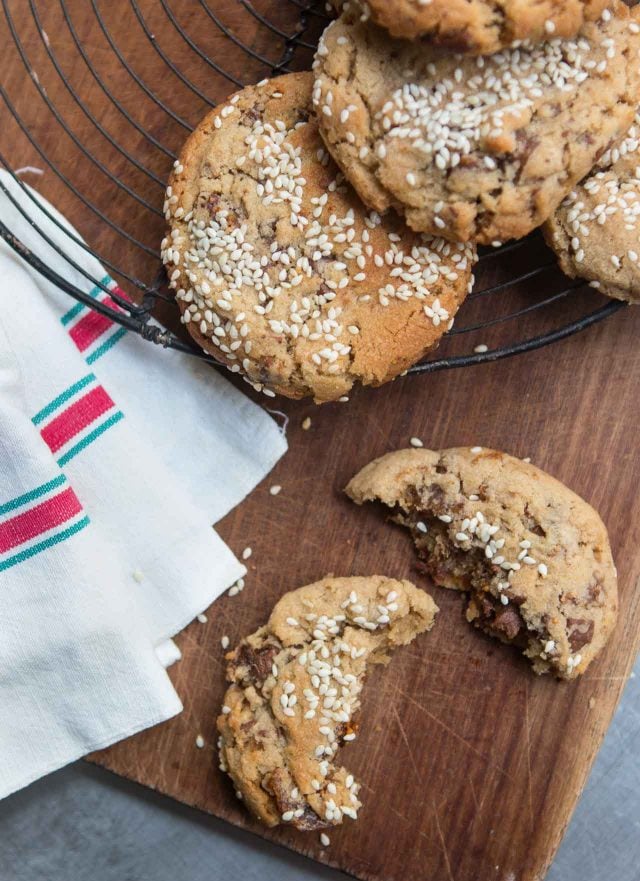 Even though I veered from the original recipe, I would take the author's advice and search out dried figs that are moist. I bring back Black Mission figs from the US because they're my favorite to snack on, but I can find other types of dried figs pretty easily in the supermarket or at shops that specialize in Middle Eastern foods.
I also dialed down the size. Still, these cookies are pretty hefty so you're only allowed to eat one at a time. It will be hard. But I trust you'll manage.
| | |
| --- | --- |
| Fig, Tahini and Milk Chocolate Chip Cookies | Print Recipe |
Adapted from Baking at République by Margarita Manzke I made a number of modifications, including adding some whole-wheat flour, vanilla, and chocolate chips. I also made them a little smaller than they do at the bakery. If you want to skip the chocolate chips, you could add a few swipes of grated lemon or orange zest, to complement the figs. Or a sprinkle of coarsely ground anise seeds. If you leave them out, you'll get 15 to 16 cookies. Be sure to use dried figs that are moist, not hard and dried out. A head's up; the dough for these cookies should rest overnight in the refrigerator for the ingredients to meld properly. If you just can't wait, even letting them chill for several hours will help. When it's time to bake them, note that the cookies are baked with chilled dough, not room temperature.
1
cup (140g)
all-purpose flour,
plus 1/3 cup (45g) whole wheat flour, or 1 1/3 cups plus 1 tablespoon all-purpose flour
4
ounces (115g)
unsalted butter,
at room temperature
1/2
cup (100g)
granulated sugar
3/4
cup (packed), 120g
light brown sugar
3/4
teaspoon
vanilla extract
1/2
cup (120g)
well-stirred tahini
1
cup (150g)
chopped dried figs (hard stems removed), see headnote
1
cup (4 1/2oz, 130g)
coarsely chopped milk chocolate
1/2
cup (70g)
sesame seeds,
plus more if needed
1. In a small bowl, whisk the flours (or flour), baking soda and salt together.
2. In the bowl of a stand mixer fitted with the paddle attachment, or by hand in a bowl with a spoon or spatula, mix the butter, both sugars, and the vanilla extract on medium speed until well combined. Mix in the tahini, then the egg, stopping the mixer and scraping down the sides to make sure everything is incorporated.
3. Stir in the flour mixture on low speed, then the figs and chocolate chips. Line a small baking sheet with parchment paper and portion cookies into 2-inch (5cm) rounds using either a spring-loaded ice cream scoop or two soup spoons, and place them on the baking sheet. For the nicest shaped cookies (after they're baked, in step #4), roll the mounds of cookie dough gently in your hands to smooth out any rough edges. Cover and refrigerate the dough overnight.
4. To bake the cookies, preheat the oven to 350ºF (180ºC). Line a baking sheet with parchment paper or a silicone baking mat. Put the sesame seeds in a small bowl and roll each mound of chilled cookies dough in the sesame seeds to coat them, placing them about 2-inches (5cm) apart on the prepared baking sheet as you go. (The cookies don't need to be perfectly coated with seeds; gaps are normal.) Press them down very lightly on the baking sheet, but don't flatten them, to avoid them rolling around when you walk it over to the oven. The cookies won't all fit on the baking sheet, so you'll have to bake them in two batches.
5. Bake the cookies on the center rack of the oven, rotating the baking sheet midway during baking, until they are browned around the edges and very lightly browned across the top, for 15 minutes. Don't overbake them. Remove the cookies from the oven and use a flat spatula or pancake turner to tap down the domed tops of the cookies so they're flat. (Don't squish them; a few gentle taps should do.) Let cool for a few minutes then transfer the cookies to a wire cooling rack. Allow the baking sheet to cool completely, then bake the remaining cookies.
Storage: The unbaked dough can be refrigerated for up to 5 days, or frozen for up to two months.