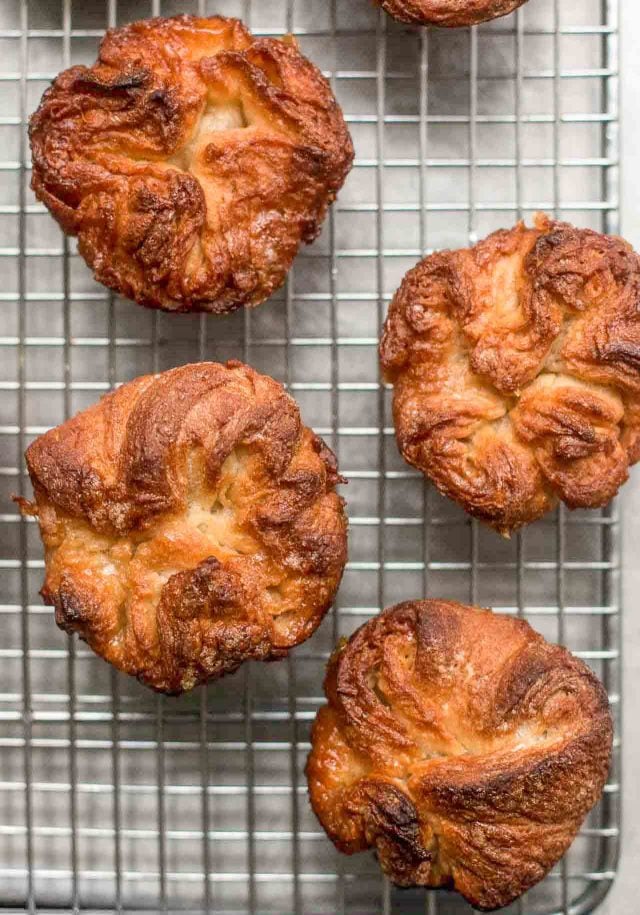 [Note: This recipe was first published on this site in 2005, when few people had heard of this pastry. I've reworked it substantially to make individual pastries (shown above), and that recipe is in my book, L'appart.]
Is there anything more fabulous than something created through the wonder and miracle of caramelization?
Are there no means and ends that one won't go to, to experience that sigh with relief when one triumphantly pulls this perfectly caramelized melange of butter, sugar, and salt out of their oven? I think not.
Those butter-loving Bretons invented this unique gâteau for delivering the maximum dose of caramel: an all-encompassing dessert, which does double-duty at tea time. And I've been obsessed with figuring out how to make a perfect Kouign Amann, one of my favorite caramelized things in the world. And here are my results.
I searched long-and-wide for Kouign Amann recipes, which are rare…either they're really sketchy, assuming that no one will actually dare to make it, or they didn't work at all and I was left with a wet, buttery mess.
This week, I pulled disk-after-caramelized-disk out of my oven in an obsessive attempt to master this dessert that I love so much. This was also much to the delight of friends and neighbors, who never thought they could get enough Kouign Amann. After all my tinkering, by now they have.
I also learned why it was so hard to find a good Kouign Amann, it's a bit of a challenge. So if you'd like to make a Kouign Amann, here are a few tips I learned that will help you out before you get going…
Use the best salted butter you can find. I use Breton salted butter, which is easy to find in France. But use whichever good salted butter you can find and flick few grains of coarse crunchy salt before folding the dough in layers and across the top before baking. It's a pretty good approximation of the real thing.(There is actually only one stick of butter in the recipe, 1 tablespoon per serving, so the resulting cake seems more buttery than it actually is.)
This is a very sticky dough. You should have a metal bench or pastry scraper or a metal spatula handy to help with turning, as well as to keep the dough from sticking to the countertop.
Work fast. Letting the dough sit on the counter and warm up is not a good idea. Roll quickly.
Although I recommend waiting about 1 hour between rolling out the pastry layers, you can wait several hours (or overnight) for example, if you have a bit of extra time.
It is strictly forbidden to think about diets while you're making a Kouign Amann.
Kouign Amann
1

tablespoon (12g)

active dry yeast

,

not instant

3/4

cup (175ml)

tepid water

2

cups (260g)

all-purpose flour

1/2

teaspoon

sea salt

1

cup (200g)

sugar

,

which will be divided later

Plus additional sugar for rolling out the pastry

1

stick salted butter (110g)

,

cut into ½-inch (2 cm) cubes and chilled

2-3

tablespoons

additional salted butter

,

melted
In a medium bowl, dissolve the yeast in the water with a pinch of sugar. Stir briefly, then let stand for 10 minutes until foamy.

Gradually stir the flour and salt. The dough should be soft, but not too sticky. Lightly dust your countertop with flour and transfer the dough onto it.

Knead the dough with your hands until the dough is smooth and elastic, about 3 minutes. If the dough is very sticky, knead in just enough flour, one tablespoon at a time, until the dough doesn't stick to your hands.

Brush a medium bowl with melted butter, put the dough ball into the bowl. Cover, and let rest in a warm place for 1 hour.

Meanwhile, line a dinner plate with plastic wrap and set aside.

On a lightly floured countertop, roll the dough into a rectangle about 12″ x 18″ with the shorter sides to your left and right. The dough may be sticky and difficult to handle. Use a metal pastry scraper to coax the dough into shape, and a minimal sprinkling of flour, as necessary. (It will all be beautiful later, trust me.)

Distribute the cubed butter in the center of the dough and sprinkle with ¼ cup (50 gr) of sugar. Grab the left side of the dough, lift and fold it over the center, than do the same with the right side (like a letter). You should have what resembles a 3-level pastry.

Sprinkle the entire length of the dough with ¼ cup (50 gr) of sugar and (without rolling) fold again into thirds, as before.

Place on the plastic wrap-covered dinner plate and chill for 1 hour. (At this point, wipe excess flour from the countertop and dust the countertop with a rather liberal handful of sugar for rolling out the pastry again.)

Once chilled, remove dough from refrigerator. Ease it away from the plastic onto the sugar-covered countertop.(Use more sugar than shown. I was busy doing double-duty as the photographer and baker.)

Top the dough with ¼ cup (50 gr) of sugar, press it in a bit with your hands, and roll into a rectangle for the last time. Now wasn't it easier this time?

Again, fold into thirds and let rest in the refrigerator for 30-60 minutes.

Preheat oven to 425° F (220° C) and brush a 9-inch (23cm) pie plate, preferably non-stick, with melted butter.

Remove dough from refrigerator. Roll dough into a circle about the size of the baking pan. It will be sticky; dusting the top with a sprinkle of sugar will help.

Once rolled, lift the dough and coax it into the pan. (It will want to break. If so, fold it in half and quickly slide something flat under it, like the metal bench scrape AND a metal spatula and quickly slip it into the pan. If it does break, just piece it back together in the pan.)

Sprinkle with the remaining ¼ cup (50 gr) of sugar and drizzle with 1 tablespoon melted butter.

Bake for 40-45 minutes, until the top is deeply caramelized. Let stand a few minutes, then run a spatula around the edges to release the Kouign Amann and slide the cake from the pan onto a cooling rack.
Kouign Amann Links
Since this is an unusual recipe, readers may appreciate a few links and photos from people who've made it successfully:
Kouign Amann (Flickr stream)
Another Kouign Amann, made using American ingredients.
Served with Love makes this Kouign Amann.
French Letters shows-off a buttery example as well.