Allegedly The Birthplace of Kouign Amann
Anyone who uses iPhoto probably remembers your first thrill of plugging in your digital camera and magically, with no effort at all, having your photos automatically downloaded for you. Then they're neatly filed on your computer so you can view, cut, or paste your memories until your heart's content.
It's great for the first few times, but once you've hit a certain number of photos, in my case the 1k mark, things start to slow w-a-a-a-y down, making it necessary to either burn them onto disks like the old days (iPhoto's dirty little secret, forcing us to resort to 'outdated' technology…bad Apple!)
Or sadly, just to delete them.
So I spent my weekend going through my older photos and realized that I never wrote about one of the most special places in France: Locronan, allegedly the birthplace of my beloved Kouign Amann.
Note I used the word 'allegedly'.
I'd been told by several French folks that the town is famous as the lieu de naissance of this buttery cake. But when I asked at the Office de Tourisme, the woman there had no idea what I was talking about. And wasn't all that interested in pursuing it with me either. So I'll let someone out there do the research since I'm too involved in burning photos onto disks all weekend. But even though Locronon may not the be the birthplace of this famous Breton Butter Cake, it's certainly become the epicenter for lovers of butter & sugar bound-together.
Although the town is teeming with tourists who come to gawk at the granite buildings and churches, the town is also teeming with other fans of the sweet-stuff: les guepes, or yellowjackets.
Every bakery had swarms of the lil' stingers flying all around, hundreds of them are everywhere, feasting their wings off on the sugary treats and tartlets for sale, like the rhubarb ones above. The women who work in the bakeries must've made some top-secret pact with the bees since they showed no fear of them and would swat 'em away while packing up tarts and cakes. We decided to use the bees as a guide and follow their advice, since they'd probably know which was the best Kouign Amann in town. Like truffle hunters use pigs and dogs, this pastry-hunter decided to follow the bees, and I reasoned the places with the most yellowjackets would have the best pastries.

I took lots of notes, but getting buzzed on all that butter and sugar, each tart seemed to be sweeter and more delicious than the previous one. Soon my hands were trembling and I had to stop my journalistic reportage. And although anyone else probably would have called a draw and stopped, I kept going.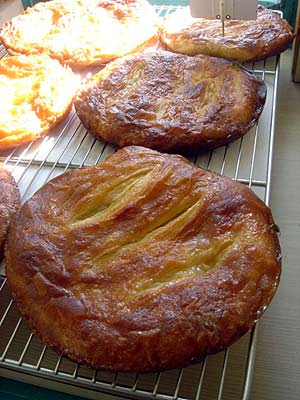 At Le Guillou, above, the disks were larger and packed with apples, or just sold nature, unadorned with anything but their crackly sugar glaze.
Tell me, how could I refuse?
Another Breton cake that's perhaps slightly more well known (at least in France), is Far, which means 'flan', and is highly-popular and often eaten as le snack in France. Unlike their Mexican counterparts, which I generally prefer, the French version is mondo rich and contains flour, and is often baked like a tart or cut and sold in bars. (It's not sold in bars, like places where you have a drink. It's sold in bakeries. Another quirk of the English language…) The downside is they're often un peu lord but sometimes they contain flambéd prunes which, believe it or not, I find lightens things up a bit.
But when I find a good Far that's light, airy, and doesn't look like it's gonna sit like a rock in my tummy for 36 hours afterwards, I'm satisfied. And the one above was one of the best I'd tasted, although in this instance, the yellowjackets were an unreliable source, perhaps for the lack of sugary topping. Although it looks like a puffy omelette, it was delicate and eggy, with a toasty-golden top crust—whoever made it certainly had a deft touch.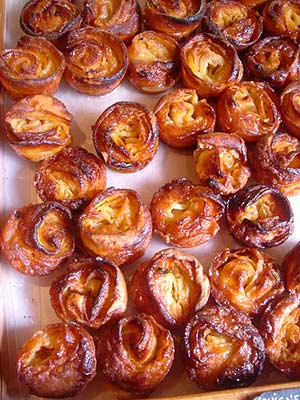 But by far (darn English!…no pun intended) the best Kouign Amann we tried was at La Torchette, the pastry shop of chef George Larnicol. Although primarily known for his Torchette cookies, with seaweed and advertised as 'sans beurre', we were transfixed by the two huge rooms with bins full of Kouignettes lined up all around us. Chef Larnicol makes mini-Kouign Amanns in a variety of flavors, from coconut to chocolate to lime. But I skipped them all in favor of caramel-beurre-salé.
And one bite outside made me realize I'd made the right choice. I think it was the best Kouign Amann I'd ever had. And the scary thing is, they deliver! I took an order form but lost it, which is probably a good thing. But in case you have less restraint than I do, their phone number is 02 98 91 70 04, fyi. They also have shops in Beg, Meil, and Pont-Aven.
So now that I've given you a peek at Locronon and the Kouign Amann's there, I'm heading back to my photos files to do some serious pruning. (No, not prunes like far above. Like the prunes in the Far above.)
What is this odd language with which we speak?
For the ambitious, you'll find my recipe for Kouign Amann here with step-by-step photos.
For those who want a simpler recipe, here's a French recipe from a postcard I bought in town, which I've translated directly and simplifies the process a bit.
(A little too much, if you ask me…hey, I'm just the translator. You're on your own now…):
Kouign Amann
Cuisson: 25 minutes
450 gr de farine (flour)
300 gr buerre (butter)
200 gr de sucre (sugar)
1 pincée de sel (salt)
20 gr de levure de boulanger (yeast)
1 jeaune d'oeuf pour colorer (facultatif) (egg yolk)
Délayer la levure dans 3 cuillerées d'eau tiède puis le mélanger avec la farine.
(Proof the yeast with 3 tablespoons room-temperature water, then mix with the flour.)
Ajouter le sucre, puis la beurre.
(Add the sugar, then the butter.)
Donner 4 tours comme pour un feuilletage.
(Give it 4 turns, like puff pastry.)
Lassier reposer 15 minutes entre chaque tour.
(Let sit 15 minutes between each turn.)
Placer dans un moule beurré. Rayer à la fourchette et mettre au four.
(Place in a buttered mold. Score with a fork and place in the oven.)
Saupoudrer de sucre aussitôt sorti et servir tiède.
(Dredge with more sugar when you remove it from the oven and serve at room temperature.)
Related:
Kouign Amann (My recipe)