Maison Georges Larnicol: Kouign Amann in Paris
People come to Paris and want to try Kouign amann and I can't say I blame them. And I truly feel for them when I tell them that although you can find Kouign amann in Paris, you really need to go to Brittany and have one. Well, I used to tell them that—but I don't have to anymore because Brittany has finally come to Paris, courtesy of pastry chef George Larnicol.
Kouign amann is one of the most elusive pastries to make, not very tricky, but it involves a few steps..and a whole lotta butter. In fact, the name comes from the Breton language and translates to "butter cake", and I don't know of any cake (or dessert, for that matter) that has more butter than this. A few bakeries in Paris make them, and you can come across examples at some of the markets, but some foods don't really translate outside of where they're from (few outside of Norway really crave lutefisk, for example, and I can't say I'm been on the prowl for haggis in Paris) and Kouign amann falls into that category.
Still, I was going to include a kouign amann recipe in The Sweet Life in Paris, but people had such diverse results—like macarons, it's a recipe that's more about techniques than just ingredients—that I left it on the site and decided to let people come to France and get their fill here, where it was invented.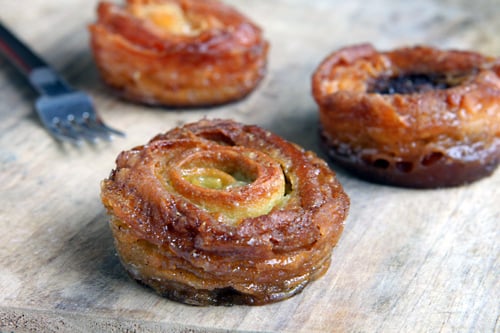 The first thing you want to do if you stop by the Larnicol shop for a Kouign amann is to make sure you have the phone number of your dentist handy. And perhaps your cardiologist. The second is if you have an oven to re-warm your Kouign aman, all the better. The saleswoman told me I had to réchauffé the little fellas, which is definitely true if the weather is a bit nippy because the heat will soften the little twirls of caramelized pastry.
There's all sorts of candy around the shop which you can dig into, as well as the now-obligatory macarons of various colors…both natural and suspect…but I came for the Breton butter cakes. I was a little concerned because I only saw the larger Kouign amann piled up in the center of the store, but then came across the Kouignettes, which are the perfect few bites and in America, might be considered the "fun-size" version in the states. (Although no one has been able to explain to me how a smaller portion makes something "fun.")
The flavors range from nature (plain) to salted butter caramel, almond, chocolate, pistachio, and others. Interestingly (or perhaps because they're from Brittany, not Paris) it's self-service and you're welcome to fill one of the bags with whatever you want, kind of like a salad bar, only stocked with just butter, flour, nuts, and chocolate. There were a lot of them to choose from.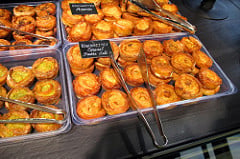 Anyhow, I took one for the team. Actually I took three for the team (that would be you, by the way…) and packed them in a bag to bring home, after having a little trouble getting the sticky little devils into the bag due to their syrupy coating—so perhaps the staff got tired of fussing with them and just decided to throw some tongs down, slap on a self-service sign, and let us fend for themselves.
Verdict? They're pretty darned good, and as close as you're going to get to an authentic Breton Kouign amann without trekking out to Brittany. However they really need to be heated up to bring out their buttery, ooey-gooey sugary goodness. So attention visitors: unless you come during the warmer months, beg your hotel to heat them up for you. Perhaps buy a few extra to share as motivation, which is the French word for "incentive", a word I had to look up in my dictionary since I couldn't recall hearing it for a while. But I suspect once word gets out, a few people will find a little motivation to get over to Larnicol to try a few kouignettes in the very near future.
Maison Georges Larnicol
14, rue de Rivoli (4th)
and
132, boulevard Saint-Germain (6th)
Tél: 01 43 26 39 38
Related Links and Posts
Allegedly the Birthplace of Kouign Amann
Le Bateau en chocolat (Georges Larnicol launches a chocolate boat, video)
Meert, Franck Kestener and Epices Roellinger Come to Paris
Kouignettes at Maison Larnicol (Edible Society)
Les Madeleines Kouign Aman (Mail Order in the United States)