Ready for Dessert Notes, Errata & Tips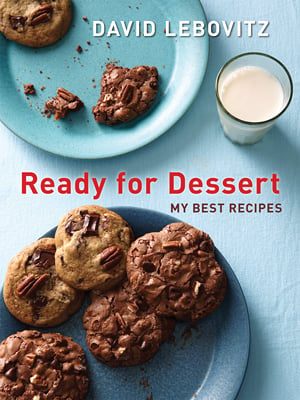 Books go through rigorous editing after they're written, then they're copyedited, then proofread by the author. Then the book gets punted back to the editor, and back to the author for a final look through. Then it gets forwarded the designer, then to the printer.
Whew! Believe me, it's a wonder I can still see anything with all that reading. (And you think I spend all my time devouring croissants…) With most books clocking in at 80,000 – 100,000 words, a few are bound to get orphaned. Here are a couple of things that answer a few question I've received, plus a few words that mysteriously got omitted in the initial run but are being reinstated in subsequent printings. (Note that the page numbers listed correspond with the hardcover edition of Ready for Dessert, which may differ from the softcover edition.)
---
1. The Chocolate Idiot Orbit Cake recipe (page 26) states "..wrap a large sheet of aluminum foil around the outside of the pan, making sure it's absolutely watertight." Still, a number of people are goin' rogue and evidently aren't making sure their pan is water-tight prior to baking in a bain marie (water bath). Most All springform pans leak which is why I instruct readers to wrap the pan securely with foil. If you're not sure if your foil is strong enough, double or even triple wrap it.
One reader noted that his wife baked the cake successfully without the water bath. I haven't tried it, but their chocolate idiot cake results look pretty good! Baking times and temperatures are here.
2. I've mentioned this before, but I'm always happy to get another chance to talk about chocolate chip cookies, but to reiterate that in the Chocolate Chip Cookie recipe (page 188), when you chop the chocolate, be sure to add in addition to the big chunks of chocolate, all the little bits and pieces as well. They contribute to the chewiness and chocolaty-ness of the cookies. I love these cookies, btw.
3. The Coconut Tapioca Pudding (page 139) works with the 3 eggs listed, but it should read 1 large egg. It'll work fine with the three eggs, but I prefer it thicker, made with just one.
4. For some reason, the printer lopped off a line on the Banana Cake with Mocha Frosting with Candied Peanuts (page 64). When the recipe indicates to remove the frosting from the heat, you should let it cool down until it's thick and spreadable, as shown in the lovely photographs. Luckily it's common sense that if you let a warm chocolate mixture cool down, it'll thicken. (Or is it?) And many folks have had great results.
5. When making the Bittersweet Chocolate Mousse (page 122), after you've melted the chocolate with the hot custard and stir in the Cognac or rum, there's no need to chill the mixture; simply let it sit until it's room temperature, then fold in the whipped cream.
6. For Robert's Absolute Best Brownies (page 196), I use an 8-inch (20 cm) square pan rather than a 9-inch (23 cm) pan, although they'll work in either. As mentioned in the recipe, it's vital to really beat the batter for a full minute, however if using a heavy-duty pot (like enameled cast-iron), it may take longer for the batter to smooth out because those pans hold the heat much longer than traditional metal cookware.
7. In the Buckwheat Cake, (page 44), the conversion for the 6 ounces of butter should read 170 grams, rather than 85 grams.
8. The amount of milk in the Pastry Cream (page 236) is 2 cups; the metric conversion is 500ml.
9. The Marjolaine recipe should call for 1 1/3 cup of sugar in the list of ingredients, to be ground with the nuts. It's correct in the list of ingredients but may be incorrectly listed in the step as 1/3 cup.
---
Related Posts and Links
Ready for Dessert Photos on Flickr
Baking with Ready for Dessert (eGullet)
*For those interested in editions printed in other languages, inquiries can be sent directly to the publishing house.
For folks who live elsewhere and wish to order books, the Book Depository offers free shipping internationally to many countries.