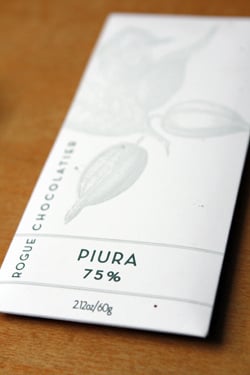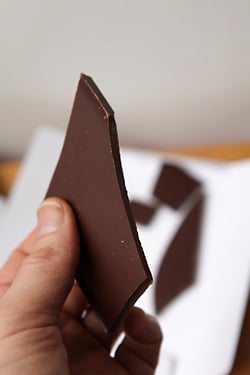 I realized the other day while gathering and tabulating receipts for the year, that my expenses for cheese far outweighed my expenses for chocolate. I've always been fascinated, and wanted to highlight on the site, some of the great bean-to-bar chocolates being made in America since I know it can be a tough business making chocolate on a small scale. But one that fell under my radar was Rogue, which was started after I'd moved away from the states so I wasn't able to give it a try.
Also because I thought what all these American bean-to-bar chocolate makers were doing was tremendously exciting. And two of my friends had started a company and I saw how much work and passion (and money) went into what they did. They grew and flourished, but some of the smaller companies weren't getting the recognition that I thought they deserved, so I decided to profile them. And since it's my site, I can do whatever I want. So there.
When I was in Texas recently, a woman who went by the name Madame Chocolate came to one of my classes. Afterward, she passed me a few bars of artisanal American chocolate to act as emergency rations during my trip, then slipped back into the night. I wanted to dive right in, but was thwarted by an overload of Texas bbq and fried chicken, so I thought it prudent to carefully bring it home and try it there.
The bar didn't fare that well in my carry-on, but at least it arrived in large, recognizable shards. The first thing you notice if you open up a bar of Rogue chocolate is that the bars are void of ornamentation, and aren't scored or sectioned into bite-sized pieces. Which is fine, because I don't want anyone telling me how to serve my chocolate. (Except maybe the TSA.) But it also allows the suave beauty of the dark chocolate to shine through.
This bar is called a Piura bar, named after a province in Northern Peru. This bar is pricier than their other bars, but chocolate-maker Colin Gasko only made a few thousand bars from the four bags of cocoa beans (which he calls a "nano lot") that he was able to procure from an organic cacao farm in South America.
The bar has a brisk, fruity flavor with almost no bitterness or harshness in the aftertaste. There's a touch of maltiness to the ending, and the mildness of the bar allows some of the gentler flavors of the beans to shine through. The packaging says it has a bit of "raspberry" and I did find some fruitiness, although not too much. Which is good, because I'm more of a fan of dark and complex chocolate. But everyone's palate is different, which is why there's no "best" or reason for lists of "top ten" chocolates to be followed like the bible.
Colin oversees the letterpress labels for the chocolate bars he makes in his tiny facility in Minneapolis and just produces three or four different kinds of bars, depending on the availability of cocoa beans. (Plus when you print your own labels, it's easier to change names when you get a nifty new chocolate.) Next time I head to the states, I'm looking forward to trying the others. But I'm keeping them out of the scanners at the airport, which seem to be dangerous places. At least for chocolate bars.

Follow Rogue Chocolatier on Twitter

---

Related Posts and Links
The Smallest Chocolate Factory in the World (Citypages)
Colin Gasko-Rogue new kid on the block (The Chocolate Life)
Rogue Chocolatiers Piura Bar (Heavy Table)
Chocolatiers and Chocolate Makers*
The Great Book of Chocolate (Amazon)


*Interestingly, I would classify Colin as a chocolate maker more than just a chocolatier, but he chose to call his company Rogue Chocolatier.
Correction: I previously wrote that Colin printed the labels himself. Although he spends a lot of time overseeing their production, the labels are made by an associate which he (somewhat) jokingly told me are "..far from convenient or economical!"