As Always, Julia and Ideas in Food
A couple of books have been resting on my nightstand for the past few weeks and I've been enjoying dipping into each, back and forth. They're quite different and I didn't expect to take a shine to them both as much as I did. Both of these authors and books are about teaching people to cook, from different eras and in different styles. And the more I read of each, the more I realized how much the two intersect.
Cooking is something that's always evolving, whether it's figuring out how to make a good French baguette in an American kitchen or presenting a technique for making risotto in just seven minutes. The first book is based on the correspondence of a familiar face, someone who wrote a book five decades ago that few thought anyone would have any interest in. And the second is from two modern-day faces that are pushing to evolve what we eat even further, based on a new cooking style brimming with new ideas, techniques, and flavor combinations.

As Always, Julia: The Letters of Julia Child and Avis DeVoto
Although many people enjoyed the film Julie & Julia, I would venture to guess that the actual characters are more interesting, and even richer, than what was possible to present on a film screen. Anyone who has watched even one short episode of The French Chef with Julia Child knows that a few minutes of her roasting a chicken tells you just about all you want to know about her. And on the other side, although I didn't read the original Julie/Julia blog or book, I'm sure she's a more multifaceted than depicted as well. The film enjoyed a lot of success and pulled Julia Child back into our collective memories.
In this age of e-mail, tweets, and text messages, quite a bit of our lives get lost into cyberspace as we type short notes, then hit the delete button once the information has been processed. The art of letter-writing is on the wane, but evidence of how much we've lost can discovered in the pages of As Always, Julia: The Letters of Julia Child and Avis DeVoto. Fortunately Child and DeVoto were avid writers and their fervent letters were preserved, and archived, then sorted through by Joan Reardon for this rare look at not just how a cookbook gets published, but a glimpse into the lives of two dynamic women living in separate cultures and gradually discovering what connects them.
The two women carried on frequent in-depth conversations about everything from politics, publishing, and to the declining state of food in American and France. As far back as the early 1950s they were complaining about frozen foods as well as poultry producers in America who were "…trying develop turkeys and chickens with more and more white meat." And in France, Julia Child writes about the decline of her beloved French cuisine as frozen foods make their way into the country and culture. Their friendship is forged when Julia sends Mrs. DeVoto a French knife after her husband wrote a diatribe against stainless steel knives, which had become popular in America. Aside from the culinary references, it's also amusing to get a look at the publishing world fifty years back and authors (and likely anyone in the publishing industry today) will certainly get a chuckle out of Avis DeVoto's proclamation that "No established publishing house ever takes advantage of a budding author."
The women quickly went from "Dear Mrs. Child" and "Dear Mrs. DeVoto" to "Dear Julia" and "Dear Avis", but at times, the talk can be a little long-winded. (Or perhaps that's just me, coming from the internet generation where messages are condensed to 140 characters.) But I got a chuckle when they refer to beginning cooks as "brides" and talk about "quarter (sized) bottles of wine" for cooking from S.S. Pierce, which I remember from my childhood as the fancy foods store that sold jars of quail eggs, cans of date nut bread, and oddities like jars of turtle soup. (Which I never tasted, but always wondered—"Who bought that stuff?")
For anyone who believes that success comes easily or early, Julia Child was in her forties when this correspondence started in 1953, having arrived in France five years before. Mastering the Art of French Cooking wasn't published until 1961, just shy of ten years after the book was started, and the work spanned (and helped bridge) the two continents.
Details of the book and its publication are an interesting historical artifact and As Always, Julia not only provides a look into the lives of two women, but a glance into how a book that many rejected finally gots published, a book which changed the way many people cooked and ate in America. To say what Julia Child had done was 'revolutionary' is not quite accurate; she was simply interested in translating a traditional, yet foreign, cuisine to Americans, making it approachable and demystifying it for the masses. Yet it laid the seeds for California cuisine (la cuisine du marché, in France) and the subsequent food 'revolution' that we're still riding out today.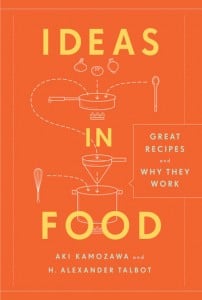 Ideas in Food
The problem with Ideas in Food is that the more I flip through it, the more things I want to make. I'm a bit of a nut when it comes to wanting to know how things work in cooking and baking, and authors and chefs Aki Kamozawa and H. Alexander Talbot (of the blog Ideas in Food), delve not only deeper into how their recipes work, but offer present-day twists to a few of the classics. I just love some of the ideas in these pages.
Pasta dough gets a revolutionary makeover using smoked flour (doesn't that sound good, tossed with roasted eggplant and feta cheese?), caramelized white chocolate gets smoothed out with nonfat Greek yogurt for a frozen treat, and root beer is used to braise short ribs along with a good dose of all-American ketchup to give it a bit of sass.
And speaking of pasta, one of our favorite foods gets discussed in depth—then the traditional method of cooking is challenged and debunked for something better and quicker to cook. It's been shown that cooking pasta in excessive amounts of water doesn't really make a difference. And I've had my share of browned vermicelli in the form of "The San Francisco Treat" but never considered toasting pasta in the oven before boiling it to augment the flavor, which I'm planning to try next time I make a pasta dish for dinner. And Potato Chip Pasta with toasted potato flakes? I want to try it all.
One thing that thwarted me is that some of the recipes contains ingredients like xanthan gum and Methocel 50, which if my past experiments with molecular gastronomy proved, would be hard to track down here. (And perhaps elsewhere, although the authors have thoughtfully given sources for where to get everything in the United States.) But I would be tempted to go on a Paris scavenger hunt for some liquid nitrogen and a few bags of butter-flavored Orville Redenbacher microwave popcorn—and a microwave—to make Popcorn Gelato.
And I'm intrigued by simple ideas like swapping out the cream with evaporated milk in macaroni and cheese; the recipe looks simple and do-able, and everything is likely in your pantry already. Or the Meyer Lemon Curd Ice Cream, which sound like something to make when summer strawberries and berries start appearing at the market in a few months.
I'm hoping to do a recipe on the site shortly, namely when I plan to be home for the five hours to takes to cook the Baked Chocolate Mousse. (Which sounds totally worth the wait.) But in the meantime, I've been devouring this culinary guidebook, which is leading the way toward the next evolution of cooking.
---
As Always, Julia, edited by Joan Reardon is available at Amazon as well as from your local bookseller.
Ideas in Food is available at Amazon as well as from your local bookseller. You can follow Ideas in Food on Twitter and as well as at their site, Ideas in Food.
---
Related Links and Recipes
Julia Child's Perfect Chocolate Mousse
Molecular Gastronomy and Playing with Powder
Two Delicious Dining Guides to Paris