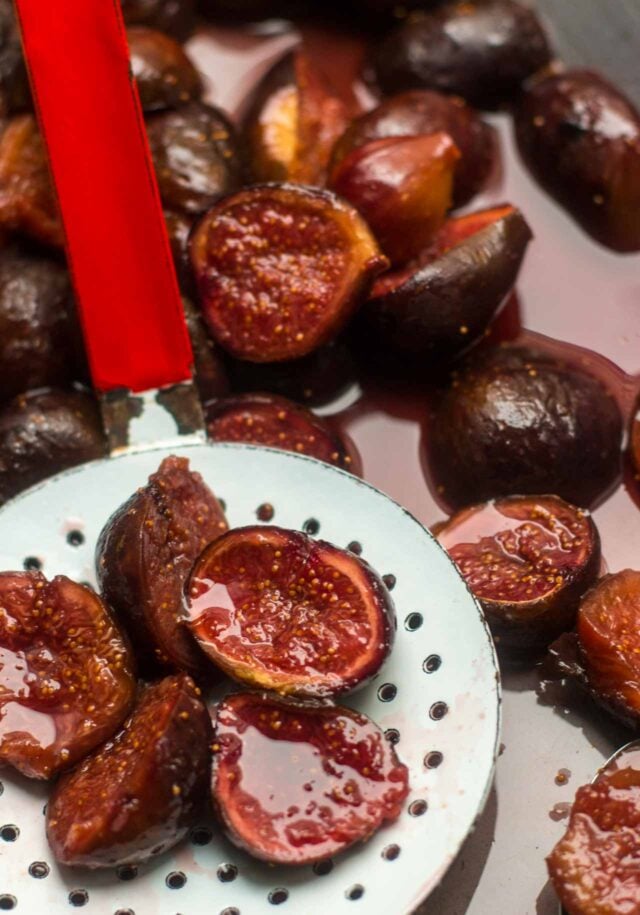 This year, for some reason, fig season just refuses to end this year, which is fine with me. Figs have two seasons; the first is usually late summer and the second begins mid-fall. The second crop is better-tasting and toward the end of the season, the prices drop as the bounty increases. I was at the market the other day, planning to buy some figs, when I noticed a vendor selling them for €5 (~$6) per flat. So I scooped them up, or rather, tried to pack the lug of them into my shopping bag, and headed home.
Often when I buy fresh fruit, people ask, "What you are going to do with them?" thinking perhaps I'm going to make a tart or ice cream or jam or chutney, which I sometimes do. But really, when you slice into fresh figs and jam-like sap is already oozing out, it's not to resist not eating them just as they are.
However, the bargain-priced figs were ripe and ready – a few close to being too ripe (those got eaten right away as I hate wasting food…and I love perfectly-ripe figs, so it was a win/win) – and some went into a tart (I made a variation on this one), but the rest needed my immediate attention so I decided to revisit this recipe from the archives that I published quite a while ago, but one I make when figs are in season, and oven roast them.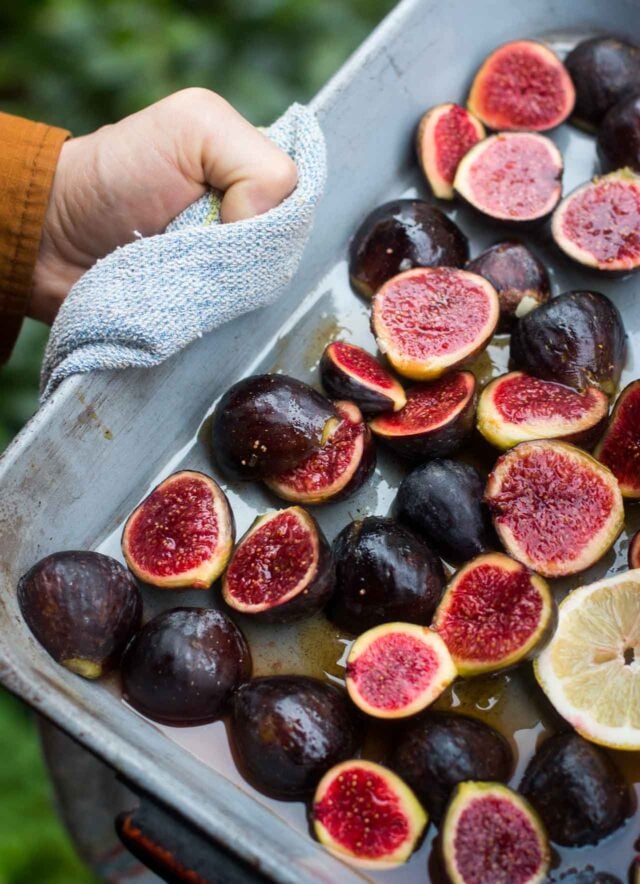 When you're buying figs, you do want one close to ripeness. Figs don't ripen that well off the tree, and they're ready to eat when soft and feel like water balloons. If they're splitting, or look as if they're just about to split, or if a small droplet of sap is oozing from the hole in the bottom, you know the figs will be sweet and syrupy. And it's time to use them.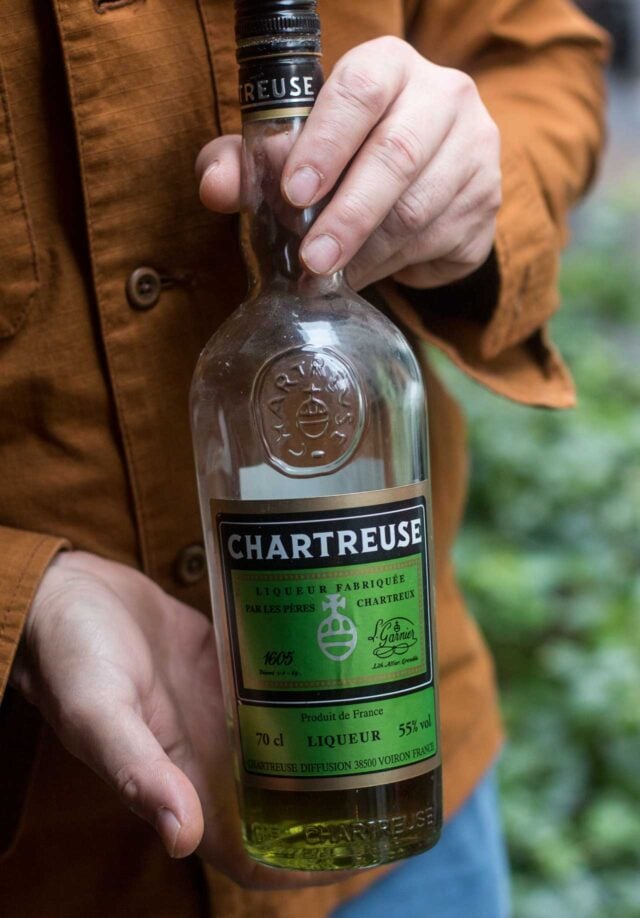 This is a pretty freestyle recipe and you've got a lot of latitude here. Since figs don't exude much juice while baking, to end up with a dreamy syrup, I sometimes add a pour of red wine, or go with liqueur. Chartreuse adds a beguiling herbal flavor to the figs, but you can leave it out, or if you wish or grab something else that's interesting from your liquor shelf, feel free to use that. Pastis and rum are nice, but if you want to keep them kid-friendly or are avoiding alcohol, apple juice or water can fill the bill.
I store the roasted figs in the refrigerator and eat them with my mid-morning bowl of yogurt and granola, although you could serve these at room temperature with fresh goat cheese, yogurt, or goat cheese custard if you're leaning toward dessert – or lavender honey or fig leaf ice cream for a real treat with a spoonful of the syrup, or on a savory side, serve them warm alongside roast pork, chicken, or roasted root vegetables.
Roasted Figs
Use a baking dish or pan that will allow you to bake the figs in a single layer. One that is 2 quarts (2l) should do it. Depending on where you live, fresh fig season happens near the end of summer and mid-autumn. Additional flavoring options include adding a cinnamon stick, a few whole star anise, or branches of lavender. And I've offered some alternatives to the wine or liqueur in the post.
1

pound (450g)

fresh figs

4-6

branches

fresh thyme

,

(optional)

2

tablespoons

red or white wine or a liquor

,

such as Chartreuse, Pernod, Grand Marnier or Cointreau

1

tablespoon

dark or light brown sugar

2

tablespoons

honey

1

slice of lemon
Preheat the oven to 400ºF (200ºC).

Slice the stem end off the figs and slice each in half lengthwise.

Toss the figs in a large baking dish with the thyme (if using), red wine or liquor, brown sugar, honey, and lemon slice. Make sure when you're done the figs are in a single layer.

For figs that are softer and juicier, cover the baking dish snugly with foil and bake for 15 to 20 minutes, or until the figs are softened and cooked through. Times will vary depending on ripeness and the variety of figs.

When done, remove the baking dish from oven, lift off the foil, and let the figs cool completely.
Notes
Variation: For a savory variation, replace the liquor with one or two tablespoons of balsamic or sherry vinegar. A few branches of fresh thyme or rosemary can be added as well. Storage: Roasted figs can be stored in their syrup in the refrigerator for up to one week. They can also be frozen and enjoyed later in the year.
Related Links and Recipes