Chocolate, Tahini and Buckwheat Marble Cake with Chocolate Glaze
Gosh, it seems so long ago when food blogging started. But once word got out, others started jumping in. Not only were there new and even more diverse voices from around the world to be heard, but the next geners were better with their cameras than the rest of us were, setting the standards for the future. (For me, it was quite a learning curve. All I used to know how to do was bake cookies and cakes!) One who really stood out was Aran Goyoaga of Cannelle et Vanille. Her photographs were stunning, she was also from the Basque region, from a family of pastry chefs, so her recipes were solid too.
As people like Pim of Chez Pim went on to open a series of amazing Thai restaurants and earning a Michelin star, Clotilde became a personal coach, Adam of Amateur Gourmet moved to LA to be a screenwriter, Graham of Noodle Pie became an editor and writing coach, Elise, who moved back home with her parents and learned how to cook, sold her massively successful blog, and Matt of MattBites became a much sought-after food photographer, and Aran opened her own photography studio and wrote three cookbooks, including her newest Canelle et Vanille Bakes Simple. Whew!…has time flown by or what?
I loved peeking into Aran's world, from her home in Seattle, with glimpses into her life and family on trips to the Basque region, an area that straddles France and Spain, which has its own language as well as its own culture and cuisine. Aran is a fourth-generation baker and comes from a family of pastry chefs so it's no surprise that she is an ace baker, and her career spanned from going to pastry school to working in a fancy 5-star hotel.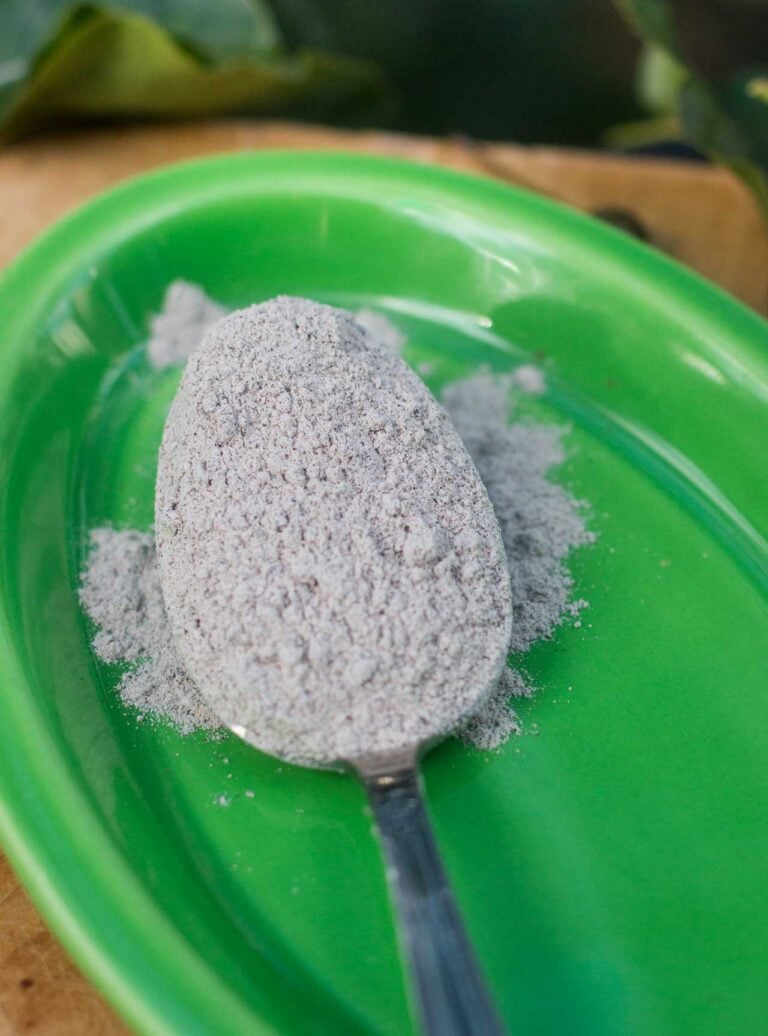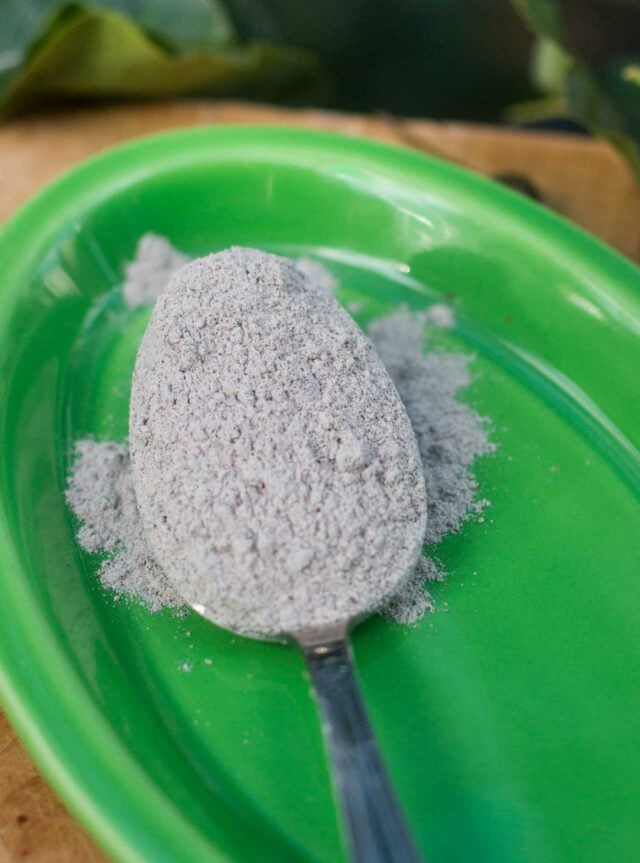 Eventually Aran decided to spend more time with her family and left the professional baking world. It was then she found out that she, and her kids, were gluten-intolerant, and she began what she calls in the book her "own career trajectory" exploring the world of alternate flours, which culminated in writing Cannelle et Vanille Bakes Simple, her book devoted exclusively to baking without gluten.
Aran's training as a pastry chef shines through (and as a photographer as well, with beautiful photos in the book that she took herself) and I found the gluten-free bread chapter particularly compelling: There's a recipe for a quick, crusty boule, another for roasted Concord grape bread, chewy bagels lavished with tons of seeds, highly-toastable English muffins (page 90), as well as babka, crackers, garlic and herb naan and…yes…crusty baguettes, right there on page 92.
There's also a range of cakes in the book (…I'm looking at you, Coconut Layer Cake with Caramel!), nearly two dozen recipes in the chapter of "The Flakiest Tarts, Pies, and Biscuits," and whole chapter devoted to Holiday Desserts including a Chocolate bûche de Noël. And, of course, you can't write a baking book with cookies, and she's got 'em in a chapter of Crispy, Crunchy, Chewy Cookies.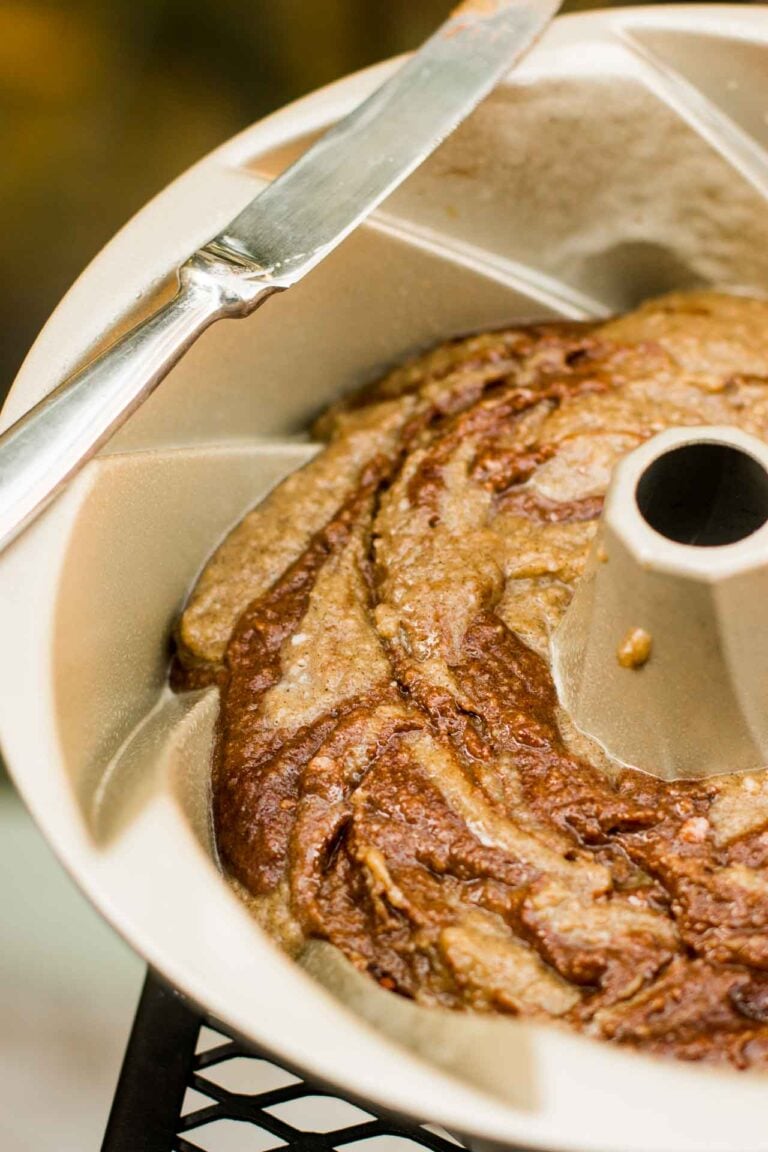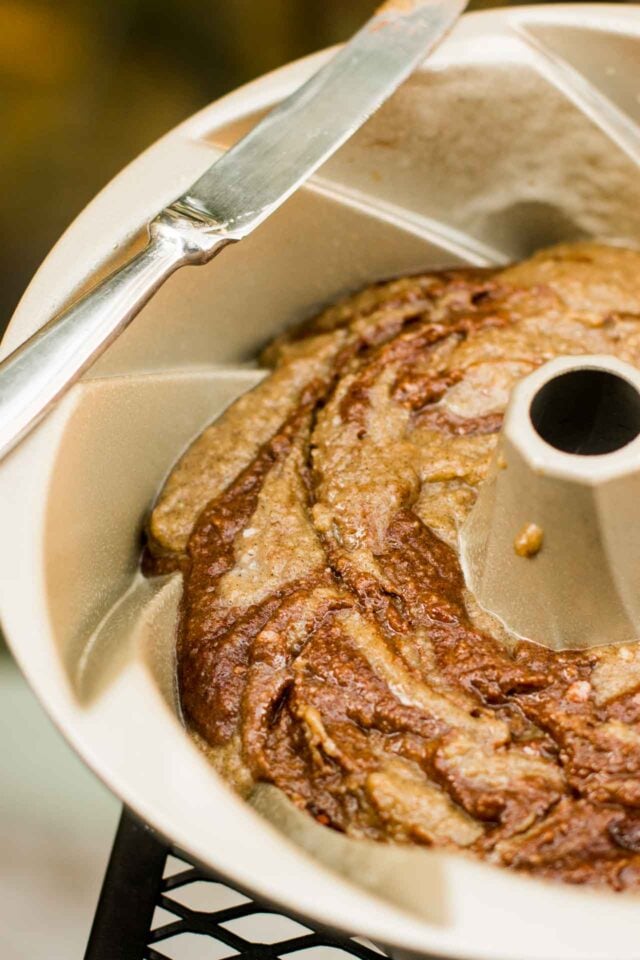 I was intrigued by the Chocolate-Tahini Buckwheat Marble Cake with chocolate glaze. I had an a-ha! moment (which I explained in this post about Kig ha farz, buckwheat dumplings from Brittany), when I learned that French buckwheat flour is lighter, and more refined than American buckwheat flour, which is darker and whole-grain. A few readers commented on the exceptionally dark color of their buckwheat crêpes (called galettes in France) and other desserts and I finally learned why.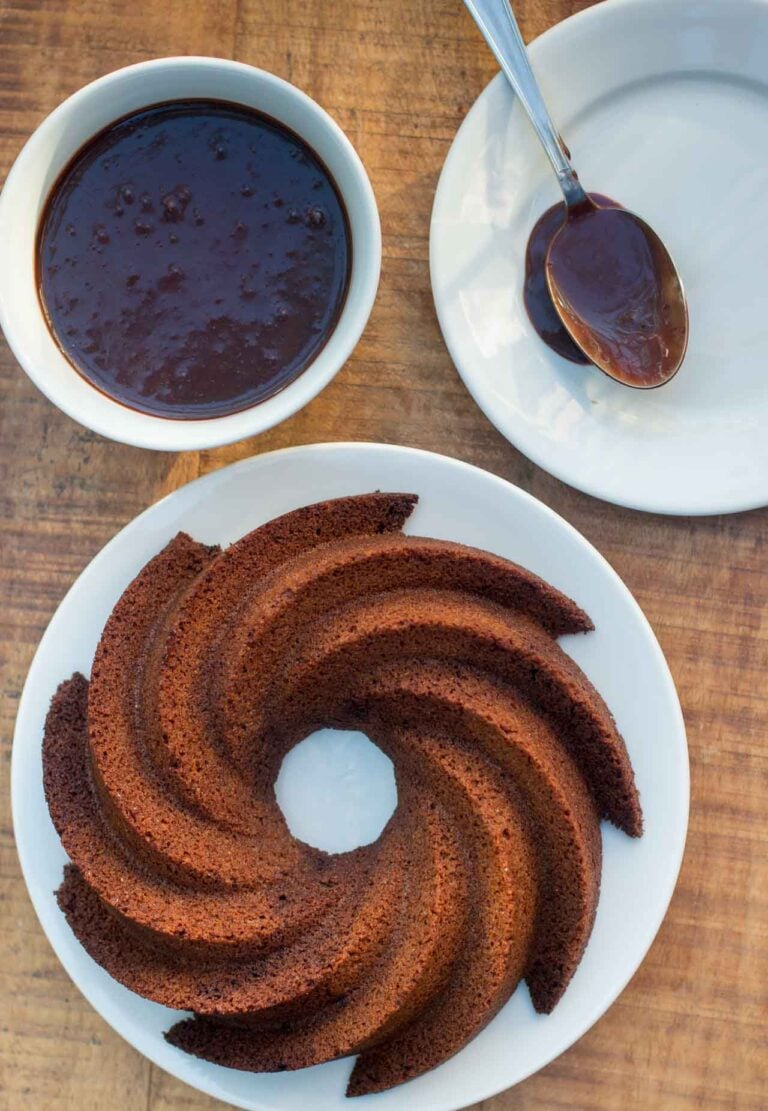 Since many of you likely don't have access to light buckwheat flour, in this recipe you can also use superfine brown rice flour or make light buckwheat flour yourself, as Aran does, grinding buckwheat groats in a high-speed blender. Or you can use darker, whole-grain buckwheat flour, as I did here, which will taste just as good, although the layers won't be as distinct.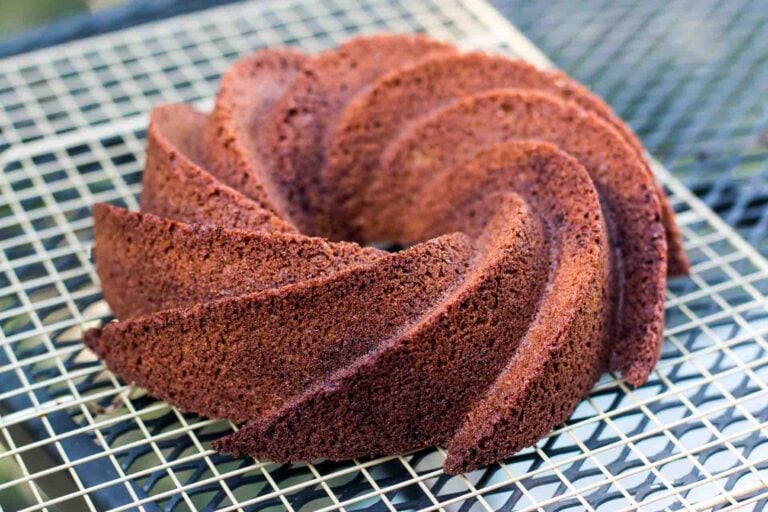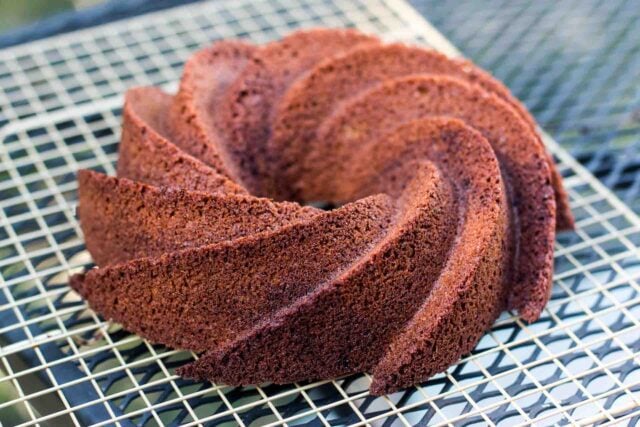 Aran also includes non-dairy and vegan substitutions in the book. While there's a tendency to blow off vegetarians and vegan baking, I like vegetarian food and don't have a problem with polenta, buckwheat, coconut milk, and almond flour in baked goods. There's a way to use those things, and others, without making food taste like a sad shadow of what it should taste like. It's just different, and there's nothing wrong with being different.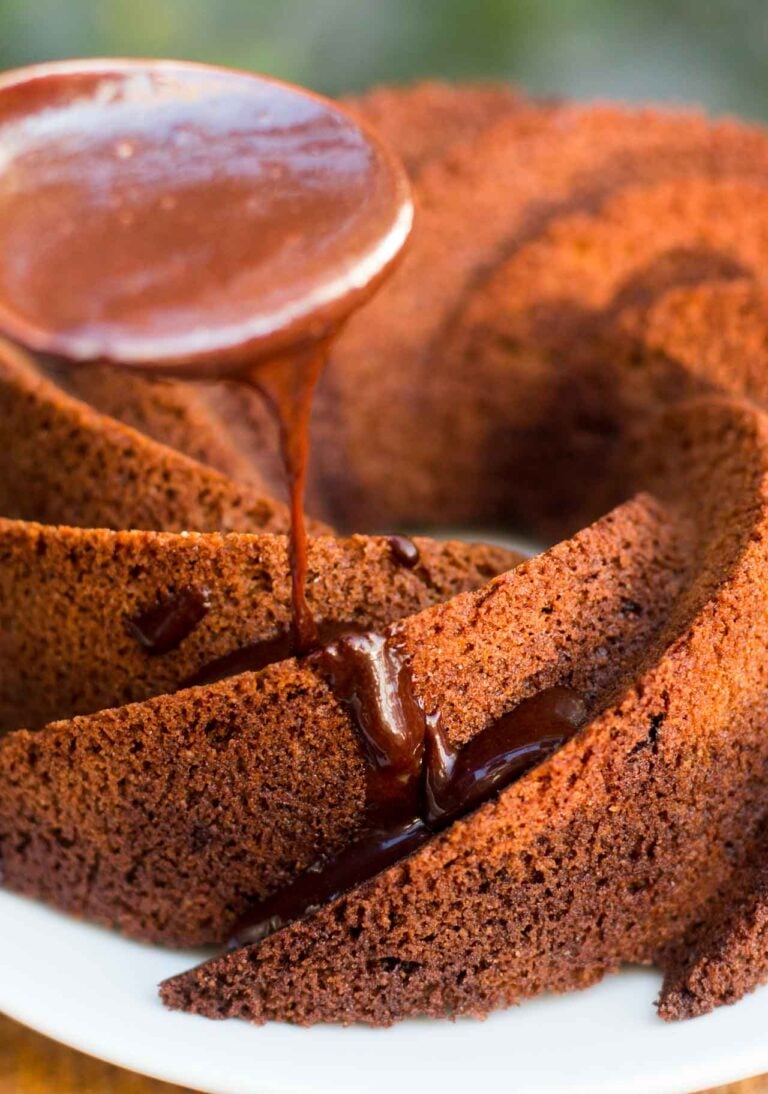 I was also intrigued by the chocolate glaze for this cake, which is non-dairy. It's a lighter and fruitier riff on chocolate ganache, but without any cream. It's off-script but interesting – and yes, it's delicious. And I didn't feel any guilt spooning it with abandon over the cake.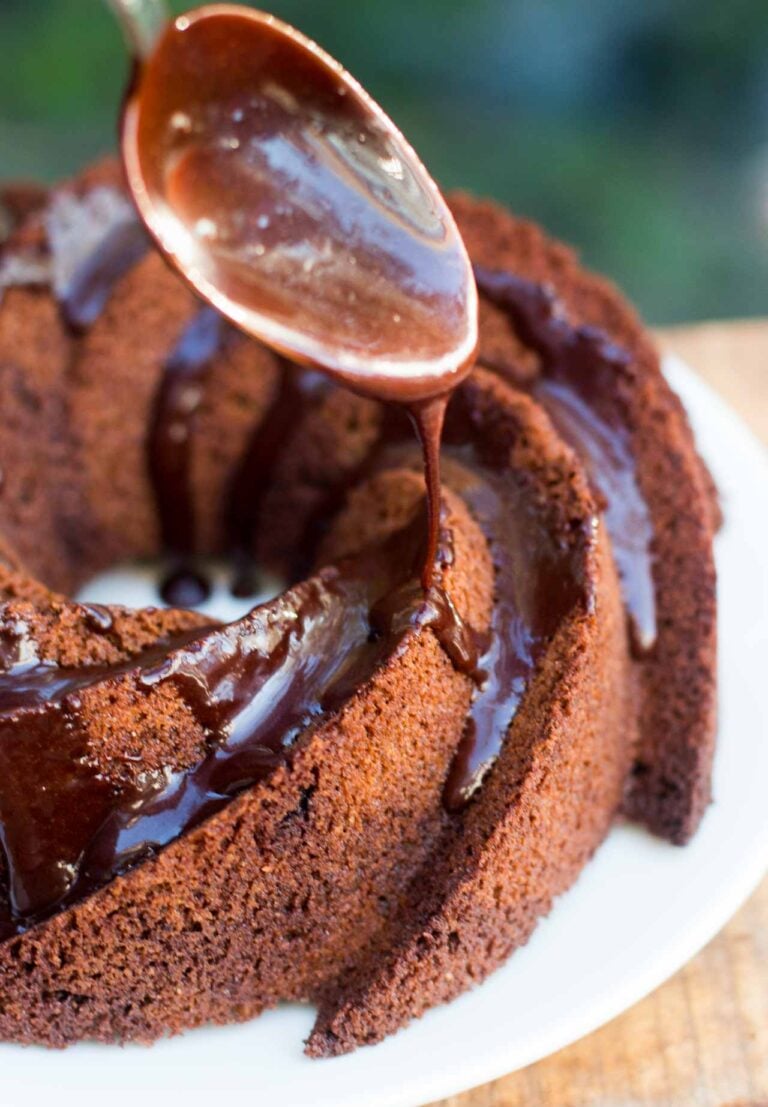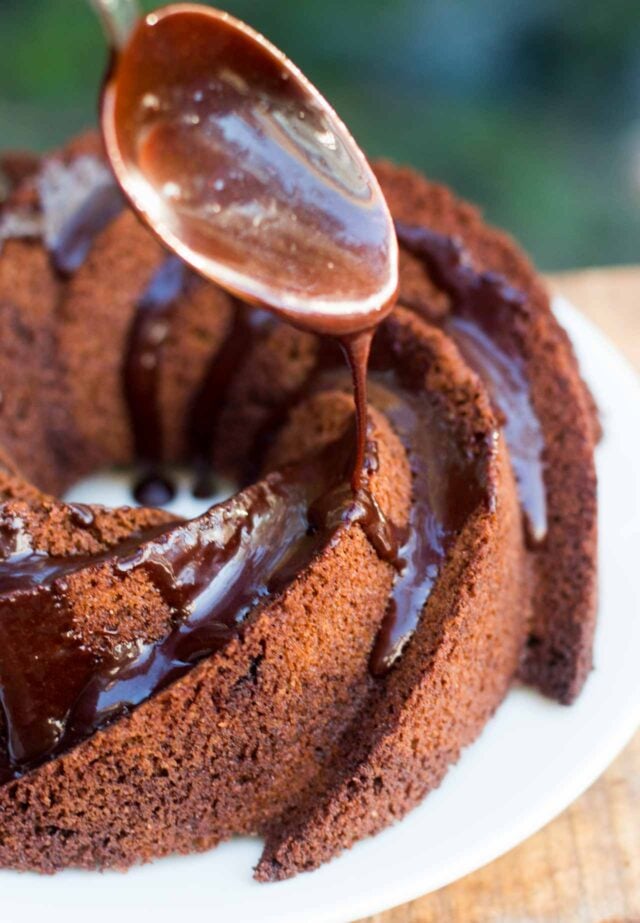 [For a limited time, signed copies of Canelle et Vanilla Bakes Simple are available at Now Serving cookbook store.]
Chocolate, Tahini and Buckwheat Marble Cake
Adapted from Canelle et Vanille Bakes Simple by Aran Goyoaga
Aran recommends using light buckwheat flour, which is the kind that's usually sold in France. Living in Seattle, she grinds her own buckwheat groats in a high-speed blender. (You can also use a coffee bean grinder.) Whole-grain buckwheat flour is darker and what is usually available in the US, although not commonly found in France. Whole-grain buckwheat flour will work (it's what I used in the post) but will make the marbling much less distinct. For those who want to use wheat flour, Aran noted that all-purpose flour will work in its place.
The glaze is a super-easy take on ganache, lightened up with apricot jam in place of the usual heavy cream, and has a pleasant fruity edge. Maple syrup is lovely in it but very mild honey would work, or another liquid alternative sweetener, although the texture might be a bit different. The original recipe made a full cup (250gml) of it and I had plenty leftover from that so I halved it here. Feel free to double the quantity and use any extra for serving with ice cream.
For the Cake
1

cup (125g)

light buckwheat flour

,

(see headnote)

1

cup (100g)

almond flour

,

also called almond meal

3/4

cup (150g)

sugar

1 1/2

teaspoons

baking powder

,

preferably aluminum-free

1/2

teaspoon

baking soda

1/2

teaspoon

salt

1/2

cup (120ml)

melted virgin coconut oil

,

or neutral-tasting vegetable oil

1/2

cup (120g)

well-stirred tahini

1/2

cup (120ml)

whole milk

,

or oat milk

2

large

eggs

,

at room temperature

1

tablespoon

apple cider vinegar

,

or lemon juice

2

teaspoons

vanilla extract

2

tablespoons

unsweetened cocoa powder

,

natural or Dutch-process
Chocolate Glaze
6

tablespoons (105g)

apricot jam

2

tablespoons (40g)

maple syrup

,

(or mild honey)

2

tablespoons (22g)

neutral-tasting vegetable oil

2

tablespoons (13g)

unsweetened cocoa powder

,

natural or Dutch-process

1/2

teaspoon

vanilla extract

pinch of salt
For the cake
Preheat the oven to 350ºF (180ºC.) Spray the inside of a 9- or 10-cup (about 23cm) bundt pan with nonstick spray or brush with coconut oil.

In a medium bowl, whisk together the buckwheat flour, almond flour, sugar, baking powder, baking soda, and salt. Make a well in the center and add the melted coconut or vegetable oil, tahini, milk, eggs, vinegar or lemon juice, and vanilla. Mix just until smooth, but don't overmix. Place half of the batter into a smaller bowl and whisk in the cocoa powder.

In alternating, generous spoonfuls, layer the batters into the pan. Use a butter knife to swirl the two batters slightly, but don't overdo it. Bake for 25-30 minutes, until a toothpick inserted into the center comes out clean. Let the cake cool for 15 minutes, then invert it onto a wire cooling rack and remove the cake pan. Let cool completely before glazing.
For the glaze
Put the jam, maple syrup, vegetable oil, cocoa powder, vanilla and salt in a mini food processor or blender. Blend on high speed for 1 minute until very smooth and creamy. If you want to use it right away, if it's too thick to pour it can be very gently warmed, but if it's pourable, spoon it right over the finished cake.
Notes
Storage: The cake can keep at room temperature 2 to 3 days. The glaze can be made 1 week in advance and refrigerated. Let come to room temperature, or gently rewarm it, to use.