Mad About (the) Madeleines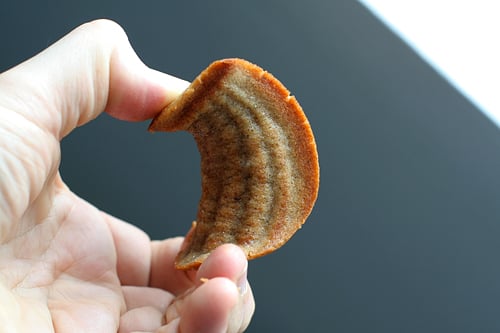 One of the main differences between American and French food magazines, and recipes in general, is the level of detail provided in the instructions. For example, if you were to publish a recipe in America that called for a cuillère à café (coffee-spoon) of baking powder, folks would go apoplectic. "How much is a coffee spoon?"
Then there was the infamous question a copyeditor queried me about. I wrote instructions to butter a cake pan, but apparently I wasn't clear enough.
"Do they butter the inside or the outside of the pan?"
Another difference is the laissez-faire instructions for assembly: I've seen French recipes for puff pastry that simply say, "Roll the pastry six times, folding it between each turn."
But people here seem to have no problems with that and I'm not quite sure what it means.
I used to think it was because Americans don't cook as much as the French, but if you look at the difference between the jumbo 10-pound sacks of flour at Safeway, and the 1/2-pound petits sachets at Franprix, that's compelling evidence that American's are still spending time in the kitchen. I also think that recipes here just assume a certain base of knowledge, that all recipes have to. Otherwise there would be a lot of butter burning in ovens across America from cake pans being buttered on the outside.
Another theory is that Americans are scared to cook. Or more specifically, to bake. I would say that's probably vrai and the French are more forgiving when it comes to homemade tarts and cakes, probably because many know that they can't hold themselves to the same standards as the many professional bakeries that are everywhere. So they just accept that things made at home look like where they were made, which I don't see anything wrong with at all.
One other difference between Americans and French cooks, and the rest of the known universe, is that we love our measuring cups and spoon and it drives the rest of the world crazy when they try to cook our recipes. It took me a while to figure out why we American love our cups and spoons so much and I decided it's because scales take a lot of the joy out of baking.
It's not that I don't like metrics or believe that weighing ingredients isn't more accurate, it's just that there's something about dipped a measuring cup in a bin of flour and sweeping off the excess, or grasping the handle of a glass measuring cup and watching the little numbers on the side until the milk has reached just the right level, that give us a feeling of satisfaction when we're baking.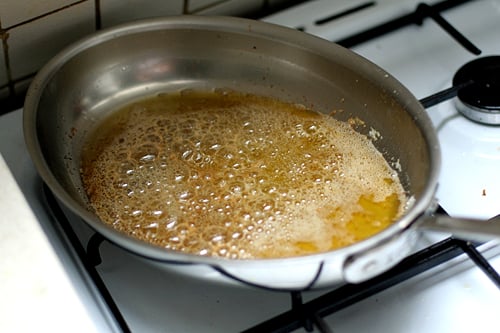 But I've had problems with recipes in some of the French food magazines, which aren't tested by the magazines, and due to the number of failures I had, I finally gave up on them. I used to think it was me, but other people (French and otherwise) have reported similar experiences. I'd always thought maybe I'd made a mistake with the metric conversions or something, but then I realized why the exceptional and alluring food photos in those glossy magazines were all in soft-focus: they're hiding something.
So when I came across a recipe for Buckwheat Madeleines, I forget my past failures and wanted to give it a try. Because I love madeleines. Because I love buckwheat. And because I love buckwheat honey. And because I'm an eternal optimist.
I approached the recipe with a measure of anticipation, and a soupçon of trepidation. But being eternally-optimistic, I gathered the ingredients, put together the batter, spent ten minutes cleaning my stove from all the splattering butter that had to be browned for the recipe, and let the batter chill a half-day, as instructed. Then I baked off the madeleines.
Midway during baking, I switched on the oven light—which I always forget I have for some reason, but instead of a nice hump like madeleines are supposed to have, all had a big trou in the center. Now that was a first!
(If I was more clever, or if this post got any more long-winded, I could probably work this into some post-Proustian food memory kind of thing. But I doubt future generations would be pondering me, or the meaning of my concave cakes.)
Still, I finished baking them. J'adore buckwheat but these were so rubbery, and dense, that no matter how hard I tried, I could not even break them in half. You can see how red my thumb is in the first picture from applying the pressure. I think I sprained it, actually.
I finally did break one in half, which was a two-handed effort, thinking maybe they'd still taste good. And when I took my first bite…or tried to, I could barely sink my teeth in, and I knew trouble was afoot.
Nope. But each little scalloped shell tasted a giant stack of buckwheat pancakes that had passed through a hydraulic press. There is not an adjective in the food writing compendium that could describe these méchante madeleines. I'm not sure if it was me, or it if was the recipe. The blame probably lies somewhere lost in the translation, as many things around here do, including recipes.
So it's going back into my files, perhaps to try again. Or peut-être pas. But for now, I'm still mad about these madeleines, and I'd rather be mad for them.




Related links and recipes
Lemon, Coconut and Chocolate Madeleines (64 sq ft Kitchen)
Orange Oil Madeleines (Nami-Nami)
Madeleines (101 Cookbooks)
Hazelnut, Seville Orange and Truffle Honey Madeleines (Nordljus)
Madeleines (Smitten Kitchen)
Orange & Brown Butter Madeleines (Canelle-Vanille)
Buckwheat Crêpes (Galettes au sarrasin)
Buckwheat Ice Cream (My recipe in the Los Angeles Times)