Lemon-Glazed Madeleine Recipe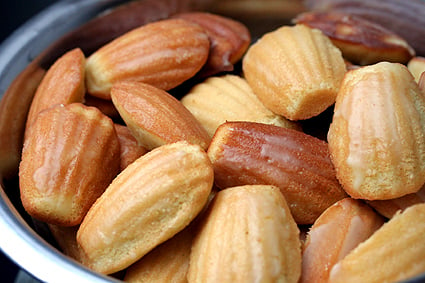 This is the post I never thought I'd write. I never wanted to tackle madeleines. I thought they were something that…darn it…you just needed to eat when you're in France. Like hamburgers and bagels, I didn't think everything translated cross-culturally. If you wanted a madeleine, darn it, you came to France to have one. I mean, did you ever have a bagel in Banff? Do you even know where Banff is?
But knowing that not everyone can come to France, and seeing how popular they've become around the world, I wanted to share this recipe for the French classic. Anticipating some questions that madeleines inspire, I urge you to simply follow the recipe. The question of using baking powder is up to you. If you use it, there's a greater likelihood they'll be a hump and the cakes will be fuller and plump. But some say baking powder shouldn't even be in the same room with madeleines, so I'll leave that decision up to you.
If you do use baking powder, use an aluminum-free brand, like Rumford, which leaves no tinny aftertaste. If you can't get it, use what you can. But try to find a brand labeled double-acting.
A few factors make these madeleines humpy…

Freezing the prepared molds before baking plus chilling the batter for at least 3 hours in advance seems to help. My fridge seems to have developed an ever-present 'No Vacancy' policy, even after a recent tenant was forcibly evicted, but I'm managing to make do with what's available around here.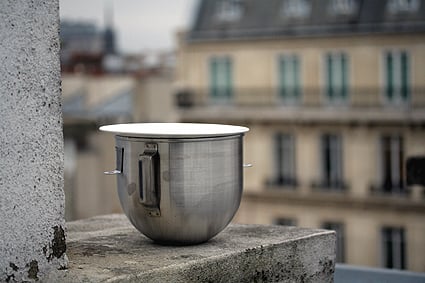 Just as important is to not spread the batter in the pan once you've scooped it in. If you have space in your freezer, you can put the batter in the pans and chill them all together. (Oh my, all these options; I think I'm losing you.) But I'm sure Parisian pigeons like madeleines as much as the rest of us around here so I'm not tempting fate and somehow found room in the icebox for those.
And do I hear little voices out there asking, "How do I know how much batter to put in the pan in advance since it's going to spread?"
You need to develop your extra-keen sense of perception and eye-ball how much you think will fit in the mold, which will spread during the first few minutes of baking. You'll just have to guess, but I know you can do it. I just know you can.
If that scares you, then go ahead and estimate how much batter will fill each indentation to 3/4's, measure or weigh it, bake it off and see what happens. If it's right, great. If not, then repeat all those steps until you get it right. After each batch clean the pan, then bake the rest, using your previous calculations as a guide to re-plunk the batter in.
Me? I'm happy to take a stab at guessing. And if given a choice, I choose happiness over washing extra dishes, thanks.
The other question is which kind of pan to use. Years ago on a trip to Paris, I bought traditional unlined madeleine pans at MORA with every intention of baking madeleines all the time back in California. Guess how many times I made madeleines in California?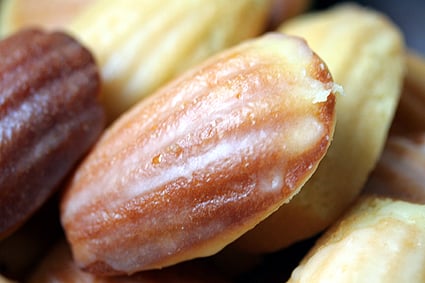 I just hope whoever bought them at my garage sale a few years later got more use out of them than I did. The trusty non-stick ones that I have now are much easier to use and the little devils just slide right out. And into my mouth.
Lemon-Glazed Madeleines
Adapted from
The Sweet Life In Paris
by David Lebovitz If you use baking powder, they may take another minute or so to bake since the batter will rise higher. They're done when the cakes feel just set if you poke them with your finger. Avoid overbaking them. There's nothing better than a fresh, buttery madeleine. I also prefer to bake these in the upper-third of my oven, so the tops get slightly-browned. I love the lemon glaze, but you can omit it if you want your madeleines nekkid.
3

large eggs

,

at room temperature

2/3

cup (130g)

granulated sugar

rounded 1/8

teaspoon

salt

1 1/4

cup (175g)

flour

1

teaspoon

baking powder

,

(optional)

zest of one small lemon

9

tablespoons (120g)

unsalted butter

,

melted and cooled to room temperature, plus additional melted butter for preparing the molds

3/4

cup (150g)

powdered sugar

1

tablespoon

freshly-squeezed lemon juice

2

tablespoons

water
Brush the indentations of a madeleine mold with melted butter. Dust with flour, tap off any excess, and place in the fridge or freezer.

In the bowl of a standing electric mixer, whip the eggs, granulated sugar, and salt for 5 minutes until frothy and thickened.

Spoon the flour and baking powder, if using, into a sifter or mesh strainer and use a spatula to fold in the flour as you sift it over the batter. (Rest the bowl on a damp towel to help steady it for you.)

Add the lemon zest to the cooled butter, then dribble the butter into the batter, a few spoonfuls at a time, while simultaneously folding to incorporate the butter. Fold just until all the butter is incorporated.

Cover the bowl and refrigerate for at least 1 hour. (Batter can be chilled for up to 12 hours.)

To bake the madeleines, preheat the oven to 425 degrees.

Plop enough batter in the center of each indentation with enough batter which you think will fill it by 3/4's (you'll have to eyeball it, but it's not brain-surgery so don't worry if you're not exact.) Do not spread it.

Bake for 8-9 minutes or until the cakes just feel set. While the cakes are baking, make a glaze in a small mixing bowl by stirring together the powdered sugar, lemon juice, and water until smooth.

Remove from the oven and tilt the madeleines out onto a cooling rack. The moment they're cool enough to handle, dip each cake in the glaze, turning them over to make sure both sides are coated and scrape off any excess with a dull knife. After dipping, rest each one back on the cooking rack, scalloped side up, until the cakes are cool and the glaze has firmed up.
Notes
Storage: Glazed madeleines are best left uncovered, or not tightly-wrapped; they're best eaten the day they're made. They can be kept in a container for up to three days after baking, if necessary. I don't recommend freezing them since the glaze will melt.
More Madeleine Madness
Madeleines from 101 Cookbooks.
Pim tackles madeleines.
Wanna know How Proust Can Change Your Life?
Clotilde discovers chestnut honey madeleines in Paris.
Josh's post-Proustian madeleines.
MORA sells madeleine molds in Paris. (Or you can get them online.)