What is White Chocolate?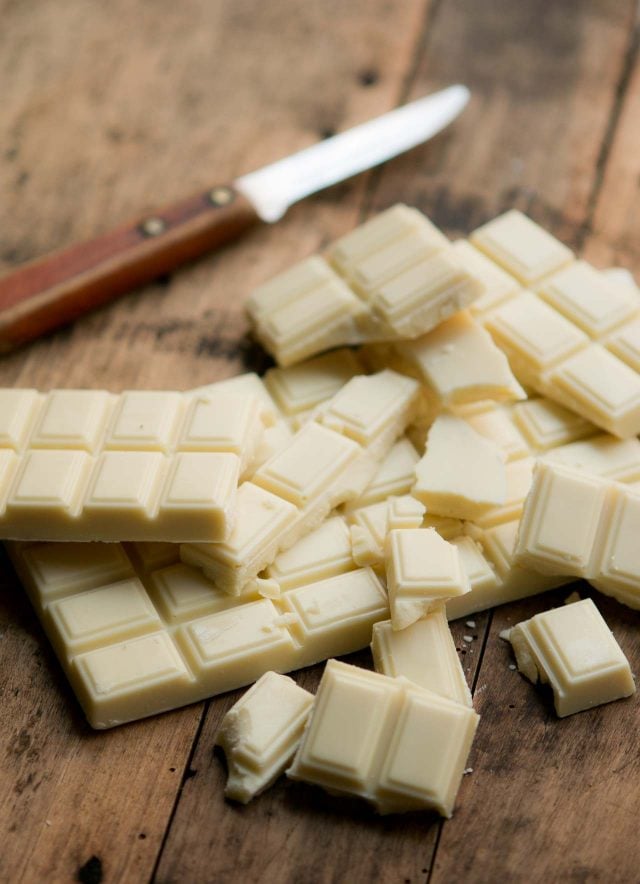 Some people love it, and others leave it. Yes, it's White Chocolate, that controversial melange of cocoa butter, sugar, and milk (more on that later). Often there's vanilla, or vanillin (a synthetic vanilla-like substance) added as well.
Dark, or bittersweet chocolate, contains cacao mass (the ground beans), sugar, cocoa butter, and sometimes vanilla and lecithin.
White chocolate has none of the cacao mass, hence the delicate, ivory-like color, which it gets from the cocoa butter. Instead it's rich with cocoa butter, which gives it that suave, subtle taste, that I find compliments dark chocolate desserts and bolder flavors. I make White Chocolate Crème Anglaise and pour the cool custard alongside a dark chocolate cake. Or I steep fragrant fresh mint leaves when making White Chocolate Ice Cream.
Cocoa butter is derived from the chocolate-making process, or more specifically, when cocoa powder is made. To make cocoa powder, roasted cacao beans are ground into a paste, known as chocolate liquor, then the paste is pressed through a powerful hydraulic press, which separates the cocoa mass from the cocoa butter. The cocoa mass comes out as a solid block, which is grated into cocoa powder (which is why cocoa powder is always unsweetened and relatively low-fat) and the soft, rich cocoa butter is extracted. I've been to factories and watched the process, and the smell of warm, fat-rich cocoa butter is intoxicating.
The valuable cocoa butter is often sold to the cosmetic and pharmaceutical industry, since it has the perfect melting point for things like lipstick…and why chocolate melts and releases its complex flavors like nothing else when you pop a piece in your mouth. But it's also that reason that true white chocolate tastes so good and is loved by many pastry chefs.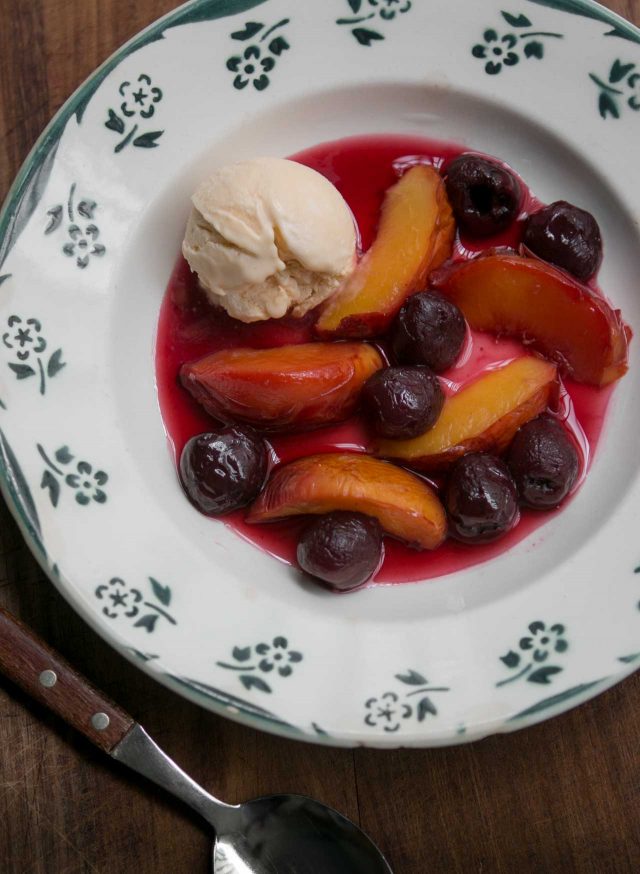 Here are some tips and facts about white chocolate:
Both white and dark chocolates are emulsions. Adding small amounts of liquid, like water or milk, will cause the emulsion to break or seize. Therefore, any milk that's added to white chocolate must be first either dried into a powder or cooked to a paste, removing the water, before it's used. So you'll often find the ingredient 'milkfat' on the label.
In the United States, white chocolate must contain a minimum of 20% cocoa fat.
Because white chocolate contains a dairy product, it's highly perishable. Purchase it in small quantities as needed (unless you're like me, and use so much you buy it in 5-pound blocks…as shown above.) I make sure to get white chocolate from a reliable source that rotates and checks their stock regularly. Store it in a cool, dark place, but not the refrigerator, since it's high-fat content makes it a good medium for absorbing other odors…like the stinky camembert in my fridge.
White chocolate will keep for up to one year. If you're unsure if it's any good, taste it before using (which most of us do when baking with chocolate, right?)
Buy only 'pure' white chocolate and check to make sure the label reads only 'cocoa butter', and no other tropical fats, such as coconut or palm kernel oil.
Due to the higher fat and sugar content, white chocolate melts very easily and at a lower temperature than dark chocolate, but more care should be taken when using it. Avoid excessive or direct heat. I like to pour a hot liquid over it and use the heat from that to melt the white chocolate.
There are only a few companies in America that make white chocolate: E. Guittard, Baker's, and Askinoise. Most of the white chocolate you'll find is European-made, probably because few Americans bake with white chocolate.
White chocolate should never be pure white. Since cocoa butter is ivory-colored, real white chocolate should be off-white as well. Products labeled as 'white bar' or 'white coating' are often not white chocolate and just tastes plain sugary and should not be used in recipes that call for white chocolate.
Related Links and Recipes
Askinoise (US-made bean-to-bar white chocolate)
White Chocolate & Fresh Ginger Ice Cream (Recipe)
White Chocolate Sorbet (Recipe)
White Chocolate Rice Krispie Treats with Candied Peanuts (Recipe)
Caramelized White Chocolate (Recipe)
White Chocolate – Fresh Ginger ice cream (As shown in the post, with the fruit compote)