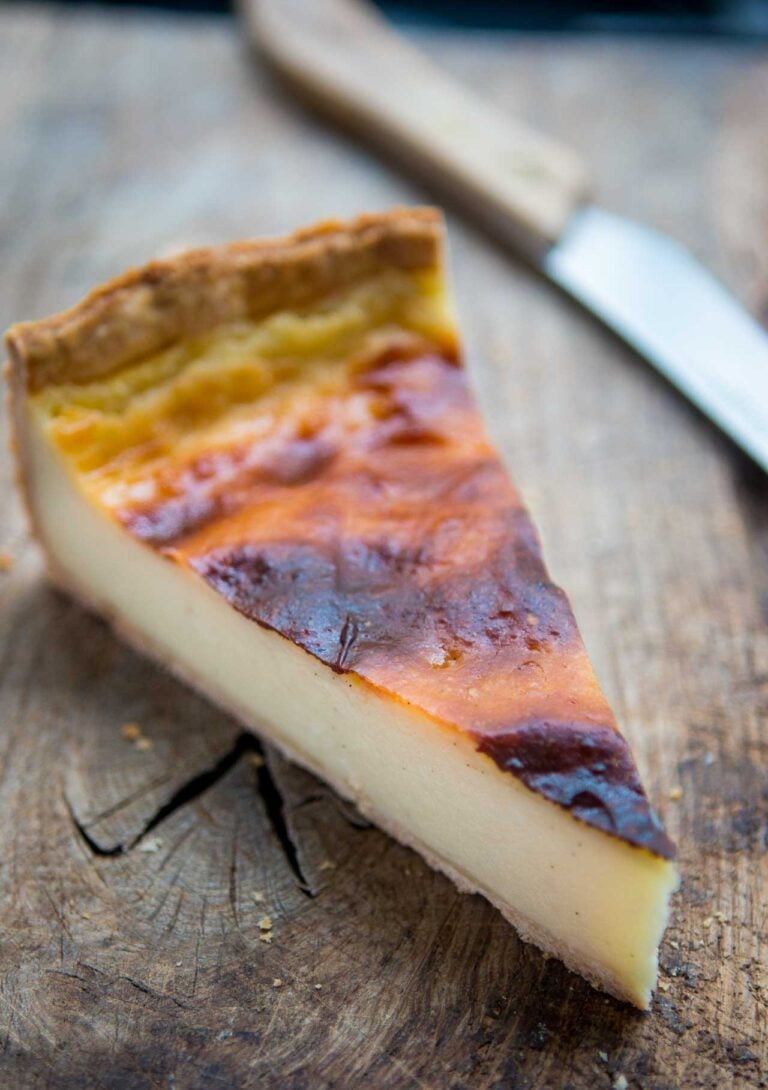 When people inquire about recipes from the pastries on offer in Paris pastry shops, I look at the recipes we used when I went to pastry school at Ecole Lênotre and it's hard to imagine cutting down a recipe that makes a hundred canelés into a recipe that makes six or eight for a home cook, who likely doesn't want to go out and buy a hundred copper canelé molds at 35 dollars (or even €10-15) a pop. Professional bakeries don't make a single gâteau Opéra or eight éclairs; it's might be a dozen cakes, five or six dozen éclairs, and hundreds of caramels. So paring down a recipe that won't overwhelm the oven, kitchen…or budget…of a home baker can be a challenge
Professional bakeries also make components separately as part of their schedule, and in large quantities, and will start the puff pastry or make the pastry cream for a cake or tart in advance, then assemble them over the course of several days. Often recipes depend on techniques learned over a period of time, such as macaronage, the proper stirring and folding of macaron batter, and aren't just a list of ingredients. So as wonderful and generous as bakers tend to be, not all professionals can share (or in some cases, are willing to part with) the secrets of their success.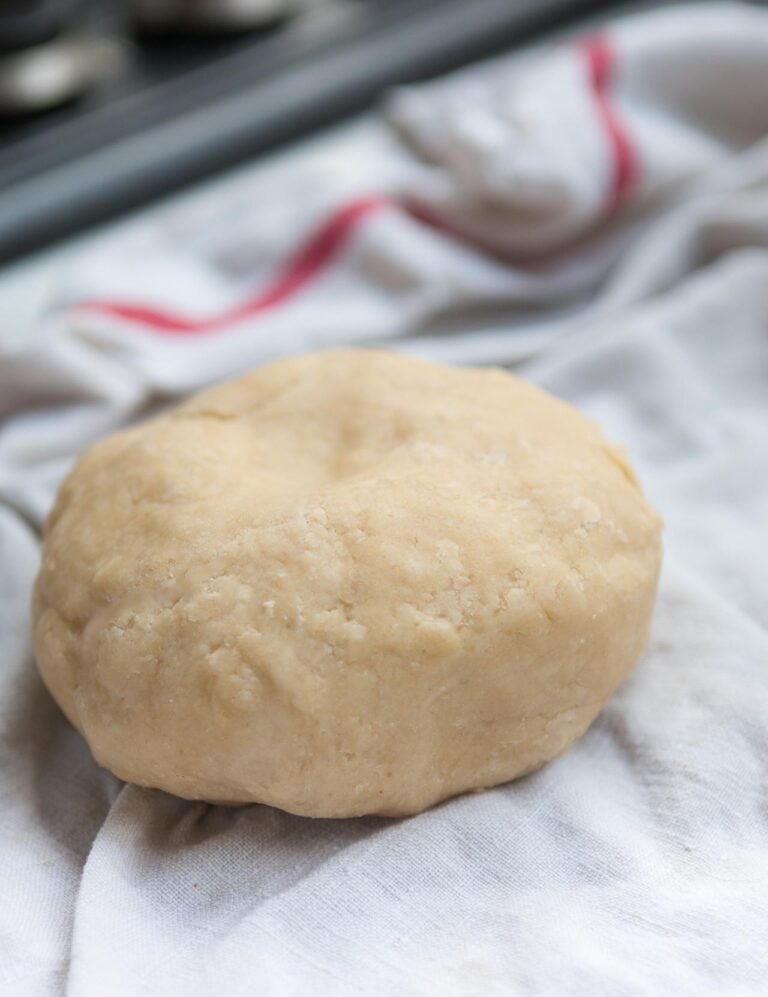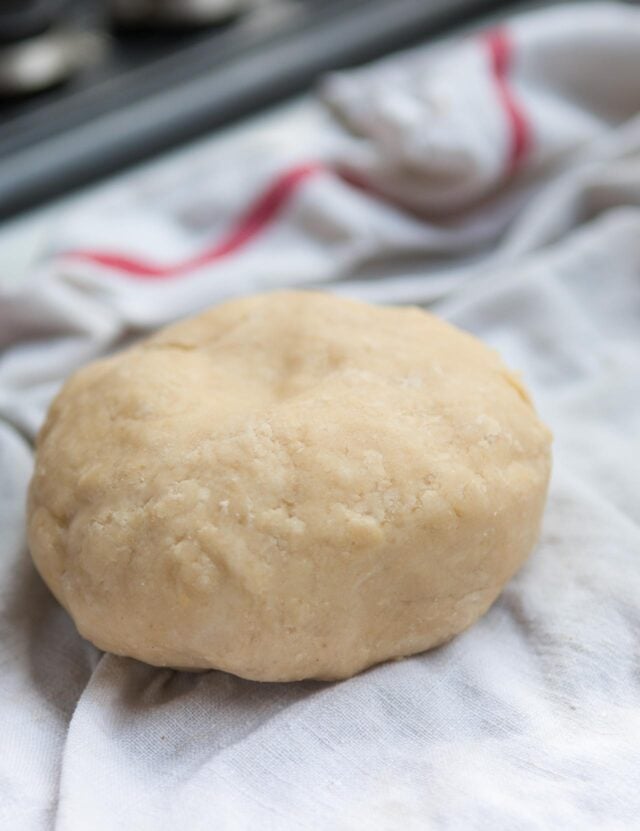 So I was deeply impressed when I saw an advance copy of French Pastries Made Simple: Foolproof Recipes for Éclairs, Tarts, Macarons and More by Molly Wilkinson, who learned her craft at Le Cordon Bleu in Paris, and now spends her time doing workshops and teaching classes in Versailles, where she lives. Molly did the admirable job of paring the most popular French pastry recipes down for home cooks, in a simplified fashion that anyone can understand, even if you have no professional experience whatsoever. What's especially appealing about Molly's book is that the recipes live up to the title, presenting simplified ways to make French pastries.
The pâte sucrée recipe, for example, is a French tart dough that she calls "the only tart dough you'll ever need," and is just one of the foundational benchmark recipes in the book. She then goes on to talk about other techniques of French pastry in chapters that include detailed instructions on how to master chocolate ganache, pâte à choux, génoise, puff pastry, caramel, and meringues, and provides a selection of classic French that use them, everything from a luscious tarte au citron (lemon tart) to Opéra cake, crème caramel, and charlotte aux fraise, a strawberry cake with homemade ladyfingers and a creamy strawberry mousse filling crowned with fresh strawberries on top. Molly's explanations and friendly, yet precise instructions, remove any intimidation that one might have about tackling them.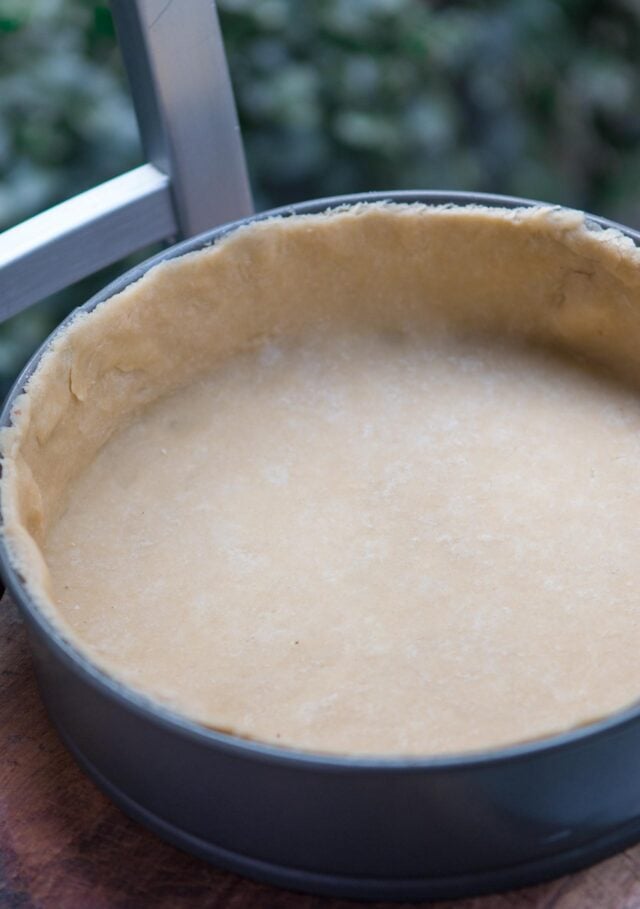 Most of us think of Flan as a Mexican- or Spanish-style flan; an eggy custard baked in a caramel-lined mold that's reversed onto a plate. In France, that's known as crème renversée or crème caramel. Flan, or Far in the Breton language, refers to an open-face custard tart.*
Flan Parisien or Flan Pâtissier, such as this one, is often baked in a buttery crust. There are a lot of variations on the name and the way it's baked so I just go into a bakery and order it by whatever name they decide to give it. (Rule #1: Avoid arguing with people serving you food.) But sometimes it doesn't have a crust; Christophe Michelak's Flan pâtissier is baked in a buttered baking dish, which you're welcome to do, although the crust certainly makes the dessert more dramatic.
In France, vanilla is a flavor and isn't automatically added to pastries and desserts, as it is in the States. Nature signifies that something is plain (such as Flan nature), although most versions contain vanilla even if it's not mentioned. Vanilla extract (the kind with alcohol in it) isn't used as much in France as vanilla beans are, but I usually add a dash of vanilla extract to desserts even if using vanilla beans as it enhances their flavor. And honestly, I've heard my fair share of complaints in life, but have not (yet) heard any about something having too much vanilla in it.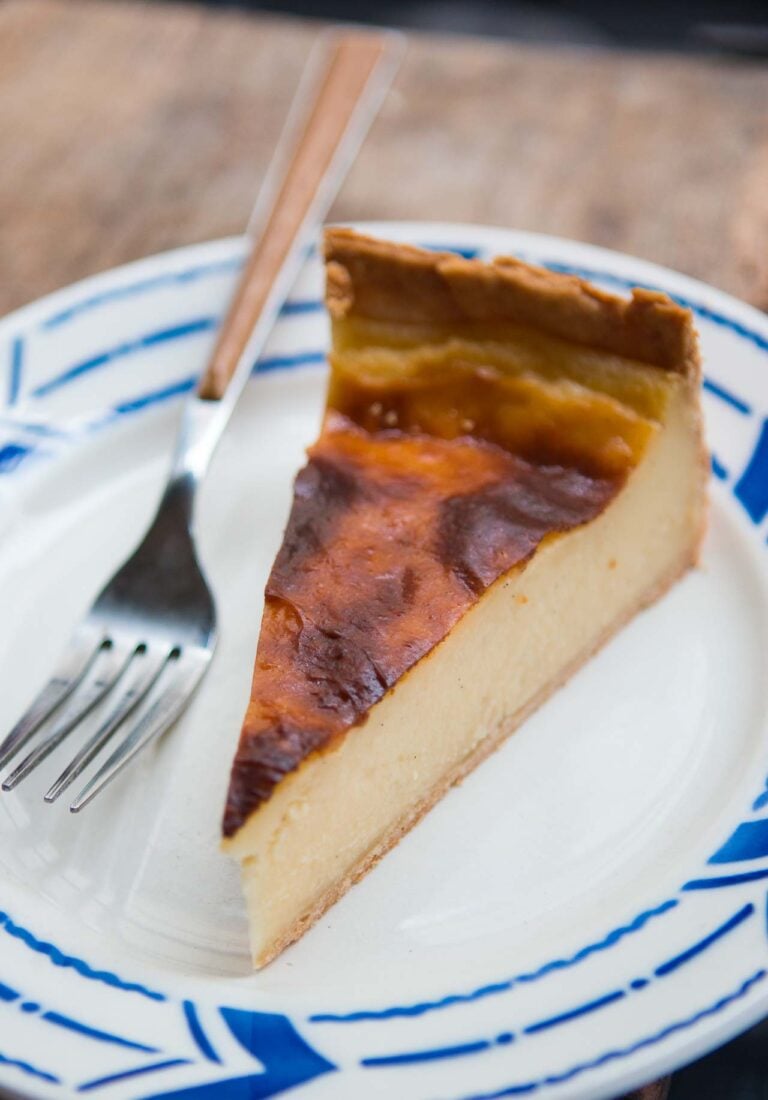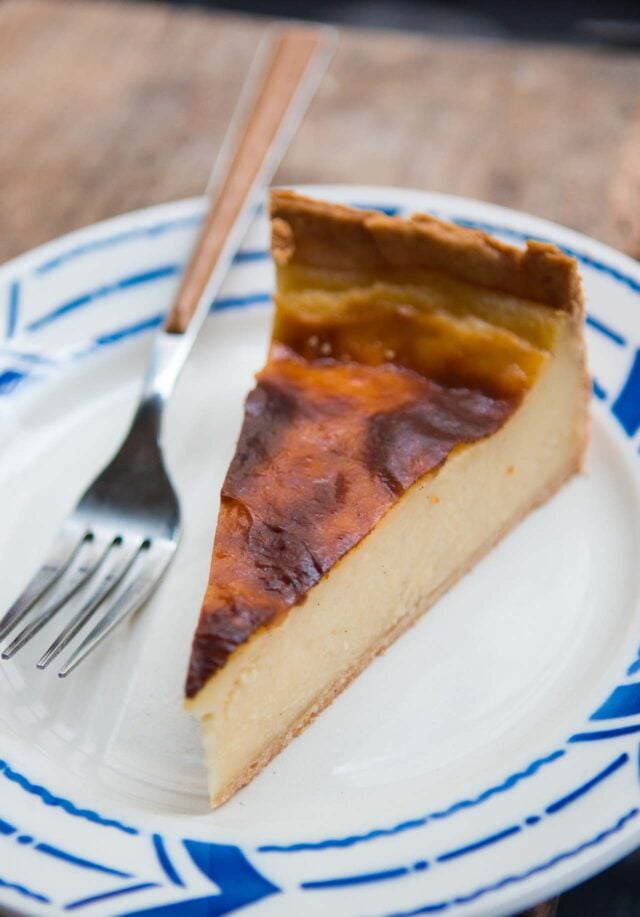 Flan Parisien is frequently enjoyed as a goûter or afternoon snack. (Yes, French people snack!) It's big and bold, and sturdy, so will keep for a few days. We like it for dessert after dinner cut into thinner slabs than the local bakeries cut it into, but you can dive into it any way you want.
Vanilla Parisian Flan
Adapted from French Pastries Made Simple: Foolproof Recipes for Éclairs, Tarts, Macarons and More by Molly Wilkinson
Vanilla beans can be very expensive but do make this dessert taste extra-special. You can use one or two, and I add some vanilla extract as well, although Romain suggested it would be good with a little rum in the batter instead. If you're one of those people who buries their used vanilla beans in sugar to make vanilla sugar, this is a good place to use that wonderfully-scented sugar!
Note that this dessert should be made the day before serving to give it time to cool and chill thoroughly, which will make it easier to slice, too.
For the crust
1 1/2

cups plus 1 tablespoon flour (210g)

flour

2

teaspoons

sugar

1/2

teaspoon

salt

7

tablespoons (3 1/2 ounces, 100g)

unsalted butter

,

chilled and cubed

1

large

egg

2

teaspoons

water

,

plus more if necessary
For the custard
3

cups (750ml)

whole milk

1 3/4

cups (430ml)

heavy cream

1-2

whole

vanilla beans

,

(see headnote)

pinch of salt

3

large

eggs

3

large

egg yolks

1 1/4

cups (250g)

sugar

3/4

cup (90g)

cornstarch

2

teaspoons

vanilla extract
To make the crust, mix the flour, sugar, and salt in a bowl of a stand mixer fitted with the paddle attachment. (You can also make it in a large bowl with a pastry blender or your hands.) Add the cubes of cold butter and mix on medium speed until the pieces of butter are the size of large corn kernels. Add the egg and water and mix until the dough begins to come together.

At this point, even if I'm using my stand mixer, I use my hands to gather and shape the dough into a disk. If necessary, add another teaspoon of water if the dough resists coming together but don't overwork it. Wrap the dough in plastic or your favorite eco-friendly alternative and chill for at least 30 minutes.

On a lightly floured surface, roll the dough into a 15-inch (38cm) circle. Carefully place the dough into a 9-inch (23cm) springform pan so it covers the bottom and goes up the sides of the pan. Use your fingers to gently coax the dough into the corners of the pan (between the bottom and edges) then trim any dough overhanging over the top edges of the pan. Use your hands to patch and smooth any wrinkles or cracks. (The dough is quite forgiving once baked and filled so don't worry if it's not perfect.) Place the dough-lined cake pan in the freezer while you make the filling.

Preheat the oven to 400ºF (200ºC).

Pour the milk and cream into a large, heavy-duty saucepan (or Dutch oven). Split the vanilla bean(s) vertically and scrape the seeds into the milk mixture and also add the vanilla pods and the salt. Warm over medium heat.

In a separate medium-size bowl, whisk together the eggs, egg yolks, and sugar, then whisk in the cornstarch.

When the milk mixture is very warm, working quickly, pour half of the warm milk mixture over the eggs and quickly, and confidently, whisk well until combined. If you have someone in the kitchen to help you, this is a place to ask them to. But if you do this step without hesitation, you should be fine. (If you're unsure, you could ladle in the hot milk while whisking constantly.)

Pour the warmed egg mixture back into the pan of warm milk and stir it leisurely with the whisk until it starts to thicken, which'll take about 5 minutes, but will depend on the heat. As it starts to thicken, things will move a bit more quickly and you'll want to whisk more vigorously to break up any lumps as it cooks. When the mixture comes to a full boil - a large bubble or two will break the surface - turn off the heat and pluck out the vanilla beans with tongs. Stir in the vanilla extract.

Remove the tart shell from the freezer, scrape the pastry cream into the tart shell, smooth the top and place it in the oven. Bake the flan for 10 minutes, then reduce the heat to 350ºF (180ºC) and bake for another 50 minutes. The top may get close to black, which is normal and fine.

Let the flan cool on a wire rack. Once cool, chill in the refrigerator overnight before serving.
Notes
Storage: The tart dough can be made up to two days in advance and chilled. If made in advance, you may need to remove it from the refrigerator for a bit before rolling. The finished flan will keep 3-4 days in the refrigerator.
*A French reader wrote to me that the name Flan is a take on Flaouna or Flaó, two cheese-filled pastries from Mediterranean regions.