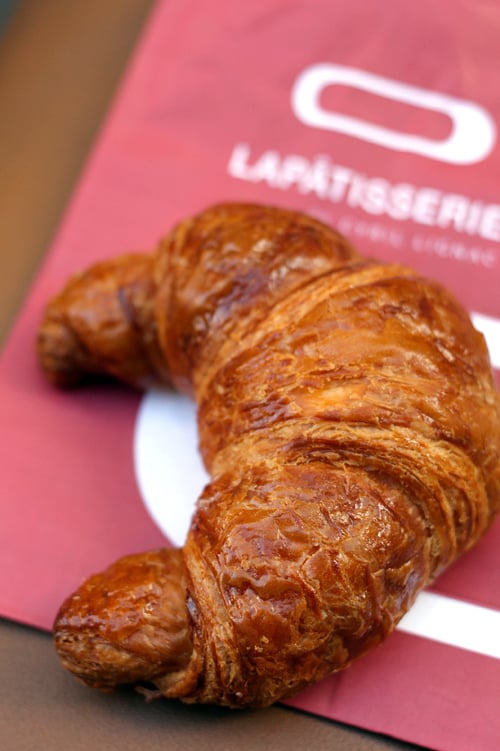 When you live in Paris, you tend to stick to pastry shops in your neighborhood. Not that there aren't "destination-worthy" places in all twenty arrondissements – with many notable ones on the Left Bank and in swankier districts. But with young chefs opening bakeries in various neighborhoods, catering especially to locals, one doesn't necessarily need to go all that far to find extraordinary pastries and confections.
Cyril Lignac is a chef who is hosts popular television programs in France, and a few years ago had purchased Chardenoux bistro, an aging warhorse of a place where I once went to meet a good friend who was in town for a month. As I waited for him at the table, the place – and the waiters – looked so tired (both looked ready for a much-needed retirement), when he arrived, I quickly convinced him that we were probably better off going to a corner café for a salad. So it was good to hear that the bistro had been taken over by Monsieur Lignac and just across the street, pastry chef Benoit Couvrand was turning out stellar pastries and breads.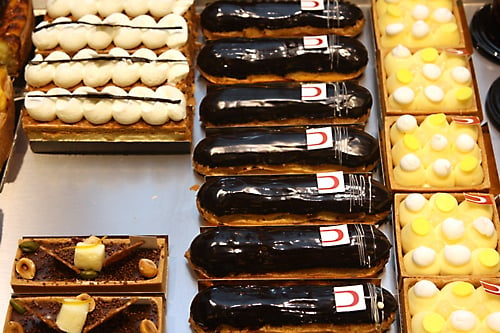 Pastry-making is a specialty and most chefs don't know much about it, or have the time to concentrate their energy on desserts, so they hire pastry chefs who everyone knows are The Most Important People in the World. (With bread-bakers being a close second.) And M. Lignac was wise enough to hire the young Chef Couvrand, formerly the pastry chef at Fauchon, where he worked for ten years before he moved away from the fancy digs of the Place de la Madeleine.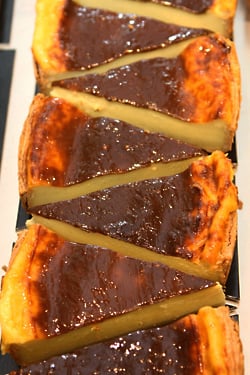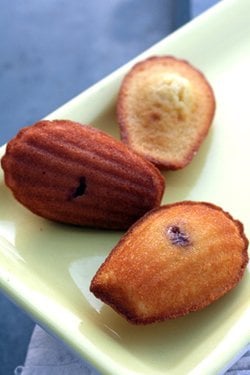 Even though I don't live in the neighborhood, I've found myself at La Pâtisserie surprisingly on more than just a few occasions, dreaming of the excellent croissants or the beautifully crisp slender baguettes. There are little bags of madeleines, a trio – perhaps an homage to his former digs – including one with a tangy sour cherry tucked under the hump. And the compact Kouign Amann come in a size that won't make you feel guilty for having one. (Maybe next up will be a trio of those. Can I suggest – salted butter, chocolate, and buckwheat.)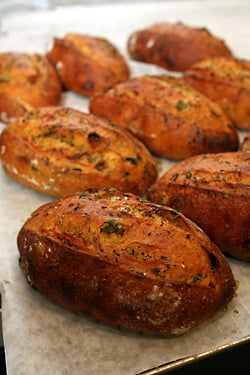 The tarte citron looks like a tasty puzzle, with carefully-piped dollops of lemon custard topped with little disks of lemony sugar. Éclairs are stuffed with gianduja, a mixture of dark milk chocolate and hazelnut cream, and macarons get dusted with fine crumbs of Speculoos, the European equivalent of gingersnaps.
Morning pastries are specialties at neighborhood bakeries because, frankly, few people want to hop on a métro first thing in the morning to pick up a croissant or pain au chocolat. Fortunately for the folks who live nearby, the vienoisserie are some of the best in Paris. For later in the day, there are wedges of flan, a popular snack in France (not to be confused with Mexican-style flan, the reversed custard baked in caramel-lined molds), which are pretty much obligatory in neighborhood places as they're enjoyed by kids stopping in for their afternoon goûter, as well as a few adults.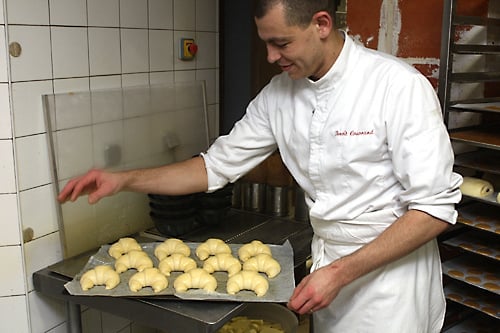 In a moment of boldness, one day, I struck up a conversation with Chef Couvrand and asked if I could visit the pastry kitchen. And when I arrived a few days later, the chef and his staff were working on Babas (yeast cakes), which were trimmed then left to enjoy a leisurely soak while bobbing in dark rum syrup. Each ring of golden cake would eventually get crowned with a plume of crème chantilly, cream practically whipped to order, then whisked out to the bakery case.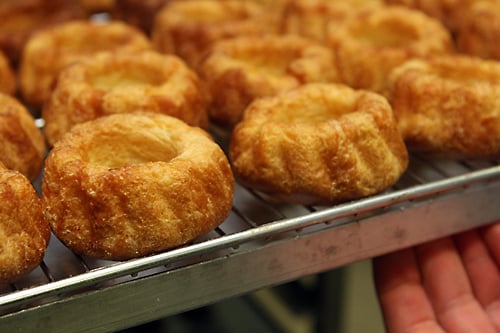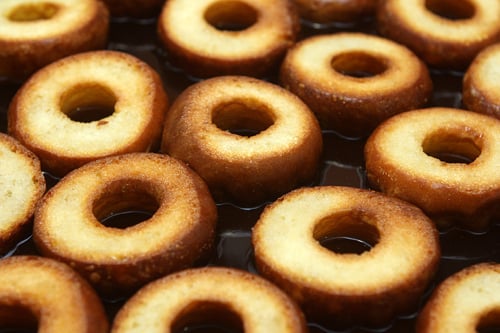 Equally impressive were the breads, and the chef told me that on weekends they sell over a thousand loaves of bread and eight hundred morning pastries per day. When I visited the small bread baking area, and saw what they turned out, I felt that I could never again complain about working in my tiny kitchen back home. From mammoth pain au levain to slender baguettes, each loaf was cooked to a crackly finish, bucking the trend in Paris for baguettes pas trop cuite (not too cooked). The first bread baker arrives at 3am each morning to start the mixing and kneading and whenever I see how hard bread bakers work, I realize what a bargain each loaf of bread is. And how happy I am that I never became a bread baker.
When I left, I bought a loaf of pain aux céréales and one of his stellar croissants, which didn't quite make it all the way home in my bike basket, as I couldn't help ripping off the crispy tips and eating them while navigating traffic. Which probably is a little dangerous and makes me wish I lived closer to the bakery. But it's not all that far, and something tells me that I'll be a regular – and the extra pedaling to get there means I can eat more once I arrive.
La Pâtisserie by Cyril Lignac
24, rue Paul Bert (11th)
Tél: 01 43 72 74 88
Métro: Faidherbe-Chaligny
Related Links and Posts
Paris Pastry & Chocolate Shop Archives
Paris Pastry Guide (E-book)
How much butter can be in a croissant?