The best sandwich in Paris, at Le Petit Vendome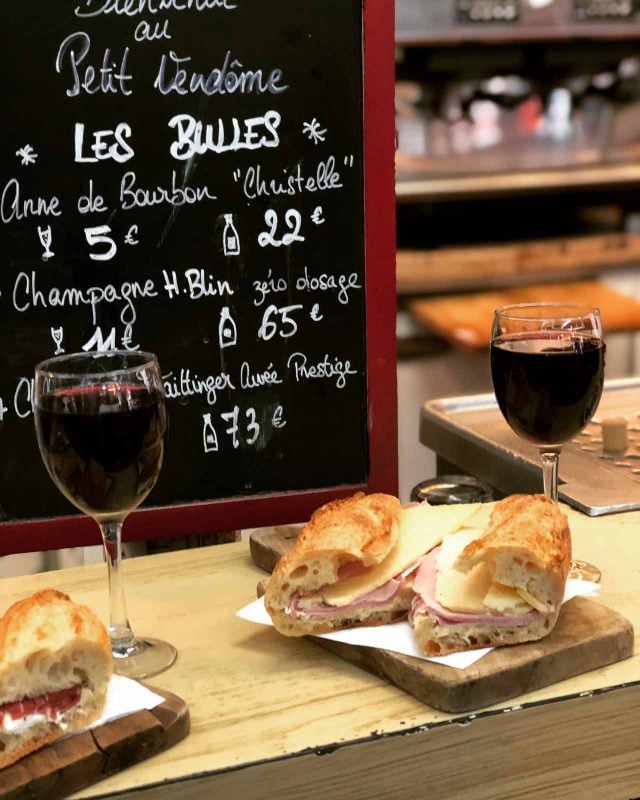 It wasn't so long ago that if you were walking down the street, or eating in public in Paris, you might get tsk-tsk'd. When I first started coming to Paris, I was warned about getting disapproving stares if you were standing on the sidewalk, jamming food into your craw. Croissants, I noticed, were given a pass, because they were just too good to wait until you got home before you yanked off the buttery end and put it in your mouth.
(I also remember way back in 1979, when I first visited Europe and went to a supermarket, after my twenty items were rung up and paid for, I discovered that there were no bags to put purchases in. So I had to gather everything up the best I could in my arms and get them all back to my youth hostel.)
Les sandwichs and crêpes are also considered acceptable food for mobile snacking. So much so that even Subway has invaded France with over 234 shops opening up. It leaves Americans scratching their heads, but I think the novelty of a sandwich made to order, right in front of you, has a certain appeal if that's not something you're used to. And yes, they will toasté your sandwich à la demande. Still, my preference is a traditional jambon beurre from my corner bakery and I'll leave those fast-food sandwichs to the younger generation.
One place that does what is considered the best jambon-beurre sandwich in Paris is near the swanky place Vendôme, and at Le Petit Vendôme I sometimes switch things around and have le complet, a demi-baguette split and smeared with fresh goat cheese, doused with olive oil, and a few slices of jambon de pays (country ham) added to the mix. You'll pay a little more here than you would at a traditional bakery, but when you're around the corner from The Ritz, the rent is a little higher. Plus they use high-quality ingredients and the staff is always good-natured (especially if you hang out at the bar and have a glass of wine with it), so it's well worth it.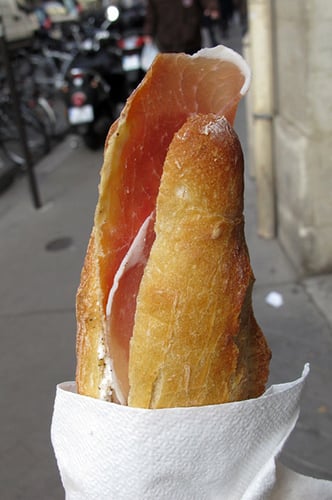 The place is packed full of locals and when people tell me they want to "eat where Parisians eat" I always this of Le Petit Vendôme. And yes, it's perfectly fine to also eat it on the street.
Le Petit Vendôme
8, rue des Capucines (2nd)
Tél: 01 42 61 05 88
Closed weekends
(Sandwiches only available to go or to eat at the bar.)