The sandwich at Le Petit Vendome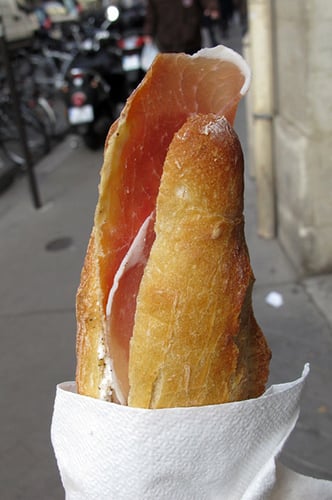 It wasn't so long ago that if you were walking down the street, or eating in public in Paris, you might get tsk-tsk'd. When I first started visiting Paris, I remember disapproving stares if you were standing on the sidewalk, jamming food into your craw. Croissants got a pass, because they were sort of designed to be consumed on-the-go. And honestly, who can expect anyone to be handed a small paper bag with a steaming-hot buttery croissant in it and walk more than ten paces before diving in to it?
(I also remember way back in 1979 when I first visited Europe and went to a supermarket, and after my twenty items were rung up and paid for, I discovered that there were no bags to put purchases in. So I had to gather everything up the best I could in my arms and try to get them all back to the youth hostel.)
A couple of years ago there was an anti-eating campaign on the métro depicting an obviously Italian man eating a fat, presumably pungent sandwich, surrounded by other passengers who weren't so happy sharing the same car with a man and his lunch. That set off another kind of stink and the ads were pulled down for being pejorative.
It's one of those contradictions of life here, whereas it's not okay to talk loudly in restaurants or eat sausage sandwiches in public, as they intrude upon the sensibilities of others. But it's okay to let your dog leave its droppings in the middle of the sidewalk. Although on the other hand, you can always blame someone else (namely, the dog) – which is kind of French.
Nevertheless, les sandwichs and crêpes are considered acceptable food for mobile snacking. So much so that even Subway has invaded France with over 234 shops opening up. It leaves Americans scratching their heads, but I think the novelty of a sandwich made to order, right in front of you, has a certain appeal if that's not something you're used to. And yes, they will toasté your sandwich à la demande. Although I prefer the traditional jambon beurre from a regular bakery because I'm becoming more stubborn in my old age, or perhaps because I live in France and it's rubbing off on me.
The stuffed croissants showing up in the supermarkets and le Subway notwithstanding, les sandwichs (no, that's not a typo) are something that seems permanently part of the French culinary landscape. And nowadays at lunchtime, you can't get near a bakery if it's located anywhere near a school due to swarms of teenagers, six-deep, waiting for their lunch. I like sandwiches, but don't eat them out much, mostly because I live (and work) at home and I don't need to go out and have someone slice a baguette and stick a piece of ham in it for me. I'm pretty capable of doing that myself.
Yet I found myself out and about yesterday, near the swanky place Vendôme, and at Le Petit Vendôme I had le complet, a demi-baguette split and smeared with fresh goat cheese, doused with olive oil, and a few slices of jambon de pays (country ham) added to it all. It was a bit pricey at €5.7, but when you're around the corner from The Ritz, I guess you could do worse in that neighborhood.
The place is packed full of locals and when people tell me they want to "eat where Parisians eat" I always think about places like this that are dim, noisy, and chaotic; you pull up a chair wherever if you want to eat more than a sandwich, and although I didn't stop in, the restroom likely hasn't been remodeled since de Gaulle stopped by for a glass of Gamay. And I've had more than one (female) visitor come back from the restroom an old French eatery or café and say, "I can't go in there."
You can barely get in the door and the line at the bar gets further crushed inside every time someone opens it. There's a blackboard with some sandwiches, or you can pick your own ingredients; the mounds of runny, pungent cheeses at face-level piled on the counter – or the hams and sausages swinging above your head – make the decision a lot harder. When you finally get to narrow counter, it'll take a little bobbing around the meats and cheeses to make face-to-face contact with one of the jovial fellows. But once you tell them what you want, they'll split that little baguette from the prize-winning Boulangerie Julien and slip the ingredients inside and slide it over before you can even pull a few euros out of your pocket.
The sandwich-makers are speedy and friendly, and I made it through the mass of people relatively quickly. Interestingly, not one person cut in front of me. At least that's what the people in front of me must have thought. Rosa Jackson (who prodded me to go here) said that Le Petit Vendôme has the best sandwich in Paris. Mine was indeed pretty good. And yes, I ate it on the street.
Le Petit Vendôme
8, rue des Capucines (2nd)
Tél: 01 42 61 05 88
Closed weekends
(Sandwiches only available to go, or to eat at the bar.)
Related Links
Le Petit Vendome (Travel+Leisure)
Le meuilleur sandwich de Paris (My Little Paris, in French)
As Meal Tax Shrinks, Restaurants Hope to Gain (The New York Times)
Le Petit Vendôme (716 English)