Why is the food so abysmal at Charles de Gaulle Airport?
Because they recently asked, since my last trip out of Charles de Gaulle airport, I decided that I would try to imagine the perfect airport in Paris.
I sometimes take a bit of ribbing because being a good American, I can't go too far without having le snack handy. And with airlines requiring earlier check-ins and cutting down on food service, a number of airports have gotten with the program and realized that there's thousands of people passing through daily, many waiting…and waiting…and waiting, with nothing to do but eat.
I've given up on the food on the trains since those plastic-wrapped triangular sandwiches look terrible. If I was famished, I'd sooner eat the armrests. They apparently gave up the pioneering sous vide cuisine that three-star chef Joël Robuchon created for the trains, and while rail technology was embraced and swiftly moved forward, the food unfortunately didn't zoom exactly in the same direction.
During a recent closure of the airport due to weather conditions, people were stuck there overnight and there was only one thing that I kept worrying about— "I wonder what all those people will eat?"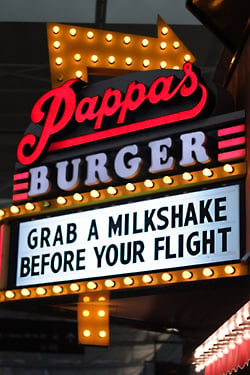 I don't think Chef Robuchon was called into service, but the idea of people arriving and departing in the airport of one of the great food cities and seeing what's on offer, well, I feel bad for them. Although some claim it is one of the top three worst airports in the world, the crews are working hard on cleaning it up and organizing the layout better. Although it's très Americain, I was happy to see they have a Starbuck's at Terminal 1 that has chairs and fresh food, although I wonder – Why are there no French cafés or non-chain restaurants in there?
Since they asked, how terrific would it be to have a real crêpe at the airport, filled with melted, nutty Comté cheese and a slice of jambon de pays? Or to dig into a platter of spit-roasted chicken accompanied with a petit carafe of of Côte-du-Rhone at an in-airport bistro while passing the hours waiting for your plane to take off? Heck, even a falafel would do. With all those people trapped at the airport, each seems like a no-brainer to me and completely do-able. And while I know that making money and being commercial can sometimes be viewed as a bad thing, on the other hand, let's say the ideas I've been thinking about could be viewed as focusing visitors gaze on the best of France, and reminding locals what their country has to offer.
When I fly out of San Francisco International Airport, I have a choice between wood-fired oven pizza, teriyaki, traditional Italian pastries, sushi, dim sum, or a pretty decent burrito (which is what I always choose, with apologies to those seated next to me on the flight.) London Heathrow, long considered a contender for worst airport in the world, has a caviar bar (mon dieu!…a branch of a French restaurant!), wine bars, a fresh juice bar, and a Gordon Ramsey restaurant. Hong Kong airport has a French Cognac bar, but they don't have it in France, the land where these exceptional Cognacs are made?
During a recent trip, I stopped over in Newark Airport, which sported a French wine bar, a raw oyster bar, a fresh juice bar, and a sushi bar. The airport in Austin, Texas had a branch of a local barbeque serving up brisket and ribs as well as Amy's ice cream, two local favorites. O'Hare in Chicago had branches of Vosges chocolate and Garrett's popcorn, both local favorites. Berghoff's in the airport makes sandwiches to order, slicing roasted meats directly from the oven. And Rick Bayless runs a Mexican restaurant with freshly made Mexican sandwiches, a guacamole bar, Intelligentsia coffee, tortilla chips, and organic yogurt with a selection of fresh fruits.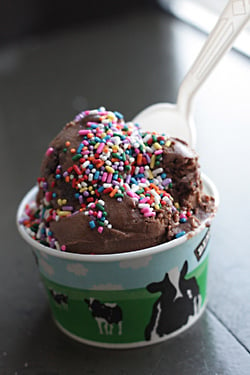 But lest anyone think the trend toward better airport dining is an American thing, I remember entering the airport in Berlin, and as I rounded the corner after the security area, I inhaled something familiar and warm: the smell of yeast and freshly baked bread filling the air. And soon I was standing in front of a full-on working bread oven with sacks of flour off to the side, not for decoration, but which the bakers were dipping in to for flour and grains as they mixed up loaves of bread. Once cooled, the loaves of organic breads were used to make sandwiches to order, with such offerings as country ham, arugula, and sun-dried tomatoes. There was also a machine pressing fresh (organic) oranges for juice.
(Perhaps someone will tell the airport officials to try to get the people who makes those fantastic sandwiches at Le Petit Vendôme to open up a stand at CDG airport. Personally, I would head to the airport early for one of those. And probably grab a second one for the plane ride.)
I've also had bowls of udon at Narita airport in Tokyo, San Crispino gelato (Caramel with bits of crackly meringue, if you must know) while waiting for my flight to depart in Rome, and slid a fork into a slice of Bavarian nut-filled torte at Dallmayr in the Munich airport.
So here's a few things I imagine for The Perfect Airport in Paris:
-A wine bar where people could sit and sample some of the great French wines. With the wines, serve charcuterie platters like they do at the many wine bars in Paris. Nothing could be simpler to serve up and France has some wonderful country hams, sausages, rillettes, and pâtés.
-Speaking of which, who don't love Champagne? (I, for example, am a huge fan.) Instead of the Champagne producers spending their time (and money) targeting Americans with an advertising campaign featuring Venetian masks, how about getting the Champagne producers together and setting up a Champagne bar for travelers to sip a glass of something that France does exceptionally well?
-It was likely really cool in the 80s but the novelty has worn off. So let's turn the horrible Plexiglas Escher-esque hamster cage of Terminal 1 into a garden to celebrate the long-standing tradition of French farming. That big, grimy empty space would be an interesting place to grow and expose visitors to some of the lush fruits and vegetables France was always known for. Or how about a demonstration area of how grapes are grown since wine is such an important product of France? It might be kind of goofy to grow grapes at the airport, but if they grown them in Paris (and make wine from them), cru de Roissy just might take off.
-A cheese shop and tasting area. Visitors could get a plate of various cheeses from France, and buy prime examples of those cheeses to bring home rather than the shrink-wrapped specimens unattractively thrown together in the refrigerated bin in the duty-free shop. Although things could get a little stinky, cheese is the number-one greatest thing that no one does better than France. Really.
-How about a chocolate arcade? Get a group of the best chocolate shops in Paris, like La Maison du Chocolat, Patrick Roger, Michel Chaudun, and John-Charles Rochoux, and have a hall with kiosks from chocolates from these masters of chocolate.
Some of them already have kiosks in the department stores in Paris so obviously they're able to do it successfully. And if Ladurée can have a small cart selling macarons, why not encourage the chocolatiers to do the same? I can't think of a better place to pick up some last-moment gifts.
(And folks could stop worrying about their chocolates being confiscated by chocolate-loving security agents since they would have already passed through airport security.)
-Open up some tea salons. Paris is famous for its salons de thé, pleasant places to pass the time, such as Mariage Frères, Ladurée, and Angelina. How nice it would be for people will extra time on their hands to sit down and how tea and a light lunch or a pastry before their flight?
-A bar à huitres! France abounds with fresh oysters which get delivered daily from the shores of Brittany, Normandy, and the mid-Atlantique. How about setting up a counter so travelers could enjoy a dozen oysters with some rye bread and extraordinary French salted butter? And Sancerre, mais oui…
-Fire up a bread oven. I can't imagine anyone not wanting to arrive back home clutching a loaf of real, authentic French bread from Paris. Someone like Eric Kayser, who's been able to successfully open a multitude of bakeries in Paris (and the United States, Greece…and the Ukraine, Morocco…and Russia, Dubai, Lebanon and Japan…) could have a working oven selling bread and sandwiches made on their fresh bread. Hey, if they can do it thousands of miles away, surely doing it right next to Paris wouldn't be all that hard.
-A sushi bar. Since I arrived in Paris, the quality of Japanese food has skyrocketed and although the industrial take-outs have invaded the streets, the throngs packing the places on the rue Saint Anne are testaments that authentic Japanese food has won over plenty of Parisians. The food is healthy and light, and places like Matsuri have shown that you can serve sustainable seafood and be a success.
-Fire up a rôtisserie. One of the best things at French markets are the spit-roasted chickens which are hard to screw up and really incredibly easy; you just season the chicken, stick it on the broche, and let 'em spin until the skin gets nice and crispy. Imagine sitting down to a plate of roast chicken and potatoes cooked in the drippings with a glass of vin de Loire before hitting the walkway to the plane and facing the airline's version of poulet rôti.

Related Links
Frommer's Top Ten Airport Restaurants (USA Today)
Grabbing a Bite Between Flights (New York Times)
Best Airport Restaurants (Travel+Leisure)
O'Hare Unveils Airport Aeroponics (American Public Media)
Ultimate Airport Dining Survival Guide: Best Airport Restaurants (Food+Wine)
Airport Dining (Charles de Gaulle Airport Reviews)