Dandelion Pesto
I'm one of those people that really craves bitter greens. And France is a funny place because on one hand, radicchio (trevise), frisée, arugula, and Belgian endive are found easily. The more sturdy greens – like kale and broccoli rabe, are frequently absent, although I did recently hear an Italian vendor at the market explaining to a baffled patron what broccoli raab was. He told her it was "…the foie gras of Portugal", which wasn't quite how I would phrase it, but I admired how he customized his sales technique appropriate to his clientele.
One green that does turn up from time to time are dandelion greens. So whenever I see them, I scoop up as many as possible to bring home and sauté the chopped leaves with slices of fresh garlic, then toss them with whole wheat pasta, olive oil, and red chile flakes. Then I top the bowl with chunks of feta cheese and dive in.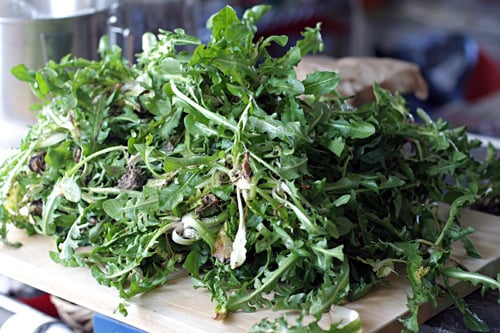 Dandelions can be a little irksome to clean because of the tangle of roots and tenacious dirt that often clings to them. So last week when I bought a big bag of them at the market, the woman helping me weighed my purchase, rung it up, then added a few more extremely generous handfuls, which she said was "…for the loss after cleaning", as she knew how much I would toss away during my washing and picking out of the debris.
(Either that, or she was responding to the tin of chocolate-chocolate chip cookies* I brought her the week before.)
Faced with an overly generous heap of dandelion greens on my counter, I decided to create a batch of pesto. Usually made with basil and always in a summertime, this rugged version is full-flavored like its basil-rich counterpart, but can be made in the midst of winter when the only thing in season are leafy greens—and, of course, chocolate-chocolate chip cookies.
It's a little bit of a chore cleaning dandelion greens (now I know why people have children – and I guess I owe an apology to all those I've scoffed at who've told me they don't have time to cook), but my preferred way to prepare the dandelion greens it to use my trusty scissors to snip off the root tips. If you're dandelion greens are very dirty, I recommend triple-washing them because any grains of dirt will, of course, make the pesto not so pleasant to eat.
I brought some of the pesto to the market with me this past weekend and returned the favor by reaching into my basket and giving them a sample. And though they liked it quite a bit, I still think they might have secretly hoped I was going to follow it up with another tin of cookies.
| | |
| --- | --- |
| Dandelion Pesto | Print Recipe |
Because dandelion leaves are tougher than basil, I use the food processor to make this version of pesto. A blender would work as well. This makes quite a bit and you can freeze whatever you don't use, or cut the recipe in half. If you can't get dandelion greens, I've linked to other kinds of pesto recipes below.
12
ounces (350g)
washed and cleaned dandelion leaves
6
tablespoons (40g)
pine nuts,
lightly toasted
2 1/2
ounces (70g)
Parmesan or Romano cheese,
grated
1. Put about one-third of the dandelion greens in the food processor or blender with the olive oil and chop for a minute, scraping down the sides. Add the remaining dandelion greens in two batches, until they're all finely chopped up.
2. Add the garlic cloves, pine nuts, salt, and Parmesan, and process until everything is a smooth puree.
3. Taste, and add more salt if necessary. If it's too thick, you can thin it with more olive oil or water.
Storage: The pesto can be refrigerated in a jar for up to four days. The top may darken, which is normal. You can pour a thin layer of olive oil on top to prevent that. It can also be frozen for up to two months.
Ideas for Dandelion Pesto
Spread over pizza with cooked potatoes slices, then baked. -Smeared on crostini over a layer of fresh spreadable cheese.
Use to dress potato salad.
Toss with whole wheat pasta with chicken or roasted vegetables. Reserve a bit of the pasta cooking liquid to help smooth the sauce over the hot noodles. (I add a knob of butter, too, which helps smooth it out. Although pesto purists wouldn't do that.)
Mix with a salad of farro or wheat berries.
Swirl it into a bowl of Soupe au pistou.
Related Posts and Recipes
Spinach and Basil Pesto (Kalyn's Kitchen)
Arugula Pesto (Simply Recipes)
Grilled Carrots with Carrot Green Pesto (Not Eating Out in New York)
8 Tips for Using and Choosing Olive Oil
Radish Leaf Pesto (Chocolate & Zucchini)
Radish Leaf Pesto (Delicious Days)
Orecchiette with Carrot Green and Hazelnut Pesto (Seasonal Brooklyn)
Arugula Pesto with Wheat Berries (101Cookbooks)
Farro Salad with Mushrooms, Tomato, and Basil

Wheat Berries and Roasted Vegetables
Israeli Couscous with Butternut Squash
*Chocolate-Chocolate Chip Cookie (Recipe from Ready for Dessert)