Tips to Keep Cookies From Spreading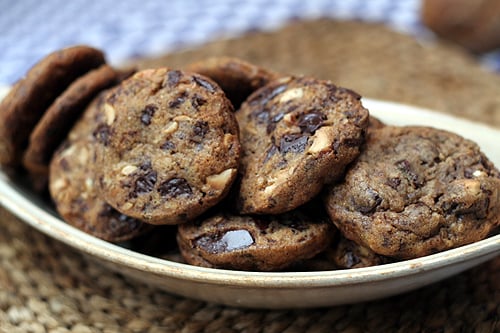 Several of you had asked about how to avoid cookies from spreading out during baking, which can be rather vexing…especially when you've gone through all that trouble of getting the counter all covered with flour, then rolling 'em out, and cutting them into all those nifty shapes.
So here are some tips…

Whip It Good…Not!
When a cookie or cake recipe asks you to 'Cream the butter and sugar', what you're doing is whipping air into the butter, using the crystals of sugar to scrape and build tiny bubbles that will expand later in the oven when the heat causes the water to steam and enlarge the bubbles. Whew!
This is great for airy cakes that you want to rise beautifully to majestic heights, but for most down-to-earth cookies, you don't want them to expand while baking. So just beat the butter and sugar long enough just until they're well-blended, which should take no more than 30 seconds on low-speed in a standing electric mixer.
Bah! To The Buttered Baking Sheet.
Butter's slippery stuff, and your poor cookies don't stand a chance against its slick disposition. So I never butter or grease baking sheets for baking cookies. Instead, I recommend lining your pans with parchment paper, aluminum foil, or using a non-stick baking sheet or a Silpat non-stick silicone baking mat, one of the greatest inventions ever.
And here's a cleaning tip: You can run those greasy silicone mats through the dishwasher.
Get Stronger.
Weak flour, like cake flour and some all-purpose flours, are great for light cakes, airy biscuits, and tender pastries, but cookies need a bit of 'chew'. A stronger flour, higher in protein and gluten, will make for slightly firmer cookies that retain their shape. One brand available is King Arthur flour, available at Trader Joes and at their excellent web site.
One caveat: Your cookies won't be as tender as those made with softer flour. But for cut-out cookies, which you shape with cookie cutters, this may be the best way to ensure success for those butter-rich little elves and manorahs.
Ban The Butter?
Ok. That's not something I strongly recommend, since I don't like shortening. And I don't care that your grandmother made the best pie crust ever with it.
Good for her.
If I'm gonna make cookies, I'm going to use pure butter. But since butter is roughly 19% water, when it's baked in the oven, that water evaporates and saturates the flour in your cookies, which can cause spreading. (And which is why crusts made with shortening or lard are more tender.) Still, I'm willing to sacrifice a bit of that tenderness for the flavor of butter anyday.
But if you must switch to vegetable shortening, I recommend one without trans-fats.
Save The 'Super-Fine' For Beyoncé's Bum.
Believe it or not, sugar becomes a liquid ingredient once heated. This is something you've probably witnessed if you've ever made caramel, when you warm sugar gently and it melts to a clear liquid before caramelizing.
And remember the low-fat craze? Everything was loaded with lots and lots of sugar, and calories (which is why no one really got thinner while eating boxes of cookies). More sugar was added to those baked goods to make them wet and moist, in lieu of fat.
Most ordinary sugar is fine to use, but avoid super-fine sugar of sugars called 'Baking sugar' for cookie doughs. They'll melt too quickly and cause the dough to be wet and spread-i-licious, which isn't really what you want.
Chill Out. Well, Actually Chill-In.
Anything soft is gonna spread more rapidly in the oven.
So if you're making cookies that are individually shaped, like Chocolate Chip Cookies, form them into individual rounds and chill them thoroughly. Then remove the rounds of dough from the refrigerator or freezer just before baking.
Similarly, if you're making slice-n-bake cookies, store the logs of dough in the freezer. Then slice them while the dough is cool and bake them right away. Similarly with roll-out cookies, roll them out and cut out the cookies. Chill thoroughly before baking.
And check the temperature of your oven; too low of a temperature can prolong the time it takes for cookies to bake, giving them too much of a head-start in the race against spreading.
More Baking Tips and Related Links
Chocolate Chip Cookie Recipe (Ready for Dessert)
How to Prevent Cookies from Spreading
Why You Should Use Aluminum-Free Baking Powder
American Baking Ingredients in Paris
When to Use (and not Use) Corn Syrup
How to Make the Perfect Caramel