Mesquite Chocolate Chip Cookies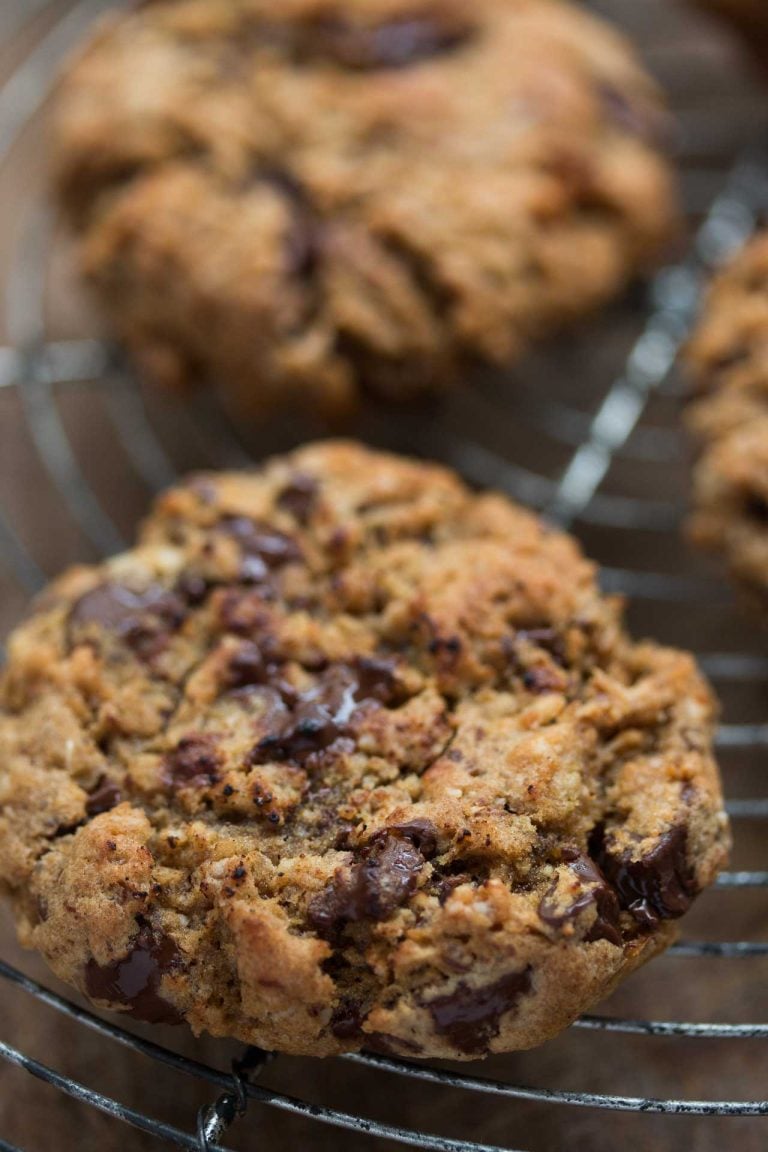 A few weeks ago, I was talking to someone about chocolate chip cookies, which is one of my favorite subjects. The French like them, too. They just call them les cookies, as if they didn't need further clarification. But every time I make a batch of chocolate chip cookies, I have zero trouble handing them off to people. Who can resist a chocolate chip cookie, especially when it's warm, with oozing chunks of melted chocolate surrounded by chewy oatmeal, and soft, butter-rich dough?
I've got a number of chocolate chip cookie recipes on my site; salted butter chocolate chip cookies, chocolate chip-tahini cookies, buckwheat chocolate chip cookies, and (of course) chocolate-chocolate chip cookies, with a double…I mean, triple dose of chocolate. But one I just revisited was this one made with mesquite flour. And let me tell you, you'll want to revisit it, too, once you make them.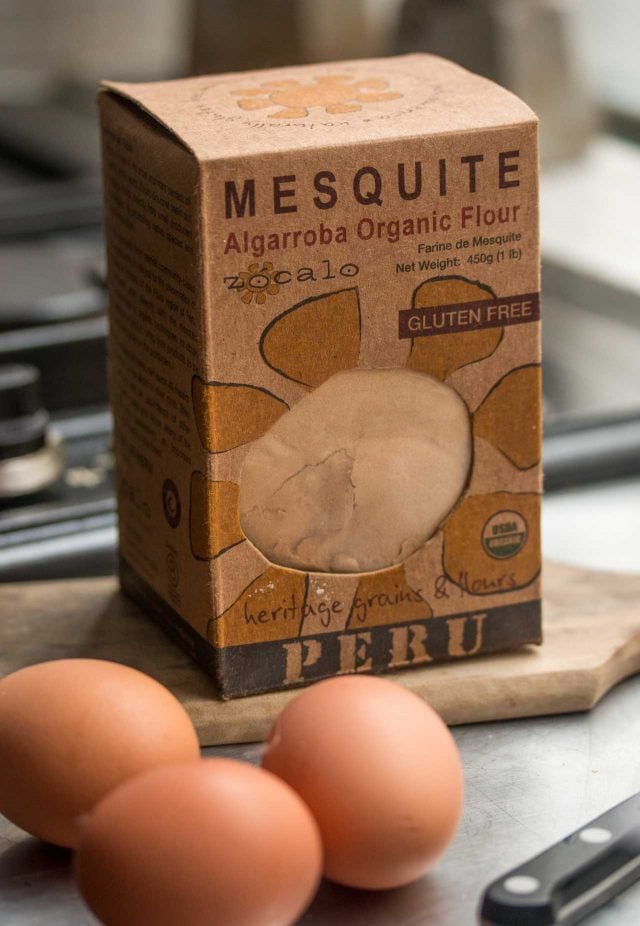 The recipe is from Super Natural Cooking my friend Heidi Swanson and uses mesquite flour which is not something you come across every day. At the time (which was back in 2007), I found a small bag of it when I was on book tour in Texas and stashed it in my suitcase until I got home. Thankfully mesquite flour seems to be more widely available now, perhaps due to the interest in whole-grain cooking, or gluten-free baking. Either way, it's easy to get and worth stocking in your pantry, if just to make these cookies. And for what it's worth, in addition to making chocolate chip cookies, it also gave me a chance to engage in one of my other favorite activities: chop up some chocolate.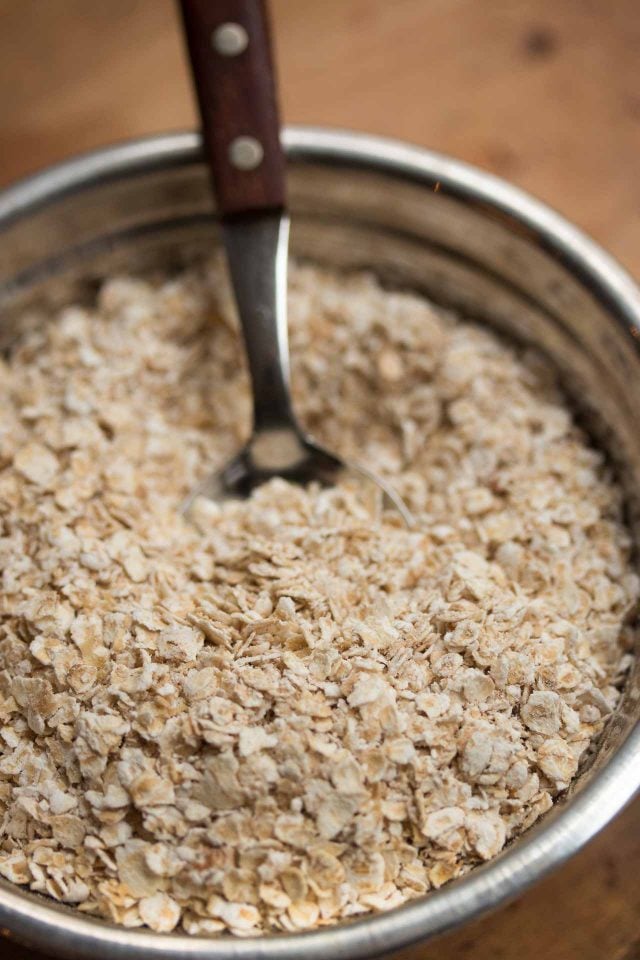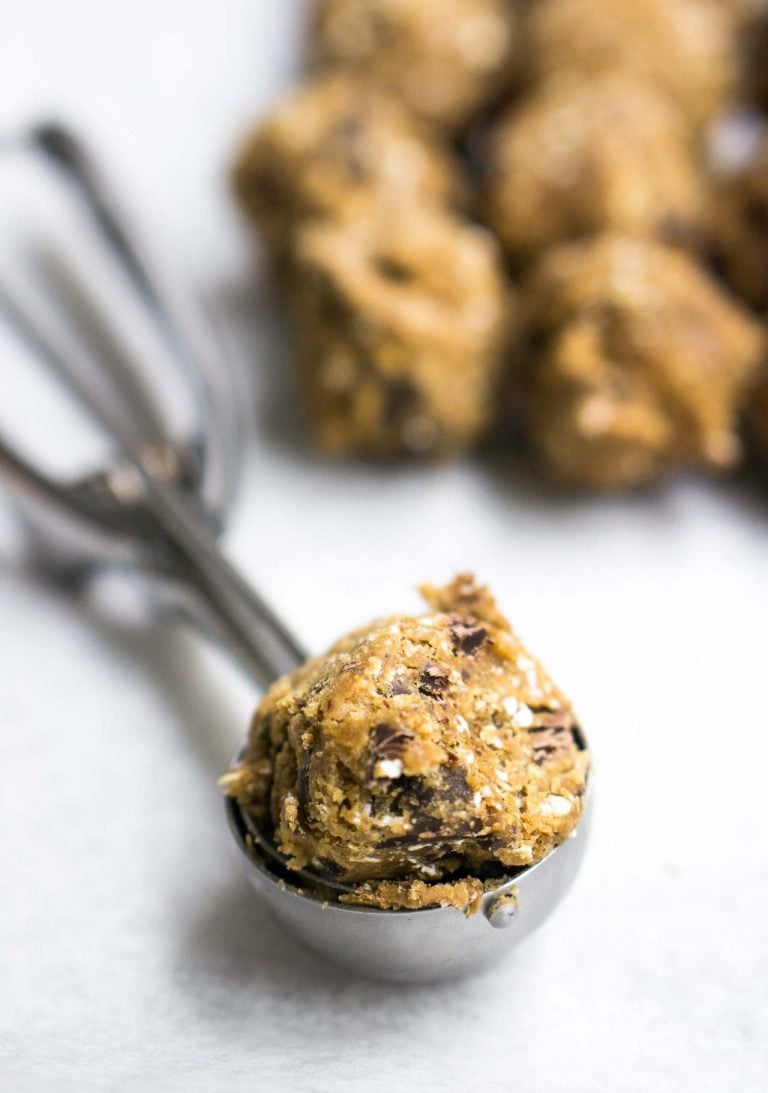 Mixing up the dough, and scooping it into rounds, I snatched a few samples as I went. Like the pages of Proust, I was flooded with memories of why I loved these cookies so much.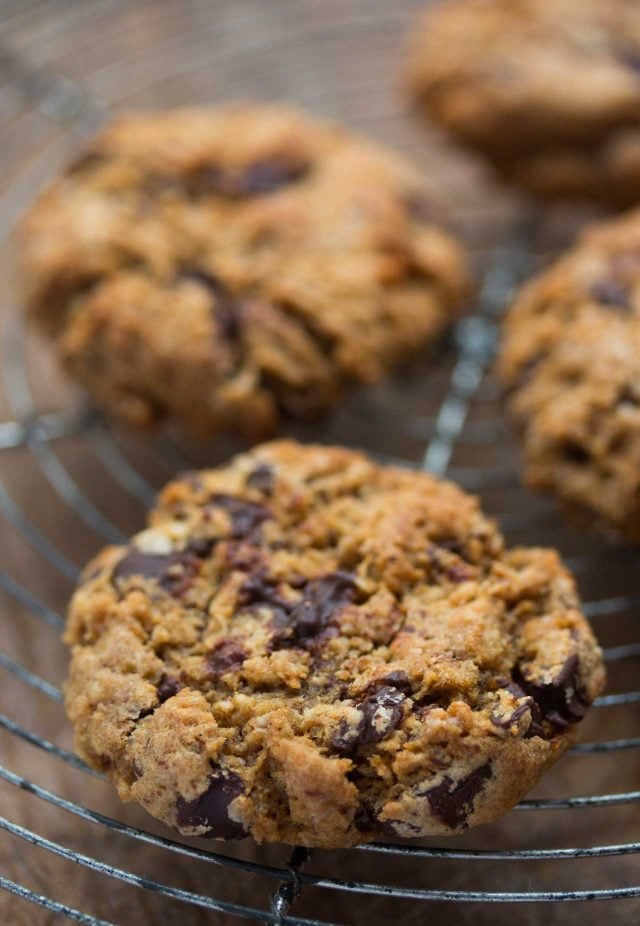 It's been eleven years, so I made a few updates to the recipe. (Wouldn't it be nice if we could all go back eleven years and change a few things?) But they're still every bit as good, if not, even better.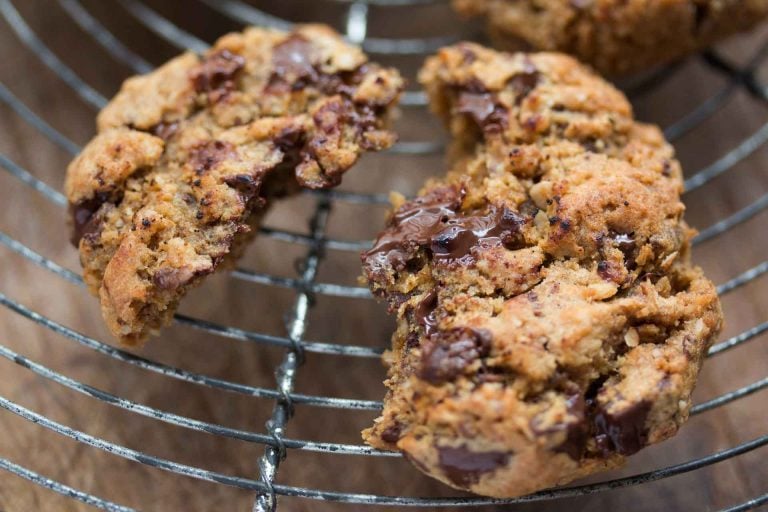 Mesquite Chocolate Chip Cookies
Adapted from
Super Natural Cooking
(Ten Speed) by Heidi Swanson One of the changes I made to the original recipe was to chop up my own chocolate and use those bits in place of traditional chocolate chips. I like the way the chocolate is irregularly spaced in the cookies, but feel free to use regular chocolate chips if you'd like.
Mesquite flour
is definitely wonderful in these cookies and is often called mesquite powder. If you decide to use whole-wheat pastry flour, you can find it at natural foods stores as well as
Bob's Red Mill
,
Amazon
and
King Arthur Flour
. This makes a lot of cookie dough, so feel free to freeze half of the dough in a zip-top bag for use another time. Tip: If you form them into mounds first, then freeze them, they'll be ready to bake later.
2 1/2

cups (330g)

all-purpose or whole-wheat pastry flour

1

cup (100g)

mesquite flour

1

teaspoon

baking powder

, preferably aluminum-free

1

teaspoon

baking soda

3/4

teaspoon

fine sea salt

8

ounces (1 cup, 225g)

unsalted butter

,

cubed, at room temperature

1

cup (200g)

granulated sugar

1

cup (180g)

packed light brown sugar

3

large eggs

,

at room temperature

2

teaspoons

vanilla extract

2

cups (160g)

rolled oats (not instant)

2

cups (360g)

coarsely chopped bittersweet or semisweet chocolate

,

or chocolate chips
Prepare two baking sheets covered with parchment paper or lined with silicone baking mats.

Preheat the oven to 375ºF (190ºC).

In a bowl, whisk together the flours, baking powder, baking soda and salt.

In the bowl of a stand mixer with the paddle attachment, or by hand in a large bowl (and a strong arm!), beat the butter until soft. Add the sugar and beat until creamy. If using a mixer, stop it once or twice and scrape down the sides.

Add the eggs one at a time until completely incorporated, then the vanilla.

Add the flour mixture in three batches, incorporating it as you go.

Mix in the oats and chocolate chips. The dough is quite stiff at this point and if you're not using a powerful standing electric mixer, you may wish to roll up your sleeves and use your hands, like I did.

Set mounds, each a generous two tablespoons (about the size of an unshelled walnut) of dough, evenly-spaced onto the baking sheet. Use your hand to slightly flatten the tops of the rounds of cookie dough.

Bake for 10-11 minutes, until just beginning to set. A few minutes before they'd done, open the oven door and use a pancake turner or metal spatula to lightly tap the tops of the cookies down, so the tops are flat. This helps keeps the cookies moist, once baked. (These cookies are better underdone than overdone, so keep an eye on them closely near the end of the suggested baking time.)
Notes
Note: The original recipe calls for 'natural cane sugar', which are unrefined sugar crystals. I've made this with both granulated white sugar and light brown sugar crystals and they both came out fine. For a softer, chewier cookie, I suggest using light brown sugar crystals, if you can find them.
Links & Resources:
Mesquite flour on Amazon
Chocolate-Covered Caramelized Matzoh Crunch
Clotilde's Very Chocolate Cookies
Baking Ingredients and Substitutions
Why you should use aluminum-free baking powder
Julia Child's Chocolate Mousse