Echo Deli in Paris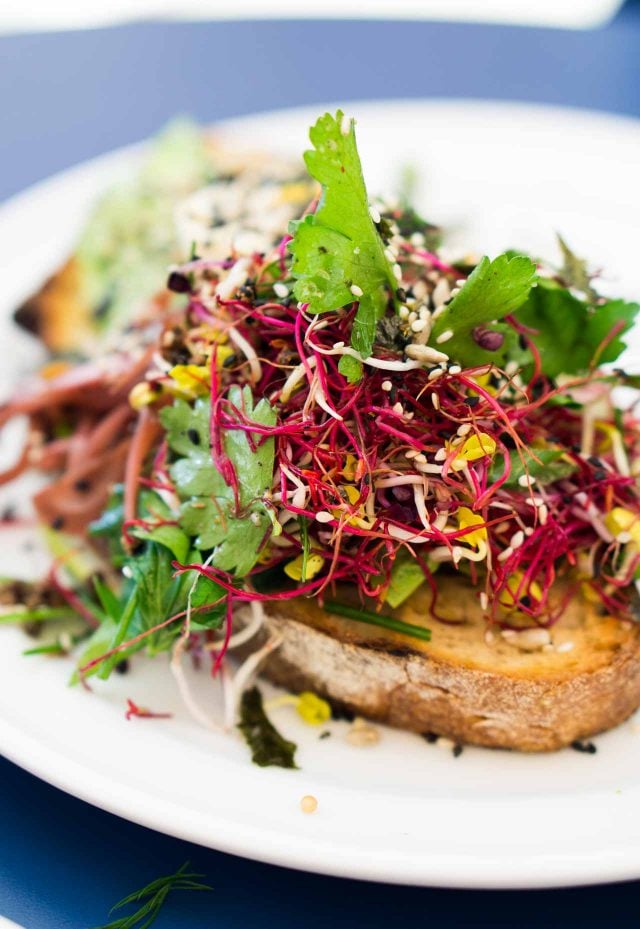 I don't get out for lunch as much as I used to, or want to, but a dizzying amount of cafés, restaurants, and pastry shops have opened while I was holed up writing books. One that was getting an inordinate amount of good word-of-mouth, from friends and other restaurant owners, was Echo Café.
Entering the restaurant late morning, I was startled by the amount of sunshine that was flooding the place due to its location just across from an open place. I got there at 11 am and there wasn't much going on. But by the time I left, the place was packed with sun-starved Parisians flocking to the café during their lunch break to get some Vitamin D, as was evident on a busy weekday afternoon.
But the other very good, and better, reason for the crush of Parisians is Chef Mailea Weger who worked at Gjusta and Gjelina in Los Angeles, places I've wanted to go on every single trip to L.A. that I've been on, but I'm usually on the other side of the city. And as anyone familiar with L.A. traffic knows, it's a long haul from one side of Los Angeles to the other.
But proof that good things – and good food – come to those who wait, Mailea has arrived in Paris. And I was primed to go.
Les Echos newspaper noted that she's an ex-modeuse, a word that I had to look up in my Larousse French dictionary, and presumed it means model. (Which would be mannequin, in French.) But when I asked six French friends I had dinner with the following night, they refused to believe that was a word. I made a bet with someone it was, the wager being a bottle of Champagne. Since it was in the newspaper, I say it's a word. but if it's not in the dictionary, maybe they're right? So I'll have to ask her next time and see if I won a bottle of bubbly, or if I'll have to eat – or drink – my words. But I did ask owner Matthias Gloppe why he chose to have a chef come from Los Angeles to helm his café.
He'd gone to school in Los Angeles and fell in love with the fresh, ingredient-based approach to food. (And probably the exceptional access to sunshine.) So he brought a little bit of both to Paris. Interestingly, the café is in a quirky area, between a slew of prêt-à-porter shops (wholesale clothing stores), where at night, a few working women also take to the streets. But the other end of the street is Sentier and leads to the rue Montorgueil, an area that's become decidedly more hip in the last few years.
I am still kicking myself for insisting a friend buy an apartment there. She didn't want to budge from the 6th arrondissement and had to be convinced. When I saw the spacious top-floor apartment, and figuring the area was soon to be on the up and up, I insisted she buy it, which she did. And now she couldn't be happier. I, on the other hand, am still regretting talking her into it, and not buying it myself. Now that's a good friend…if I do say so myself.
But that's eau under the bridge, and I'm happy that she's happy. (Grrrr….okay, I'm not over it.) I'm still waiting for my neighborhood to blossom, which is happening at a more, uh, relaxed pace. So I have to make the short trek to Echo Deli, where I started out with a fleur d'hibiscus-citron vert (hibiscus and lime) cooler while I waited for my friend Hélène to join me.
I was a little bouleversé (bowled over) by the drink selection on the wall, not knowing what a Dirty Chai was, and a few others things. But there's also turmeric-ginger beer, cucumber-rose and grapefruit-clementine juices, as well as Lebanese iced tea. I was surprised to see La Croix flavored water, from the U.S., which for years I'd assumed was French. (As in, one of those French things that's available in the U.S., but not in France.) But it's from Wisconsin, and that was another thing Matthias from his time in the States.
Although it's not the focus of the café, careful consideration is paid to what's vegetarian, gluten-free, and dairy-free. I eat, and drink, just about everything, so I was safe. Although I still feel really bad about being invited to dine at someone's house, who set a big casserole of squid stew in the center of the table, which was dinner. I politely declined, and made a note to let hosts know of my aversion to anything with tentacles in the future.
But I love me some vegetables, any and all kinds, especially when they're pickled. Another thing that Matthias told me he loved about Los Angeles was the interest in fermentation. While the French have their own much-cherished pickles, les cornichons, it's lovely when someone takes fresh, local produce and lightly pickles it, not enough to overwhelm, but to compliment the flavors of the vegetables.
Mailea is definitely the master of the pickle and I swear, I could eat pickles at every single meal – especially hers – and be happy. Because it was still breakfast time, the menu was focusing on egg-based dishes, as well as a number of tartines. The Scrambled egg and Mexican chorizo sandwich, above (where'd she get Mexican chorizo?!?) had melted Gouda cheese and fermented chile sauce.
Since she's recently arrived in Paris, we did some back-and-forthing about sourcing certain ingredients that one takes for granted living in California, like chiles and tortillas, and she's been sleuthing around town herself, stocking her larder.
But there's no shortage of great bread in Paris and she's using it to make a variety of tartines, which range from soft egg, capers, aïoli, and dill (above), to turkey, labne, and za'atar (below).
(Note that I'm still learning my new camera, so the bread edges may look dark, but they weren't. Once I learn what all those dials and buttons on the back of the camera do, I'll learn how to edit photos, afterward.)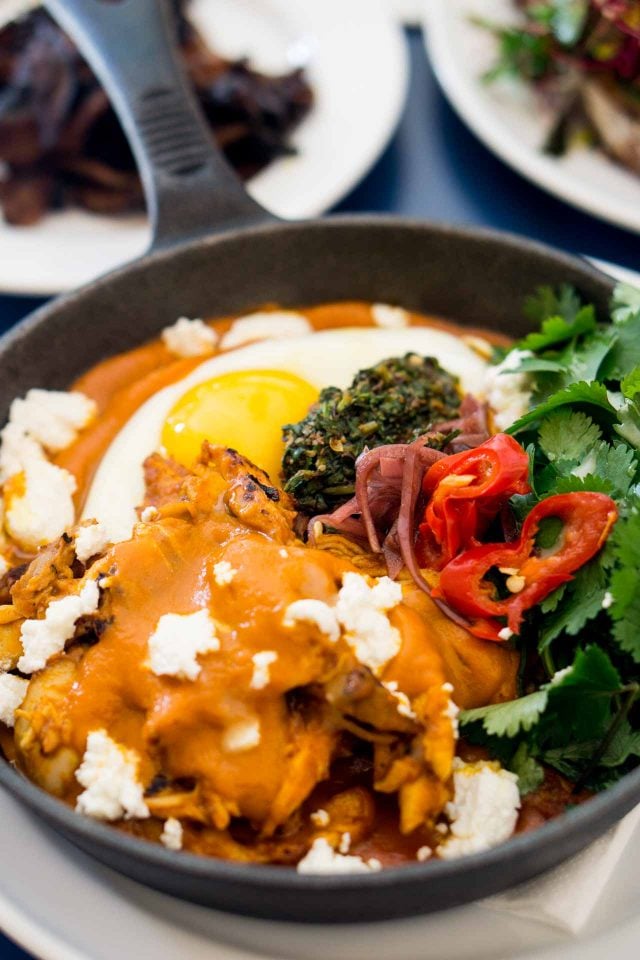 I was especially intrigued by two things on the menu. One was the Chilaquiles with an organic fried egg, fermented carrot salsa, chermoula, chicken tinga, and pickled onions (above). It was delicious – and huge! An American-sized portion for sure. My local friend wondered at the precisely cooked egg on top, a very #California, too. Most of the young French chefs are focusing on sous-vide eggs, which I like as well. But a perfect sunny-side-up egg is a thing of beauty.
The other thing on the menu that intrigued me was the vegan "bacon." I'm always up for trying new things (unless they have tentacles…), and thought it would be fun to try that, rather than the housemade fennel-spiced bacon they had on the menu. What came out was a plate of shiitake mushrooms that had been rubbed with brown sugar and maple syrup, and while they didn't have the crispness of regular bacon, I kept nibbling on them incessantly, which is a sign that I liked them. That portion, too, was very generous.
We also had to try to Avocado toast with togarashi, in-house sprouted grains, pickled onions, and (another) perfectly cooked egg. We were too full for dessert, but my friend sent me a text later that day that she liked Echo Café, and Mailea Weger's cooking, as much as I did. Someone told me the salads were very, very good, and I'd like to go back on another sunny day and try them, along with some of that fennel-rubbed bacon, and perhaps a slice of the Spanish orange & almond cake, and one of those Lebanese iced teas. Because I'm intrigued.
Echo Deli
95, rue d'Aboukir (2nd)
Métro: Sentier