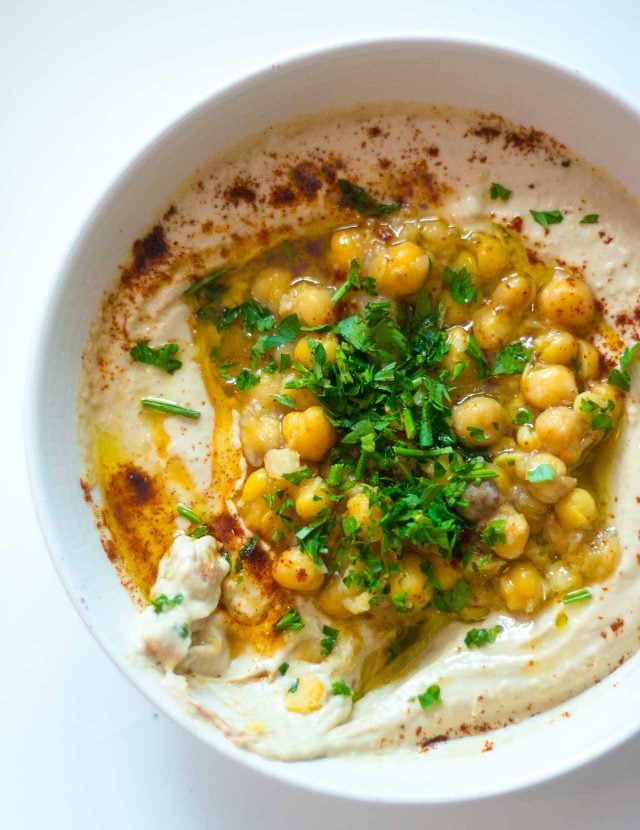 Middle Eastern restaurants that focus on freshness and quality of ingredients have been proliferating in places like London (Ottolenghi and Honey & Co.) and in the U.S. (Glasserie and Zahav) over the last few years. And now, we've got a spate of new ones arriving in Paris.
The foods of the Middle East had mostly been relegated to kebab and falafel stands, but new places are showcasing the variety of foods and cuisines found in the Moyen-Orient, focusing on casual, shared dining experiences, with fresh ingredients (often with an emphasis on grains and vegetables), at places that include Liza, Miznon, and Mokonuts, as well as newcomers like Balagan, Salatim, Ibrik, Café Oberkampf (for shakshuka), Tavline, and Yafo.
The owner of Yafo houmous café is Lotan Lahmi, who spent most of his career baking, working at Ladurée and in the pastry kitchen of the Prince de Galles hotel, before going over to the savory side. He told me that he used to have to get up at 4:30am every morning, which I'm sure is one part of baking professionally that he doesn't miss!
His architecturally simple, yet functional café is a welcoming place to pull up a stool, with a friend or two, which I did when my pal Romina (of Les Madeleines bakery) came to town. She was taking a break from making macarons and her famous Kouign amanns, and I'd been meaning to check out a few of the newcomers I had on my "Restaurants I Want to Visit" list (which are actually a series of scribbled on post-it notes scattered around my apartment, and in my pockets, wallet, and messenger bag). Her visit gave me the opportunity to head to Yafo for lunch.
It's a good thing I had company. Not just because I enjoy Romina so much, but because the bowl of hummus was so big, both of us working together on it, couldn't make it to the bottom of the bowl. Made from tahini imported from Israel, Lotan had two giant bowls of just-made hummus on the counter, waiting for his guests that day. Hummus isn't usually pureed with other things in the Middle East, like vegetables or other stuff; it varies by what's strewn over the top.
At Yafo, one is topped with chickpeas, sumac, and za'atar. There's a vegetable/grain version with marinated and pickled vegetables du jour, and a meat-based one. That day, the topping was poulet rôti (roast chicken) with fresh herbs, but we stuck with the standard. Because that's how we bakers sometimes roll.
The hummus was spectacularly creamy with a nutty, buttery sesame flavor. Being in the midst of a heatwave (it was 93ºF/34ºC), the hummus was especially soft due to the withering weather, so we did our best scooping it up, while all three of us did our best holding our own against the heat.
The concept of "bowls" has taken off in Paris, mostly with the twentysomething crowd, which Middle Eastern food lends itself well to. I've seen a number of sad, undressed and unseasoned piles of quinoa and grated carrots in some of the bowls at the new, hip cafés around town, which make me want to run over to the nearest market and grab a bunch of fresh herbs for them to chop into everything, and drizzle a nice dressing over it all. So if you want a bowl with a little more zip to it, this is the place to get it.
We went with the cauliflower taboule (above), which was delightfully crunchy, well-dressed (yay!) and excellent, as well as a variation on the classic raw vegetable salad of diced cucumbers, radishes, tomatoes, and radishes, tossed together with za'atar-rubbed croutons.
To spice things up, Lotam leaves out a big jar of homemade spicy green sauce, a blend of chile peppers, garlic, and lemon, as well as jars of dried peppers and za'atar, to help yourself to. We found ourselves making liberal use of them, including the salt, which we both felt the hummus needed a few extra shakes of. The pickled cabbage with amba spices was used to great effect here, seasoning up the crunchy cabbage, which was help-yourself, too.
I don't love rosewater, but it was subtly added to the ice-cold limonade in just the right amount. It wasn't overpowering – too much rosewater can make you feel like you're stuck in a small space with a lot of grandmothers, but just enough so that you knew something was up. However what really sent us out of there happy was the outstanding poppy seed cake iced with chocolate ganache, made from dark chocolate blended with tangy Greek yogurt and a hint of coconut. The tahini-chocolate sablé cookies had a lovely flavor (tahini in cookies may be the best innovation of the decade), and the coffee had a curious hint of cardamom added, which had us leaving the café with a extra spice in our step.
Yafo
96, rue d'Hauteville (10th)
Métro:
Open Monday through Friday, 12 to 2:30pm (no reservations)
---
Related Links and Recipes
Salted Chocolate Chip Tahini Cookies
Cauliflower Tabbouleh (Not Without Salt)