I didn't believe them when they told me, but when I was in Washington, D.C. a few months back, when having dinner with my friends Carol and Joe, they swore that if I stopped at Zahav in Philadelphia on the way back, that I'd have a life-changing experience. While I wish that at least several times a day I'd have a life-changing experience (sometimes I wish for them several times an hour…), I was a little skeptical. Both of them are pretty knowledgable about good food, but I've been steered wrong on many occasion. And getting off of a train, taking a taxi, and having dinner before hoofing back to the train station later on in the evening, then dealing with getting back safe and sound while navigating late-night Manhattan, wasn't exactly an enticing idea. Especially for a bowl of hummus.
While on that trip to Washington, D.C., my friend Judy and I went to a Middle Eastern restaurant that everyone had said great things about. Even people I trust. Note: I later found out the place was known for wild dips in quality, so the ones who recommended it are off the hook. (However if any of them are reading this, I'm setting up a PayPal site where you can pitch in to reimburse me for dinner.)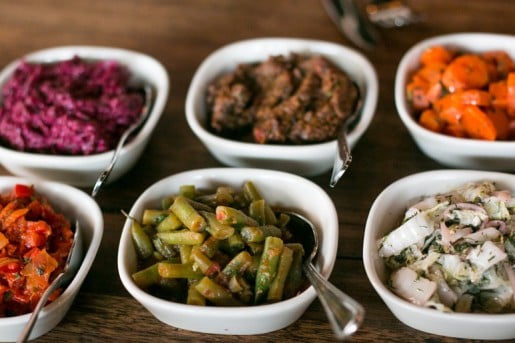 That place was mobbed, which is usually a good sign. But nothing we'd had during our dinner knocked our socks off, or excited us. Even the hummus was ho-hum, and hummus isn't all that hard to get right. You just need to taste it and add some lemon, salt, perhaps more tahini, and maybe some garlic, until you get the taste where it belongs. For heaven's sake, it's not like a cake where you have to start all over again. Get it right, or don't serve it. And we left disappointed.
So when I was heading to Charlottesville to give a talk recently, Joe, Carol and I made plans to meet in Philadelphia, because I had been thinking about that hummus they had said would change my life. And while there are a number of things I'd like to change, but can't, eating good hummus is one of them that I can. So let's do it, I said.
We got to Zahav just as it opened. The staff was just finishing their pre-dinner meeting outside when we got there and the place filled up quickly the moment they walked back into the restaurant. As they politely took my suitcase, we found ourselves in the middle of a beautiful dining room surrounded by huge glass window with a sleek bar and the diligent kitchen crew tending to a wood-fired oven working behind slightly rippled glass. (I had wrongly assumed Zahav was going to be a dumpy hole-in-the-wall with fluorescent lights, mint green walls, and bathrooms that reeked of air fresheners.) The expansive kitchen with the textured glass was a nice touch, we decided, as normally kitchens use clear glass and it's distracting to see people hustling around in a kitchen too much in focus while you're dining. And as the meal continued, we found ourselves focusing a little too-much on the energetic and engaging servers, who — well…let's just say they were in danger of upstaging the magnificent food that was starting to come forth ; )
We started with Salatim, a selection of salads, which often do double-duty as condiments to the other foods in a feast like this – one was pickled cabbage with plenty of fresh dill that was easily my favorite. Others were lightly spiced Moroccan carrots, green beans stewed with tomatoes, and Matbucha, a salad of cooked tomatoes and chilis.
I wasn't as excited about the roasted zucchini that came next because I think I've gotten more accustomed to the longer-cooked vegetables that are more the norm in France. And in this presentation, the vegetables retained a lot of their texture. (Oy. I never thought I'd say that I was preferring long-cooked vegetables to ones closer to their original color and texture. Am I in danger of losing my California cred?) The zucchini rounds were topped with Bulgarian feta. Yes, I know that Greece is supposed to be the only country that can call their cheese feta, but I don't think those rules don't apply in the United States. Hence all the camembert and brie cheeses that bear little resemblance to their French counterparts. But the tahini sauce with it was exceptional, and the chef later told me that he'd hook me up with the source, which I need to follow-up on. On top, the hazelnuts showered on top were toasted perfectly (Pet Peeve: Untoasted nuts on dishes in restaurants), which brought out their nutty, crunchy character and flavor.
As the plates came forward, a slowly mounting problem was that Carol and I had gone out for cocktails while waiting for Joe and had a big bowl of Belgian French fries with our drinks, which was kind of dumb. (But oh-so-good after a 4+ hour train ride.) So I needed to moderate what I was eating because we had ordered almost everything on the menu.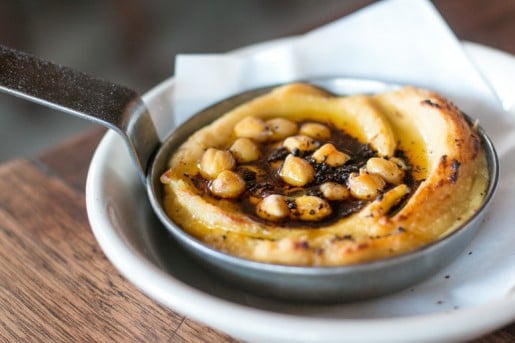 Then it was time for" the hummus." We'd ordered two styles: Masbacha, with warm chickpeas, and the Turkish hummus, with warm butter and grilled garlic that had the deep, rich, sharp smell of garlic — and lots of it. I dipped in.
Wow. Now that was life-changing hummus. I've had the stuff in Israel, Lebanon, at Ottolenghi and London, and my very excellent version in My Paris Kitchen (if I do say so myself…), but Chef Michael Solomonov's hummus was in another stratosphere. Not only was it worth getting off the train for, I may specifically go back in a few months to Zahav just to have it again.
We were so busy digging into everything that I didn't take many more snapshots, profiting from the last moments of dwindling daylight to snap the golden beets over tzatziki with rhubarb and pistachios, but missing the sensational crispy grape leaves with beef and harissa (take it from me, they're great), and the excellent crisp-fried cauliflower with labneb, fresh dill, mint and chives.
And I managed to share one last look of fried haloumi with dates, pickled onions and urfa, a dark pepper from Turkey. As the light sunk lower and lower, pictures became an impossibility. And we just kept eating.
Some of this begs a question: Why are there no great Middle Eastern or North African restaurants in Paris, and other cities in Europe? There are huge populations of people from those cultures across Europe, and while you can get some decent food, most of the foods that you get are in the "snack bar" category; falafels, kababs, and sandwichs grecs or turques. Why aren't these cuisines better represented? (Grillé has gotten mixed reviews, and Miznon is the only place I've found that is like eating in Middle East, with the insistence on freshness of vegetables, herbs, and seasonings, with a touch of chaos, too.) Certainly in France, items like hummus and moutabal are popular, which you can find in supermarkets. And there are plenty of excellent Arab and North African épiceries with all the ingredients and foods available. With a large population of people from these regions, I've wondered why the options are so limited.
In Philadelphia, Chef Michael Solomonov of Zahav has done a spectacular job of not just recreating the foods from his native Israel and the surrounding countries, but has updated and modernized the various cuisines that mingle there, paying homage to traditions, but using them as jumping off points to create fresh, new versions (and variations) of classic dishes and flavors. We're already planning a return visit, and I'm anticipating Zahav: A World of Israeli Cooking, a compendium of Chef Solomonov's recipes so I can recreate them, until I get back for a visit to his restaurant. Which, in fact, I think I might move in to.
Zahav
237 Saint James Place
Philadelphia, PA
(215) 625-8800
---
Recipes and Links
Michael Solomonov has a sensational cookbook, Zahav: A World of Israeli Cooking, featuring recipes from Zahav.
The Wall Street Journal featured some of his recipes for salatim, the small first-course salads that we had.
Food+Wine offers up his recipe for Hummus with Tahini and Spicy Chickpeas.
Hummus Masbacha was featured by the Public Broadcasting Service.
A commenter (thanks!) mentioned that Zahav uses Soom tahini, available on Amazon.
Smoke, Grief and Salvation (New York Times) discusses the tough road that Michael Solomonov has taken.