Federal Donuts and Abe Fisher
Before getting ready to fly back to France after the recent holiday, friends invited me to join them on a trip to Havana. I couldn't make it, but the next best thing is taking the bus to Philadelphia, I'm also juggling urgings to go to Los Angeles, New Caledonia, Mexico City, Vietnam, Florence, Honolulu, Miami, Florence, Oaxaca, Bulgaria, Iran, Gascony, Lyon, Rome, Chicago, Chiang Mai, Sicily, Toronto, and to a house in the countryside near Barcelona that has a pool – I want to go everywhere, but who will write my blog, and my book? Not to mention tackled the backlog of l'administration?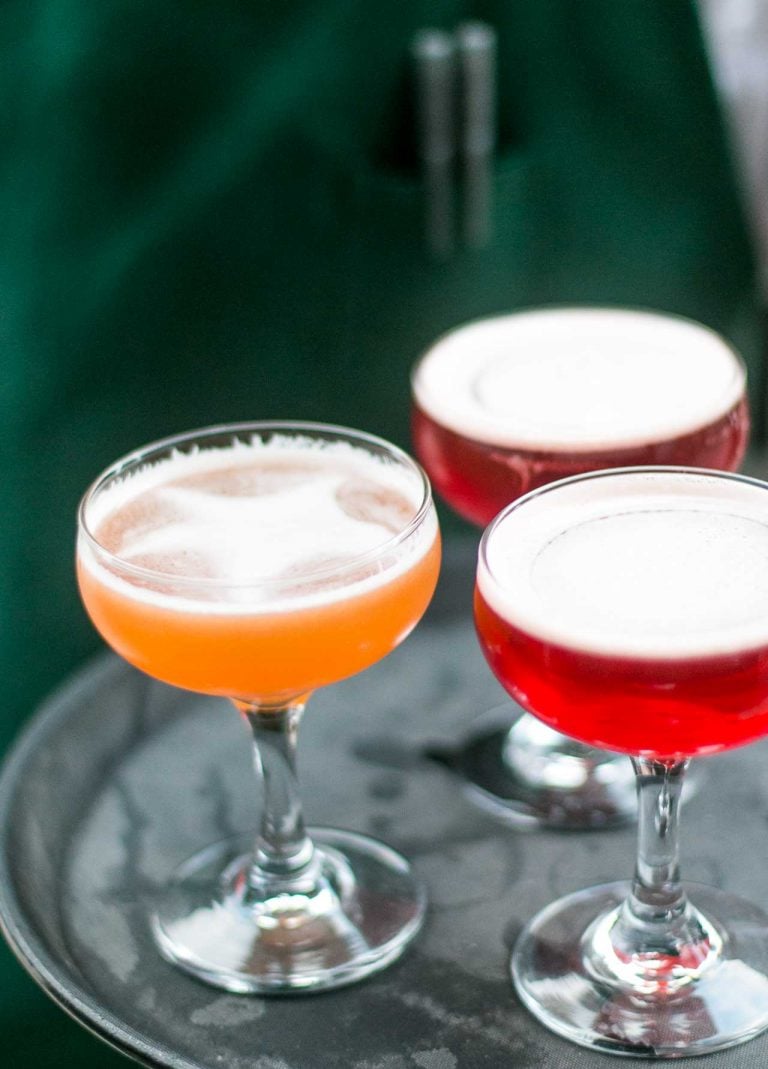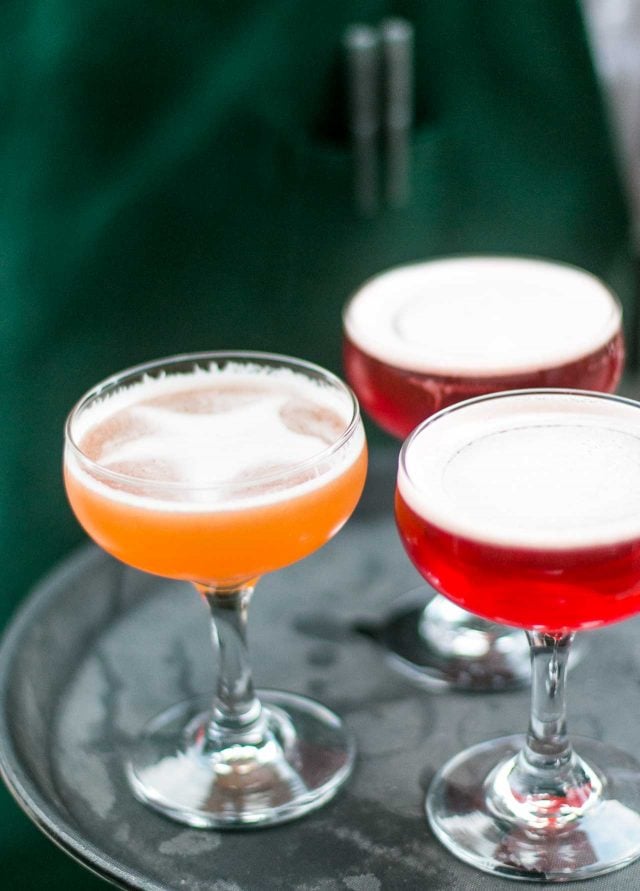 I think Romain was itching to go back. It was pretty challenging explaining this whole "Fahrenheit" thing, as well as why a football player is reading the news, and how come brisket doesn't exist in France.
Until those questions get answered, I took a brief, overnight trip to Philadelphia. And while the above destinations suggest that I might be leading some jet-set life-style, you'll be happy to know that I found myself on a very cold Saturday morning, standing in a line on the sidewalk by the Hudson Yards construction site, on the the edge of Manhattan, waiting for a bus. The pictures of the bus interior that I saw online beforehand were like those real estate photos taken with wide-angle lenses: I'm not super-wide, and neither were the seats on the bus. Still, it had electrical outlets, the an occasional tease of Wi-Fi, and a restroom. Which the driver asked me if I could replace the toilet paper in, handing me a roll when I passed her on my way to it.
Last time I was in Philadelphia, we arrived at Federal Donuts too late in the day, and they were sold out of glazed and hot donuts. I know…right? We were happy to have their stellar za'atar fried chicken, although since I was staying with friends, we had to share it with their kids. Which is why I've never had kids.
This time, I arrived around lunchtime and headed straight over there. I ended up with a big box of donuts, because I wanted to see what the fuss was all about. Turns out, everyone had been right – these are great donuts. And that's coming from someone that likes donuts just fine, but doesn't crave them. Thanks for FedNuts, as it's called, now I do.
Favorites were the Tres Leches and Churro donuts, with the T.L. coming squarely in first, although the Blueberry Pancake donuts surprised me by tasting just like a stack of fresh-from-the-skillet blueberry pancakes. If you can't make it to Philadelphia, they've got a cookbook in the works.
I know you're not supposed to have dessert first, or so they say, but it was hard not to bite into the donuts which came out before we got our fried chicken. I've probably said this before, but I'll say it again (which is more than I can say about defending the Fahrenheit system) – Fried chicken is my favorite food in the world.
Yes, I like raspberries, espresso, pink grapefruit, plums, dark chocolate, butternut squash, and arugula, all foods in the "healthy" category. So until someone moves fried chicken there, I only reserve it for special occasions. And a trip to Federal Donuts was one of them.
Their fried chicken come in different varieties. The best, imho, is the za'atar fried chicken, generously seasoned with the Middle Eastern herb/spice blend. I still remembered it from last year, it was that good. Coconut curry was a close second, but the glazed chilli-garlic, a take on the Korean fried chicken that we all know and love, gets fried to a crisp, then is slathered with a sticky, spicy glaze. It was a treat, for sure, and I am glad – and concerned – that this place is only a $14 bus ride away. Because now I know that it's too easy to get to from New York. Zut.
The other reason I came down, in addition to getting my fill of donuts and poulet pané – although with all the other Anglo food trends that have hit Paris in the last few years, from fish & chips and hamburgers, to meatballs (where the staff wear shirts that say "eat my balls," in English), caramel corn and Texas bbq, I wouldn't be surprised to see a fried chicken joint spring up in one of the trendy neighborhoods – was to attend an Amaro tasting led by Brad Thomas Parsons. I'd made the Black Manhattan from his new book, Amaro: The Spirited World of Bittersweet, Herbal Liqueurs, and he was doing a talk and tasting just across the street, at Abe Fisher restaurant.
It was the last stop on his Amaro Never Knows tour and I arrived with my friend Lani to find a dozen different amari lined up to taste. Each one was distinctly different, some were luscious and herbaceous, others were medicinal (which was likely their intended purpose; to aid digestion) and tougher to sip.
But like the big swig I took from my the bottle of Jack Daniel's I found in my parent's liquor cabinet when I was eleven years old, which my pre-teen esophagus wasn't used to, some of these amari are best appreciated diluted, in cocktails.
My favorite was the first one I tasted, Yesterday, Today, and Amaro, a suave blend of Cynar, averna, and rye, which was shaken and stirred up under the guidance of beverage manager Brian Kane. It's appearance was similar to the Toronto cocktail, and it packed the same wallop.
There were amari from Italy, of course, as well as Switzerland, the most forceful of all that we tasted, Germany, and even three from the United States, made in the Napa Valley, Brooklyn, and South Carolina.
A nap was needed, so I went back to my friend's house, ticking one of the places that I've been urged to visit, off my list. But before I left, I got a shot of me with Brad. Unfortunately the button under my sweater popped out, making me look like I was 8 1/2 months pregnant. Or was that the donuts? (I thought I cropped it out but looking at it now, I still see a little bump.) And my ill-fitting $19.60 sweater that was 30% off from Old Navy bunched up, so it looked like I had a dislocated shoulder. Still, it's proof that we were both still standing after the guided amaro and cocktail tasting.
An amaro-fueled dinner was planned at Abe Fisher later that night, a restaurant owned by Michael Solomonov of Zahav, one of my favorite restaurants anywhere, with food by Yehuda Sichel, who was the chef at Zahav before taking the helm here, creating what they call "pays homage to centuries of tradition" of Jewish cooking, spanning from France and Spain, to Hungarian, Chinatown-style duck accompanied by pretzel buns, schmaltz rice, and lekvar hoisin sauce.
My extra-wide collar seemed to be the butt of jokes around the dinner table, and I had my picture taken with chef Sichel earlier in the day (Note to self: If you're going to be photographed alongside someone who does CrossFit, make sure it's just from the neck up), the conversation around the table quickly turned to the food – and drinks – once the plates started landing on the table. (But not before turning up my collar and doing a Mr. Spock impersonation.)
Chef Sichel was kind enough to send out a platter of 'Jewshi," cured salmon and fish tartar packed into leaves of Belgian endive and chicken liver mousse with pastrami-onion ham and housemade Jewish rye (I also had to explain caraway seeds to Romain the week before), along with a stellar plate of sweet potatoes with Boursin and smoked walnuts.
There was also a riff on the French classic, foie gras torchon (even though foie gras is technically Egyptian) served with homemade mini cinnamon-raisin bagels. It was the best use for the much-maligned cinnamon-raisin bagel I've ever had.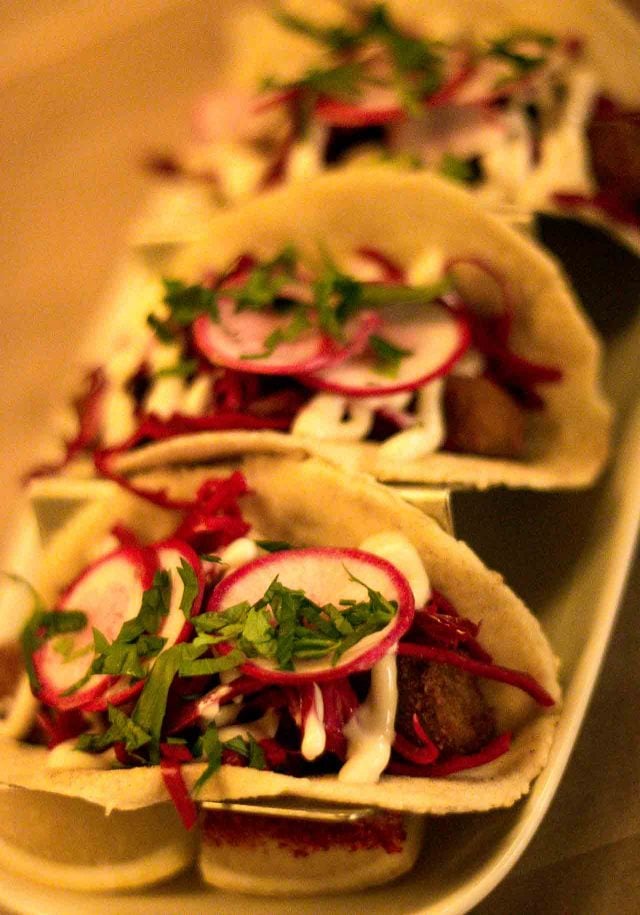 The runner-up for the best dish of the night was the veal schnitzel tacos with anchovy mayonnaise and health salad, sometimes called Kosher coleslaw. (Abe Fisher isn't a kosher restaurant, as evidenced by the corned pork belly reuben sandwich, a witty take on the non-kosher classic.)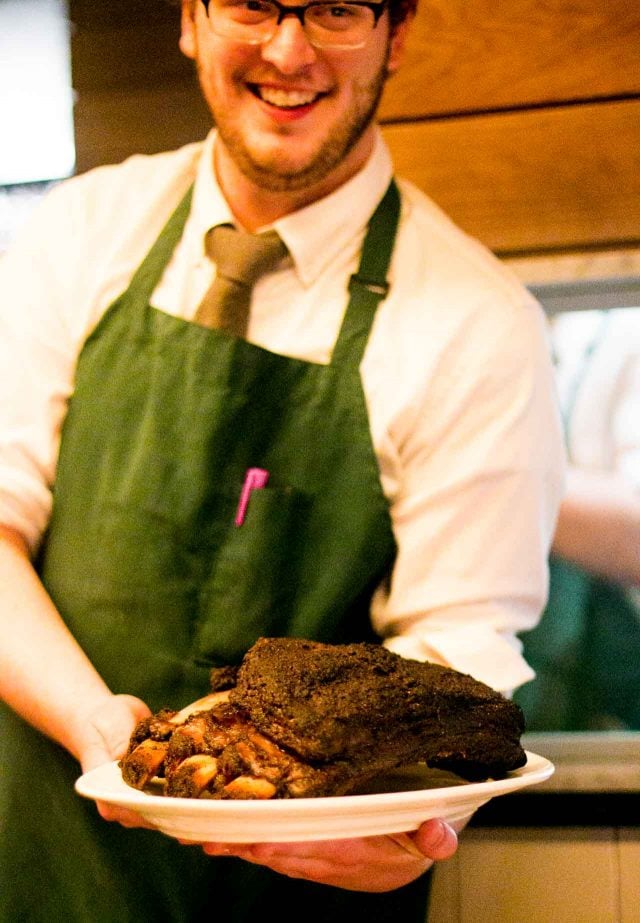 The centerpiece came out, and it was a doozy: Montreal smoked short ribs, which we'd ordered for the table. Out came a giant bone-in rack of ribs, which was first presented to us on a platter, then brought back to the kitchen to be cut into slices, so we could eat it most politely. Although to be honest, my tablemates and I would have been happy to chow down on the extremely tender, pepper-spiced beef, right off the giant bones.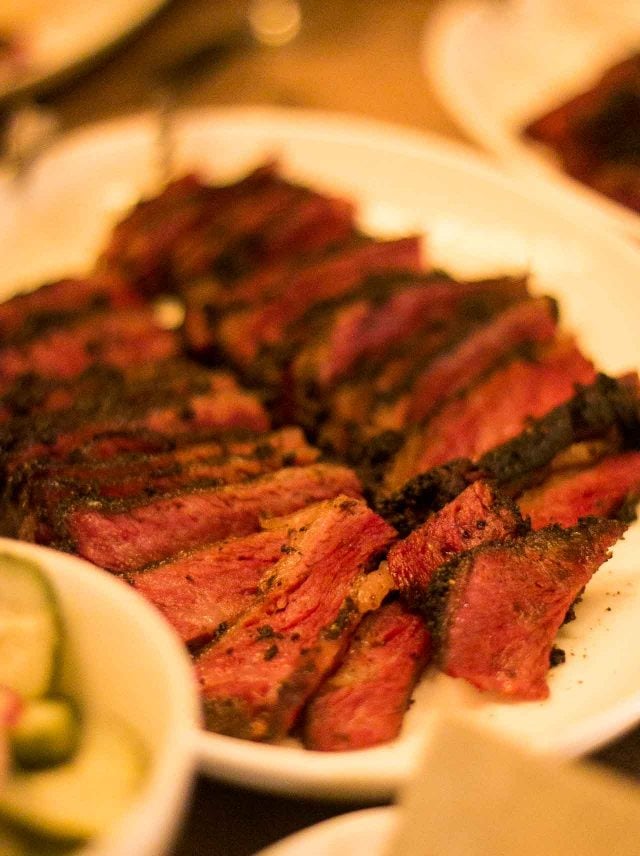 Thankfully a few sips of amaro did the trick and I slept soundly. The next morning my friend Lani and her husband Paul, friends who own Context Travel (who've been around the world twice on a sailboat with their daughters, each trip a several year journey – and yes, I've been urged to join them for part of it, which was another very difficult invitation to turn down), took me to South Philadelphia, the Italian-American quarter known as the 9th Street Italian Market. Last time I was in town, they took me to the Reading Terminal Market, but it was fun to stroll down 9th Street and see some of the shops and food stalls.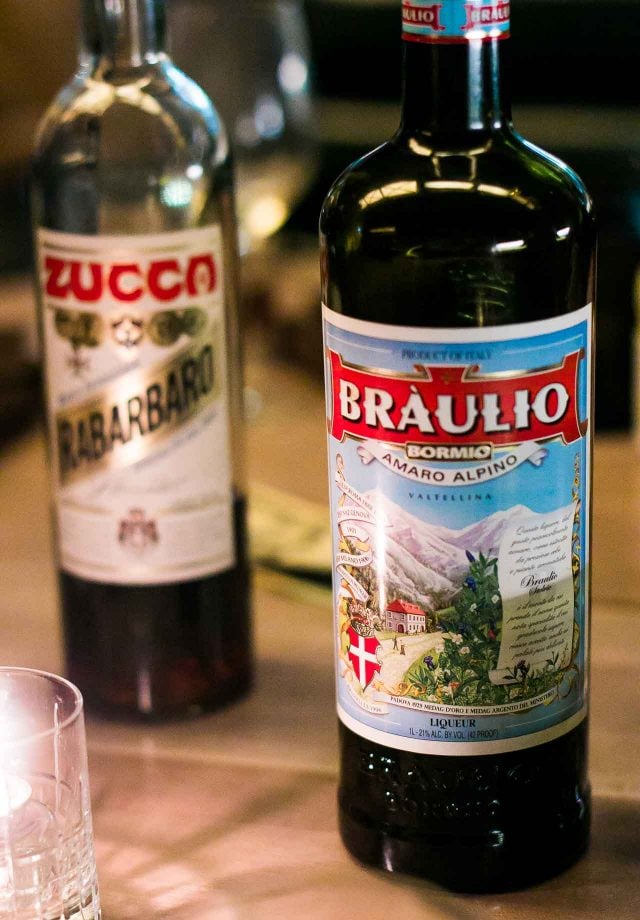 There's a lot to see, and eat, on that street, including Italian cheese shops, a great kitchenware emporium, the famed pork sandwiches with provolone and broccoli raab, tomato pie, and even an excellent Mexican restaurant, Blue Corn, where we finished the morning with pork pibil tacos. They offer a Belly of Philly tour, if you're in town and want a guided visit. We made little video there, which didn't feature tomato pie (there was a ten minute wait, which is a long time to fill on live video) but the pork sandwich made an appearance, then was quickly gone afterward.
Related Links
Federal Donuts Fried Chicken (Good Morning America)
Zahav Cookbook (Amazon)
Chile Garlic Fried Chicken (Tasting Table)
How Federal Donuts Turned Philly into a Fried Chicken Destination (Eater)
Note: We were guests of Abe Fisher restaurant. I paid for the pork sandwich shown in the video, even though it looks like my friend Paul did because I gave him the money before we shot the video, which I didn't realize looked funny until an astute viewer remarked, "You took his change!"