The Beast Barbecue in Paris
I've been taking a breather writing about American-oriented businesses in Paris. Not because I don't like them, but because there were so many of them that it was hard to keep up, and they were no longer a novelty. And while the hamburger craze was fun when it was just one lone (and very good) food truck, when the Paris café at the last annual Agriculture Fair featured burgers as the food to represent their city to an international audience, well, it's become a bit trop. Even the swanky La Grande Épicerie is featuring le Brooklyn this fall, with mustaches, bonnets, and tattoos. The upside is that I can wear a hoodie and sneakers around Paris now – I fit right in!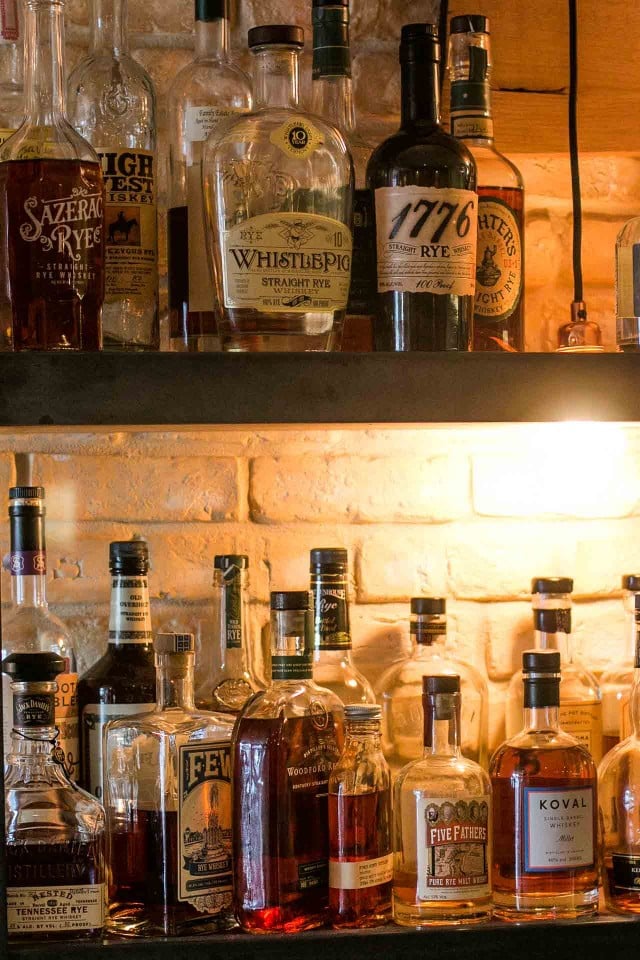 Another subject I skirt these days is barbecue. There are so many styles and opinions out there, that as much as it's nice that everyone is proud of the style of bbq in their state or region, I'm less-interested in the debate over who is doing what, and how, rather than what is on the plate – or in the case of barbecue, on the paper or tray. (Someone took me task once because I mentioned a barbecue that I went to in Texas and said that they had sauce. It seemed like a big deal to discuss that they didn't have sauce, when in fact, they did. A picture that I took there was of a local dipping their barbecue in sauce served at said address. After sharing that, I never heard back, but I can't see the point of getting yourself in a tizzy about a small puddle of liquid. I'm just happy when people are making good food. )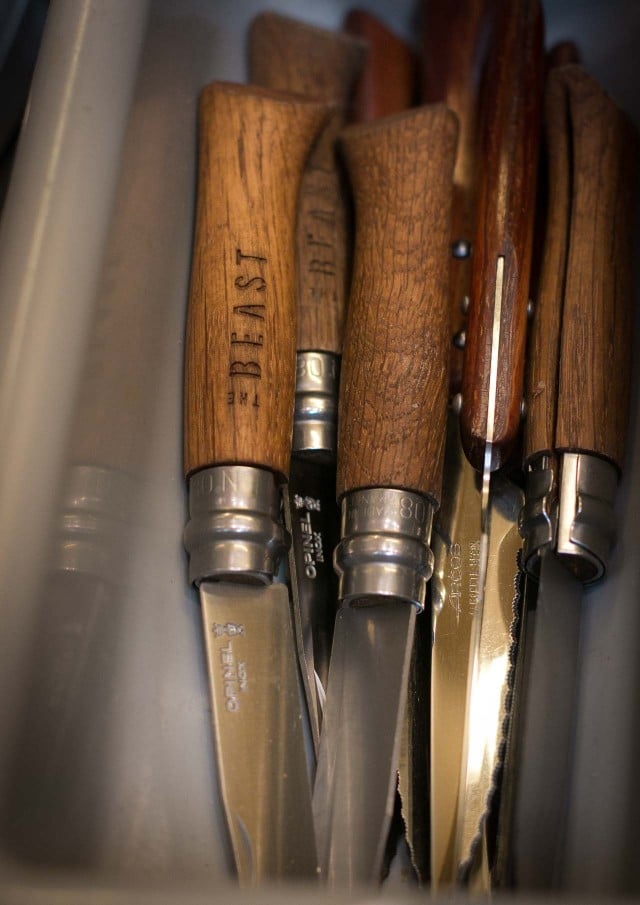 Thomas Abramowicz opened The Beast a year ago in Paris. I didn't go because people told me it was crowded, and others said the meat was excellent but the sides were less compelling. I also think that if a restaurant is good, I don't need to be the first one there. I can wait 6 months and if it's good, it'll still be there. (Although in some cases, by the time word gets out in Paris, it's tough to get a reservation.) I also dislike being jostled when I eat and realize crowding is a necessary evil when a restaurant is "hot."
But last night I went out with a friend in Paris and the rotating people on the stool at the communal table next to me kept pushing me out of their way, so my leg was constantly being jammed into the leg of the table. I finally said something about it, but it didn't seem to bother them. So I tend to not to go to places where I'm going to be trapped in a throng of people.
However when my friend and barbecue expert Elizabeth Karmel was in town, I thought it'd be fun to finally attack The Beast.
Even hard-core bbq fans have been were impressed by this Paris barbecue. And so were we, when we went for lunch, which proved a reasonable time of the day to eat. People were calmly eating during their lunch breaks and there were seats available, although a number were getting take-out.First up? Iced tea!
Then, trays loaded up with barbecued pork, beef, jalapeño-cheese sausages, and even a little sauce with they kindly, and diplomatically, ask if you want first, before adding a squirt.
Thomas is 100% French. He worked in the luxury business for years, then told me that when he in New York, he had an "Aha" moment, and decided that he wanted to learn all about barbecue. Cooking was what he did after a long day at the office, when he would take off his coat and tie and fire up dinner in his apartment. That's what made him happy. And he had a hunch the 'cue was his calling.
So he quit his fancy job, got in a car, and drove to Texas. (Unfortunately you can't drive from France to America, but he was already in New York when he started his quest.) He spent months working in barbecues across Texas. When I asked how he did that, he responded, "I just knocked on the door and asked. I said I was willing to do anything – even wash dishes. So they let me!"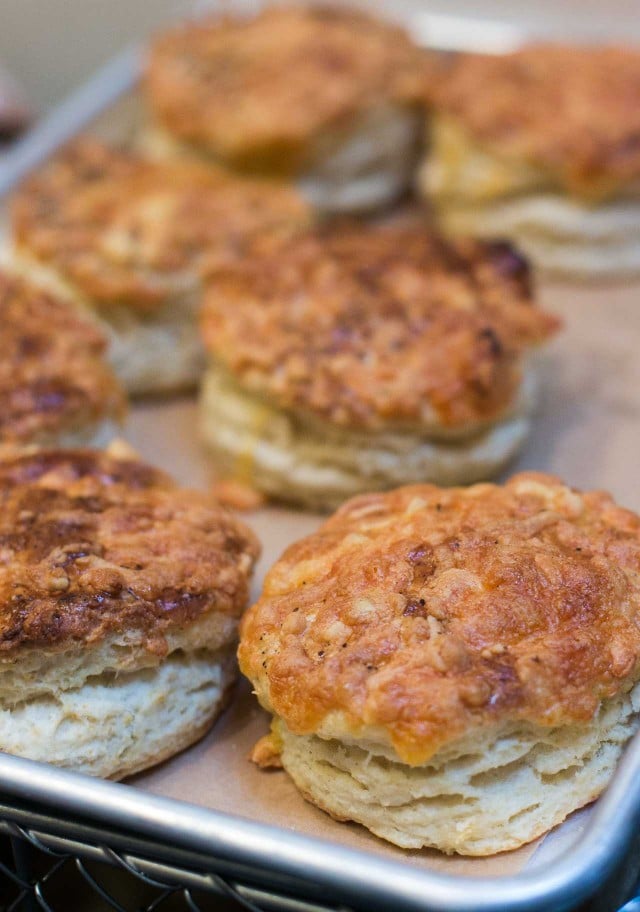 When he returned to Paris, he opened his smokehouse. It's very difficult to open a barbecue in any city where people live very close together and you're cooking something that has a peculiar scent. Thomas persevered and set up his Texas smoker, and was off and running. Or off and barbecuing.
One challenge was getting the right meat in Paris. French meat can be tough as many of the races of cows are muscular and originally reared for working, not eating. And some cuts that adapt well to slow-cooking, like brisket and beef ribs, don't exist in France. So Thomas cast a wider net to get the right meats. Judging from what we ate, including the astoundingly good beef rib (below), he hit the mark on all of them.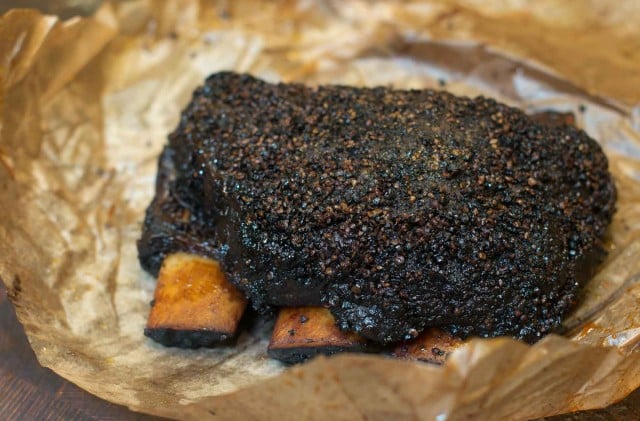 A lot has changed in Paris in the last decade and I'm often asked about French cuisine, present and future. Paris is a mix of cultures – a lot of them, in one, compact city. So it's particularly nice to see a style of cooking that's unique to another country being done so well here, not modified or toned down, by someone who was passionate about it and learned as much as he could before coming home and opening his own place.
Thomas agreed that there's a bit of a learning curve for the locals in terms of flavors, and styles of eating (as in, with your fingers), but on the day we went, we were the only non-French diners in there. And yes, I used a knife and fork to eat my barbecue, comme les françaises. Elizabeth is more of the real-deal than I am because as much as she got through most of the meat with utensils, finally she said with a sweet touch of southern twang, "You know what? To heck with it. I'm going to use my hands." Then she dug right back in.
I'm happy to report also that we had an excellent selection of sides. (Which they must have changed from when they first opened, which is why it's sometimes best to wait a bit for a restaurant to get its "legs" before you give it a go.) Kale with brisket, macaroni and cheese with sharp English cheddar, homemade baked beans, and our favorite, potato salad, was less-heavy than its American counterpart that you get at stateside barbecue joints. It was more like I make it at home, with grainy French mustard, red onions, and a modest amount of dressing. French potatoes are so good, it'd be a shame to hide their flavor under a thick coating of mayo.
Desserts hit the sweet spot with Pecan Pie, a French galette of summer fruits, and Banana Cream Pie (below), which was more restrained than its Chantilly-crowned American counterpart. Here, the pastry chef used a slather of crème fraîche to top the "pie," which was more of a tart.
The word "pie" doesn't really translate into the French dessert lexicon – tourte is the closest. And I finally got to ask a bi-lingual Frenchman, Thomas, what the word in French pickles is, and he rubbed his chin for a while, scrunched up his forehead, and said that he didn't really know either. Whatever you call them, he is making excellent homemade pickles and Elizabeth was so smitten with them that he packed her up a container to snack on later.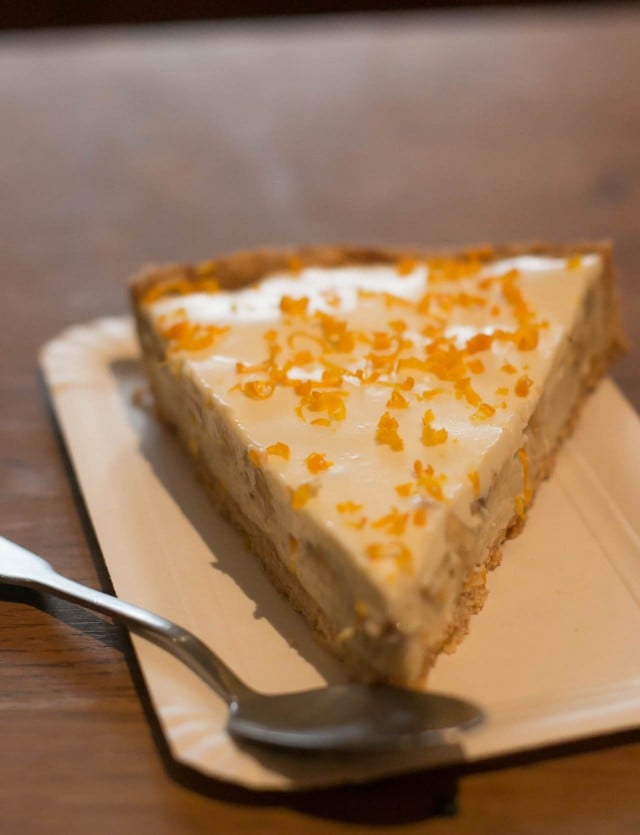 Elizabeth and I chattered with Thomas a bit about the cocktail scene in Paris as well. The Beast has an outstanding selection of bourbons and I'm not as familiar with them as they are, even though I am happy to sample them : )
Ten years ago, the idea of going to a cocktail bar in Paris was somewhat far-fetched. Or at least a very good one. Yes, the hotels and some bars have existed for a while, but the cocktail scene really ramped up just a few years ago, and now Paris is a world-class destination for cocktail lovers with great cocktail bars all over the city. Romain told me that people used to think that drinking cocktails was considered vulgaire, so he never appreciated them. But now, he's hooked, too.
On top of the bar, wisely out of reach (and guarded by a giant Opinel knife), were several rare bottles of Van Winkle and Pappy Van Winkle Kentucky bourbons. When I asked, they said some were around €90 for one ounce. So I didn't get a taste.
But when I saw the Knob Creek smoked maple whiskey, which was within reach, I asked for a smell and it must have been the expression on my face, because the bar woman kindly insisted I take a taste. It was rich in maple and caramel, not too much smoke, with a lingering sweetness that made my knees buckle just a little. Or maybe it was the weight of my stomach from all that barbecue.
They were also unpacking some boxes of bourbons that had just arrived, which included – very carefully wrapped – a bottle of Willett Pot Still reserve bourbon, whose bottle is in the distinctive shape of a whiskey still. People come in just to taste the bourbons and it's thrilling that Thomas has not only opened up a true Texas barbecue in Paris, but created such an impressive bar stocked with bourbons and whiskies that aren't readily available.
When we left, we were happy, but not as happy as Thomas, who I noted on the way out, was the happiest man in France. Which I mentioned to him. He had a big grin, and said, "I'm so happy!" Which made me think that, hmm, maybe I should give up my dream of opening an ice cream shop in Paris, and open a barbecue?
For those who say that they don't come to Paris to eat Texas barbecue, that's fine. (As for me, when I go to the United States, I eat Mexican, Korean, and Chinese food. I like fried chicken, meatloaf, and other American specialties, but I also enjoy other cuisines.) But it's nice to have a variety of things to eat here in Paris, from various cuisines and cultures, especially for the locals. And even though I waited a while to finally go to The Beast, boy, I was glad I did. Everything was great, and Parisians are licking it up, too. Just not with their fingers.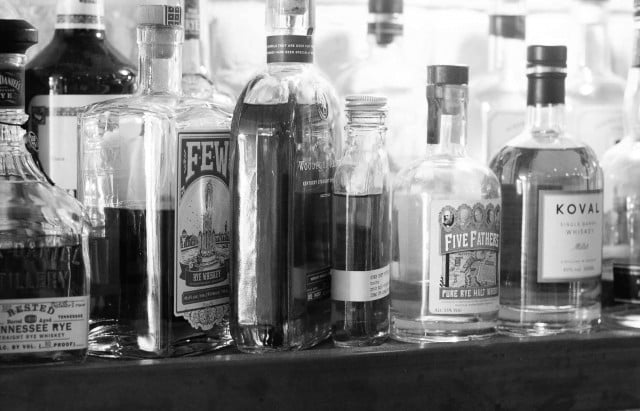 The Beast
27, rue Meslay (3rd)
Tél: 07 81 02 99 77
Open Tuesday through Saturday, 12:30 to 2:30pm for lunch, 7pm to 11pm for dinner. For the most updated information, check the Beast Facebook page.
Note: The Beast gets quite busy in the evening. Coming earlier in the evening may be preferential. On the day we went for lunch, the crowds were moderate and we were able to get seats and have lunch. You can perhaps expect a wait during peak times, but I can think of worse places to pass the time than at their bourbon bar!
---
Related Reading
Are Parisians Ready for the Meat Sweats? Pitmaster Thomas Abramowicz says oui! (Food Republic)
Interview: Thomas Abramowicz of The Beast (TMBBQ)
The Beast is Born: Texas bbq in Paris (Paris by Mouth)
American Barbecue in Paris (Alexander Lobrano/New York Times)
Texas barbecue lands in Paris (The Houston Chronicle)