It always amuses me to see recipe for things like French Chocolate Pancakes, French Crullers or a "French" Watermelon Cooler. I guess adding the word "French" makes things seem more appealing…unless they're using French chocolate or French watermelon, then they have the right to call it that, and I'll allow it. But I remember the look on his face when I was trying to explain to my French (no quotation marks needed) other half, that green beans cut on the diagonal are called "French-cut" in America – even though I can't say that I've ever seen green beans cut on the diagonal in France. (Although I have seen things called "Américain," that don't bear any resemblance to anything I've ever seen in America. So it goes both ways.)
Yes, I know that fried chicken isn't typically considered French – busted! Although you occasionally see poulet pané (breaded and deep-fried) or poulet nuggets in freezer cases or on the elementary school menus that they post outside the schools in France. However when I was in Virginia and we were discussing a local fried chicken joint, I saw a French woman's eyes light up at the mention of those crispy pieces of poulet, and we both looked at each other with awe and amazement (and mutual admiration), and knew we had to have it. And a few days later, we found ourselves sitting at a picnic table, digging our teeth into crunchy pieces of fried chicken, with happy grins – and lots of little tidbits of crust scattering every which way – all around.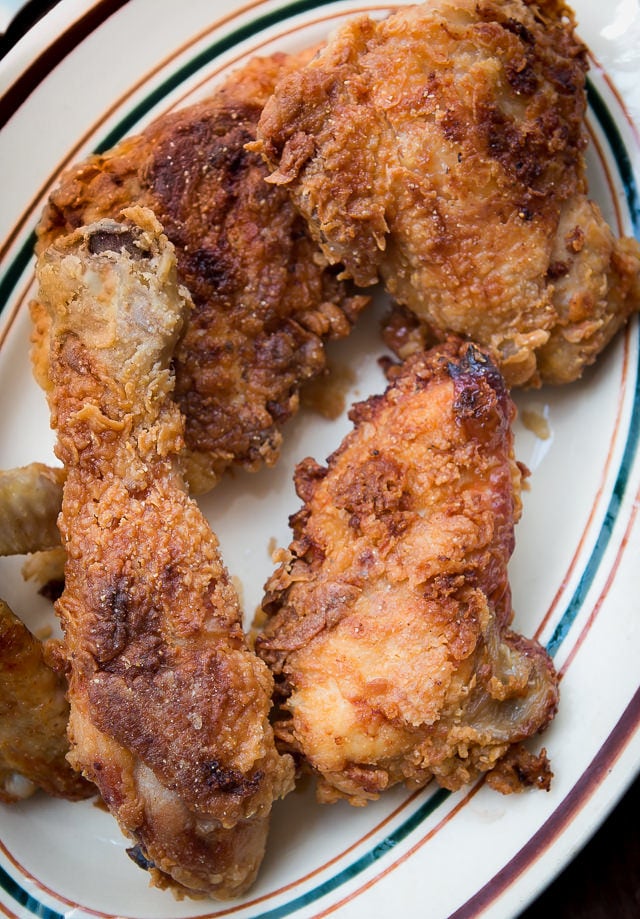 Since my publisher follows my blog, a few days after my trip to Charlottesville, a copy of Fried Chicken: Recipes for the Crispy, Crunchy, Comfort-Food Classic by Rebecca Lang arrived in my mailbox.
I jokingly asked if each copy came with a clean-up person, to deal with the aftermath. But when I read through the book, each and every picture looked like something I wanted to make. And Rebecca even gave a great tip for avoiding a mess when frying up chicken, that worked like a charm.
Sure enough, when all was said and done, and my chicken was fried, I crumpled up the foil, and tossed it in the recycling bin. It was less mess than frying up a duck breast or a pan of fried potatoes as I normally do, with grease and fat flying every which way.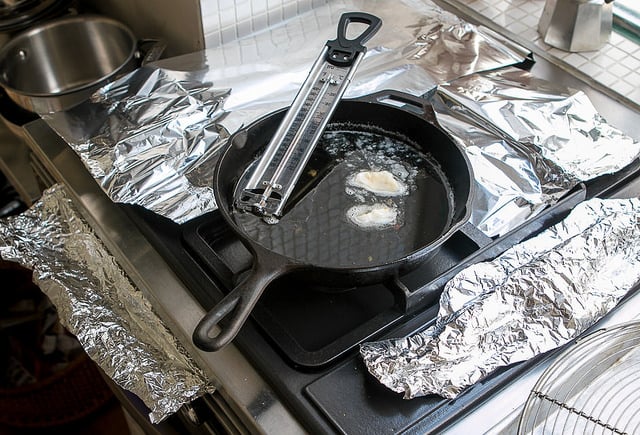 As you can see, her technique of covering the surrounding surfaces with foil perhaps made me look like a madman (hey, at least I wasn't wearing any on my head…), but I got the last laugh when I walked away from the project after I was done frying, and enjoyed my platter of fried chicken without having to worry about a big clean-up after I finished.
I never thought about fried chicken as having so many variations, and Rebecca's book, Fried Chicken, featured many of them from various countries via recipes culled from Brazil, Korea, Japan, India, and Thailand. Omitted, however, is a recipe from France.
I supposed I could have followed her recipe for Chicken Luxurious, which is fried in duck fat. Or Tangy Fried Chicken that's slathered with Dijon mustard before frying. Or I could have sliced the fried chicken breasts on the bias, like French-cut green beans.
But I decided to cobble together my own Frenchified fried chicken and use duck fat for frying my chicken. Because people like to quarrel about these things (for whatever reason…) there's some discussion about what's the best fat for frying chicken. I decide I would nip the lard-versus-oil debate in the bud with grasse de canard, which keeps the tattooed bro' cooks at bay. And besides, what gives you more than deep-frying cred than frying in duck fat?
In addition to the duck fat, I had dutifully bought a chicken that was élevé en liberté (free-range, and yes, I rendered my own duck fat, too.) Then I cut it up and soaked it overnight in lait ribot (buttermilk) and Dijon mustard, then dredged the pieces in flour and cornmeal. The fat got melted in my all-American cast iron skillet, then I set to work frying.
True, fried chicken is a bit of a project, and not everyone is going to have duck fat on hand (so you can use a oil if you prefer, such as peanut or canola – or lard), although if you live in France, duck fat is sold in most supermarkets so we have easy access to it. And now that I've made fried chicken French, perhaps we'll be seeing Fried Chicken in duck fat sold by the bucket (a "French" bucket, of course…), in France now?
French Fried Chicken
Adapted from
Fried Chicken
by
Rebecca Lang
I cut my chicken into eight pieces; two legs, two thighs, two breasts and two wings. If your chicken is large, you can cut the breasts crosswise into two pieces, leaving the wings attached, or you can cut them off if they're large, for a total of 10 pieces. I used duck fat, which is a luxury in some places. You can use canola oil for frying the chicken if you wish. I used about 2 cups (500g) of duck fat. (In her book, Rebecca discussed the different frying fats and which works best for what recipe and result.) I worked in two batches, since only four pieces fit in my pan at a time. I did find that I had quite a bit of the flour/cornmeal mixture leftover, which may be because French chickens are leaner than their American counterparts. If you wish, make the flour/cornmeal mixture and set about one-quarter of it aside. As you toss the chicken, if you need more, use it. Otherwise reserve it and use it in another baking project. (Update: A commenter recommended using it in case you make gravy.)
1

whole skin-on chicken

,

cut into 8 or 10 pieces (see headnote)

1 3/4

cups (430ml)

buttermilk

1 1/2

tablespoons

Dijon mustard

2

teaspoons

sea or kosher salt

1

teaspoon

freshly ground black pepper

1/4

teaspoon

cayenne

3 1/2

cups (490g)

all-purpose flour

1

cup (140g)

cornmeal

2

teaspoons

sea or kosher salt

a few generous turns freshly ground black pepper

Duck fat or canola oil

,

for frying
Put the chicken in a zip top bag with the buttermilk marinade ingredients: the buttermilk, Dijon mustard, 2 teaspoons salt, 1 teaspoon black pepper, Dijon, buttermilk and cayenne. Massage everything together, seal the bag, and refrigerate for 8 hours or overnight.

When ready to fry, set two wire racks over two baking sheets. Mix together the flour, cornmeal, salt and pepper in a paper bag or a large bowl. Remove the chicken pieces from the buttermilk brine and coat them with the flour mixture, working a few pieces at a time, making sure the pieces are thoroughly coated. (Toss them in the closed bag, or use your hands and toss them in the bowl.) Gently shake off some of the excess flour and set them on one of the wire racks over a baking sheet.

In a large, heavy skillet, such as cast iron, heat about 1 1/4-inch (4cm) of duck fat or canola oil. If using a deep-fry thermometer, the temperature should read 350ºF (180ºC) when ready to fry.

Carefully place as many pieces of the chicken as will fit in the pan without crowding it, skin side down. The temperature will decrease but try to keep the temperature of the oil around 325ºF (162ºC) as you fry.

Fry the chicken until the bottom is nicely browned, then use tongs to turn the chicken over and fry until the other side is browned and crisp. The chicken will take about 20 to 25 minutes to cook, total, and if you want to verify that it's cooked, cut into the thigh piece near the bone; if the juices run clear, it's done.

As the chicken is done, remove the pieces and set them on the wire rack. Use a slotted spoon or strainer to skin the fat or oil of stray pieces of chicken, so they don't burn, then fry the remaining pieces of chicken.