Roast Chicken with Caramelized Shallots
I used to be one of those that was surprised when people said, "I don't have time to cook." To me, cooking and shopping for ingredients, which take the better parts of my days, has always been a pleasure for me rather than a burden. However, now I get it. Making dinner after a long day at work can be a challenge. In France, people don't get home from work until 7 or 7:30pm, and not everyone wants to put on a kitchen apron when they get home and get moving on dinner.
Even during the lockdown, when we found ourselves having more time around the house, I was busier than ever. It was a challenge tracking down ingredients, and cooking all the time led to lots of dishes. I was also doing my best not to let anything go to waste, which meant that instead of tossing radish leaves, I made radish leaf soup. A bag of lemons that started looking past their prime became jars of lemon curd. And a compunction to update older blog posts (and photos) as I revisited them during the lockdown, from French Chocolate Mousse Cake and Carrot Salad to Cosmopolitans, it's no wonder after the lockdown ended, I felt like I needed a vacation!
Until that happens, this Caramelized Shallot Chicken is a low-stress dinner and very easy to make for this recipe adapted from French Farmhouse Cookbook by Susan Herrmann Loomis, a friend who teaches cooking classes in France. The only real work is mincing a few shallots. Everything else is done in the oven. Even better, there are hardly any dishes to wash afterward. You just toss chicken pieces in olive oil, vinegar, soy sauce, and shallots in a baking dish, season with salt and pepper, and pop it in the oven. While baking, the shallots get crispy-sweet and caramelized, and since it only takes about 45 minutes to bake, you have time to mix yourself a drink, like a Sidecar or a French Manhattan.
One thing to know if that the French generally cut a chicken into eight pieces, not six. The breasts are cut in half crosswise (not lengthwise) and the wings are left on the tips on the breast pieces, as shown below. If you buy a whole cut-up chicken, I recommend cutting the bone-in breasts in half with a chef's knife or asking the butcher to do it.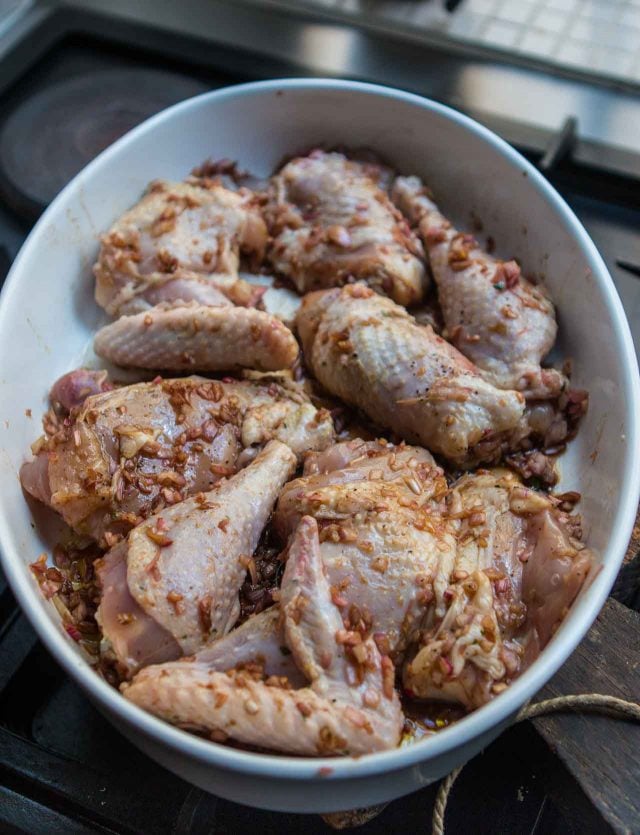 Although it wasn't in the original recipe, I added a splash of soy sauce, which is one of the secret ingredients in many dishes, even in French cooking. At a restaurant in Lyon that is widely known for their 'top-secret' salad dressing, I ate there with a chef friend. The first thing we said after we tasted it?—Soy sauce.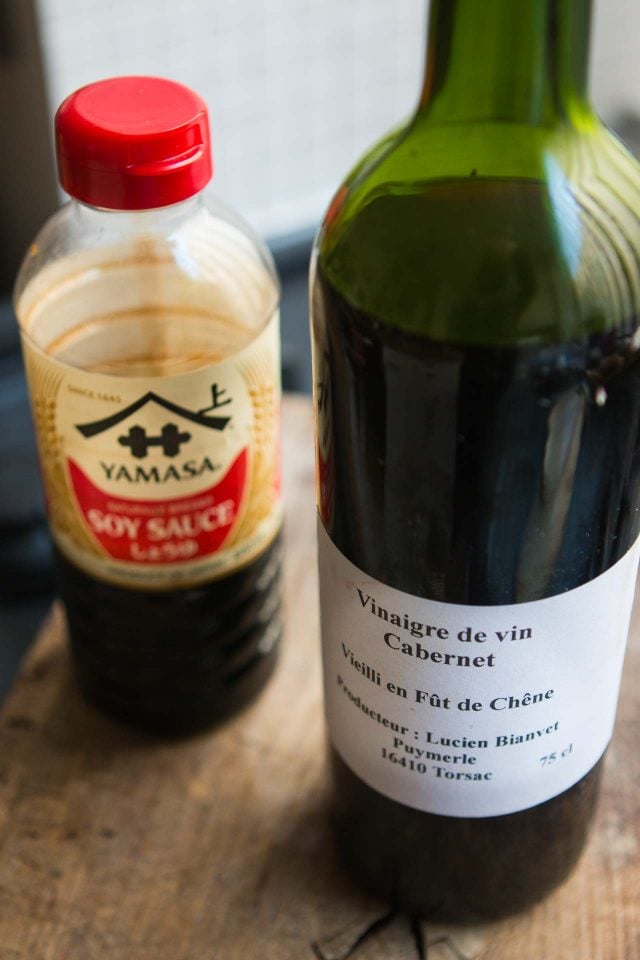 So I added a bit to the sauce, which gives this dish a savory-salty umami taste—which in French, I believe, is called je ne sais quoi. Feel free to change around what vinegar to use. Balsamic may not be sharp enough, and perhaps too sweet (although if you like it, you could certainly give it a try), but apple cider vinegar would be nice, as would be sherry vinegar, which is often my vinegar of choice for a vinaigrette.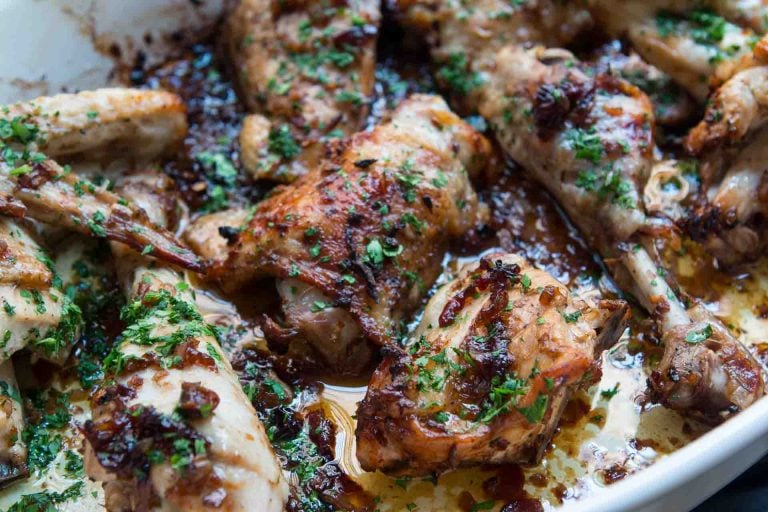 Aside from its utter simplicity, the other great thing about this dish is that aside from the chicken, you likely have the other ingredients in your pantry. If you don't keep shallots around, you might want to reconsider that. Because once you taste it, you'll want to be able to make this at a moment's notice, as I often do.
Roast Chicken with Caramelized Shallots
Adapted from
French Farmhouse Cookbook
(Workman) by Susan Herrmann Loomis I use a whole chicken cut into eight pieces; two legs, two thighs, and I cut each breast piece in half, crosswise, keeping the wings attached. You could also just use eight of your favorite chicken pieces. The shallots I used were about the size of an unshelled walnut. The total weight of the four shallots is about 6 ounces (170g.)
3

tablespoons

olive oil

3

tablespoons

red wine vinegar

1

tablespoon

soy sauce

4

large shallots

,

peeled and minced

sea salt and freshly ground black pepper

One whole chicken

,

cut into 8 pieces

one generous handful of coarsely chopped flat-leaf parsley
Preheat the oven to 425ºF (220ºC.)

In a large baking dish, one which will hold all the chicken pieces in a single layer, mix the olive oil, vinegar, soy sauce, shallots, and some salt and pepper.

Toss the chicken in the mixture so they're completely coated with the shallots. Turn the chicken pieces so they are all skin side up.

Roast the chicken until it starts to brown on top, about 20 minutes. Turn the pieces of chicken over. Scrape any juices and shallots over the chicken that may be clinging to the pan, and bake for another twenty minutes, or until the pieces of chicken are cooked through and the shallots are well-caramelized.

Remove from oven and toss with the chopped parsley.
Notes
Serving: Serve with roasted or steamed vegetables, potatoes, rice, pasta, or a green salad.
Related Posts and Recipes
8 Tips for Choosing and Using Olive Oil
Sweet and Crispy Chicken Wings
Churrasqueiro Galo: Roast Chicken in Paris
How to Cut Up a Whole Chicken (Gourmet Sleuth)