French Grated Carrot Salad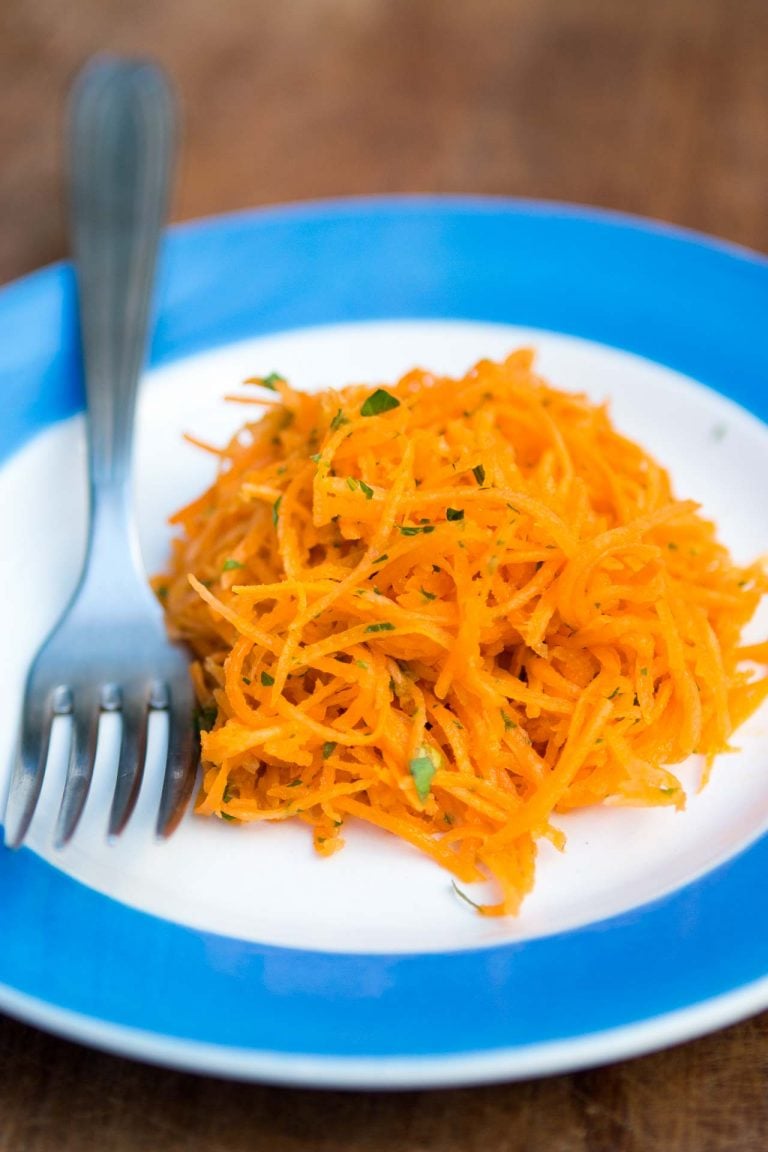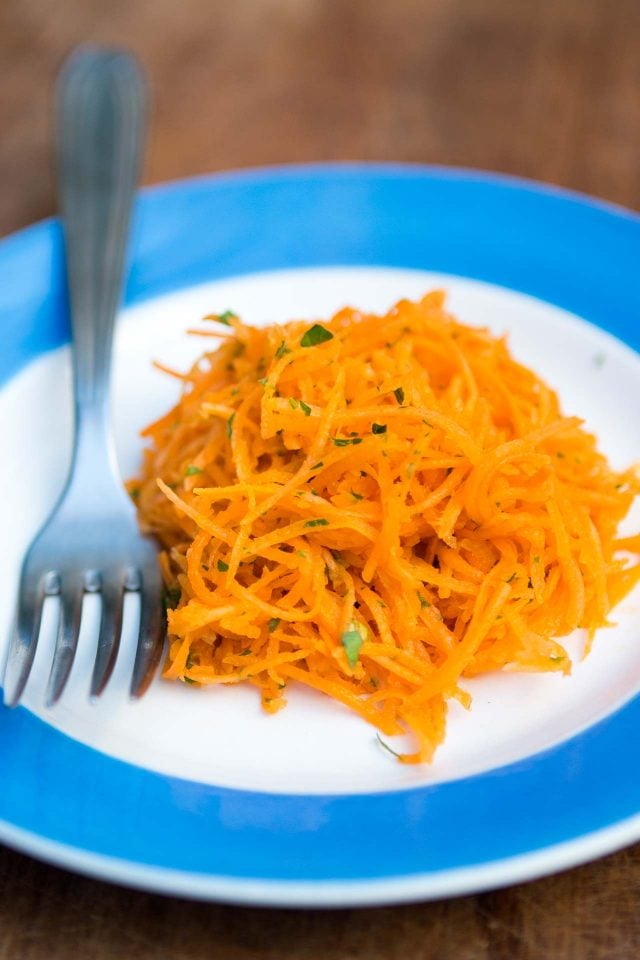 If I had to compile a list of the top five National Dishes of France, right up there would be salade de carottes râpées, or grated carrot salad. It's everywhere. You'll find it on many café and bistro menus, Charcuteries sell it by the kilo, and even supermarkets sell it packed up in rectangular containers, ready to go, which office workers and others enjoy for a quick lunch.
Romain, my French partner, makes a great version of this salad. It's not difficult to make. All you need is a bunch of fresh carrots, ingredients for the dressing, and a little bit of effort, to grate the carrots.
I resist the urge to add other things to this French classic, although if you have some beets, you can grate those in raw (or use all beets to make this salad), but being a Californian, I'll confess to sometimes tossing in cubes of avocado at the last minute. But being a Frenchman, Romain likes to keep it pure.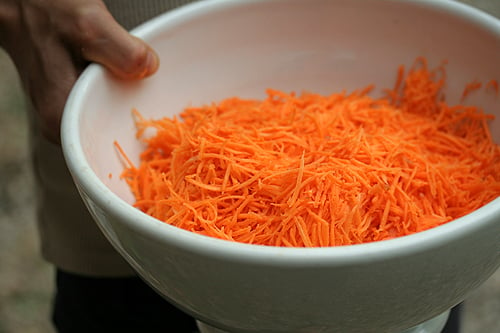 And as a recipe writer, I love the fact that French cooks, and recipes in France, often call for vague quantities of things. It's something that would drive any measure-happy cook insane. In French recipes, sometimes a "wine glass" of water or milk is called for. A teaspoon is called une cuillère à café (a coffee spoon) and a tablespoon is une cuillère à soupe (a soup spoon.) But they don't refer to the same standardized measuring spoon Americans use, which is fine; cooking is about making and tasting, and seasonings to suit your tastes, as ingredients can vary.
The most important thing to a good bowl of carottes râpées is the size you grate the carrots. "Daveed, it is very important to grate the carrots très fines!" says Romain, and his mother, who was standing right behind him in the kitchen when he was making this salad. She agreed on the size of the carrots. "Oui, Oui…c'est très importante!"
Yes, the size is important. Romain wasn't convinced about my desire to add Dijon mustard to the dressing, which, once he tasted, agreed was a good addition.
After making the salad, the carrots may need another dash of lemon or salt or olive oil. Don't overdress the salad; the carrots should be moistened and glistening, not swimming in dressing.
NOTE: After I posted this recipe, and over the years, a lot of people have asked me about the Moulinex device the French use to make grated carrot salad. Unfortunately, the sturdy metal model most people use in France, of the Mouli Julienne, are no longer being made. The plastic ones they've replaced them with aren't nearly as sturdy and are expensive outside of France. (They cost about €20 in France.) Westmark, a German brand, makes a plastic rotary grater. I haven't tried it, but it gets favorable reviews online. I also have a grater attachment for my KitchenAid stand mixer that works well.
If you want to get long shreds of carrots, like those shown in the post, you can search for a rotary grater, called a "mouli julienne," on websites such as Ebay, Etsy, and LeBonCoin (in France.) I've also seen them listed as a râpe à légumes, râpe à carottes, a Mouli épluche, and a Moulin à légumes (which, technically, is a food mill.) So check out the photos and read the descriptions carefully before purchasing online.
French Grated Carrot Salad
This classic French salad is featured on crudites (raw vegetable salad) plates in bistros and cafés. It can be served as a main course salad or alongside grilled meats, fish, or chicken. The recipe can easily be doubled. Each batch is different so plan on seasoning the salad with additional lemon juice or salt, if desired.
Servings
4
side salads, 3 main course salads
1

pound (450g)

carrots

,

peeled

2

tablespoons

extra-virgin olive oil

1

tablespoon

freshly squeezed lemon juice

,

or more, to taste

1/2

teaspoon

kosher or sea salt

1/2

teaspoon

Dijon mustard

1/4

teaspoon

honey or sugar

1 1/2 to 2

tablespoons

finely chopped fresh herbs

,

such as parsley, tarragon, chives,or chervil
Grate the carrots in a rotary grater or box grater.

In a mixing bowl, stir together the olive oil, 1 tablespoon lemon juice, salt, mustard, and honey or sugar. Add the carrots and chopped herbs and toss thoroughly with the dressing.

Taste, and season with additional lemon juice, salt, or other ingredients.
Notes
Serving and storage: The salad is best served at room temperature. It can be made up to 24 hours in advance and refrigerated until ready to serve.