Salade de carottes rapees
If I had to compile a list of the top five National Dishes of France, right up there would be carottes râpées, or grated carrot salad. And it's everywhere. You'll find it on many café and bistro menus, charcuteries sell it by the kilo, and even mega-supermarkets add a few extra ingredients for 'safekeeping' and sell it packed up in rectangular plastic containers, ready to go.
If you order salade de carottes râpée in a restaurant, you'll often get a pile of carrots with a wedge of lemon on the side. My frugal grandmother would've flipped; "Why order something you can make at home?" she'd say to me if I ordered something like a fruit salad in a restaurant.

I don't know why, but I do know sometimes there's nothing more satisfying than a simple pile of grated raw carrots, lightly dressed. And it's usually the least expensive item on the menu, so my thrifty grandma can easily rest in peace.
I resist the urge to add things to this French classic, although if you're itching to modify the recipe, you could grate in another raw vegetable, such as beets, slivers of avocado, another legume cru, or top it with some crumbled feta.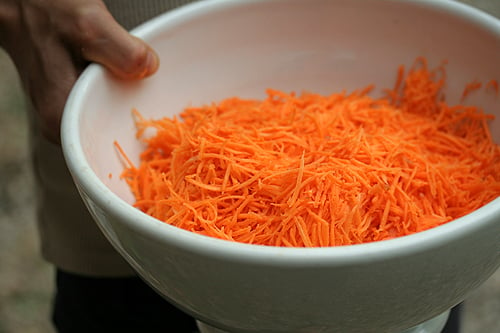 This salad also has another thing that one doesn't necessarily associate with French food: It's portable enough to take on a picnic or road trip, and is a snap to put together in just a few minutes. Best of all, it's very healthy. What's not to like about it?
And if I do say so, my partner Romain makes the best carottes râpées I've ever had. Of course, he doesn't follow a recipe: he mixes, tastes, adds more of something, then tastes again.
And as a recipe writer, I love the fact that French cooks and published recipes sometimes call for vague quantities of things. It's something that would drive any measure-happy cook insane. In French recipes, a teaspoon is called une cuillère à café (a coffee spoon) and a tablespoon is une cuillère à soupe (a soup spoon.)**
The most important thing to a good bowl of carottes râpées is the size of les carottes. "Daveed, it is very important to grate the carrots très fines!", which his mother, who was standing right behind him in the kitchen, said, "Oui! Oui!…c'est très importante!"
So you want to begin with seven large carrots.
Peel and grate them in fine shreds using a hand grater or machine.
Then chop a half bunch of flat leaf parsley, leaving it coarse.
Make a dressing by mixing together:
-The juice of two lemons.
-2 to 3 tablespoons of olive oil
-a sprinkle of sugar
-salt, and freshly ground pepper
I often add a dab of Dijon mustard, but have learned not to interfere when Romain is telling me something. I just nod, and let him keep going since I've learned that when Parisians are speaking, it's best to just let them keep going.
Toss the dressing with the carrots really well, then taste. If you have a fork, great.
If not, don't be afraid to use your fingers. Mais oui!
Adjust the seasonings at this point. The carrots may need another hit of lemon or salt or olive oil. Don't overdress the salad; the carrots should be moistened and glistening, not swimming in dressing.
Eh…voilà! Once mixed, serve the carrot salad shortly thereafter. This feeds six to eight people as a side dish. If you want to make this advance, prepare the carrots and dressing separately, and mix together as close to serving time as possible.
UPDATE: A lot of people have asked me about the Moulinex device the French use for this salad. Unfortunately, the sturdy metal models, called a Hachoir à légumes (not to be confused with a moulin à légumes, which is a food mill), are no longer being made. And the plastic ones that they've replaced them with aren't very sturdy, and are overpriced outside of France. (They cost about €20 in France.)
I have a grater attachment for my KitchenAid stand mixer that works well, but if you want to get the long shreds of carrots, like those shown in the post, you can search for a "Moulinex hachoir a legumes" online, on websites like Ebay, Etsy, and LeBonCoin (in France).