During the summer months, when the temperature in Paris shoots up to nearly unbelievable heights, it turns my up-on-the-rooftop apartment into a furnace, and many nights dinner will be enjoyed on the roof, overlooking the city, watching the rest of it cool down after a broiling day. Somehow, my apartment doesn't enjoy the same cool-down period, perhaps its the price I pay for being closer to the sky? Because the roof is quite pitched, I'm always careful about not having a glass of wine with dinner. But if for some reason you ever stop hearing from me, well, c'est la vie.
This is a pretty quick recipe I tossed together for dinner tonight. A friend I was corresponding with sent me a message earlier jokingly noted that some of my recent posts were voluminous, so this one will be short and to the point. I promise.
For many years, raisins and other fruity things were forbidden in my cole slaw. But over the years, I've softened my stance and I'll allow it. Especially when you have a gorgeous, hefty-ripe mango from the market, raring and ready to go. I'd also bought a cabbage at the market last week because it was so pretty, with it's gentle torsade-like swirl. I'd seen one in a French food magazine, gently seared, and thought I'd do the same. It's called a Chou Cabus Cœur de Bœuf Moyen de la Halle. And if you wonder why I need a glass of wine with dinner, after a day of shopping for ingredients, now you know why.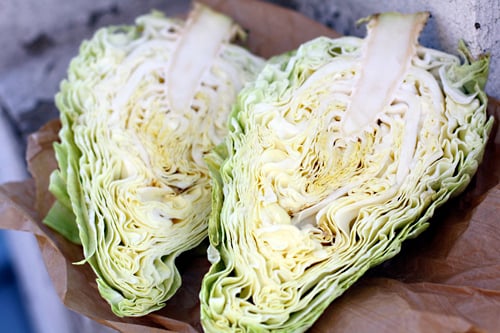 But it was so big it didn't fit in my refrigerator, so I had to use it pretty quickly, hence the darkening stems. You can make this crunchy salad very fast, especially if you marinade the chicken in advance, preferably overnight.
I let mine sit in a handful of Italian herb rub that I make every winter, add a pour of olive oil, and some dried Korean chile pepper powder, which seems to find its way into almost everything around here. Then I simply fry them on the stovetop, so I don't need to turn on the oven.
You can also toast nuts on the stovetop, although I find ten minutes in a 350ºF (180ºC) oven does a better job. So if you wanted to be extra-efficace, you could oven roast the chicken at the same time as the cashew nuts.
Although here I go again, running off. So here's the recipe…
Chicken Mango Slaw
This recipe, of course is open to all sorts of variations. Roast pork, especially the kind sold by Chinese butchers, is wonderful. Or vegetarians can use sautéed tofu. No mangoes? Try orange segments or slices of nectarines. You can use Romain's
French vinaigrette
recipe, or make a batch of your favorite. For slaw like this, I like to enliven the salad dressing with a bit of soy sauce, balsamic, or a few drops of toasted sesame oil. In the summer, I like my dressings on the vinegary or tart side so although I didn't have any limes on hand, I'm sure a squeeze of lime juice would add a nice tang to the salad.
1/3 to 1/2

cup (60-125ml)

vinaigrette dressing

1/2

large ripe mango

,

peeled and sliced into bite-size chunks

2

pan-roasted or grilled chicken breasts

,

cooled, then sliced

1/3

cup (40g)

toasted cashews

,

very coarsely chopped

3

tablespoons

freshly chopped fresh mint

,

cilantro, or chives

2

large carrots

,

peeled and julienned or grated coarsely

12

radishes

,

thinly sliced

4

cups (60g)

thinly sliced or shredded cabbage

1/4

teaspoon

red chile pepper powder
Put the vinaigrette in a large bowl.

Mix all the ingredients together.

Divide into two bowls, and serve immediately.
Notes
Do Ahead Tip and Notes: This slaw loses its crispy-crunch if allowed to stand too long, so if you want to do any of the chopping or making the dressing in advance, that's fine. But don't toss the ingredients with the dressing until the last minute.
In lieu of the toasted nuts, if you don't feel like turning on the oven, toss in some honey-roasted or dry-roasted peanuts. Or use my recipe for Candied Peanuts.
Related Recipes
Quick Coconut Ice Cream with Saffron
Creamy Feta-Red Wine Salad Dressing