Cole Slaw with Wasabi Dressing
One of the great things about France is that people spend a lot of time talking to each other. True, it's not so great when you're behind someone in line and they're carrying on a conversation with the sales clerk at the bakery as if they have all the time on the planet, when you're hopping up and down behind them (and there are people doing the same thing behind you) because you just want to get your baguette for dinner. But if you take the time, it's nice the enjoy the jovial nature of the French and slow down for a bit. As someone who is normally hyperactive, it's a lesson in patience that I've had to learn, which I practice on a daily basis.
Many visitors forget that and don't always have great experiences because they're in a hurry to do so much on their trip, or try to tick off the restaurants written up in the travel section of newspapers or magazines from back home. I always tell people to take a day off, and stroll a market or just sit in cafés for a while. Or find a restaurant off-the-beaten path for dinner, taking the métro into one of the outer neighborhoods.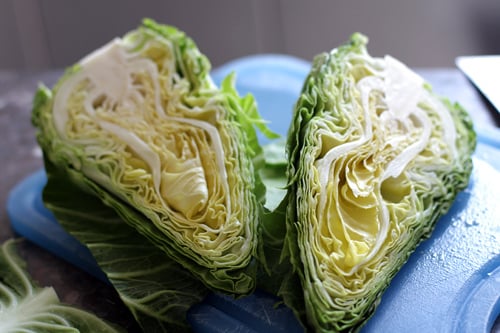 At my market, there is a great producteur where I now buy everything I can from, and we always spend a few minutes laughing (sometimes at my French), or just making conversation. A few years back, these twisted cabbages started showing up at their stand and due to their curious shape, of course, I was hooked!
They have the pleasant crunch of cabbage but are less aggressive and almost sweeter, more delicate in taste, than plain cabbage. They go by various names, from chou pointu (pointed cabbage), to cœur de bœuf (beef heart) cabbage. Since summer is here, I'm making more and more salads with shredded raw vegetables and I'd written up a recipe for wasabi vinaigrette for the Spice Islands blog, and thought I'd adapt for a spicy summer slaw.
It's pretty simple to make and can be a meal in itself, especially if you add roasted pork or tofu to the mix. As the vegetables change this summer, I'll likely try it with whatever comes along. But for now, I'm happy with this version.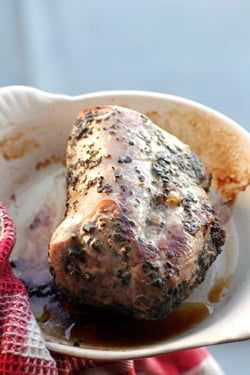 Cole Slaw with Wasabi Dressing
Feel free use a grater, electric or otherwise, to prepare the vegetables. But I prefer doing it by hand. It's pretty satisfying to chop everything into thin strips, especially if your knife is sharp. This dressing is a bit different from the ones you might find on a "Chinese chicken salad" – it's a bit more balmy and earthy-tasting due to the wasabi powder. You can make the dressing a day in advance and dress the salad shortly before you plan to serve it. At the end of the recipe, I've made a few additional notes.
For the wasabi dressing:
(makes 1/2 cup

,

125ml)

1/4

cup

fresh lime juice

2

tablespoons

wasabi powder

1 1/2

teaspoons

sugar

2

teaspoons

soy sauce

1/2

teaspoon

red chile powder

2

teaspoons

minced fresh ginger

,

peeled

1 1/2

teaspoons

fish sauce

2

teaspoons

toasted sesame oil

1/3

cup

oil

,

(I used grapeseed oil but you can use peanut or canola)
For the cole slaw:
4

cups (200g)

shredded cabbage

,

(about 1/2 head)

10

radishes

,

thinly sliced

2

medium carrots

,

peeled and shredded

1

small red onion

,

peeled and thinly sliced

2

avocados

,

pitted and cubed

5

cornichons

,

split lengthwise, then thinly sliced

1/4

cup (1/2 bunch)

fresh chives

,

minced

optional:

8 ounces (225g)

Chinese roast pork or bbq tofu

3

tablespoons

toasted sesame seeds
Make the dressing by mixing together the lime juice and wasabi in a large bowl. Let stand for five minutes.

Stir in the remaining ingredients until well-blended.

Add the vegetables, avocado pieces, cornichons, and chives bowl and toss with the dressing. Then mix in the pork or tofu (if using), then the sesame seeds.

Taste, and add more lime juice, if desired.
Recipe Notes
-To make Chinese-style pork, I marinate pork tenderloin in prepared Char Su sauce (on Amazon) overnight then roast it in the oven just until cooked through. There's a scratch recipe in the links below.
-If you can't get fresh limes, lemon juice will work as well.
-Fish sauce adds a certain je ne sais quoi, and really adds something special. But feel free to leave it out if unavailable.
-Other herbs, such as fresh mint and cilantro could certainly be used along with the chives to customize the slaw.
-Swap out a handful of roasted peanuts or pumpkin seeds in place of the sesame seeds.
-Add any other raw vegetables that you like, such as shredded broccoli, cauliflower, or kohlrabi, to the mix.
-Scallions aren't easily available in Paris, although spring onions are. In place of the red onion, you can used thinly sliced scallions or spring onions, if you wish.
-Most "wasabi" powders are blends of wasabi and horseradish (or mustard), including the powders you often find in Asian markets. Look for a brand with wasabi as the first ingredient, if possible. Various wasabi powders undoubtedly vary in strength. If unsure, use half the amount indicated then add more to the dressing, to taste.
Related Recipes and Links
BBQ Pork (Char Sui) (Rasa Malaysia)
Fresh Wasabi (Steamy Kitchen)
How to Make French Vinaigrette