Now THAT'S What I Call a Swiss Cheese Sandwich
A Swiss local in Lausanne was the first to tell me about Café Romand, "It's one of those places where – and how do you say it? – those men who are very pretty, that sometimes dress as women, go. You would like it!"
I'm still trying to figure out what that means because no one's every called me "pretty", and my only experience wearing women's clothing was trying on my mother's Emilio Pucci pumps (how could I not?) when I was around eight years old.
Plus the various times I've been to Café Romand, it was filled with families and locals, gathered around the wooden room, dipping bread into fondue pots or pondering a newspaper while having an afternoon coffee. The only pumps I saw were on the espresso machines.
To finish up our time in Switzerland with my tour group, we had lunch at the café, tucking in our last taste of Switzerland. I chose the perch with potatoes and salad, a specialty of the Lake Geneva (Léman) region, while one of my guests (who was eating a three-star dinner that night) opted for a simple cheese sandwich.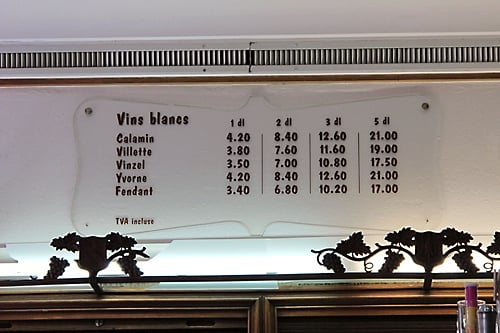 Perhaps she was right in expecting some bread with a few slices of cheese stuck in between, which is pretty much what I think of as constituting a cheese sandwich. But what came out was a grand platter, a molten flood of Swiss cheese with a barely distinguishable square shape underneath, which we deduced was likely the sandwich.
Although she and I had powered through a cheese fondue a few night before, bravely trying to reach the bottom of the simmering cheese pot when all the others gave up and declared a truce, we continued dipping and swirling our breads as the fondue reduced to a creamy, molten mass of gurgling Gruyère.
But she'd met her match with this sandwich and as valiantly as she tried, and tried and tried and tried, she finally gave up about halfway through. Honestly, I don't know how those pretty men – or anyone else, for that matter – can make it through one of these. I guess walking on heels requires more fortification than I imagined.
Just before, we'd all dug (and dug and dug and dug) into a pot of Mövenpick Gruyère Double Cream Ice Cream with Meringue bits and a touch of caramel in it. It was surprisingly good; you could taste the sweet, rich cream in every bite, and the little crunchy nubbins of meringue provided a little bit of variety in the
But the dessert another guest ordered became the star – and the most photographed – dish of the trip. (Even more so than me. Hrrmph!)
Out came a towering mound constructed precariously of meringues and whipped cream. Getting it from the kitchen to the table was quite a remarkable feat, and polishing it off would be another. But I trained my guests all week, and since this was the final meal, as they passed it around the table this dessert that took over a dozen people to tackle, I kept my faith in them. Well, until the waitress came breathlessly running over with a dish of ice cream that was meant to be plopped in the center.
"Il faut!" she exclaimed. ("You must!") And since we didn't want to be rude, she added the ice cream, then dove in to finish it off…with a little help.
Café Romand
Place Saint-François, 2
Lausanne, Switzerland


Related Posts and Links
Café Romand Video (YouTube)