Everyone has a story about the Swiss, which sometimes ends up with them getting reprimanded for moving something out of the exact place where it belongs. Or arriving 12.5 seconds too late and missing a train. So I was freaking out when I was en route there because I filled out the blank spaces myself on my railpass that asked for my name and passport number. Just after I did that, I read that it said not to do that: the station agent must be the one to take care of it.
I've learned what happens when you infringe on the rules in France and I was expecting them to void my ticket and force me to buy a new one. I was once on a train to Lyon and the birth date on my ticket was wrong—it said the actual date of the day of travel (that date) rather than the day I was born. And the conductor insisted I buy a brand new ticket.
Only because I insisted back for about ten minutes that it was actually not really possible that I was born on the exact same day as that train ride that he finally let this scofflaw off. (Also thanks to the woman next to me who intervened and pointed out that it was, indeed, inconceivable that I was born on that day.)
Ready for a fight, when the agent at the Swiss ticket window thanked me for filling out the information, so he didn't have to, all stress that I was carrying around instantly melted away, like a big pile of grated cheese in a warm simmering pot of Fondue.
Because Lausanne hosts a large university, it has a friendlier vibe than a lot of other cities in Switzerland. Plus the entire town is walkable and I only took the clean, efficient underground twice. Which makes this a nice place to explore for a weekend. To me, it's hard to travel anywhere for a couple of days because I have to spend the first few days getting acclimated to the streets and transit system, and have to deal with the frustration of getting lost (which I have an unfortunate tendency of doing) but here I was off and exploring right after I arrived.
The locals are fluid at being multi-lingual and polite and friendly. And on a more personal note (more so than revealing my never-fail ability to get hopelessly lost in whatever city I visit), there were plenty of restrooms available for use on the streets and in cafés. So you could drink as much coffee or Swiss wine as you liked and not have to worry about having any urgencies to deal with, as you do, um, elsewhere.
Speaking of Swiss liquids, truly, I'd never heard anything about Swiss wine because I found out that so little of it is exported. The white wines from the region of Leman, specifically in Lavaux are mostly made of Chassela grapes and served brisk and icy-cold. I've made the switch to white wine recently and nothing is better than a glass of the local white alongside a rich cheesy plate of Raclette or Fondue.
My only regret is that I didn't order a few cases to be shipped home because when I returned, I couldn't find any of those wines in the shops near where I lived, and I missed their taste. But I've learned from traveling that you don't have to take everything home—sometimes you just need to go back. And I will. (But with an extra suitcase.)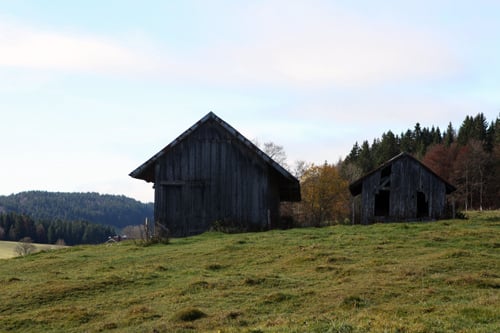 For those who really want to taste a large selection of Swiss wines in one place, Vinorama, which unfortunately is in a sleek, modernist building on the side of a small highway that doesn't take advantage of the magnificent lake view just outside.
Still, it's good for those who want to do a tasting or make some purchases. And with the efficient Swiss rail system, you can taste as much as you like since it's just a few blocks walk to the regional train station and back to Lausanne.
When I put the word out on Twitter I was coming to Lausanne, a bunch of people pointed me toward Blondel chocolate shop. And it was the first place I made sure to visit upon my arrival. Located next to a branch of Ladurée, this classic shop is narrow, so you're never out of arms reach of something chocolate.
I was particularly impressed with the shimmering candied orange slices dipped in dark chocolate and the old-fashioned charm of the place made me want to stay in there and inhale all the Swiss chocolatey vapors.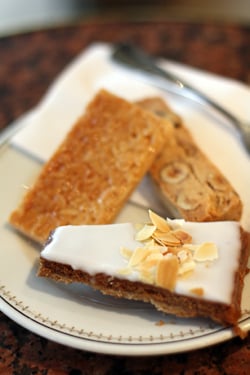 Another pastry shop that I adored was Zurcher, in the lakeside town of Montreux. (Although it's kind of silly to call anything here "lakeside" since everything is located pretty right by Lake Geneva.) This quaint pastry and chocolate shop has a tea salon where you can have a nice lunch, then head over to the counter and choose from some of the rather pretty Swiss pastries.
I was full but made room for three tea cakes; a honey-almond square, a bumpy hazelnut shortbread, and a thin spice bar filled with apricot jam, which I asked if it was one of my favorite Swiss treats, Zimtsterne, but found out it wasn't. It was very good and somehow I took one (or three) for the team and managed to eat all of them.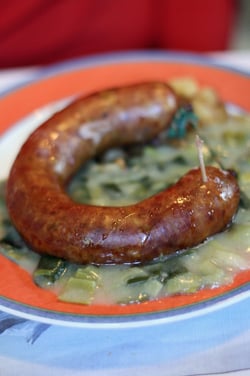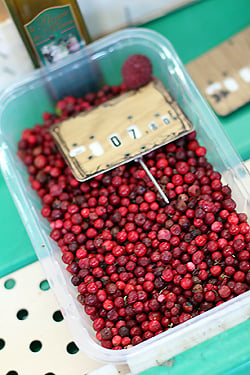 Aside from my copious testing of local specialties, like Raclette, Fondue, pan-fried lake perch, and of course, Zürcher Geschnetzeltes, I attempted to tackle a big plate of Saucisse au chou, smoked sausage made with cabbage. Yet I met defeat. However being a pretzel lover, I had better luck just outside the Globus department store (where I was looking for a metal raclette spatula), at Bretzelkönig, the Pretzel King.
Since it was lunchtime, and I'd worked up a hunger strolling through the vast gourmet food department at Globus (which was a bit pricey for lunch), I decided to multitask and have my pretzel as my lunch, and ordered one with butter and thin slices of viande de grisons (lean air-dried beef) sandwiched in between the salty twists of bread.
For those not on a budget and can afford to eat in places like Globus, you can make your own watch with master watch maker Olivier Piguet in his light-filled studio in the Swiss mountains. He told me that because winters are so harsh, locals didn't know what to do during the long, snow-filled months up in the Vallée de Joux, so they began making watches. (Me? I would stay in bed under a down comforter and watch DVDs until April.)
Over the course of two hundred years, what started small eventually boomed and most of the big name Swiss watchmakers, including Jaeger-LeCoultre, Blancpain, Breguet, and Audemars Piguet, are located up there. Thinking it might be fun to get a Swiss watch, I tried a lovely Blancpain watch on with a simple face, classic and elegant. After the saleswoman strapped it on my wrist, I modeled it longingly, and a friend said, "800 Swiss francs? That's not so much." (That's $800.)
Until I pointed out to her that there was an '11,' in front of that., which brought the total to nearly twelve thousand dollars. So I put it back.
I know these watches can take weeks to make but if you're interested in giving Swiss watchmaking a try yourself, you can with Olivier Piguet.
The hospitality business is, after all, a business. But the other side of the equation that sometimes gets overshadowed is the 'hospitality' side of things. For the low pay and long hours, few people go into the business for the money. It's something that is very demanding and few are cut out for it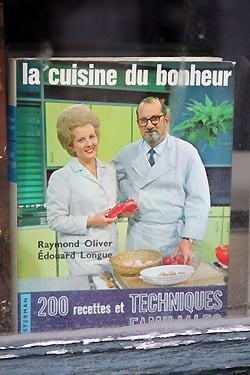 The Ecole Hôtelière Lausanne is considered the world's best training ground for those going into the hospitality business. And they only accept about one-third of the applicants for the highly sought-after places in their program. Young people come from a variety of countries to learn not just how to manage people, but how to provide top-notch service in hotels, restaurants, and in other businesses. Some of them do go on to become CEOs, Presidents, or General Managers, but no matter where they land, when they finish their studies at the school, they are highly sought after once they graduate.
It's tough to get in and unlike culinary schools elsewhere that will pretty much admit anyone willing to write a check, some of the applicants get accepted. So the students aren't coming here because mom and dad insisted on it; you have to really want to make the hospitality business your lifetime profession.
Having lunch in Le Berceau des Sens, the student-run fine dining room, the servers were professional, but not stiff. And although they get graded on if they made mistakes, it was charming to see them try not to crack a smile if they accidentally let a spot of wine drip on the tablecloth. And I couldn't help but grinning at the dilemma of a young woman trying to figure out under pressure how on earth she was going to cut uniform slices of cheese from cheeses of various textures and shapes while her professors discreetly observed.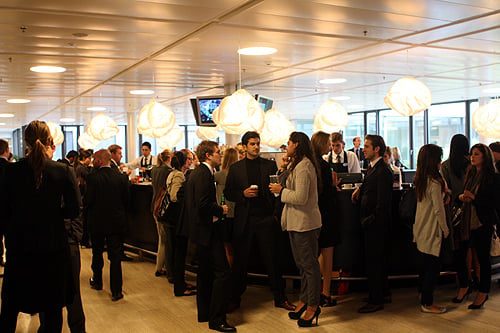 In our group of Americans, all of us noted that no teenager in America would ever want to go into this business; waiting tables in most countries isn't based on tips, but is considered a career. And one woman in our group from New York, who had teenagers, laughed when we passed by the student café and said "Could you imagine a teenager back home wearing a suit and tie to class?"
Or being told how to cut their hair, trim unruly facial growth, or remove jewelry. Which is something I wondered when I passed by the photographs on the classroom wall depicting what kinds of jewelry, beards, and tattoos were and weren't acceptable.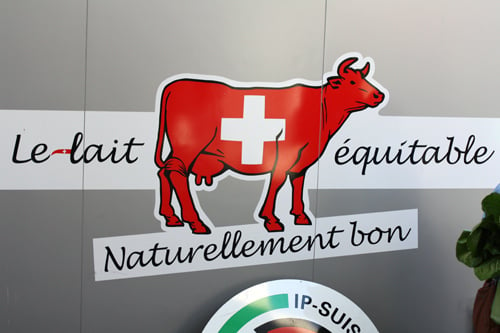 Food trucks may have taken over the parking lots of America, but with apologies to all the hip folks lurking outside of taco trucks and eating kimchi-filled tortillas, I haven't heard of one yet dispensing fresh milk and cream right from their farm. Holy cow! If we had one of those in Paris, I'd be there filling up bottles every week. More likely, every day.
But man cannot like by butterfat alone and the streets of the center of Lausanne become a large-scale open air farmers market on Wednesdays and Saturdays. Truly a market of farmers, I didn't see much produce shipped in from elsewhere and when I mentioned that to Chef Prutsch (who taught me how to make fondue and was kind enough to take me to the market), he said, "We have such wonderful produce raised locally. Why would be want to ship in things from other places?"
The market wowed me and I just love food markets. Fruits were a bit scarce, since it was late fall, but squash and pumpkins were everywhere, in all shapes and sizes. Plus rarities like parsley root and yes, even kale (called Choux Nordique) were abundant. And even though I didn't come home with a Swiss watch, I did have a big bag of that kale in the mini-fridge at the hotel, ready to bring home.
Being fall, I saw plenty of wild mushrooms scavenged from the forests outside of Lausanne, and even a few truffles. But if you're a cheese-lover like I am, it was the fromagers with their runny wheels of Mont d'Or and slabs of Gruyère that were the most tempting.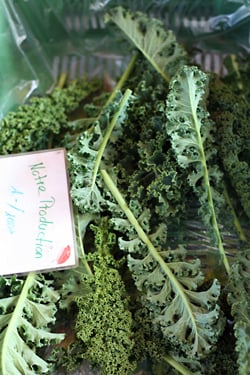 For those into other kinds of temptations, like scouring flea markets, there's a small flea market nearby and although there were lots of housewares and such, I managed not to bring home anything. (I was still obsessed with that metal raclette spatula, but the one in the department store was a bit flimsy for thirty bucks.)
And I had my bag-load of kale, which I was protecting like d'or (gold).
But I did see a lot of cheese and since it was nearly winter, Mont d'Or season was in fully swing. I was a little confused because in France, a large wheel of Mont d'Or is called Vacherin, although in Switzerland, when someone says Vacherin, it generally means the firmer Vacherin Fribourgeois cheese that's used in fondue. I was confused when Chef Prutsch kept telling me that he used "..a mix of Gruyère and Vacherin" in his fondue. And I kept thinking to myself, while looking at the gooey wheels of cheese, "No wonder the fondue in Switzerland is so good!"
Many consider Mont d'Or the könig of raw milk cheeses since the liquidy, unaged nature of it really makes you focus the flavor of the milk and the cheese. For many years it was not exported to countries like the United States (well, legally at least) because it was a raw milk cheese that was aged less than sixty days. Nowadays all of it is made in Switzerland with thermalized (heated) milk.
The French version of Mont d'Or is still made with raw milk. And the best one I've ever had was from Barthélémy (51, rue de Grenelle) in Paris.
I've had extraordinary versions of this cheese, and some less-enthralling. I guess when you know how good it can be when it's perfect you're disappointed when it's not. Some locals like to warm it up in the wooden container, which the cheese is ripened in to give it flavor, and will pour a bit of kirsch or white wine over it before baking.
I remember a story about an American food magazine publishing a recipe for baked Mont d'Or, and after a bunch of readers wrote in mentioning that the heat of the oven caused the glue in the box to unband the wooden mold in the oven, they realized that in Switzerland they use staples to hold the box together. But for the United States, staples are a no-no and glue was used for the exports.
The cheese is such an important part of the region that for dessert at the Brasserie Carillon the pastry chef makes a custard-like cake created in the same wooden box, with a marzipan 'crust'. (Above, left.) And there's a Museum of Vacherin up in the Vallée de Joux and I not only saw the history of the cheese displayed, but I got a hefty taste of the cheese as well, directly from the affineur (ripener). Which aside from the gorgeous views everywhere you looked, made the trip up the mountain worthwhile.
I don't normally stay in very fancy hotels, but after being a guest at
the Lausanne Palace and Spa, I could be convinced otherwise. From the moment I checked in they really took care of everything, And unlike solicitous service that one can find in high-end establishments, everyone here was genuinely proud of their job. (Working in the restaurant business for thirty-five years, it's pretty easy to tell when people are truly professional and helpful, rather than just acting that way.)
Many of the rooms have balconies overlooking Lake Geneva. There is a Cuban-style bar with a list of specialty cocktails that'll knock your socks off (although the prices will make you stop at just two, which is probably a good idea). But best of all, there is a spa and hamman (Moroccan steam bath) in the hotel and you're welcome to just walk down there right from your room sporting your bathrobe and soak away in the hot vapors. And that was pretty priceless.
---
Lausanne Travel Notes
From Paris, the trip to Lausanne is very easy as there is regular high-speed Lyria train service at frequent intervals during the day. Some trips require a change of trains and others make the trip direct in three-and-a-half hours. International flights fly directly into Geneva, which is less than an hour away by train from the airport.
The best way to get around Lausanne and the region is by train, and by foot in cities. You can get a Swiss railpass if you plan to do a lot of traveling but since distances are short, it probably makes sense just to buy tickets as you go. (The Vallée de Joux, mentioned above, is probably best explored with a rental car.) For smaller places, or those on Lake Geneva, train stations are located in the center of towns and Swiss trains and buses are clean and dependable. In warmer months, the train system includes boats that traverse the lake.
Like many European cities, locals of all stripes use public transit. Some hotels will give you a free public transportation card, so it's worth asking for.
Most Swiss are multi-lingual and although English is widely understood, it's always best to ask folks if they speak English if you are an Anglophone. The food is very good in this region, as are the wines, and I recommend drinking only local wine while you're here. If you're unsure of what to order, ask the waiter for a local recommendation.
Goods and services in Switzerland are not necessarily inexpensive; an espresso at a café costs 3.60CF ($3.60). However if you stick to local specialties, such as cheeses and shop in bakeries and at the market, you can eat well and not break the bank.
The Lausanne Palace is a stunning hotel which falls into the luxury category. I've stayed at The Hotel de la Paix, which is quite nice and comfortable and less plush than the Lausanne Palace. And rooms are less.
I asked a woman from the local tourism board for affordable hotels in the area and she recommended some favorites. I have not stayed at any of them, and when I raised an eye about the youth hostel she said they had private rooms which were quite clean and affordable. Swiss hotels in all categories tend to be very tidy and well-kept.
Aulac Hotel (UPDATE: I stayed here and it's moderately priced and located near the lake. However is it located on a main street as well and light sleepers might want to book a a room in the back, especially in the summer as the hotel isn't air-conditioned and there is a certain amount of street noise.)

In Nearby Vevey

Related Links
Librairie Gastéréa: Gastronomic Bookstore
(Note: Some of the travel for this trip was arranged with the assistance of the Lake Geneva of Switzerland Tourism Board in preparation for a possible culinary trip I'll be leading there in the future.)