Marche des Producteurs in Paris
I was actually thrilled to see a market of producteurs that was happening this weekend in Paris. We have some great food available in Paris but I don't get the opportunity often to meet and shop directly from the people who are producing the food. This is especially true with meat, which is sold by butchers and not the people who raise it, but I also wanted to see some of the more interesting roots and vegetables that don't always find their way in to Paris from the countryside.
Generally speaking, a lot of these tasting salons that are held around the year in Paris are well-stocked with three things: foie gras, mountain cheeses, and sausages. Wine doesn't count as one of the three, as that's a given.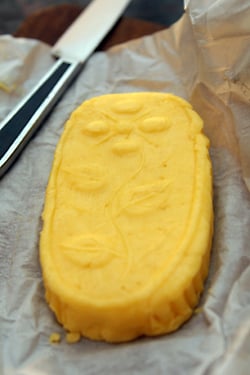 There are lots of people offering tastes of wine. It's one of the few things where samples of it at markets are gladly given. I remember a few years ago at a wine fair I told the seller that I'd take a bottle of his Muscadet, since I was having oysters that night, and he was rather shocked that I didn't want to try it first. (So I did, just to be polite.) But I'm actually happier sitting in a café and enjoying a glass rather than manoeuvering around other people en masse, Costco-style, jostling for a little sip.
My friend pointed out to me that almost all the other shoppers at the Marché de Producteurs were older people, a vast majority were people in their 60s or later. A rather interesting observation. Another thing we observed was lots of honey. I love honey and often when I have out-of-town guests, I implore them to buy some of the unusual honeys available in France, but they don't seem as excited as I am. I attribute that to the prevalence of supermarket honey they're used to and I practically force people to try something like chestnut honey, which is brusque and bitter. And most who try it eventually fall for it, too.
Although there were no shortage of honey producers, the stand that drew me in was one manned by a lovely woman with wild red hair. She gave a sample to my friend first, who was a woman, which she said was "polite". I said that was "sexiste" and she rightly agreed. So from then on she alternated handing off samples to us.
She freely gave us tastes of all her honeys: bourdaine (alder), bruyère (heather), chestnut, sunflower (tasty, but quite sweet) and tilleuil (linden), which had a bit of a minty aftertaste. They were all fantastic and even through I was just planning on buying a small jar of one, I ended up with three bigger ones.
There was only one vegetable vendor and I showed him the wilted kale leaf that I bought back from Switzerland, which looked a little sad after over a week in my refrigerator, and my friend and I both got even sadder when he confirmed what most expats have known for a while: There's no kale in France. He said "In Holland, there's lots of it!" That's the French for ya, always looking for the silver lining.
I was hoping he'd take a cue (and the leaf) and find some seeds and plant some, as I asked the producteur at my local market if he wanted to do, but no one seemed too interested. So I am hereby ceasing all searches for kale as of today. However if someone wants to start up a farm near Paris, let me know and I'll promptly get it all sold for you. And you can put me down for the first ten kilos.
There was a man steaming fresh snails (no thanks, there's a reason they're serve them drowned in butter and garlic), a woman selling dried tangles of aromatic herbal remedies and infusions (who was swigging from a plastic liter bottle of Coke), patrially-dried prunes from Agen, wine, pains d'épices flavored with everything from sour cherries to chocolate, wine, fresh grape juice, wine, and plenty of meat.
Faisselle is something that doesn't exist in America. It's curdled milk that's drained and I picked up two containers of it made with goat's milk. I asked if they had any fresh goat's milk, which has become another "kale" (or customer service) in its Parisian elusiveness, which I keep thinking would make a great ice cream with some poached figs, but it was a no-go.
I'm sure other countries have cheeses similar to faisselle, but I'm not sure as it may not be something that has global appeal. This was pretty goaty and almost was fizzy and made me pause for a second when I slid a slithery spoonful in my mouth. Even a generous spoonful of bourdain honey didn't tame it much. Still, I liked it all the same although it's not for everyone.
The same vendor had wooden crates lined up with silver dollar-sized cushy disks of Rocamadour cheese. Although an AOC cheese, meaning that their production is controlled to ensure certain standards, like Saint Marcellin, there are ordinary Rocamadours and excellent Rocamadours. Since the great ones have the same calories as the not-so-great ones, call me crazy, but I opt for the great ones. And these were really great. At €1 each, I thought I'd splurge and buy two.
I also saw some immense wheels of Raclette cheese, which I was tempted to buy after my recent sojurn to the land of Raclette. But I passed in favor of stocking up on small containers of yogurt de brebis, which a fellow nearby was selling for just 60 cents each. Most of them, I noticed, were pretty liquidy. Of course, when I pointed it out, he said "C'est normale!"—so I bought the six that I asked for anyways. So now I have six containers mostly of sheep's milk whey. If anyone has any recipes that use six half-cups of sheep's milk whey, I up to my ears in whey.
What did cause a fuss was the stand selling lait d'ânesse, or everyone's favorite…donkey milk. Okay, they're weren't selling the fresh milk itself so you don't have to worry about finding a Donkey Milk Ice Cream recipe on the site (although I did try horse milk, once) but there were selling soaps and beauty products made from this supposed magical elixir of the
The stand was packed with women checking out the creams, lotions, and soaps. I guess I should have bought one just to see if it really was amazing, but the picture of the donkey being milked wasn't exactly making me want to rub it all over my body.
In addition to an overload of sheep's milk whey, does anyone out there ever use nefles (medlars)? The first time I saw them, they were hanging from a tree in the countryside and Romain said that someone made something from them and it tasted like—well, let me put it this way, I won't repeat what he said, but it wasn't something you want to think about when you're putting food in to your mouth. So I didn't buy any on impulse because after a certain someone's description, I was pretty much turned off from giving them a try.
My biggest impulse purchase was an oval of raw milk salted butter, which I bought just because. I have a few slabs of butter in my refrigerator already but even through the frosty window of the little refrigerated case, and the brilliant yellow-colored butter radiating out from underneath the wax wrapper, I knew it would be absolutely terrific. I'll let you know tomorrow morning, after I've finished it off for breakfast.
Related Links and Posts
Marchés des Producteurs (List of producers markets in France)
Faisselle Recipe (Tartlette)
Goat Milk Faisselle with Chives (Chocolate & Zucchini)
How to Find Foods and Other Items Mentioned on the Site