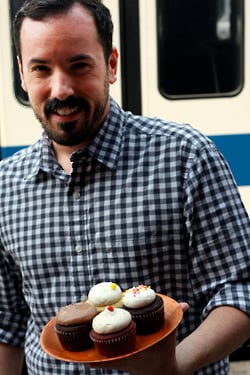 I'd been planning for this trip for years, ever since I first laid my hands on a copy of Baked, the cookbook. Quite a few baking books come out and a lot are really good, but this one spoke to me. I mean, each and every dessert sounded like something I not only wanted to bake, but wanted to eat. As in right away.
As I read through the pages, I have to say that I fell in love with everything in there, from the Baked brownies to the Sweet and Salty Chocolate Cake. With those swirls and swirls of shiny, dark chocolate, I just wanted to dive right into that cake headfirst. And I know this might get me into a little trouble, but I found I had a sweet spot for the authors as well.
I was entranced because Renato Poliafito and Matt Lewis of Baked share with me a similar sensibility about desserts: we seem to agree that forceful, dynamic flavors, trump elaborate presentations, and prefer to let just a few great ingredients shine. Unfortunately it took me about a year after I read their book (and an interesting bus ride from Manhattan) to get there, but it was worth the wait.
Located in Red Hook, in Brooklyn, Baked seemed to me to be an unlikely place for a bakery. But as they say: If you build it, people will come. And I was glad to be one of them. I'd stalked called them in advance to see if they had some free time to share some treats and when I arrived, I didn't know where to begin.
Big, steaming cups of hot coffee were the first order of the morning as I plowed my way through a platter of cookies while they were being nice, polite gentlemen and trying to properly welcome a visitor. Normally I make a nosedive into anything chocolate, but it was the Apricot Bars with their crumbly nut topping that I found myself reaching for repeatedly.
I'm sure they thought I was some sort of sugar-zombie the way I attacked it, but it was quite wonderful and had a sweet-savory je ne sais quoi that I couldn't figure out until I opened up their latest book, Baked Explorations and found the secret ingredient: a generous spoonful of fresh rosemary in the dough.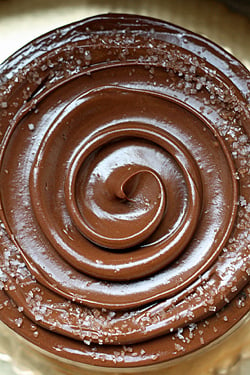 I'm going to go out on a limb and say that if these guys ever want to open a branch of Baked in Paris, I'll be there kitchen slave and do whatever they ask. Unfortunately I left my whips and chains back in San Francisco so I don't think that's going to happen. (Admittedly, I don't think they're planning on opening a transatlantic outpost so you're all safe from seeing me in leather and shackles.)
But one thing I did bring with me to Paris were bags of dried California apricots, which are what they use for these apricot bars. Unlike other dried apricots that are plump and sugary-sweet, we used to call these "dried monkey ears" for no other reason than we were being goofy in the kitchen. If you give this recipe a try, do hunt some down. Most grocery stores in the states carry them, including Trader Joe's (and Sun-Maid), and although I've not seen them in France (except in my pantry), when I was in Switzerland recently the dried apricots sold in the Migros supermarket were just as tangy as those from California. So don't monkey around; use the right dried fruits.
For some reason, I woke up the other morning at 3:30am after an awfully late dinner of steak-frites the night before and couldn't get back to sleep. So I pulled out a baking pan, started simmering some apricots, and gave these fruit bars a go. I wanted to make the Chocolate-Covered Marshmallow Cups (page 178), but I don't think the neighbors would have appreciated the sound of my stand mixer whipping meringue at that hour, so instead I treated them to the smell of baking a buttery shortbread crust, with a sly edge of rosemary.
Who would mind waking up to that?
Apricot-Rosemary Squares
Adapted from
Baked Explorations
by Matt Lewis and Renato Poliafito I tweaked the recipe just slightly. I added a few swipes of fresh lemon zest to the dough, which added a little bit of zing to compliment the fresh rosemary. For those with a flair for the exotic, it might be fun to try these also with freshly ground cardamom (1 teaspoon) in place of the rosemary to take them in a different direction. My topping came out a bit more crumbly than those at the bakery, probably because I thought the topping needed more nuts than indicated in the recipe. Which taught me not to mess with success. I had some leftover white wine that I used in place of the water for poaching the apricots which gave them a more complex flavor so you can use either. But I agree with the authors that California dried apricots are much, much better than their sweeter counterparts from other countries. So try to use them if possible. If you can't get them, add the juice of half a lemon to the poaching liquid.
For the rosemary dough:
12

tablespoons (170g)

unsalted butter

,

cubed, at room temperature

1/2

cup (70g)

powdered sugar

1/2

teaspoon

salt

3/4

teaspoon

vanilla extract

grated zest of half a lemon

1 1/2

teaspoons

finely chopped fresh rosemary

1 3/4

cups (250g)

flour
For the apricot filling:
2

cups (8 ounces, 230g)

California dried apricots

1 1/2

cups (375ml)

water or white wine

1/2

cup (100g)

granulated sugar

3

tablespoons (60g)

honey

2

tablespoons

brandy

pinch

of salt
For the crumb topping:
1/2

cup (70g)

flour

1/2

cup (95g)

packed dark brown sugar

1/3

cup (40g)

pecans or almonds

,

coarsely chopped

pinch

of salt

3

tablespoons (45g)

unsalted butter

,

cubed, chilled
Line a 9-inch (23cm) square pan with aluminum foil then butter the insides or spray with cooking spray. (In the original recipe, the authors said to grease the pan then line it with parchment paper, leaving an overhang on two sides of the pan.)

Make the rosemary dough by creaming the butter with the powdered sugar and salt in the bowl of a stand mixer, or by hand, until it's light and fluffy. Add the vanilla, lemon zest, and rosemary, then gradually add in the 1 3/4 cup (250g) flour, mixing until the dough is smooth.

Transfer the dough to the prepared baking pan and pat it flat into the bottom of the pan using lightly floured hands. Refrigerate the dough-lined pan for at least 30 minutes. (No need to wash the mixer bowl; you can use it as is for the crumb topping in step #7.)

Make the apricot filling by combining the apricots, water (or wine), granulated sugar, honey, brandy, and a pinch of salt in a medium saucepan. Simmer over low heat for about 45 minutes, or until all the liquid has just about been absorbed. Let cool for a few minutes, stirring, then puree in a food processor until smooth.

Preheat the oven to 350ºF (180ºC).

Baked the rosemary shortbread for 25 to 30 minutes, until golden brown. Once baked, let the shortbread cool to room temperature.

Make the crumb topping by mixing together the 1/2 cup (70g) flour, brown sugar, nuts, salt, and butter in the bowl of the stand mixer, with the paddle attachment, until the mixture just barely starts clumping together.

Spread the apricot filling over the shortbread in the pan evenly, then top with the crumb topping and bake for 20 to 25 minutes, until the topping is browned.

Remove from oven and let bars cool completely in pan.

To slice, lift the bars out of the pan by grasping the edges of the foil. Slice into squares.
Notes
Storage: The bars can be stored at room temperature or in the refrigerator for up to three days. Variation: For those of you wishing to use a different dried fruit, the yield on the apricot paste was 2 cups (about 500g), in case you wish to make a substitution.
Related Links
Baked (Website)
Baked (Facebook page)
Baked (Twitter)
California Dried Apricots (Amazon)
Baking Ingredients and Substitutions
Sweet & Salty Cake (Martha Stewart)
Buckeyes (Smitten Kitchen)
Salted Butter Chocolate Chip Cookies
Chocolate-Covered Caramelized Matzoh Crunch