Baked Brownie Recipe (with Altoids)
When I was in New York City in October I fell in love. Deeply and madly.
I'd swapped apartments with a friend and as I was leafing through her stack of new baking books, I became hopelessly smitten with one in particular: Baked: New Frontiers in Baking.
And even though both my suitcases were dangerously over-packed (although my new iMac was more than worth the five minutes I spent charming the United agent so he'd waive the overweight surcharges), and I already quite a few other cookbooks wedged in there, I reasoned there was always room for one more.
Speaking of things I wanted to pick up in New York, I also picked up a few packs of Altoids mints, as I've been meaning to write up a brownie recipe here that I hadn't made in a long time, one that I had a crush on as well.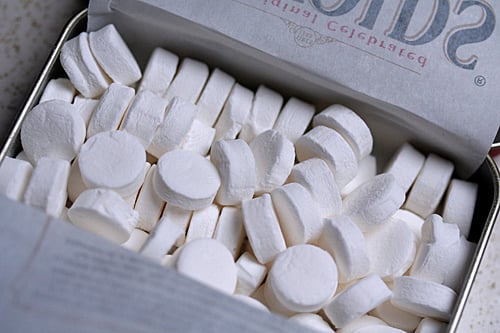 Years ago, when I was a dewy-eyed, young 'um, I had a silly fantasy about being a guest, and cooking, on a major daytime talk show. I knew that Rosie O'Donnell loved Altoids and talked about them constantly, so I came up with a recipe and sent a batch to the public relations folks who handle Altoids in New York, in hopes they'd book me.
They wrote back right away that they loved the brownies, but I never heard from them again. S%$&t!…stood up—!
Now that I've confessed at least one crush to you, I should also let you know that I have a crush—not just on the crushed-Altoids in brownies, but on the owners of Baked, in Brooklyn. For one thing, they're bakers. For another thing, I can't recall a baking book I got where I wanted to bake every-single thing-in-the-damn-book.
Like…
…Sweet and Salty Chocolate Cake?—Two of my favorite flavors, chocolate and fleur de sel, from two men after my own heart.
…Root Beer Bundt Cake?—Since I can't find Altoids here, how am I going to make that one? And I'm not bringing a 6-pack of root beer back from the states on my next trip. I think I can only push my charm with the United agents so far.
…Peanut Butter Crispy Bars?—Someone else was smitten, too.
…Malted Milk Chocolate Sauce?—Sorry, I can't answer…since I'm rifling through my cabinets for my jar of Horlick's.
…Peanut Butter Pie with Cookie Crust?—Ok, this is worth using up one of my precious jars of hand-carried organic peanut butter for.
…Banana Espresso Chocolate Chip Muffins, full of melting chocolate morsels?—Be still my heart.
And speaking of crushes, I've taken a shine to lining my brownie pans with aluminum foil, which makes lifting the brownies out a breeze, as well as making clean up easier, too. (That is, unless you live in France where the foil is tissue-thin, and when you lift the brownies, the foil that you're grabbing rips, and you panic and scramble to contain the brownies.) Simply press the foil on the outside of the baking pan, to mold it, then flip the pan and gently guide the foil to fit inside the pan.
Try it next time you bake brownies—you'll love it, too!
Oh, and the bakers are adorable, too. But that had nothing to do with my falling hard for this book. Whatsoever. After all, people buy my books, although publishers always hide my picture mysteriously inside. My guess is that it's part of a vast conspiracy, part of a greater overall marketing move on my publishers part.
I even sent a message to them, letting them know how great I thought the book was and got a nice response back, which proves that some folks in New York like me. The authors, Matt and Renato, don't have a television show, but when they do, I'm sure my phone will be ringing to appear as a regular guest.
Now excuse me while I go sit by the phone.
And eat my brownies, while I wait for it to ring.
; )
"Baked" Altoid Brownies
Adapted from
Baked: New Frontiers in Baking
by Matt Lewis & Renato Poliafito Crush the Altoids in a sturdy freezer bag with a mallet or rolling pin, or in a
mortar and pestle
. They should be relatively fine, but I do like having little bits remaining. They make a few varieties, but I've only used the peppermint ones, although the others will likely be just as good. If you want your brownies even more minty, add the larger amount of mints. You can add some pure mint extract to the batter, too.
11

ounces (315g)

bittersweet or semisweet chocolate (60-75% cacao)

,

chopped

8

ounces (215g)

unsalted butter

,

cubed

1 1/4

cup (175g)

flour

1

teaspoon

sea salt

2

tablespoons

dark, unsweetened cocoa powder

, (I used Valrhona)

1 1/2

cups (300g)

granulated sugar

1/2

cup (120g)

packed dark brown sugar

5

large eggs

,

at room temperature

1

teaspoon

vanilla extract

optional: 1/4-1/2

teaspoon

pure mint extract

1 to 1½

packages

of Altoid peppermints

,

(80-120g), crushed (See Note)
Preheat the oven to 350F (175C). Line the inside of a 9 by 13-inch, or similar sized baking pan, with foil. Butter or spray lightly with cooking spray.

In a large bowl set over a pan of simmering water, melt the chocolate and butter.

In a small bowl, whisk together the flour, salt, and cocoa powder.

Once the chocolate is melted and smooth, over the heat, whisk in both sugars. Remove from heat and whisk in three of the eggs completely, then whisk in the other two, along with the vanilla and mint extract, if using.

Sprinkle the flour mixture and the Altoids over the top and using a spatula, gently fold in the dry ingredients until just combined; there might be just a trace of the flour in places. Do not overmix.

Scrape into the prepared pan and bake for 30 minutes, until a toothpick inserted into the center comes out with just a few moist crumbs attached. Like most brownie recipes, it's best to err on the side of underbaked than over.
Notes
Serving & storage: Once cool, wrap the brownies well. These brownies are even better the next day. Since the recipe makes quite a bit of brownies, extras can be cut into squares, wrapped, and frozen for a few months.
Note: If you live somewhere where Altoids aren't available, we're in the same boat. You might want to play around with grinding up any mints that might be available, such as Vichy mint pastilles in France, or Leone mints, in Italy. Since I haven't tried any others elsewhere, but for the price of a plane ticket, I'm happy to come visit and check out any and all of your local candies. ; )
Related recipes and tips:
Frederick Schilling of Dagoba Chocolate
Nick Malgieri's Supernatural Brownies
Chocolate (My Amazon Selections)
Chocolate-Covered Caramelized Matzoh Crunch