Spritz
Cocktail culture has landed in Paris. It took a while, though. France has always been known for its wine and beer, rather than Torontos, Cosmopolitans, and Martinis. And many of us have memories of trying to explain to a very confused café waiter how to make a martini, when they want to serve you a glass of Martini & Rossi (vermouth).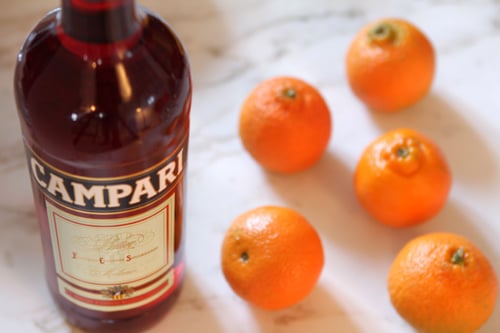 I've been reading Boozehound by Jason Wilson, who writes the spirits column for The Washington Post, who I met last year when I visited Cognac. I got a good laugh at his story about going to Tuscany and being unable to find anyone drinking or even knowing what Tuaca was, which reminded me of trying to find a café in Paris shortly after I arrived a few years back that even knew what Lillet was. (And being served a tall glass of milk, instead.)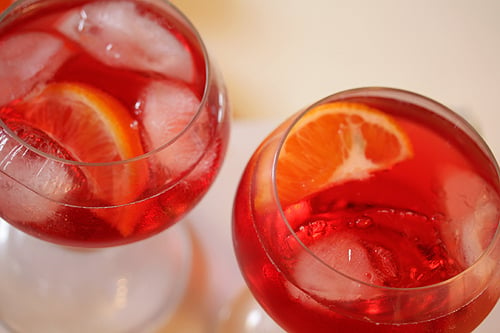 One drink that has taken Paris by storm in the Aperol Spritz. Thanks for a concerted effort on the part of the company to get the bitter/sweet orange aperitif into every bar and café, Parisians are drinking them up.
When I was in Trieste, Italy, learning how to make espresso, I discovered the Spritz as everyone there was drinking them as well, which isn't unusual due to its proximity to the birthplace of Aperol.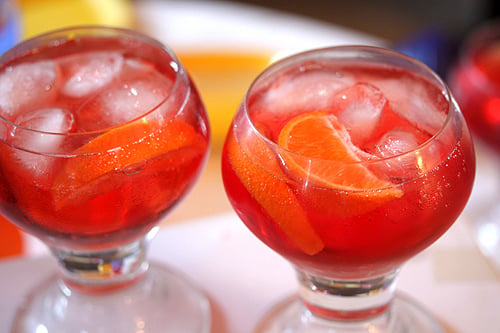 Because it's from Italy, it's normal to use Prosecco to give a Spritz its fizziness. I also prefer to make mine with Campari, which more bitter than Aperol, and I tend to like drinks with a bitter edge to them.This is a great drink for summer since it's not overly potent, and something that's also nice to serve at aperitif hour when you want to serve a low-ABV drink.
I first had a Spritz when I was in Trieste, Italy. The bars were packed at happy hour, or apertivo, which is because the bars put out copious amount of snacks to go with all the drinks and you're welcome to help yourself. Everyone was drinking large wine goblets half-filled with ice, with a bright orange drink in it, so I ordered my first Spritz. And then my second. Aperol is made with sweet and bitter oranges, but you can use another aperitivo like Campari. Campari is pretty strong so I use less of it, but you can customize to taste. Be sure to use plenty of ice!
2
ounces
Aperol,
or 1 ounce Campari (or another red bitter aperitif)
1. Fill a footed goblet or glass generously with ice cubes.
2. Pour in Aperol or Campari, then add Prosecco.
3. Add a splash of sparkling water and a slice of orange.
Recipes and Related Links
Guide to Italian Aperitivo and Drinks in Italy (Ms. Adventures in Italy)