Spritz
Cocktail culture has sort of landed in Paris. I like cocktails but for some reason it just doesn't seem right to drink them here. Perhaps it's cultural since France is more known for as a country for wine and beer drinking rather than downing Screwdrivers, Cosmopolitans, and straight-up Martinis. A few cocktail places have opened where I'm told they serve decent drinks, and Mojitos have become omnipresent during les happy hours, but if you order a Martini in a bistro you're almost certain to get a class of red Martini & Rossi with a dinky ice cube idling away on the surface.
And I have memories of trying to explain to a very confused café waiter how to make a martini for some guests who just had to have one before lunch. And even though I warned them away, out came a shot glass with one ice cube and some straight gin poured over it.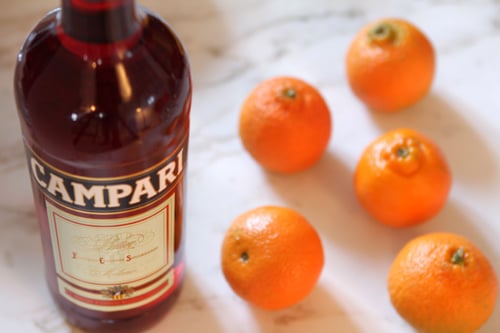 Tip: Not that I'm a cocktail expert, but if the waiter or bartender doesn't know the kind of drink you're ordering, I don't recommend ordering one. Aside from a well-known aversion to icy drinks (I've been told they can freeze your stomach…ouch!), in their defense, ordering a cocktail in a French bistro is like going into TGIFridays and asking them to make you Bouillabaisse. Just because they have some fish in the refrigerator—or freezer—doesn't mean that they're going to whip you up a decent bowl of the classic fish soup.
I've been reading Boozehound by Jason Wilson, who writes the spirits column for The Washington Post, who I met last year when I visited Cognac. I got a good laugh at his story about going to Tuscany and being unable to find anyone drinking or even knowing what Tuaca was, which reminded me of trying to find a café in Paris shortly after I arrived a few years back that even knew what Lillet was. (A being served a tall glass of milk, instead.)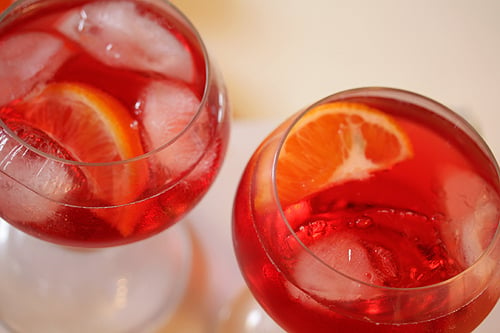 I don't know all that much about spirits, which Jason notes came about because some people see 'spirits' when drinking them. (I've not seen any spirits when drinking but do know that in my everyday life, I don't have any problems seeing things that aren't actually there.) But the book piqued my curiosity because I am as intrigued and interested as he is in the regional lore wrapped up in some of the lesser-known liquors.
But there's also a lot of fantasy surrounding some of them. I loved the story about people believing publicity that showed herbs and elderflowers picked by beret-wearing men on bicycles in the mountains of the Savoie, which cause a long and hearty laugh from someone at the liquor company, in the mountains of the Savoie.
Jason isn't afraid to speak his mind, which is another reason I found the book enjoyable enough to lend a quote for the back cover. He explains why dry martinis aren't any good (and hoping that we can retire jokes about "…just waving unopened bottles of vermouth near the glass", which really are no longer amusing) and gets a few digs in about how the hipster movement sparked the faux speakeasy in America—I never realized that serious cocktail bars banned vodka but perhaps I'm a keychain-dangling hipster because I've grown weary of vodka-based cocktails myself. Jason is more of a traditionalist rather than a snob and simply favors basic cocktails like Sazeracs, Manhattans and a Sloe Gin Fizz made in the classical tradition and with the right liquors.
The book got me hankering for a cocktail. If I'm reading a cookbook, I'll usually start bookmarking recipes and often find myself shortly thereafter rifling through my kitchen cabinets looking for the right pan or gathering ingredients. While reading Boozehound, I wanted to shake and stir up a few of the drinks right away but realized how understocked my liquor shelf is when it comes to fixing classic cocktails. I've been tinkering with the ideal of turning this into a cocktail blog, but I don't know if my liver could keep up with all the recipe testing involved.
Even though there aren't instructions in the book for the Spritz, I've been wanted to make them at home ever since I learned about them when I was in Trieste, Italy learning to make coffee. The base is a liquor called Aperol and—of course, I looked through literally fourteen stores, zig-zagging Paris trying to find it. When I did come across one lonesome bottle, the €28 ($38) price tag kind of knocked me for a loop; it's about $20 in America. Since France shares a border with Italy, I was curious as to why the price was so much higher. When I asked the Italian shopkeeper, she said "Les taxes! Les taxes!"
Then we had a discussion on how to correctly pronounce "Spritz" in Italian (it's kind of like schvitz, without the 'p') and I bought a bottle of Campari from her that was also about 50% more than it costs in supermarkets because it's less-sweet than Aperol. And also because I kind of felt like a weenie asking her why something in the shop was so expensive.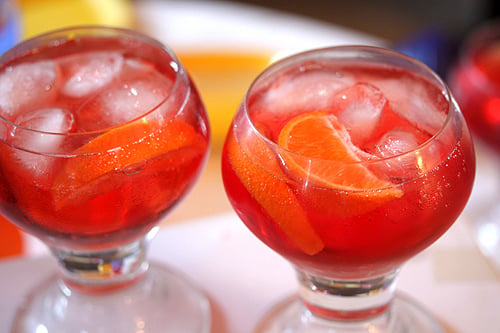 Because it's Italian, it's normal to use Prosecco in a Spritz, but any sparkling wine will do—no need to use fancy Champagne. Spanish cava, crémant, or a California sparkler are all fine. I chose Campari which is quite bitter and although I like it, if you're looking for something less tangy do try to find Aperol, which will also make the Spritz more orange than red.
This is a great drink for the holidays since it's not overly potent—so you can keep your stamina going during cocktail parties. Plus I find the red color quite festive. And to celebrate my reunion with the Spritz, I think I'll pour a few extra this season.
I first had a Spritz when I was in Trieste, Italy. The bars were packed at happy hour, or apertivo, which is because the bars put out copious amount of snacks to go with all the drinks and you're welcome to help yourself. Everyone was drinking large wine goblets half-filled with ice, with a bright orange drink in it, so I ordered my first Spritz. And then my second.Aperol is made with sweet and bitter oranges, but if you can't get it, try another aperitivo like Campari or ask (nicely) at a knowledgable liquor store. Campari is pretty strong so I use less of it, but you can customize to taste. No need to use a fancy sparkling wine or Champagne; another sparkling wine will do just fine. Be sure to use plenty of ice!
2
ounces (40ml)
Aperol or 1 ounce (20ml) Campari
3 to 4
ounces (60ml-90ml)
Prosecco
1. Fill glass* generously with ice cubes.
2. Pour in Aperol or Campari, then add Prosecco.
3. Add a splash of sparkling water and a slice of orange.
*The first time I had this drink, they were served in very large oversized wine goblets, which was really festive. Although I've seen them served in large on-the-rocks glasses, I prefer stemmed glasses, which also makes the icy drinks easier to hold.
Recipes and Related Links
Aperol Spritz (The Italian Dish)
Jason Wilson (Author's website)
Guide to Italian Aperitivo and Drinks in Italy (Ms. Adventures in Italy)